If you're a seasoned traveler who loves nothing more than hopping on a plane, or you have to travel a lot for work, chances are you signed up for a credit card with travel rewards. This helps you accumulate miles or points that you can redeem for a complimentary plane ride.
But there are more perks that come with these credit cards that you might not know about. Here are some of the most useful.
Airport lounge access
It's no secret that buying anything at an airport, such as meals, drinks, or snacks, means you will pay more than you would at your average store. But if you have one of the best travel credit cards, you might be entitled to some freebie sundries.
That's because you might receive access to an exclusive airport lounge. There you could be treated to some snacks, soft drinks, and maybe even a complimentary alcoholic beverage. That sure will take the edge off as you wait for your flight.
Free checked bag
It used to be that airlines didn't charge passengers to check their bags, as this was folded into the cost of your ticket. Ah, the good old days! Unfortunately, that's rarely the case anymore, as most airlines will charge you around $25 or $30 dollars to check your suitcase.
While that doesn't seem like a lot at first, it can add up if you travel a lot or you're traveling with your family. That's why it might behoove you to use a travel rewards credit card, as some of them come with the benefit of free checked bags.
Upgrade to first class
Few things feel as financially frivolous as shelling out the cash for a first-class plane ticket. After all, everyone is going to the same destination, and often flights just aren't long enough to justify the expenditure. Well, if you happen to have one of the best airline credit cards, you just might find yourself seated at the front of the plane free of charge.
That's because upgrades to first class are a travel perk that can be awarded to those who use the airline's credit card. You may also wind up with free WiFi along with the meal, free snacks, and drinks that are standard for first-class travelers.
Companion plane ticket
If you travel frequently for business, then you're likely accustomed to traveling solo. And while that does come with some benefits on its own — such as only having to consider your own schedule — it's more fun to travel with a partner or friend.
And if you use a travel rewards credit card, there's a chance you can score a free plane ticket for your companion, as there are a number of credit cards that offer companion tickets. Just make sure that the annual fee doesn't cost more than the companion ticket.
Rideshare credit
Once you've landed at the airport and have retrieved all your items from the baggage claim, it's time to figure out your ground transportation situation. Maybe you just need a lift to the hotel, and will be staying on site for the duration of your time away.
In that case, see if your travel credit card has a free Uber or Lyft ride as one of its rewards. That way you can sit pretty without dealing with surge pricing all the way to your destination. Don't forget to tip your driver, though.
Roadside assistance
If you are going to be at your destination for a while and need to get around by car, you will probably rent a car. Sure, you have your smartphone's GPS app to navigate an unfamiliar area, but in a new place you might feel more comfortable with extra support.
To that end, see if your travel rewards credit card offers free roadside assistance. If you get in an accident or your car breaks down, you'll have all the help you need, free of charge.
Free hotel stays
Let's face it, staying in a hotel isn't cheap, especially if you are a fan of luxe lodgings. Still, it's worth it to shell out the cash for a nice hotel room, lest you find yourself sharing the room with pests or feeling unsafe.
Fortunately, the best hotel credit cards often come with perks that allow you to stay in hotels for free or add an extra night at no charge. Alternatively, some travel rewards credit cards will let you get discounts on travel-related expenses, and staying in a hotel definitely qualifies as that.
Special events
When you travel to your favorite vacation spots, whether that's at the beach or in the heart of a big city, going out is an integral part of the vacation fun. Whether you're taking in a play, going to a sports game, or attending a concert, these events help create lasting memories.
Well, what if we told you that some credit cards will offset event costs, including big-shot occasions like the Emmy Awards and the Sundance Film Festival? Some cards also offer access to events that are in demand. Now that's a credit card worth springing for.
Insurance policies
While it sometimes feels like nothing more than a necessary evil, insurance policies are there to help you if something goes wrong. For example, lost baggage insurance can help cover the cost of replacing anything that winds up in baggage purgatory.
Additionally, accident insurance will be a lifesaver if you get hurt on vacation. And if you're prone to losing your smartphone, cellphone insurance is a must-have. So check your travel rewards credit card details to see if they offer coverage with one or more of these policies.
Fraud protection
Identity theft is a very real problem, and we've all accepted that protecting our accounts from this violation is of paramount importance. This is especially true when traveling, as you could be less familiar with the area and potentially more vulnerable to theft of any kind.
So if you want peace of mind, opt for a travel credit card that offers fraud protection. If your wallet is lost or stolen, your accounts will be protected and monitored. Some companies may have additional services like locking your car remotely and monitoring the internet for fraudulent activity.
Bottom line
While these benefits all sound great, make sure you're following the rules set forth by your credit card company's reward policy. This may mean you have to pay with your card beforehand to get a reimbursement, for example. So be mindful of the rules of your credit card rewards.
Easy-to-Earn Unlimited Rewards
Earn 25,000 online bonus points after you make at least $1,000 in purchases in the first 90 days of account opening - that can be a $250 statement credit toward travel purchases
Earn 1.5 points per $1 spent on all purchases
Longer intro APR on qualifying purchases and balance transfers
No foreign transaction fees
Earn unlimited 1.5 points per $1 spent on all purchases, with no annual fee and no foreign transaction fees and your points don't expire.
25,000 online bonus points after you make at least $1,000 in purchases in the first 90 days of account opening - that can be a $250 statement credit toward travel purchases.
Use your card to book your trip how and where you want - you're not limited to specific websites with blackout dates or restrictions.
Redeem points for a statement credit to pay for travel or dining purchases, such as flights, hotel stays, car and vacation rentals, baggage fees, and also at restaurants including takeout.
0% Introductory APR for 15 billing cycles for purchases, and for any balance transfers made in the first 60 days. After the intro APR offer ends, 18.24% - 28.24% Variable APR will apply. A 3% fee applies to all balance transfers.
If you're a Preferred Rewards member, you can earn 25%-75% more points on every purchase. That means instead of earning an unlimited 1.5 points for every $1, you could earn 1.87-2.62 points for every $1 you spend on purchases.
Contactless Cards - The security of a chip card, with the convenience of a tap.
This online only offer may not be available if you leave this page or if you visit a Bank of America financial center. You can take advantage of this offer when you apply now.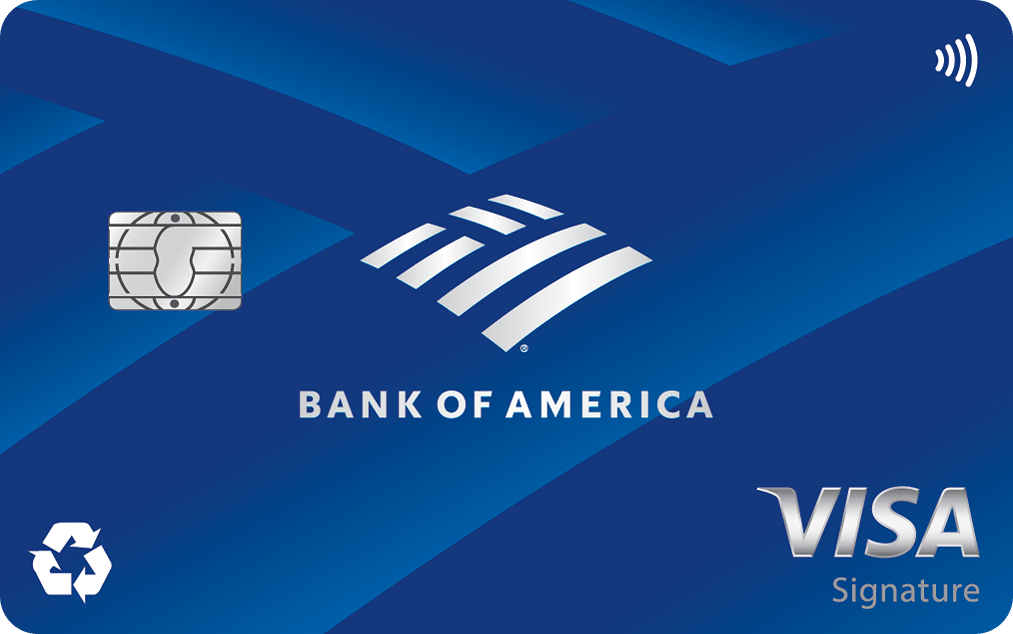 4.1
FinanceBuzz writers and editors score cards based on a number of objective features as well as our expert editorial assessment. Our partners do not influence how we rate products.
Apply Now
on Bank of America's secure website
Read Card Review
Intro Offer
Earn 25,000 online bonus points after you make at least $1,000 in purchases in the first 90 days of account opening - that can be a $250 statement credit toward travel purchases