The novel coronavirus, or COVID-19, has been declared a global pandemic. The virus has led to the cancellation of everything from March Madness to the Masters and has prompted a shutdown of cruise lines and travel from most countries in Europe. And with new cases being reported each day, more cancellations are probably on the horizon.
With the risk this virus presents and the disruption it's caused, you're probably pretty worried right now if you have any upcoming trips planned. The good news is, if your trip is impacted by the coronavirus, your travel insurance might cover you.
The coverage you have depends on the specifics of your situation, including the exact reason your trip can't go forward as planned. If you're considering canceling a trip or if you get sick while traveling, here's what you need to know.
I want to cancel my upcoming trip because of the coronavirus. Will my travel insurance help me get a refund?
If you're worried about the coronavirus and decide not to travel, you may be surprised to find your travel insurance probably won't cover you. This is true whether you've bought travel insurance or you have it for free as a cardholder benefit from your credit card issuer.
Both policies you purchase and credit card travel insurance will offer reimbursement only if your trip is canceled for a covered reason, such as jury duty, severe weather, terrorism, or a doctor-imposed quarantine. You're likely also covered if you, an immediate family member, or a travel companion gets sick or passes away, or if the area you're planning to visit has been evacuated.
Unfortunately, fear of the coronavirus doesn't fall within any of these covered reasons. Furthermore, some policies specifically exclude coverage if you're disinclined to travel because of an epidemic or a pandemic. If your arrangements are canceled by a common carrier, tour operator, or travel agent, you'll probably also be excluded from coverage. For instance, you can't make a claim with your insurer if your cruise line decided to stop operations because of the coronavirus.
Chase, for example, offers trip cancellation or interruption insurance on some of its most popular travel credit cards, including the Sapphire Reserve and Sapphire Preferred. If you pay with your Chase card and are prevented from traveling, you could get back up to $10,000 per covered trip and $20,000 per occurrence with a maximum refund of $40,000 over a 12-month period.
However, while death or sickness entitle you to reimbursement, as does a terrorist action, hijacking, or court subpoena, fear of a pandemic isn't a covered reason for canceling your trip.
American Express also provides insurance coverage on many personal cards, including trip cancellation or delay coverage. The benefits are similar to what Chase offers, however, just as with Chase, you can only get reimbursed if you're prevented from traveling for a covered reason. While you'll get reimbursed if a doctor puts you into quarantine, choosing not to go on your trip doesn't constitute being prevented from traveling — even if you choose not to go because of the coronavirus pandemic.
What if I get sick from the coronavirus while I'm traveling? Will my travel insurance cover it?
If you get sick while traveling, there's a good chance that your travel insurance will kick in to protect you from financial loss under these circumstances. That's true regardless of whether you have a travel insurance policy you bought or one through Chase, American Express, or another card issuer.
Chase and Amex cards that offer travel insurance both provide protection under trip interruption insurance if you cannot continue your trip due to a doctor-ordered quarantine or because you or a traveling companion must cut it short due to illness.
The specific amount of coverage you'll get will vary based on your card. For example, Chase cards such as the Sapphire Reserve cover losses under trip interruption insurance if you get sick. It will also cover up to $100,000 if you need an emergency evacuation if you or an immediate family member get sick away from home.
Will a 'cancel for any reason' policy cover me?
While credit card travel insurance usually offers coverage only for specific calamities, private insurers also sell cancel for any reason coverage that theoretically allows you to get reimbursed if you can't go on your trip — regardless of the reason.
If you purchased a cancel for any reason policy prior to the coronavirus becoming a worldwide pandemic, you probably will be covered, although it depends on your specific policy. Unless your plan excludes pandemics, it should pay for losses if you decide not to go on your trip because you're afraid of getting sick.
However, the coronavirus travel warnings are now in place, so if you are purchasing an upcoming trip, it is more likely that cancel for any reason will exclude coverage. Fear of the virus is a known event and travel insurance is intended to cover unexpected events.
If insurance doesn't cover my cancellation, what are my options?
If your insurance won't cover your cancellation, you may still be able to get reimbursed by your airline, hotel, Airbnb or common carrier such as the cruise line or bus you purchased tickets with.
Airline policies have changed rapidly as the COVID-19 outbreak evolved. Most have waived cancellation and change fees for travel booked within certain dates, such as for tickets purchased in March of 2020. Some airlines have included conditions that tickets must be rebooked within a certain time frame to avoid change fees.
Hotel policies vary by company, with many hotels allowing cancellation or rebooking of even non-refundable rooms for a later date. Some hotels restrict fee-free cancellations or rebookings to people in the most affected areas or for guests who booked after a certain date. And some provide points for future bookings rather than the option of a cash refund.
Airbnb has an extenuating circumstances policy that applies in circumstances where either hosts or guests have to cancel because of restrictions put in place by the government or health authorities. For guests traveling to areas where there are travel restrictions, bookings can be transferred for free regardless of the normal reimbursement policies for the rental.
Even if you are covered by travel insurance, your policy may be secondary and may require you to try to obtain reimbursement from your airline, hotel, or Airbnb before seeking protection from the insurer.
Bottom line
If you're considering canceling or postponing a trip, you are definitely not alone. And in fact, you may be making a smart choice to protect both your own health and the health of vulnerable community members. Just be sure you understand what your travel insurance will do for you before you cancel. You may be surprised to find you don't have the coverage you think you do.
While losing out on money is a major downer if you aren't protected by your policy, your health still comes first, so make the choice that you believe will keep you safe even if it comes at a financial cost.
Easy-to-Earn Unlimited Rewards
Earn 25,000 online bonus points after you make at least $1,000 in purchases in the first 90 days of account opening - that can be a $250 statement credit toward travel purchases
Earn 1.5 points per $1 spent on all purchases
Longer intro APR on qualifying purchases and balance transfers
No foreign transaction fees
Earn unlimited 1.5 points per $1 spent on all purchases, with no annual fee and no foreign transaction fees and your points don't expire.
25,000 online bonus points after you make at least $1,000 in purchases in the first 90 days of account opening - that can be a $250 statement credit toward travel purchases.
Use your card to book your trip how and where you want - you're not limited to specific websites with blackout dates or restrictions.
Redeem points for a statement credit to pay for travel or dining purchases, such as flights, hotel stays, car and vacation rentals, baggage fees, and also at restaurants including takeout.
0% Introductory APR for 15 billing cycles for purchases, and for any balance transfers made in the first 60 days. After the intro APR offer ends, 18.24% - 28.24% Variable APR will apply. A 3% fee applies to all balance transfers.
If you're a Preferred Rewards member, you can earn 25%-75% more points on every purchase. That means instead of earning an unlimited 1.5 points for every $1, you could earn 1.87-2.62 points for every $1 you spend on purchases.
Contactless Cards - The security of a chip card, with the convenience of a tap.
This online only offer may not be available if you leave this page or if you visit a Bank of America financial center. You can take advantage of this offer when you apply now.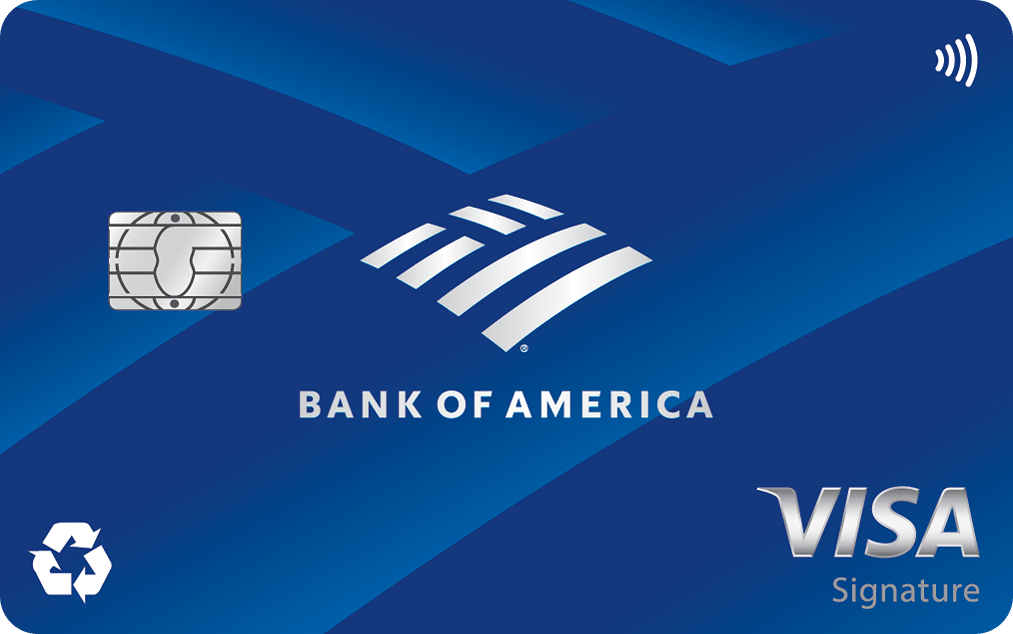 Apply Now
on Bank of America's secure website
Read Card Review
Intro Offer
Earn 25,000 online bonus points after you make at least $1,000 in purchases in the first 90 days of account opening - that can be a $250 statement credit toward travel purchases