Cuba tops the bucket-list for many travelers due to its vibrant culture, incredible food and drinks, insanely gorgeous beaches, classic architecture, and so on. With so many exciting things to do, it's easy to see why so many people are choosing to vacation there.
But, while tourism is booming, visiting can cost a pretty penny. From booking flights and accommodations to securing a visa and planning fun excursions, the expenses can add up quite quickly.
Luckily, one of our readers figured out a way to get to and stay in Havana for free with her fiancé (only paying for the visa) using travel rewards. Today, she's sharing her best tips and strategies with us, so be sure to bookmark this story to use as a travel resource later!
We love sharing stories like this, not only because our readers are amazing, but also because her methods and examples are so relatable and easy to follow. It's a great example of how anyone can do this with a little bit of planning and some knowledge.
So, without further ado — take it away, Cammille!
----------
My fiancé and I recently took a 5-night, 6-day trip to Havana for just $100 (to cover the visas) and I'm excited to share how we did it.
We are definitely not pros at travel hacking, but by following a straightforward strategy and planning out the details beforehand, we managed to maximize the reward points we had earned and had an incredible adventure.
Alright, so let's get into how we made this trip happen.
Flights
Southwest Airlines had some great deals on flights to Cuba, so I was more than happy to take advantage of flying with them since I love using my Companion Pass every chance I can and I just like flying with them in general since their flights tend to be less pricey and they value the customer experience (gotta love that).
I ended up booking one round-trip ticket from Houston to Havana, with a layover in Fort Lauderdale, for 28,000 points, which I transferred from Chase Ultimate Rewards to Southwest. These flights would have otherwise cost $916 total!
Side note: I earned all of the points for this trip from my Chase Sapphire Reserve, but more on that later. Back to the trip!
Then, I used the same card to pay for the taxes and fees ($41.20) and received full credit for it since the card comes with a $300 annual travel credit.
Once my ticket was confirmed, I went ahead and added an additional ticket for Joe, my fiancé, with my Southwest Companion Pass. The taxes and fees for his ticket were also $41.20, which was, again, reimbursed by the annual travel credit from the Chase Sapphire Reserve.
We didn't check any bags so there were no other fees once our tickets were booked.
Net cost: FREE
Hotels
We opted to stay at an Airbnb instead of a hotel for a few reasons. First, the hotels I looked at seemed really pricey and most were over $300 per night, which was out of our budget. Second, we thought staying at an Airbnb would be a good choice to support our visitor visas (more on that below).
It took me a while to pinpoint where we wanted to stay, but eventually, I found an entire apartment in Central Havana (close to Malecón, a must-see area) for $34 per night, for a total of $136 for our 4-night stay. It was such a perfect place for us to call home for a few days!
Luckily, Airbnb charges are coded as "travel" with my Chase Sapphire Reserve Card, so the rest of my annual travel credit picked up the tab.
Net cost: FREE
The Visa Process
When we first booked our trip, I was a little nervous about the visa process. I had heard that getting the visas would be the toughest part of booking our trip, but thankfully, that wasn't the case for us. We made sure to follow all the guidelines to secure a visa, and overall, it was quite simple.
Southwest Airlines offered the visa we needed through an agency for $50 per person, so we were able to apply and pay online when we booked our flights. Then, all we had to do was pick up the visas during our layover in Fort Lauderdale at a Southwest kiosk near our gate. It's worth noting that you can apply for the visa in-person at the airport if you prefer.
When filling out the visa application, we had to select a reason for visiting Cuba. We chose "Educational, People-to-People" for ours, but there are twelve categories to choose from:
(Editor's note: we have checked to ensure these categories are accurate but it's a good idea to read through the US Department of the Treasury's Cuba FAQs before planning your trip)
As I mentioned above, our visa selection influenced our decision to stay at an Airbnb. Any hesitation we had about the entire visa process was gone pretty much as soon as we got there. To our surprise, no one in immigration on the US side or in Cuba asked us anything about our travels. It was all very seamless. Everyone's experience is different, of course, but for us, it was a very simple and straightforward process.
Total value: $1,234.40
Net cost to book: $50 x 2 visas = $100
The Cuba Guide: Tours & Things to Do
There were so many fun and interesting things to do in Havana! Being from an island in the Caribbean myself, and having visited many other islands, I knew what I expected to see, but was surprised by how different and unique it was, which was awesome! To me, it was like a mixture of Rome, New Orleans, and typical Caribbean flair.
Unfortunately, we had to pay out of pocket for these, but hey, it cost $100 to book both our flights AND our stay! I'm not complaining.
We booked two tours online through Urban Adventures Havana Tours before we got there:
Havana Locals on Tap ($25 per person)

Afro-Cuban Religion Tour ($32 per person)

Both were really fun and I would recommend them.
We also booked a day tour at the Hotel Nacional to Viñales through Cubatur for $69 per person.
It was about two hours away from Havana and the tour included an air-conditioned tour bus, lunch, cave exploration, a stop at a tobacco farm (hand-rolled cigars were ten for $20), and some other smaller stops along the way. We both really enjoyed this excursion.
We spent plenty of time exploring random side streets, visiting Revolution Square, El Capitolio, and the Rum Factory. We even managed to fit in a private salsa class at Casa del Son for $16 per person.
All in all, I don't think it made much of a difference between booking tours before we arrived vs. booking them when we got there. Tourism is a big business in Cuba, so we would have had no problem booking everything after we arrived if we wanted to wait.
Money Conversions
Most of the advice I read about converting money in Cuba said that exchanging Euros to the local Cuban Peso (CUC) was the best way to go, but with all the conversion fees and hassle of exchanging USD to Euros before the trip, we opted to just exchange USD to CUC, fees and all. Plus, the conversation rate from USD to Euros sucked at the time!
We exchanged half of our money at the Havana airport for a rate of $100 USD = $87 CUC and the other half at the Hotel Nacional de Cuba during our stay.
How much money to bring
Call me crazy, but we only brought $600 to cover both of us for 6 days! No credit cards, no debit cards, just cash.
I've traveled pretty extensively so I knew we could manage as long as we were mindful of the funds and tried not to fall into every tourist trap.
It also helped that our Airbnb was centrally located, so we were able to walk most places instead of relying on taxis for everything. My one tip for taxis is: negotiate the price! If you don't, they can get quite expensive for even quick rides.
To make sure we had enough money throughout the trip, I kept a running tally of our expenses for each day. Here's what our daily expenses looked like:
Daily Expenses
Day 1 - Friday (Arrival day!)
$30 - taxi to our Airbnb

$7 - dinner - two entrees of chicken and rice, three bottles of water, one beer

Daily total: $37

Day 2 - Saturday
$3 - breakfast - eggs, toast, coffee & chocolate

$7 - lunch - two steak sandwiches, two bottles of water

$20 - one-hour car tour

$30 - "splurged" at El Cocinero - two lobster dinners with soup, salad, bread/dip, two cuba libres, two mojitos, one bottle of water

Daily total: $60

Day 3 - Sunday
$7 - lunch - two hamburgers, fries, coffee

$3 - dessert

$30 - private car ride to Santa Maria beach

$5 - two pina coladas in pineapples on the beach

$3 - two beers

$1 - cigarette and soda

$6 - beach chair rentals for two and umbrella

$7 - dinner - two fried chicken entrees with rice and beans, one beer, one milkshake

Daily total: $62

Day 4 - Monday
$7 - "splurged" on breakfast - cheese and meats plate, crackers, toast, fresh fruit, cereal, milk, coffee, hot chocolate, fresh mango juice (picture)

$5 - taxi to dance class

$32 - Private salsa dance lesson at Casa del Son

$14 - Rum Factory Tour

$7 - lunch - two Cuban sandwiches, one mojito, one fruit smoothie

$5 - taxi back to Airbnb

$10 - taxi to dinner

$18 - dinner - chicken sandwiches, mojitos, sangria, bottled water

$7 - dinner part II - pizza, beer, three bottles of water

Daily total: $105

Day 5 - Tuesday
$4 - light breakfast - buttered toast, coffee

$134 - day trip to Vinales

$9 - souvenirs

$7 - Cuban rum

$20 - Cuban cigars

$3 - pina coladas

$14 - dinner - roasted chicken, rice, salad, plantain chips

$3 - dessert - coconut ice cream

Daily total: $194

Day 6 - Wednesday (Departure day)
$2 - breakfast - eggs, bacon, bread, salad for two

$20 - taxi to airport

Daily total: $22

Totals
All in all, we were able to stretch our money enough to have an incredible trip. I was so excited to be able to visit Cuba on such a limited budget and not miss out on any of the fun stuff. Here's a look at our totals.
Flights: FREE

Accommodations: FREE

Visas: $100

Tours/food/everything else: $480

Grand total: $580

Not bad for a 5-night/6-day getaway abroad!
Everyone's discretionary budgets are different, so your trip could be completely different from ours, but I still wanted to show how it was possible to get to Havana for $100.
How We Did It
Learning about travel rewards has been so much fun for me. I still consider myself a beginner in this hobby since there is so much to learn, but if I can book a trip like this as a newbie, you can too! I've learned so much in the FBZ Elite Travel & Points Facebook group and highly recommend it.
Here's what we used to book the trip.
1. Chase Sapphire Reserve
I cannot tell you how much I love the Chase Sapphire Reserve. I literally use it for everything because the rewards are so good.
By signing up and earning the huge 100k point bonus, I was able to transfer enough Chase Ultimate Reward Points to book one plane ticket on Southwest.
I also took full advantage of the $300 annual travel credit by using it to cover taxes and fees for both plane tickets and our full stay at the Airbnb. I love that I don't need to do anything special to get the travel credit, it just gets credited back to my account automatically (up to $300).
I know some people see the $450 annual fee and run the other way, but since I'm positive I'll have no problem using that $300 travel credit every year, it's not a dealbreaker for me. Plus, they give you a $100 credit for applying for Global Entry or TSA Precheck, so it's worth it for me.
2. Southwest Companion Pass
Earning this pass opens up a world of travel possibilities!
After booking my own ticket with points, I booked another ticket for my fiancé with my Companion Pass. It's like a buy-one-get-one-free coupon for flights!
Next up, I'm planning to use my Companion Pass for my upcoming honeymoon to Punta Cana!
(Editor's note: here's how to earn your own Southwest Companion Pass & how you can utilize Southwest travel funds to redeem points on canceled flights.)
Tips on How I Became Successful With This Hobby
I still consider myself a relative "newbie" to the world of points and miles, but here are some tips on how to get started:
1. Check your credit: Knowing your credit score is important in general, but if you're interested in getting into travel rewards, it's really, really important.
Get your credit score from Credit Sesame for FREE
2. Know if this is right for you before you get in too deep: My biggest tip is to figure out if this is right for you before you start applying to cards. How will you know? If you're disorganized or already have a lot of existing debt, this may not be right for you. Getting into debt to earn points and miles doesn't make sense.
3. Make legitimate purchases to meet minimum spend: Buying random stuff for the sake of meeting your minimum spend is probably not the best idea since you'll have to pay for it eventually. Whenever I get a new card and need to meet a minimum spend in order to earn the sign-up bonus, I direct all of my usual expenses to that one card (like paying bills, entertainment, etc.)
Tip: if you can't make mortgage or rent payments directly with your credit card, try a service like Plastiq which lets you pay bills with a credit card.

4. Do not redeem your rewards for "cash" (if you can help it): You may be able to "cash out" your reward points at some point for a statement credit, but I urge you, don't do it! It's never quite as valuable and you lose so much, so if you plan to travel, resist the urge to cash out your rewards.
5. Double check your reservation: If you pay for a trip with points and find that it costs fewer points a week later, don't be afraid to call and see if they'll give you the difference back in points. There's no guarantee, but I was once able to get a18k point credit when a trip I booked went from 36k to 18k points – that's enough for another round trip!
6. Learn from others: Instead of trying to figure out everything on your own, join a community of people who are interested in this hobby.
Would I Do It Again?
Oh, definitely! In fact, I already have my next trip planned. My fiancé and I are getting married and planning to travel hack our way to Punta Cana for our honeymoon. It's going to be epic!
This method of travel has opened up a whole new world of possibilities for us and I can't imagine we'll stop anytime soon. Our travel bucket list includes Dubai, Tahiti, Bali, Australia, and New Zealand!
----------
Thanks for sharing your experience with us, Cammille! We love that you were able to enjoy such an incredible week taking in the sights, food, and culture of such a vibrant city – all thanks to credit card rewards!
Hearing stories like this never gets old – we love them! If you have a success story to share, email us at ilovetravel@financebuzz.com.
Join FBZ Elite Travel & Points on Facebook to connect with others who are discussing travel rewards and comparing the best travel credit cards!
Have you thought about planning a trip to Cuba?
RELATED
Easy-to-Earn Unlimited Rewards
Earn 25,000 online bonus points after you make at least $1,000 in purchases in the first 90 days of account opening - that can be a $250 statement credit toward travel purchases
Earn 1.5 points per $1 spent on all purchases
Longer intro APR on qualifying purchases and balance transfers
No foreign transaction fees
Earn unlimited 1.5 points per $1 spent on all purchases, with no annual fee and no foreign transaction fees and your points don't expire.
25,000 online bonus points after you make at least $1,000 in purchases in the first 90 days of account opening - that can be a $250 statement credit toward travel purchases.
Use your card to book your trip how and where you want - you're not limited to specific websites with blackout dates or restrictions.
Redeem points for a statement credit to pay for travel or dining purchases, such as flights, hotel stays, car and vacation rentals, baggage fees, and also at restaurants including takeout.
0% Introductory APR for 15 billing cycles for purchases, and for any balance transfers made in the first 60 days. After the intro APR offer ends, 18.24% - 28.24% Variable APR will apply. A 3% fee applies to all balance transfers.
If you're a Preferred Rewards member, you can earn 25%-75% more points on every purchase. That means instead of earning an unlimited 1.5 points for every $1, you could earn 1.87-2.62 points for every $1 you spend on purchases.
Contactless Cards - The security of a chip card, with the convenience of a tap.
This online only offer may not be available if you leave this page or if you visit a Bank of America financial center. You can take advantage of this offer when you apply now.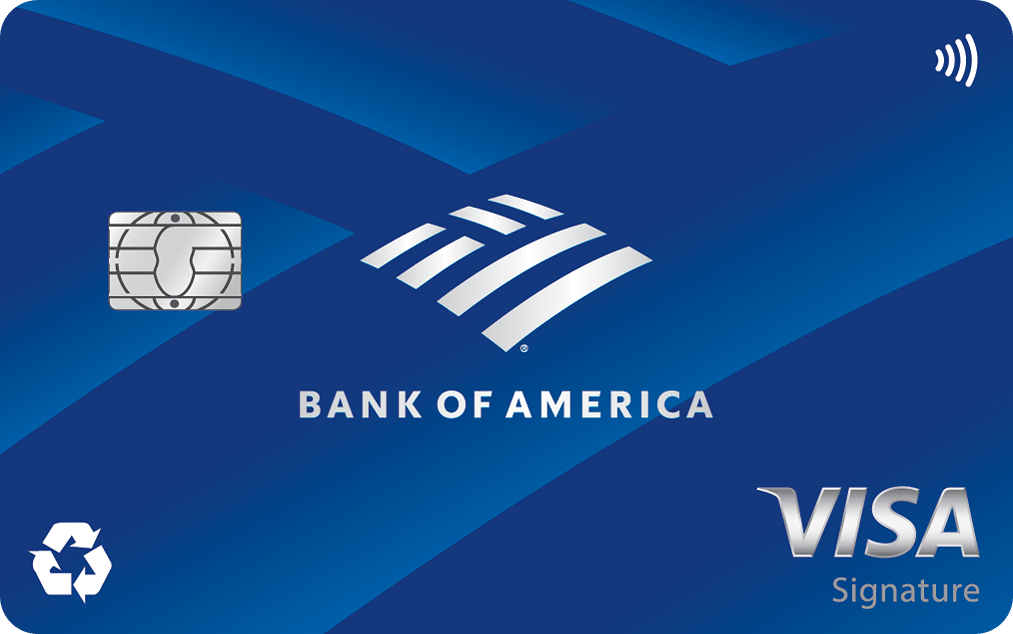 Apply Now
on Bank of America's secure website
Read Card Review
Intro Offer
Earn 25,000 online bonus points after you make at least $1,000 in purchases in the first 90 days of account opening - that can be a $250 statement credit toward travel purchases