At some point, most people consider taking steps to evaluate their budget and look for ways to save money. Luckily, there are some very easy ways to lower your bills, and even one that doesn't require any effort on your part: using money-saving apps that do the work for you. 
If you feel overwhelmed by the idea of calling up your subscription services, cable company, or cell phone carrier in an effort to save money, you can just have a financial app like Truebill do it for you.
Why not take advantage of the available technology to make cutting your budget a little easier?  Here's how Truebill works, why it could be beneficial for you, and how to sign up.
Quick Summary
Lower your monthly bills and track spending in this all-in-one finance app.
Automatically find and cancel subscriptions

Reduce your phone, internet, and utility bills

Track and categorize your expenses so you can achieve your savings goals
What is Truebill?
Truebill is a financial management platform intended to help users track and reduce their recurring monthly bills. It's an early-stage venture based in the San Francisco Bay Area that was founded at the beginning of 2016.
Since then, the company has helped users save more than $100 million by finding and canceling unwanted subscriptions, reducing monthly bills, and securing refunds on their behalf. But the app is about more than just those immediate savings; it also helps you recognize and change your own spending habits so you can have better control over your money.
Customers have great things to say about Truebill. More than 1,800 customers left excellent reviews on Trustpilot, with many citing great customer service and the capacity to save money using the app. One recent reviewer called the app "the fairy godmother of all things budget."
How to use Truebill
Truebill has a whole suite of features that help you better manage your money. Note that many of the features are only available with a Truebill premium subscription. Here are some of the things the app can do:
Lower your bills with Truebill
With Truebill, you can add a bill by simply snapping a photo of it. Truebill has a team of bill negotiation experts ready to find any additional discounts available to you. After that, they'll negotiate your recurring bills to try to get a lower rate or one-time credit. They work with many different service providers, including Verizon, AT&T, Comcast, Cox Communications, Hulu, Netflix, and Time Warner Cable. Truebill will also try to get a refund for you if you have an outage.
If Truebill manages to save you money, they take 40% of your savings to pay for the bill negotiation service. If you don't save money, you won't pay for the service. They'll also let you know by email how much you saved in the negotiation so it's always transparent.
Use Truebill to cancel subscriptions
Truebill monitors and cancels subscriptions you no longer use. The company states that 84% of people have forgotten about a monthly subscription, and Truebill promises to identify and cancel these for you. This cancellations concierge service is available for premium members only.
Get your fee refunds
Truebill's concierge members will automatically request refunds for premium members when they are charged bank fees. For example, if you get hit with an overdraft fee or late fee, Truebill will send a letter to your bank on your behalf requesting a refund. Not all requests are granted, but you may be able to get that money back in your account without lifting a finger.
Help you budget
The Truebill budgeting app gives you a high-level overview of your cash, credit, investments, and upcoming bills. This will help you prioritize your bills if you're short on cash. Truebill also categorizes your expenses so you can identify what your typical budget needs are and locate areas where you could save. It's also easy to view your spending by month so you can easily track your progress. Free members have limited budget options, while premium members have unlimited budgets.
Help you save
Truebill offers a Smart Savings account feature that will help you to calculate how much extra cash to set aside each month towards a savings goal while ensuring you'll have enough to cover your bills and expenses.
You'll be able to set specific requirements around your savings goals so you don't end up overdrawing your account or needing to borrow later.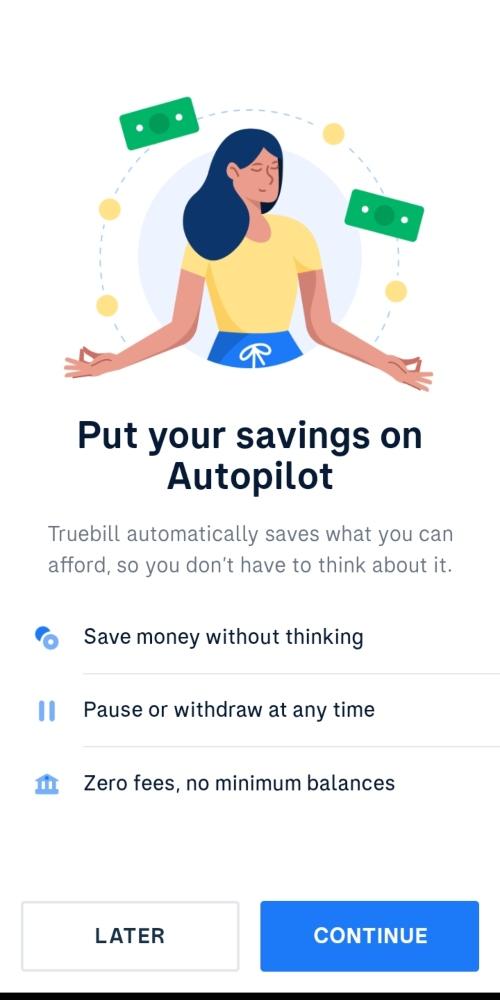 Track your credit score
Truebill offers premium members access to their credit score. It also alerts members to changes to their credit and offers identity theft protection. 
Truebill Benefits
Automatically find and cancel subscriptions
Slash your monthly phone, cable, and internet bills
Save an average of up to $720 a year
Who is Truebill best for?
The free version of Truebill is great for anyone who needs a little help negotiating lower bills. If you feel confident calling your phone and cable carrier yourself, you could save more money this way, as Truebill wouldn't be taking a cut. But if you want the convenience of a financial concierge, give Truebill a try. Truebill also offers a lot of information on how to cancel services like gym memberships on their website, which can be very helpful.
The premium version is best for someone who will use all the features and wants the convenience of having them all in the same place. That's because you can get many of the features, such as subscription cancellation and savings automation, free with other services. But it will likely save you time to have everything available in one app. And the monthly fee is low when you consider all Truebill has to offer.
How much can you save with Truebill?
Truebill saves users an average of $720 per year, according to data published in the International Business Times. That's a significant annual savings in exchange for zero effort, and easily offsets the cost of using the premium service. What's more, about one-fourth of Truebill users realize they are paying for subscriptions they don't use or want.
Common questions about Truebill
How much does Truebill cost?
It's free to let Truebill negotiate your bills for you, and you'll only pay if they save you money. Truebill's other features are available only for premium accounts. You can choose what you pay for a premium account (between $3 and $12 per month or $36 to $48 annually), and you can cancel anytime in the app.
If you prefer an app that offers many of Truebill's paid features for free, consider Mint. You can compare Truebill vs. Mint and see which is a better fit for your budgeting needs. 
Is Truebill safe to use?
Yes, Truebill is safe to use. Truebill uses top-of-the-line 256-bit encryption and bank-level security to protect your data. Your data is only used for the services that Truebill provides; it is never sold. Truebill also securely connects to financial institutions using Plaid, the same financial services company that allows you to securely send money through Venmo, and hosts their services securely using Amazon Web Services.
Is Truebill FDIC-insured?
Yes, Truebill is FDIC insured. Truebill's Smart Savings feature puts your money into a noninterest-bearing, FDIC-insured account. That means your funds are protected up to $250,000.
How to get started with Truebill
1. To get started, you'll need to download the Truebill app for iOS or Android. 
2. Create an account with your name, email address, and password. You can also sign up with Facebook.
3. Tell Truebill more about yourself and your financial goals.
4. Give Truebill access to your bank account and credit cards through a service called Plaid to get an overall picture of your finances. Have your account and routing numbers ready. 
5. Decide whether you want a premium membership and, if so, how much you want to pay. 
Other money apps to consider
If you're working on how to manage your money, you're not alone. In fact, you're among the many people taking time every day to learn more about their finances and how to save money in the process. If Truebill doesn't seem like the right personal finance tool for you to achieve these goals, don't fret; there are plenty of other ways to save extra cash, including several money-saving apps that require little effort on your part. 
Trim is a similar free app that cancels unwanted subscriptions, negotiates bills, and automates your savings. Some of the features that are part of the premium package for Truebill are free on Trim, and vice-versa. By directly comparing Trim vs. Truebill, you can see which features better fit your needs. If you're still not sure which app is best for you, you can always check out the free versions of both and decide from there.
Learn more in our Trim review. 
If you feel comfortable managing your budget yourself but would like to learn how to make extra cash back for your everyday spending, check out Ibotta. You can save money on your grocery store purchases and online shopping with discounts and cash back. It's super easy to use: snap a photo of your receipt, link your loyalty card, or click to shop online through the app.
Find out more in our Ibotta review. 
Whether you decide to sign up for Truebill or use another resource, we hope that better money management helps you bring in some potential savings. By starting to practice good money habits could help your financial life start to improve.
Truebill Benefits
Automatically find and cancel subscriptions
Slash your monthly phone, cable, and internet bills
Save an average of up to $720 a year