If you've caught the travel bug and spent your last few vacations crossing destinations off the ol' bucket list, then you know by now that things aren't always as dreamy as they appear on Instagram. And that all those carefully cropped and filtered photos floating around the internet aren't really telling the full story. Not only are some of these places simply not worth the hype, but some are just flat-out disappointing.
We're talking about places like the incredibly packed and dirty Bondi Beach in Sydney, or the deceptively small Leaning Tower of Pisa, or even the narrow (and crumbling) Great Wall of China. Despite what you've heard about these world-famous attractions, lots of people tend to agree — they really aren't worth the visit.
One of our goals for 2020 is to help you travel smarter and more often, so we put our heads together with a few travel experts from our FBZ Elite FB group to find out which up and coming destinations are actually worth your hard-earned credit card rewards. So before you start mapping out your trips for this year, take a look at our list of 9 incredibly underrated destinations.
9 Underrated, must-visit travel destinations 
Traveling to "underrated" destinations might sound like a weird idea, but it's actually pretty genius. Here's why. While all the crowds head over to the same old top destinations for their vacations, you could be relaxing somewhere that's actually nice — a place with smaller crowds, less tourist traps, and ready for it? Extremely budget-friendly!
As we've seen (and heard) over and over again, too much tourism ruins a place. And when you visit a "top destination," chances are you'll run into at least a few of these touristy downfalls. But what if you were to visit a place that isn't on everyone's radar yet? That's the idea behind these 9 amazing destinations. Like we said earlier, 2020 is your year to travel smarter. So if you're ready to get out and see something that's actually as cool as the photos make it look, check out our list.
1. Aruba
Aruba, Jamaica, oooo I wanna take ya...The Beach Boys were onto something when they named this top destination, and we're about to tell you why. Not only does this Carribean island get less traffic than it's more popular neighbors, but it also gets way better weather. With the least rainfall of all the islands, you're almost guaranteed a sunny, hurricane-free visit to this destination. Which is perfect because you'll probably want to spend 95% of the trip outdoors.
Where to stay in Aruba
Since the island is small enough to enjoy from any vantage point, where you stay is mostly a matter of budget and personal preference. For an affordable hotel that still boasts some charm, we recommend Serene by the Sea. If you'd rather spend time chilling at a luxury resort with an all-inclusive package, check out Divi Aruba All Inclusive. Planning on spending even more time exploring Aruba? Take a look at the rental packages with Aruba Happy Rentals.
What to do in Aruba
No trip to Aruba is complete without a stop at the famous "Conchi" pool. Located on one of the islands many deserted coastlines, this volcanic-made pool is a great place to soak in the waves and natural beauty of the island.
Looking for other ways to soak in the island vibes? Take a hike in Arikok National Park or a horseback tour through Bushiribana Gold Mill Ruins. And don't even think about leaving the island without spending a few days on its amazing beaches — most notably Andicuri Beach and Eagle Beach (rated 3rd best in the world).
Where to eat in Aruba
Make sure to get your açai-bowl fix from Eduardo's Beach Shack, or sample all the best local cuisine on one of the island's foodie tours. Looking for a dinner idea? Check out Pinchos Grill & Bar for delicious beachside skewers, or dine on scrumptious seafood in a canopied bed right off Eagle Beach at the Screaming Eagle.
2. Krakow, Poland
We bet you never thought your bucket list would include this unassuming European city, but we're here to tell you, it should. First of all, this place has a lot — and we mean a lot of history. And since it was spared many of the bombings that took place during WW2, most of its amazing architecture is still standing today. You can get lost in Krakow wandering its fairytale-worthy streets. Best of all? You won't have to spend all that much doing it.
Where to stay in Krakow
When booking your stay in Krakow, we recommend choosing something in either the Stare Miasto or Kazimierz neighborhoods. Kazimierz is perfect for those seeking to find the bohemian heart of the city, and Stare Miasto is the city's center — making it an ideal starting point for all your sightseeing adventures. The Holiday Inn is a popular choice near Stare Miasto, as is the lovely Hotel Betmanowska. For Kazimierz, we recommend either the artsy Dada Boutique Home Hotel or the spa-themed PURO Kraków Kazimierz.  

What to do in Krakow
Head into town and underground to check out the Rynek Underground, one of the city's newest museums. It will give you the full scoop on the recently excavated foundations that date back all the way back to the city's beginnings. Be sure to check out what's directly above the museum too — Kraków's Market Square (and in particular The Cloth Hall), which offers some of the best cafes and landmarks around. If you're willing to go a bit outside the city limits, be sure to check out the underground Wieliczka Salt Mine, a world heritage site from Neolithic times.
Where to eat in Krakow
Head to Pod Wawelem Restauracja for a feast of meat and beer that's worthy of kings, or check out Klimaty Poludnia for some lighter Polish fare. Plan on at least one dinner at Przystanek Pierogarnia, where you'll feast on both savory and sweet pierogies. In need of a beer to wet your whistle? Mosey on over to T.E.A. Time Brewpub to sample their brews.
3. Malaysia
One of the hidden gems of Southeast Asia, Malaysia should be on everyone's bucket list. The country is one of the most culturally diverse places in the world, and everything about it reflects that. From the food (like the giant pancake known as Apam balik), to the landmarks (ancient cave temples, anyone?), and even the languages you'll hear — this place is a magical destination like no other.
Where to stay in Malaysia
Where to stay depends a lot on your budget (and idea of a good time). For nature lovers, staying near the rainforests of Sarawak is a must (we like The Waterfront Hotel). But for those more interested in a beachy city vibe, Penang Island is also a real treat. Stay in one of the island's historic mansions by booking your room at either The Edison or Cheong Fatt Tze (The Blue Mansion) in George Town.
What to do in Malaysia
When passing through the country's capital city of Kuala Lumpur, be sure to make a stop at the Batu Caves. These ancient temples built in and around limestone caves are a magical getaway from the concrete jungle of the city. And whatever you do, don't leave the city without also exploring its vibrant Bukit Bintang neighborhood. If you do wind up visiting Penang Island, be sure to check out the famous Kek Lok Si Temple and the historic Khoo Kongsi clan house. You'll also want to save some time for a tour of the Tropical Spice Garden.
Where to eat in Malaysia
Get your fill of Indian food in Kuala Lumpur at the bargain-priced Bakti Woodlands, and be sure to swing by the Lot 10 Hutong Food Court for a sampling of all the local Chinese vendors. Looking for something a bit more fancy? Check out Restoran Yap Hup Kee. The street food in Penang Island is not to be missed, so be sure to sample the Char Koay Teow at Tiger Char Koay Teow in Kafe Ping Hooi, and save room for dessert (Teochew Chendul) at Penang Road Famous Teochew Chendul in Joo Hooi Cafe.
Read our Chase Sapphire Preferred review and explore this card's benefits and features.
4. Mexico City
There are about a million ways to spend a vacation in Mexico City, and that isn't just because it's one of the largest cities in the world (but that helps). Mexico City is also unmissable for its eclectic mix of the old and new, and its many outdoor events and marketplaces.
Where to stay in Mexico City
There are plenty of districts in Mexico City that will welcome you with open arms, but one of our favorites is Coyoacán. Located in the southern part of the city, this urban neighborhood is filled with old mansions and tree-lined streets — the perfect picturesque corner from which to start your daily jaunts into the city. Check out Mansión Papilio and book a stay in one of their lovely suites. La Casita de Coyoacán and Finca Coyoacan are two more charming (and affordable) options.
What to do in Mexico City
Since you'll be staying close by, don't miss out on the Frida Kahlo Museum 'Casa Azul', in Coyoacán. Also not to be missed: the artisanal markets at La Ciudadela, the Mayan artifacts at Museo Nacional de Antropología, and a traditional boat ride in Xochimilco, also called 'Little Venice'.
Where to eat in Mexico City
Check out local favorite Condesa Tianguis for some tlacoyos, and save room for a few churros from Churrería El Moro. Forget a pub crawl and sign up instead for a nightly Taco Crawl hosted by Club Tango Hembre. For the day after, you can plan on popping into the famous bakery Pastelería Ideal to cure that taco hangover.
5. Naxos, Greece
Let the rest of the world visit Santorini, we'll stick to Naxos. Just as blue and just as beautiful, this island (which is only an hour from Mykonos) remains relatively uncrowded — even in high season. Walking along its charming historic streets and turquoise beaches, and you'll be hard-pressed to find a reason not to love it as much as Santorini.
Where to stay in Naxos
Like most things in Greece, lodging is very affordable. Since this is the case, we'd recommend going big with a stay at one of the island's top hotels — like Iria Beach Art Hotel, Pension Sofi, Chateau Zevgoli, or even the luxurious Hotel Naxos Resort.
What to do in Naxos
Explore the local history with a trip to the local castle ("Kastro"), then complete your tour with a walk up to the Temple of Apollo. Because of the gorgeous beach conditions in Naxos' Bay, it's also the perfect place for some watersports. Get up close and personal with the perfect turquoise waves by windsurfing or kitesurfing.
Where to eat in Naxos
Dive into some traditional Greek eats at the laid-back To Elliniko, or check out the trendy outdoor garden restaurant Nostimon Hellas (both in Naxos Town). For something further afield, head to Patatosporos on Agia Anna Beach for an incredible seafood experience. For a quick lunch, swing by To Spitiko for the best gyros in Naxos Town.
6. Sidi Bou Said, Tunisia
If you like white and blue landscapes, here's another Instagrammable must-see destination for this year's bucket list. Just a few miles north of the country's capital city of Tunis, this artsy seaside town is just as charming as it looks and the perfect place to spend a few days of urban adventure.
Where to stay in Sidi Bou Said
Since it's such a small place, you don't have a whole lot of choice when it comes to where to stay in Sidi Bou Said. But if you'd like to stay in a hotel as scenic as the rest of town, check out either La Villa Bleue, Villa Kahina, or Maison Dedine (which is for adults only).
What to do in Sidi Bou Said
Plan on dedicating a few hours to exploring both the ancient Roman Baths of Antoninus and the incredible Bardo National Museum. Be sure to also visit the palace known as Ennejma Ezzahra for artisanal wonders and pristine Neo-Moorish style architecture. Then take a stroll through the city's Old Town district — just plan on making a lot of stops as this part of town is packed with charming galleries and cafes that will be hard to pass by.
Where to eat in Sidi Bou Said
Try the savory pastries or couscous at Le Chargui, or get your fill of French-inspired cuisine at Madame Hachicha. And if you're looking for the perfect date-night spot, start with drinks at Dar Zarrouk then head on over to the picture-perfect Au Bon Vieux Temps for dinner.
7. Slovenia
Tucked between Italy, Austria, and Croatia, Slovenia is a central European must-see in its own right. From epic caves and world-class vineyards to some of the most gorgeous castles and outdoor landscapes in Europe, you'd be crazy not to make a stop off in this underrated destination.
Where to stay in Slovenia
For an upscale stay in the capital city of Ljubljana, check out the centrally-located Grand Hotel Union Eurostars  or Art hotel Ljubljana. For something more laid-back (and a bit lighter on the wallet) check out Hostel 24, or try the top-rated Adora Hotel (which comes with free breakfast, we might add).
What to do in Slovenia
Make the hour-long drive from Ljubljana to Predjama Castle — aka the largest cave castle in the world. Be sure to also check out the Škocjan Caves located nearby. Other things you'll want to see in Slovenia include the Ljubljana Castle (in the city's capital) and the breathtaking views at Vintgar Gorge and Lake Bled.
Where to eat in Slovenia
Enjoy a Meditteranean meal on one of Ljubljana's prettiest streets at Manna, or snag some traditional European fare in Old Town's Julija. If you're willing to spend a bit, opt for the full multi-course gastro experience in Ljubljana at the famous Monstera Bistro. Just be sure to save room for dessert (ice cream of course) at the beloved Cacao.

Note: Unfortunately, Monstera Bistro has since been permanently closed.
8. Tasmania
Australia's smallest state is nothing to scoff at. With an abundance of new hiking trails, and an incredible up and coming foodie and art scene — there are plenty of reasons you'll want to make a stop off at this Aussie destination. Also, who doesn't want to see a real Tasmanian devil?!
Where to stay in Tasmania
Unlike a lot of Australia, you can actually stay in some pretty nice places for not a whole lot of money — especially if you don't mind going a little rustic. Travel on the cheap with a stay at The Pickled Frog or The Brunswick Hotel (two high-rated hostels in Hobart), or upgrade your digs with a few nights at the ultra modern-chic Islington Hotel. For a unique cabin experience, check out the Cradle Mountain Highlanders near Cradle Mountain park.
What to do in Tasmania
When in Hobart, be sure to pass through the Salamanca Market for unique food tastings and gifts, and also make a stop at MONA, the city's best museum which features an underground interactive art experience.
You've probably guessed by now, but a visit to the pristine wildernesses of Cradle Mountain is also a must. If you really do want to see a Tasmanian devil (besides the one on Looney Toons) then check out one of the sanctuaries in Bonorong. While you're at it, be sure to check out the penguins in Bicheno Bay.
Where to eat in Tasmania
When in Hobart, head to Stillwater Restaurant for a farm-to-table experience in an ultra-hip renovated 1830s mill. Also worth checking out is the comfort food on the menu at Peacock & Jones, and the local favorite Templo, which features a modern Italian menu in an intimate setting. If you're looking for some casual deliciousness, check out the seafood at The Drunken Admiral. In need of a date night spot? Head to The Glass House at the end of the pier.
9. Tikal, Guatemala
Mayan ruins, gorgeous lakes, and incredible rainforests are just a few reasons Tikal, Guatemala should be on everyone's bucket list in 2020. Other reasons include its vibrant markets, old-world colonial architecture, and buzzing nightlife.
Where to stay in Tikal
When visiting a city that's built on ancient ruins in the middle of the rainforest — it's hard to go wrong picking out a place to stay. That being said, we really like the vibe at both the Jungle Lodge Hotel and Hotel Jaguar Inn, although the simple accommodations at the Tikal Inn are also a great value for the price.
What to do in Tikal
When traveling to Tikal, you have to plan on spending a day (or more) exploring the Mayan ruins. The nearby city of Flores also boasts several ruin sites of its own, and is a great place to rent a canoe or hang out waterside. If you aren't sick of ruins after Tikal, be sure to check out the sites at Yaxhá — once home to a population of roughly 20,000 Mayans.
Where to eat in Tikal
It's not so much where as what, and the answer to that is simple. You have to try the regional specialty — which is Pupusas. Cheap and delicious, these grilled morsels will carb you up for a day of exploring. Both the Jungle Lodge Hotel and the Hotel Jaguar Inn offer small restaurants serving up delicious local cuisine as well.
Book with travel rewards for the best value
Several of these underrated places are incredibly affordable — especially compared to the cost of traveling to more popular tourist destinations. So if you're looking for a good way to use your points this year, consider adding one of these trips to your travel calendar.
In many cases, the sign-up bonus from one of the best travel credit cards may cover your airfare to most of these destinations. For instance, if you apply and get approved for the Chase Sapphire Preferred® Card, you can earn 60,000 bonus points after you spend $4,000 on purchases in the first 3 months from account opening — that's $750 worth of plane tickets if you book travel in the Ultimate Rewards portal because you get a fixed value of 1.25 cents per point.
If you're already a Sapphire Preferred cardholder and you've got some points to burn, you can also use them to pay for hotel or Airbnb stays at many of these destinations. Simply log into the Chase portal and find the property you want to book. Again, this is a great way to stretch the value of your points.
Why we love traveling to underrated places
The bottom line? Underrated destinations rock. Not only will you see more and spend less doing it, but you won't have to deal with as many of the bad side effects of tourism — like all the scams and hoaxes happening in crowded destinations.
But our absolute favorite thing about traveling to underrated destinations is getting to experience cultures that are (as of yet) unspoiled by tourism. If 2020 is your year to check off some serious locations on the bucket list, do yourself a favor and pick (at least a few) underrated ones. You can thank us later.
Easy-to-Earn Unlimited Rewards
Earn 25,000 online bonus points after you make at least $1,000 in purchases in the first 90 days of account opening - that can be a $250 statement credit toward travel purchases
Earn 1.5 points per $1 spent on all purchases
Longer intro APR on qualifying purchases and balance transfers
No foreign transaction fees
Earn unlimited 1.5 points per $1 spent on all purchases, with no annual fee and no foreign transaction fees and your points don't expire.
25,000 online bonus points after you make at least $1,000 in purchases in the first 90 days of account opening - that can be a $250 statement credit toward travel purchases.
Use your card to book your trip how and where you want - you're not limited to specific websites with blackout dates or restrictions.
Redeem points for a statement credit to pay for travel or dining purchases, such as flights, hotel stays, car and vacation rentals, baggage fees, and also at restaurants including takeout.
0% Introductory APR for 15 billing cycles for purchases, and for any balance transfers made in the first 60 days. After the intro APR offer ends, 18.24% - 28.24% Variable APR will apply. A 3% fee applies to all balance transfers.
If you're a Preferred Rewards member, you can earn 25%-75% more points on every purchase. That means instead of earning an unlimited 1.5 points for every $1, you could earn 1.87-2.62 points for every $1 you spend on purchases.
Contactless Cards - The security of a chip card, with the convenience of a tap.
This online only offer may not be available if you leave this page or if you visit a Bank of America financial center. You can take advantage of this offer when you apply now.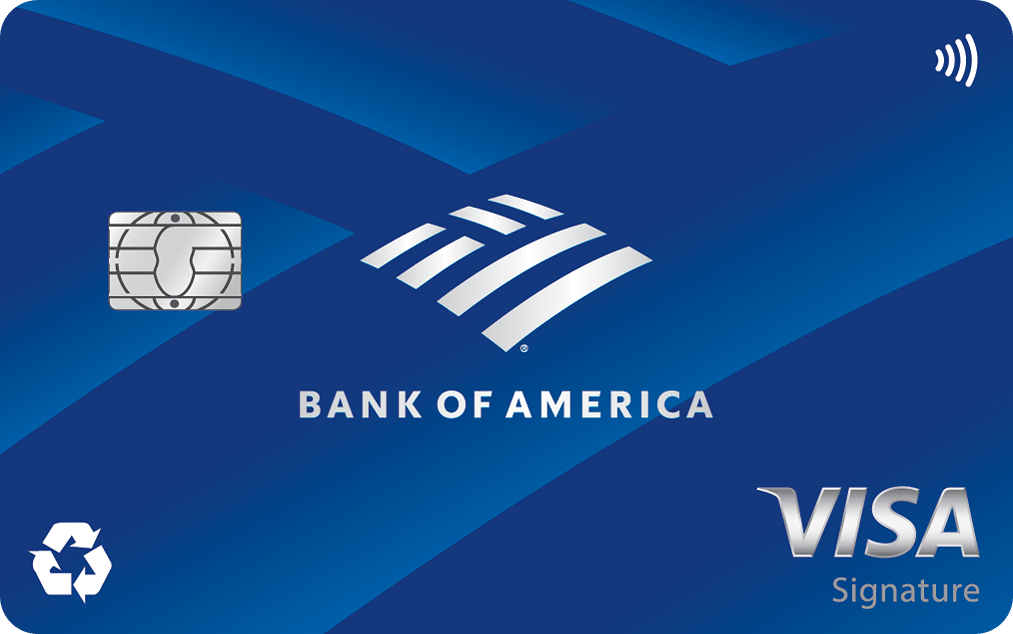 4.1
FinanceBuzz writers and editors score cards based on a number of objective features as well as our expert editorial assessment. Our partners do not influence how we rate products.
Apply Now
on Bank of America's secure website
Read Card Review
Intro Offer
Earn 25,000 online bonus points after you make at least $1,000 in purchases in the first 90 days of account opening - that can be a $250 statement credit toward travel purchases