Part of the fun of traveling the world is deciding where you'll rest your head every night. Although hotels will always have their place and are the ideal lodging choice for many travelers, Airbnbs can provide a unique experience you can't get anywhere else.
If you're saving for a trip to Europe and haven't yet settled on accommodations, you're going to want to check out these 12 one-of-a-kind Airbnbs.
Bomb shelter apartment – Vilnius, Lithuania
Nestled in the well-preserved, medieval old town of Vilnius, which is a UNESCO World Heritage site, this apartment is an authentic, modernized bomb shelter. What it lacks in windows, it makes up for in pure uniqueness.

This space boasts three bedrooms and two baths with enough living space to fit up to a whopping 14 guests. Between the pool table, sauna, and indoor swimming pool, it's easy to forget where you are. But the steel blast doors quickly remind you that you're staying in an authentic Soviet-era bomb shelter.
If you're looking for spacious and unique accommodations for a group of people, one that's centrally located and fully equipped to make your stay comfortable and entertaining, this bomb shelter apartment in Vilnius, Lithuania, could be a blast.
Le Haut Village plane – Saint-Michel-Chef-Chef, France
If you're working your way down a list of the most unique Airbnbs, then you might want to add the Le Haut Village plane in Saint-Michel-Chef-Chef, France to your list. Nothing says you've made it quite like having your own private jet. Although you won't feel the thrill of taking off in this plane, you can still clap upon arrival to this quirky stay.

This getaway has everything you need, including space for four, as well as classic airplane seating and decor. You also get a shower, small kitchen, and access to a swimming pool during the warmer months. But most importantly, the cockpit has been transformed into a bathroom. That's right, the captain's chair takes on a whole new meaning, and there's even a steering wheel for stability. And, of course, there's a chair for a co-pilot in case you need company.
Beachfront lighthouse – Medulin, Croatia
This beachfront lighthouse on the southern part of the Istrian peninsula in Croatia boasts three bedrooms, two baths, and magnificent views of the Adriatic Sea. Built in 1882, this lighthouse Airbnb is a stone's throw from the sea, where you can spend your days bathing in the sun or scuba diving down to a nearby sunken boat. At nightfall, return to the same lounge chairs for epic stargazing.
Whether you're looking for a different take on a romantic getaway or a get-away-from-it-all vacation, you'll have this historic lighthouse Airbnb all to yourself. Plus, a 30-minute drive will land you in the ancient port city, Pula. This 2,000-plus-year-old city is rich with historical monuments — from a 23,000-seat Roman amphitheater to the Forum, Pula's ancient main square that's still used today.
Cubehouse – Rotterdam, Netherlands
The cubehouse in Rotterdam, Netherlands, is located just off the Nieuwe Maas distributary and is a set of innovative houses designed by architect Piet Blom in the late 1970s. Created to optimize the available space, these cube-shaped houses sit tilted on a 45-degree angle atop concrete pillars.
Standing three floors tall, this two-bedroom, three-bath house is the epitome of unique Airbnbs. Venture up to the top floor, and you can take in 360-degree views of Rotterdam. Staying in one of these iconic cube houses is a must for anyone looking for a unique Airbnb during their visit to the Netherlands.
Sleep barrel – Höchstadt, Germany
A sleep barrel is exactly what it sounds like, a barrel you can sleep in. But this sleep barrel in Höchstadt, Germany isn't your average-sized barrel—no, this is a giant, oversized barrel that's basically a version of a tiny home. 
In fact, there's space enough for four people to sleep inside, and you even have a sitting area for relaxing. You will, however, have to travel outside your barrel to go to the bathroom (as there's not one inside). But that seems a small price to pay to experience this level of unique craftsmanship and also be within 500 meters (about a third of a mile) from all the shops and entertainment you could want.
Private trullo suite – Apulia, Italy
Unique to the charming region of Apulia in southeastern Italy, a trullo is a conical, stone-roofed building often used as a dwelling. Your stay in this early 18th-century Apulian trullo will surely give you an authentic Apulian experience.
Outfitted with modern amenities to ensure a most comfortable stay, you'll discover a fully-equipped kitchen, full bathroom, air conditioning, and a king-sized bed. Step outside, and you'll find yourself immersed in the greenery of the local farms, olive groves, and olive oil mills that make up this enchanting part of Italy.
Wild Atlantic Bus at Aishling Cottage – Oughterard, Ireland
After a life transporting people around England and Ireland, the Wild Atlantic Bus in Oughterard, Ireland, now provides a unique accommodation experience for travelers looking for a countryside Airbnb. Located on the outskirts of Oughterard, a village nestled beside the country's second-largest freshwater lake, Lough Corrib, this stationary double-decker lodging no longer transports passengers, though you could say it transports its guests into the heart of nature.
Inside, you'll find three double beds, a wood-burning stove to cozy up to, and a full kitchen — enough to comfortably accommodate up to six guests. Outside, you'll find a fire pit, an outdoor shower, and exceptional views of the surrounding landscape.
Suspended dome "Comporta" – Santiago do Cacém, Portugal
Suspended in nature with a view of the Atlantic Ocean is this one-bed, one-bath dome house near Santiago do Cacém, Portugal. Nestled in the outskirts of the city, this house is perfect for a romantic getaway or detaching for a period of tranquility. Your private dome is meant to allow you to disconnect from the world, but you'll also find Wi-Fi in common areas such as the swimming pool and sunset lounge.
As if sleeping in a private dome isn't unlike anything else, your dome will also have a huge panoramic window that allows you to gaze out on the rolling hills during the day. And, at night, stargazing is a must.
House in pure nature – Tolmin, Slovenia
Surrounded by the forest, beautiful mountains, and wild nature that makes up the Triglav National Park is this three-bedroom, one-bath private house in the town of Tolmin, Slovenia. If you're looking for a truly secluded location amid impressive nature, you found it.
Venture below the house and you'll find an amazing water grove and waterfall. Continue down into the valley and you can jump into the emerald green Soča gorge. And just a hike away is the beautiful glacial lake of Krn, nestled nearby the towering Mount Krn.
Santa Marta de Portuzelo Castle – Santa Marta de Portuzelo, Portugal
A castle to myself? Yes, please! Or maybe with 15 others. The Santa Marta de Portuzelo Castle, off the Lima River in Northern Portugal, boasts a whopping nine bedrooms and eight baths — enough to sleep at least 16 comfortably.
The castle's beautiful grounds and landscaping are made up of more than four acres of gardens, in which you'll find a Manueline-style watchtower, a 16th-century fountain, and an outdoor swimming pool. Whether you're traveling in a group or want to splurge to live like a king or queen for a night, this castle Airbnb could be what you're looking for.
Unique and secluded AirShip – Drimnin, Scotland
If you're looking for a quirky but comfortable Airbnb in Scotland, then look no further. The AirShip 2 in Drimnin, Scotland, is an iconic, insulated aluminum pod that offers stunning views of the Sound of Mull. Located on a secluded four-acre site, you'll find plenty of hiking and unforgettable sunsets with views that reach toward Tobermory.
With one bedroom and one bath, the AirShip 2 can comfortably accommodate two guests. So whether you're looking to decompress by yourself or alongside your partner, you'll be hard-pressed to find a more unique Airbnb.
Oak treehouse – Modra, Slovakia
If you weren't lucky enough to have a treehouse growing up, it's not too late. This treehouse in Modra, Slovenia, is suspended in the picturesque hills of the Little Carpathians and gives any traveler who likes nature a chance to sleep some 19 feet in the air. The treehouse is installed on four adult oaks, with a wooden bridge leading directly to the terrace. Inside, you'll find enough room to sleep four guests, basic kitchen equipment, and water containers for handwashing and basic hygiene.
The treehouse is equipped with electricity should you want to stay connected. But if you want to disconnect and recharge yourself, make sure to spend some time on the terrace, both day and night, and get a view of life from a different perspective.
How to book an Airbnb using travel rewards
Airline miles and points from credit cards be used for more than booking a room with your typical big-brand hotels. If you're looking for something different but want the ability to use your travel rewards to book discounted stays, you'll be happy to know you can also book Airbnbs with points.
If you're a Chase cardholder, Chase Ultimate Rewards points make it easy to book boutique Airbnbs in three simple steps:
Find the properties you're interested in on Airbnb.
Cross-look-it-up on the Chase Travel portal under the section titled "Vacation Rentals."
Book your stay with your points!
Even better, if you have the Chase Sapphire Preferred or the Chase Sapphire Reserve, you can redeem your points for more than the standard 1 cent per point value. When using the Chase travel portal, your Sapphire Preferred points are worth 1.25 cents and your Chase Sapphire Reserve points are worth 1.5 cents per point. Plus, with the Chase Sapphire Reserve, you can apply your annual $300 travel credit toward your Airbnb stay.
Another way to use points to book Airbnbs, especially if you aren't a Chase cardholder, is to use one of the best travel credit cards that offers the ability to redeem miles toward travel purchases. One of the best credit cards for booking an Airbnb this way is the Capital One Venture Rewards Credit Card. Using this strategy, you would book your stay directly through Airbnb and then redeem miles to cover that expense on your credit card later.
Bottom line on unique Airbnbs to book in Europe
There's no shortage of lodging options that can accommodate just about any type of traveler. But if you want a different experience when traveling the world, settling down in an Airbnb might be the way to go.
And even in the Airbnb world, you can think outside the box and have a really special adventure! So which one of these amazingly unique places will you be staying in next?
Easy-to-Earn Unlimited Rewards
Earn 25,000 online bonus points after you make at least $1,000 in purchases in the first 90 days of account opening - that can be a $250 statement credit toward travel purchases
Earn 1.5 points per $1 spent on all purchases
Longer intro APR on qualifying purchases and balance transfers
No foreign transaction fees
Earn unlimited 1.5 points per $1 spent on all purchases, with no annual fee and no foreign transaction fees and your points don't expire.
25,000 online bonus points after you make at least $1,000 in purchases in the first 90 days of account opening - that can be a $250 statement credit toward travel purchases.
Use your card to book your trip how and where you want - you're not limited to specific websites with blackout dates or restrictions.
Redeem points for a statement credit to pay for travel or dining purchases, such as flights, hotel stays, car and vacation rentals, baggage fees, and also at restaurants including takeout.
0% Introductory APR for 15 billing cycles for purchases, and for any balance transfers made in the first 60 days. After the intro APR offer ends, 18.24% - 28.24% Variable APR will apply. A 3% fee applies to all balance transfers.
If you're a Preferred Rewards member, you can earn 25%-75% more points on every purchase. That means instead of earning an unlimited 1.5 points for every $1, you could earn 1.87-2.62 points for every $1 you spend on purchases.
Contactless Cards - The security of a chip card, with the convenience of a tap.
This online only offer may not be available if you leave this page or if you visit a Bank of America financial center. You can take advantage of this offer when you apply now.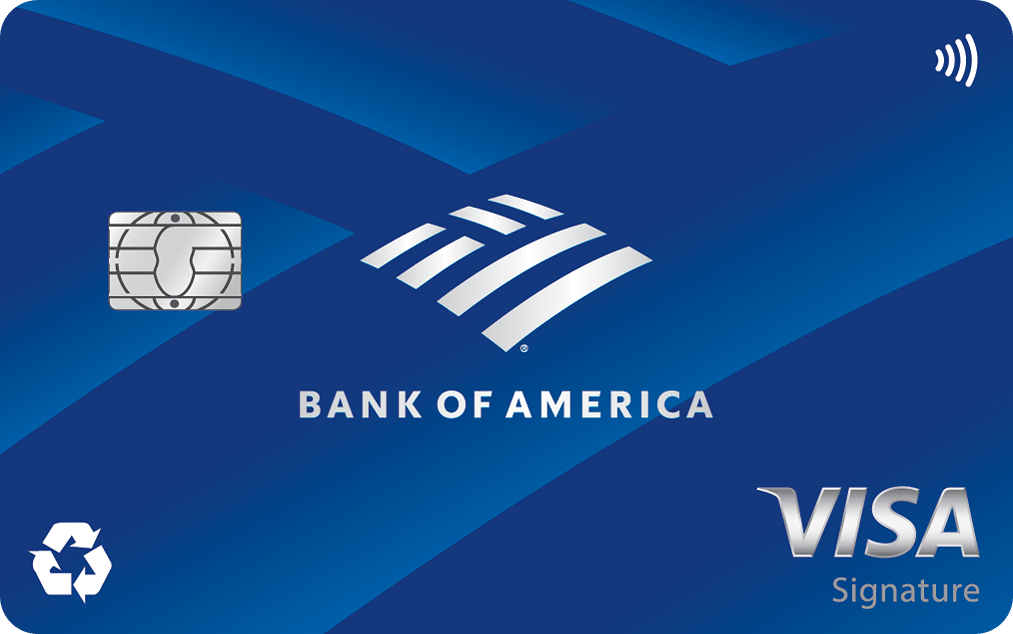 4.1
FinanceBuzz writers and editors score cards based on a number of objective features as well as our expert editorial assessment. Our partners do not influence how we rate products.
Apply Now
on Bank of America's secure website
Read Card Review
Intro Offer
Earn 25,000 online bonus points after you make at least $1,000 in purchases in the first 90 days of account opening - that can be a $250 statement credit toward travel purchases