There are plenty of benefits to staying at Airbnbs when traveling. Paying to stay in someone else's home may make it easier to "live like a local" while you're visiting a new place, you can get much more space, and if traveling with a group, it's a great way to keep everyone together. However, the idea that Airbnb is always the cheaper option (or the better option in general), is not necessarily true. If you're looking for ways to manage money stress during a weekend away, going the Airbnb route is not always the wisest financial choice.
There are several other areas where Airbnbs fail to live up to what's offered at your standard hotel, too. Here are 8 obvious reasons to book hotels over Airbnbs.
You don't want to do chores
A major benefit of staying at a hotel is that a daily cleaning is built into the price of your room for the night — and many of us welcome the chance to abandon our typical chores while on vacation. Airbnb offers no such luxury. In fact, many hosts will ask customers to clean up after themselves and then still tack on an additional cleaning fee.
Hotel guests can get fresh towels, a beautifully made bed to climb into at the end of each day, and even leave their dishes for staff to come pick up. Airbnbs do, however, often offer guests access to a kitchen, while hotel guests may end up spending a pretty penny eating out for each meal.
You're planning a short stay
If you're planning a stay of just a night or two, it simply may not be worth it to go through the trouble of renting an Airbnb. Firstly, the check-in/check-out processes can be more complicated than at a hotel because you are renting from an actual person. Airbnbs also tend to tack on "cleaning fees" even if you stay for just one night, which, if you crunch the numbers, may make your Airbnb stay much more expensive than if you sprung for a hotel.
Hotels have easier check-in
Speaking of check-in, part of the beauty of a hotel stay is that you can pop into the lobby any time night or day (for the most part) and find someone at the front desk to talk to. Some hotels may have special rules regarding when you can check-in, and check-in times may be later in the day (like 4 p.m.), but staff are typically around to help with this. Many hotels also allow customers to check-in early if their room (or another room) happens to be ready.
With Airbnb, customers typically are only given their host's address a few days before the stay and then must be in communication with them about how to find and access the property. This can be a hassle for travelers who just stepped off a flight or have embarked on a long car trip.
Amenities
Many hotels offer standard amenities that frequent travelers come to expect on vacation — like toiletries, gyms, pools, on-site restaurants, and sometimes, even continental breakfast. The amenities vary largely depending on the property (and how much you're willing to spend), but in most cases, it's easy enough to get a solid idea of what a hotel offers while you book.
Airbnb customers can also search for homes that have specific amenities — like a pool — or even use the company's "Airbnb Luxe" feature, which lets customers search for homes/experiences that come with high-end amenities. But the process seems to be much simpler with hotels.
The prices may be nearly the same
When Airbnb first came onto the market as a disruptor to the hospitality industry, many people assumed you could book a much cheaper stay using the company's resources. But that's not always the case — in fact, it's often not the case. Once you tack on additional fees — like a guest service fee and a cleaning fee — you may be paying just as much, or more, to stay at an Airbnb than you would a hotel.
Hotels offer rewards points
Because many hotels are chains, frequent travelers can rack up rewards points to use for free or discounted stays around the world. Hotel reward systems may make it easier for travelers booking on a budget. In some cases, these points can also be used for upgrading rooms and access to special amenities.
Pro tip: If you book using one of the best travel credit cards, you may be able to nab credit card points for a hotel stay as well.
Room service, concierge, and more
You may not think much about basic hotel amenities while you're on vacation, but you'll miss them when they're gone. Even if you very rarely order room service, the option to have food delivered, or even call the front desk to ask for more towels, is a convenience typically lost in Airbnbs.
Also, hotel concierges can provide a whole host of services. If you arrive a few hours before your room is ready for example, the concierge can often hold your bags until your room is ready. If you arrive early to an Airbnb, you better hope the host can accommodate you — otherwise, you're on your own.
Hotels are less likely to cancel last minute
At the end of the day, Airbnb hosts are just regular people. They may have something come up in their personal lives or with their home and be forced to cancel. Even though Airbnb does fine hosts who cancel at the last minute, it does happen. And that's not going to help you if you travel across the world and your accommodations are suddenly unavailable.
While Airbnb hosts canceling is rare, booking with a hotel can provide a peace of mind and sense of security for your stay.
Bottom line
Whether traveling for business or pleasure, travelers want assurance that they are getting the best possible accommodations for the price they're willing to shell out. Despite Airbnb's many benefits — like unique lodgings or more space for guests — it is simply not always the best, or most financially-savvy, choice for many vacations.
Easy-to-Earn Unlimited Rewards
Earn 25,000 online bonus points after you make at least $1,000 in purchases in the first 90 days of account opening - that can be a $250 statement credit toward travel purchases
Earn 1.5 points per $1 spent on all purchases
Longer intro APR on qualifying purchases and balance transfers
No foreign transaction fees
Earn unlimited 1.5 points per $1 spent on all purchases, with no annual fee and no foreign transaction fees and your points don't expire.
25,000 online bonus points after you make at least $1,000 in purchases in the first 90 days of account opening - that can be a $250 statement credit toward travel purchases.
Use your card to book your trip how and where you want - you're not limited to specific websites with blackout dates or restrictions.
Redeem points for a statement credit to pay for travel or dining purchases, such as flights, hotel stays, car and vacation rentals, baggage fees, and also at restaurants including takeout.
0% Introductory APR for 15 billing cycles for purchases, and for any balance transfers made in the first 60 days. After the intro APR offer ends, 18.24% - 28.24% Variable APR will apply. A 3% fee applies to all balance transfers.
If you're a Preferred Rewards member, you can earn 25%-75% more points on every purchase. That means instead of earning an unlimited 1.5 points for every $1, you could earn 1.87-2.62 points for every $1 you spend on purchases.
Contactless Cards - The security of a chip card, with the convenience of a tap.
This online only offer may not be available if you leave this page or if you visit a Bank of America financial center. You can take advantage of this offer when you apply now.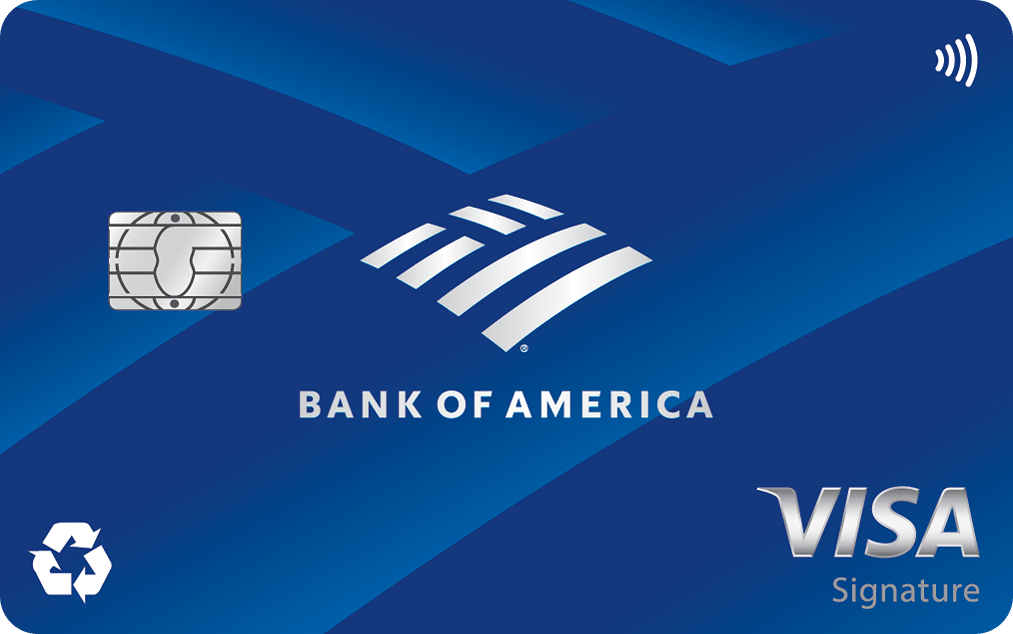 4.1
FinanceBuzz writers and editors score cards based on a number of objective features as well as our expert editorial assessment. Our partners do not influence how we rate products.
Apply Now
on Bank of America's secure website
Read Card Review
Intro Offer
Earn 25,000 online bonus points after you make at least $1,000 in purchases in the first 90 days of account opening - that can be a $250 statement credit toward travel purchases