Those who know me well already know I'm obsessed with earning points and miles. My wife and I have traveled far and wide — and gotten some pretty sweet rewards, like cold, hard cash for our first investment property.
Aside from credit card bonuses, my wife and I like to seek out and attend timeshare presentations as a way to maximize our travel experiences (and get free stuff). The presentations are not as bad as it may seem to sit through — we've come away with some pretty sweet things.
In fact, a lot of major hotel chains have timeshare properties, and it's pretty normal for these chains to offer incentives to people like you and me to attend presentations and listen to sales pitches.
Intrigued? Let's take a look at what you can earn, how to get invited to a timeshare presentation, and how to make the experience worth it.
Gifts you can earn from attending a timeshare presentation
Even if you don't sign up for a timeshare (I never have), the incentives offered can totally be worth your while. These can include cash, points for hotel loyalty programs, free passes (like Disney), and free or heavily discounted rates on hotel stays. What's more, you may be able to combine incentives — think points plus a discount for a hotel stay to attend one presentation.
Here are a few examples of the perks you get:
Stay in a villa studio in Hawaii, receive points for the hotel's rewards program, and even get to do free activities on site. This could include dining credits, sightseeing tours (yes, it could be on a sailboat), and luau tickets.
Head to Orlando and not only will you get discounts on resorts or special accommodation packages, you could get Disney FastPass+ and even free tickets to Disney World itself.
Some timeshare presentations in Las Vegas offer discounted hotel stays, vacation certificates, resort credits, and even free concert or show tickets.
I don't know about you, but all of these incentives sound pretty good to me — that is, if you're willing to sit through a hard sales pitch. If you are, let's move onto how you can get invited to one.
How to get invited to a timeshare presentation
You may have already been invited to a timeshare presentation — maybe you received a phone call or a promotional offer in the mail. In some cases, you'll get an offer in your email inbox just because you're a member of a hotel's loyalty program.
But if you're impatient like me and hate waiting, here are a few ways to get yourself invited to a timeshare presentation.
Approach timeshare reps when you reach your destination
Also known as taking advantage of an on-site offer, approaching timeshare reps is a great way to get an invite. What salesperson wouldn't want a potential customer walking up to them without any effort on their part?
Don't worry. Once you arrive at your timeshare destination, there should be no shortage of reps, especially if it's a touristy destination. All you need to do is approach a rep and express an interest in attending a timeshare offer.
This is important, though: Confirm what the incentive to attend will be before you agree to go to the presentation — some of the best points offers or other desirable perks are earned by going this route.
Reach out to the timeshare department ahead of time
If you want to make sure you're guaranteed a timeshare presentation with incentives, you can call ahead — ask to be put through to the timeshare department. Again, this just makes getting you in as a potential customer easier for reps, so they're going to take you up on it.
Of course, just because you commit to attending a presentation doesn't mean you have to buy anything. It's OK to earn your incentive and walk away.
Get referred by a timeshare owner
Do you happen to know anyone who owns a timeshare? If so, ask that person to refer you. It doesn't have to be the timeshare they bought into — it could be somewhere else within the company's timeshare portfolio. For example, if your friend is a timeshare owner at Club Wyndham's Shawnee Village, they could refer you to a presentation at any Wyndham timeshare property.
Making timeshare presentations worth it
We polled members of the FBZ Elite Travel and Points Facebook group on whether they would sit through a four-hour presentation to get 45,000 Wyndham points. Most people said no, that their time was more valuable.
One commenter, Elana S., said it best:
I need to work for 1.7 weeks in order to earn my PTO (paid time off) for 4 hrs that turn into 5-6. On the other hand, I need to work 0.2-0.4 week to cover the cost of the future nights this presentation gives me. Mathematically, it doesn't make much sense. My PTOs are hard earned and I have to jump through hoops to secure my vacation due to the nature of my job. My time is more valuable than money.
That's totally fair. And, yes, time is more valuable than money. However, there are ways to make these presentations worth it — or else I wouldn't have attended a few of these in the first place.
If you do attend one, do your research. Typically the big players — most major hotel chains — offer the best incentives and are the least likely to be scams. When getting an offer, don't be afraid to negotiate your incentive or gift. Seriously.
Think about it: As Elana said, you're trading your precious time to attend a sales pitch (that you may want to nap through). So don't feel nervous about asking for a bigger incentive that will make it work for you, like asking for a Visa gift card instead of rewards points.
Whatever you're negotiating for, make sure you're getting the most value out of your commitment.
Hotels that offer timeshares
Attending timeshare presentations isn't for everyone. But if you're interested in discounted (or even free) trips and incentives like free points and cash, showing up could be worth it.
Make sure you have a game plan before you attend — will you be open-minded to the sales pitch, or are you dead set on saying no? Whatever you do, don't feel pressured to make a purchase you're not ready for — it's OK to take their incentives and walk away. If you decide the timeshare approach isn't for you, you can still get free perks and rewards by using one of the best travel credit cards to book your trips. 
Easy-to-Earn Unlimited Rewards
Earn 25,000 online bonus points after you make at least $1,000 in purchases in the first 90 days of account opening - that can be a $250 statement credit toward travel purchases
Earn 1.5 points per $1 spent on all purchases
Longer intro APR on qualifying purchases and balance transfers
No foreign transaction fees
Earn unlimited 1.5 points per $1 spent on all purchases, with no annual fee and no foreign transaction fees and your points don't expire.
25,000 online bonus points after you make at least $1,000 in purchases in the first 90 days of account opening - that can be a $250 statement credit toward travel purchases.
Use your card to book your trip how and where you want - you're not limited to specific websites with blackout dates or restrictions.
Redeem points for a statement credit to pay for travel or dining purchases, such as flights, hotel stays, car and vacation rentals, baggage fees, and also at restaurants including takeout.
0% Introductory APR for 18 billing cycles for purchases, and for any balance transfers made in the first 60 days. After the intro APR offer ends, 17.74% - 27.74% Variable APR will apply. A 3% fee applies to all balance transfers.
If you're a Preferred Rewards member, you can earn 25%-75% more points on every purchase. That means instead of earning an unlimited 1.5 points for every $1, you could earn 1.87-2.62 points for every $1 you spend on purchases.
Contactless Cards - The security of a chip card, with the convenience of a tap.
This online only offer may not be available if you leave this page or if you visit a Bank of America financial center. You can take advantage of this offer when you apply now.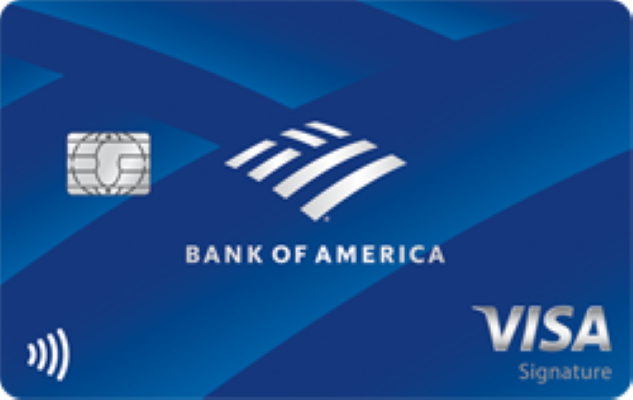 Apply Now
on Bank of America's secure website
Read Card Review
Intro Offer
Earn 25,000 online bonus points after you make at least $1,000 in purchases in the first 90 days of account opening - that can be a $250 statement credit toward travel purchases