As the weather gets colder, you might start dreaming about warm sandy beaches.
But while some beaches in the U.S. are perfect to visit during your vacation time, there are others that you should think twice about. They may be dirty or cold or just not someplace you want to spend your vacation days visiting.
So, before you book your next trip, check this list of the beaches you should steer clear of to avoid throwing your money away.
Hanakapiai Beach, Hawaii
It can be a bit of a trek to get to Hanakapiai Beach on the coast of Hawaii's Kauai island. But while the views may be spectacular from Kalalau Trail to the beach, the ocean can be treacherous once you get there.
In fact, there's a sign warning visitors of the potential for drowning due to currents.
Galveston, Texas
Located on the Gulf Coast, Galveston may seem like a great getaway in the state of Texas. But the beaches in the area have been known to have fecal contamination and other bacteria in the water.
As a result, you'll want to check the status of the beaches before you head out for a day in the sun.
Ontario Beach, New York
Already planning for some summer fun next year? Then you may want to skip a trip to Ontario Beach in New York.
The beach, located on the American shores of Lake Ontario, is known for its high bacteria count, particularly after heavy rains in the summer.
Volusia County, Florida
Florida has plenty of gorgeous sandy beaches to choose from, so you may want to pick one of those to visit over the beaches in Volusia County.
The county beaches are known for unprovoked shark attacks, which could make it dangerous for tourists to venture into the water.
Venice Beach, California
Venice Beach can be an interesting place to visit, but you may want to steer clear of getting in the water. And crime in the area makes it a less-than-desirable location to visit, particularly during evening hours.
Venice beach is also close to Los Angeles, which could add extra air pollution from cars and industry.
Daytona Beach, Florida
Daytona Beach has a few things going against it such as crime and the potential for shark attacks.
The beach is also popular with spring breakers in March and April, so you may want to avoid it if you're trying to get away from large crowds, loud music, and unruly college kids.
Beachwood Beach, New Jersey
The beach in Orange County, New Jersey has had issues with pollutants in the water causing it to be closed down to visitors.
The beach also has above-safe levels of bacteria in the water, making it dangerous for swimmers.
Malibu Beach, California
Malibu may sound like a glamorous area where celebrities live, but the beach is also known as a hangout for sharks. There have even been sightings of great white sharks in the area.
It may be a good idea to find a different beach in the area or keep on top of reported sightings before going in the water.
Monastery Beach, California
While Monastery Beach in California is considered beautiful, it also could be deadly if you aren't careful. The beach is known for its strong undercurrents, potential rip tides, and rogue waves that could catch swimmers off guard or potentially be deadly.
Kilauea, Hawaii
Kilauea is situated on the side of an active volcano, which can make the beach quite treacherous depending on lava flows and other dangers associated with the natural wonder.
The lava flows leave an unusual black sandy beach behind, but you may want to listen to warnings to stay away if the volcano is particularly active.
Hobie Beach, Florida
Miami may seem like a great spot to take a vacation and sit on the beach, but some beaches are better than others. Hobie Beach, for example, is barely a strip of land between the water and a parking lot.
And with jagged rocks and broken glass, it may not be the best idea to walk on the beach in your bare feet.
Dempster Street Beach, Illinois
Want to hit the beach during the summer on Lake Michigan? Then you may want to skip Dempster Beach. The beach, located in Evanston near Chicago, may look nice, but it comes at a cost.
Unlike other beaches that may be free, you will have to fork over some cash in order to spend time in the water each summer.
Myrtle Beach, South Carolina
Myrtle Beach may be a good option during the day, but you'll want to keep an eye on your things even when you're in the water as the area is known for potential crime.
It also is a good idea to plan for potential spring breakers who may cause havoc on your quiet beach retreat if you go in March or April.
Long Beach, California
Long Beach, located south of Los Angeles, may have some fun touristy things to take in like the Queen Mary or unique boats on the water. But it's also near a large port for importing and exporting goods in the U.S., which may make it polluted and less than ideal to swim in.
Coney Island Beach, New York
Coney Island Beach in Brooklyn may be a good day destination for New Yorkers who just need some time to sit by the water, particularly as it gets warmer in the summer.
However, the beach is also known for trash both in the water and the sand, making it a destination you might want to avoid if you're looking for something quiet and clean.
Bottom line
If you plan to take a beachy trip, it may be a good idea to start working on your budget now. Find ways to save money so you don't have to get out of debt later on with your vacation pick.
And don't forget to use some of the best travel credit cards to earn extra points and discounts for your vacation.
Easy-to-Earn Unlimited Rewards
Earn 25,000 online bonus points after you make at least $1,000 in purchases in the first 90 days of account opening - that can be a $250 statement credit toward travel purchases
Earn 1.5 points per $1 spent on all purchases
Longer intro APR on qualifying purchases and balance transfers
No foreign transaction fees
Earn unlimited 1.5 points per $1 spent on all purchases, with no annual fee and no foreign transaction fees and your points don't expire.
25,000 online bonus points after you make at least $1,000 in purchases in the first 90 days of account opening - that can be a $250 statement credit toward travel purchases.
Use your card to book your trip how and where you want - you're not limited to specific websites with blackout dates or restrictions.
Redeem points for a statement credit to pay for travel or dining purchases, such as flights, hotel stays, car and vacation rentals, baggage fees, and also at restaurants including takeout.
0% Introductory APR for 18 billing cycles for purchases, and for any balance transfers made in the first 60 days. After the intro APR offer ends, 17.99% - 27.99% Variable APR will apply. A 3% fee applies to all balance transfers.
If you're a Preferred Rewards member, you can earn 25%-75% more points on every purchase. That means instead of earning an unlimited 1.5 points for every $1, you could earn 1.87-2.62 points for every $1 you spend on purchases.
Contactless Cards - The security of a chip card, with the convenience of a tap.
This online only offer may not be available if you leave this page or if you visit a Bank of America financial center. You can take advantage of this offer when you apply now.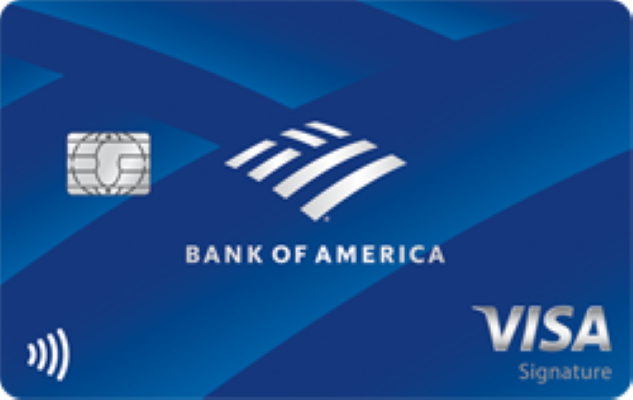 Apply Now
on Bank of America's secure website
Read Card Review
Intro Offer
Earn 25,000 online bonus points after you make at least $1,000 in purchases in the first 90 days of account opening - that can be a $250 statement credit toward travel purchases