Airbnb is a convenient way for travelers to find affordable but personalized lodging — and a wonderful opportunity for Airbnb Hosts to make extra money.
However, anyone who's operated on either end knows there's room for improvement with the vacation rental company.
Lucky for us all, Airbnb recently rolled out its summer release, and it's full of new features to improve the user experience.
Airbnb Rooms
The biggest rollout from Airbnb's summer release is the announcement of Airbnb Rooms. This feature isn't entirely novel to the vacation rental company, but the interface is.
In the past, when you rented from an Airbnb Host, your options were either renting a portion of the residence or the entire residence. The launch of Airbnb Rooms now gives single-room bookings a distinct category.
The goal is to provide a more local experience and opportunities to meet new people. Airbnb says rates will ideally be below $100.
They've also launched Host Passports, which provide information about the host, like their profession, what languages they speak, and fun facts, as well as reviews.
Pay over time
In the past, when you booked an Airbnb, all the fees were due in one installment. The company now offers U.S. and Canada-based users a "pay over time" optionrs.
The vacation rental app has joined forces with Klarna to offer the option to pay your booking fee in four interest-free installments over six weeks.
For monthly rentals over $500, customers in the U.S. can pay monthly installments. No other countries currently have this feature.
Total price display
Booking with Airbnb can be frustrating when it comes to pricing.
Previously, the app only listed the nightly fee in the search results. When you went to check out, there would be a list of extra booking and service fees.
However, the company has now integrated fees — sans tax — into the nightly display price. This includes the price in search results, maps, price filters, and on the listing page itself.
Long-term stay interface
Airbnb doesn't just offer nightly or weekly rentals; it offers long-term stay options as well.
These stays initially weren't found in a dedicated section, however, which made it hard for guests to sort through the multitude of short-term listings.
Now, when prompted to add booking dates, you'll see three tabs — dates, months, and flexible. The app will present a dial that allows you to select stays ranging from one to 12 months.
Checkout reminders
Another sometimes frustrating element of staying at an Airbnb rental is what's expected of guests during checkout.
These vary by Host — some are incredibly simple or, at the very least, give you clear and thorough instructions and expectations. Others, though, are a bit vague or unclear.
Airbnb has made this process more transparent with a checkout reminder, which will notify you one day before your stay is up and give you a rundown of the Host's checkout expectations. Guests can also give checkout feedback in their reviews.
Pre-set checkout instructions
The checkout process has also been made simpler for Hosts.
Instead of writing out lengthy instructions in the listing description and around the rental property, the company's new rollout offers a simpler solution.
Hosts are now able to select a number of instructions and checkout chores from a pre-set list, making the process faster and more transparent.
Airbnb Rooms privacy features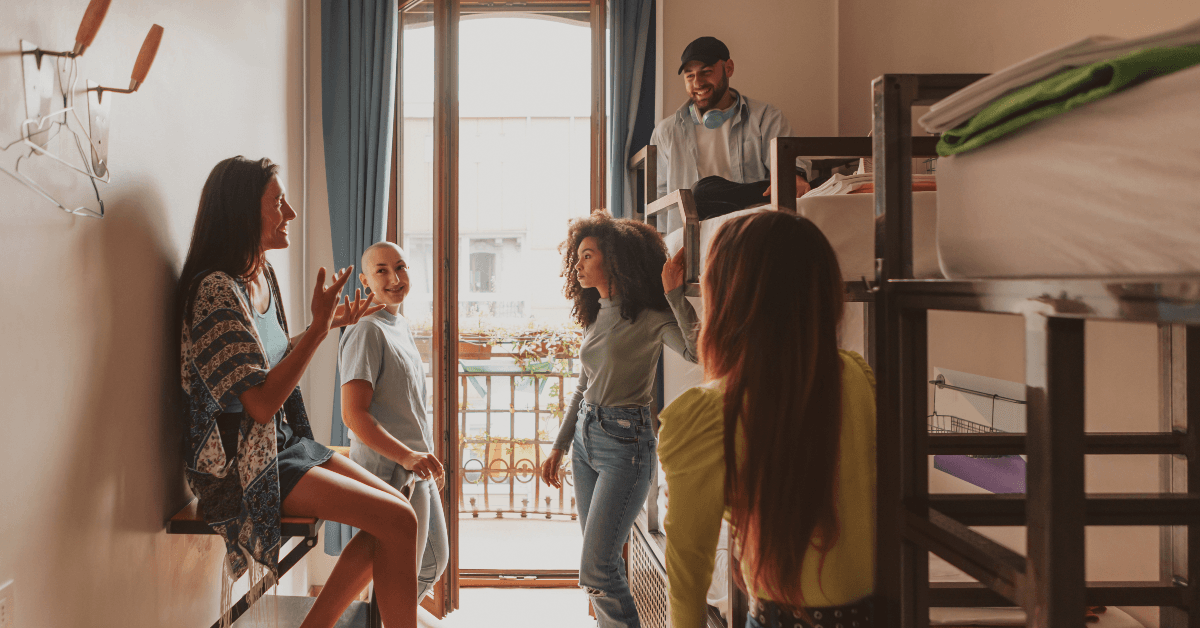 There is also a list of privacy features noted on Airbnb Rooms listings. For example, the app will indicate whether the bathroom is attached to your private room and whether it's shared with someone else.
You'll also be able to see if anyone else besides the Hosts will be staying on the property at the same time.
Rebooking credit
If a Host cancels your reservation, Airbnb's policy is to refund you, but this can take up to 15 days for credit and debit cards. That can leave guests a bit stranded, financially and sometimes literally, when it comes to rebooking.
Their new policy issues you a credit immediately if the Host cancels within 30 days of your reservation, which allows you to book a new rental property as soon as possible.
Reduced fees for long-term stays
Another new perk for long-term Airbnb guests is a reduction in fees for rentals over three months. The discount goes into effect in the fourth month.
You can save even more money with long-term stays by linking directly to your bank account for payment. This feature is currently only available for U.S. stays longer than 28 days.
Better maps
Airbnb's new release also provides updates to their in-app maps. The changes aren't revolutionary but are simply meant to improve the user experience.
For example, they updated the interactive maps to be faster and to refresh quicker. They also shrunk the location pins so you can see more rentals in a given area.
Child and infant-friendly bookings
Traveling with little ones is already stressful enough. Finding accommodations for them in your rental can be even more challenging.
Airbnb has identified this need in traveling parents and updated its search filters to identify rentals that are infant and child friendly. These amenities can include things like cribs and playrooms.
Improved wishlists
Another major update is the complete redesign of Airbnb wishlists. They've reimagined the wishlist interface, making it more user-friendly and engaging than a simple list of favorited properties.
New features include one-tap saving, adding notes to wishlisted rentals, and a calendar that gives an overview of each saved home's availability.
And in a simple but nice change, they made the images larger.
Improved identity verification
Airbnb has asked and encouraged both guests and Hosts to verify their identity to set up their accounts for quite a while. Now, though, they require it.
For guests, you'll have to verify your identity during booking, which should be as simple as re-entering contact information. Both seasoned and new Hosts alike also have to submit verification information.
In general, everyone gets extra peace of mind.
Read receipts
Waiting for a guest or Host to get back to you about the details of a listing can be a little frustrating, especially when you don't know if they've received your message.
To make communication easier and more transparent, Airbnb has added read receipts for all messages between each party.
Updated guest profiles
Just as guests are particular about which Hosts they choose to book with, Hosts are picky with who they'll rent to. Credible guest profiles can make all the difference in their decision.
This new release offers guests more profile customization options — like adding past Airbnb trips and personal interests — which can give Hosts a better overview of your personality and add transparency to the booking process.
Landmarks and points of interest
If you're planning on staying at an Airbnb near a notable landmark or destination, it can be frustrating trying to calculate the distance from the rental to the site without an exact rental address.
With their new feature release, though, Airbnb will now show the distance from the landmark in question to the rentals you're looking at.
Improved search engine
This update isn't novel, but it does help facilitate a better user experience. Part of Airbnb's new releases is a slight upgrade to their search engine.
These upgrades include reduced duplicate results and listings, better and more accurate results, and more precise autocomplete options.
Appeal bookings blocked for party risk
The app's anti-party screening is useful for Hosts, but it has its flaws. It can incorrectly identify newer guests or last-minute bookings as a party risk. Guests under 25 are also often considered a risk.
To counteract these errors, Airbnb will allow guests to submit appeals to remove booking blocks from their accounts.
Bottom line
Airbnb is a convenient alternative to hotels and traditional vacation residences, and their new features aim to emphasize that convenience for both guests and Hosts.
With added security measures, more transparency between Hosts and their guests, and the addition of Airbnb Rooms, travel has never been easier. You can make the journey to your booking even better with the best travel credit cards.
Easy-to-Earn Unlimited Rewards
Earn 25,000 online bonus points after you make at least $1,000 in purchases in the first 90 days of account opening - that can be a $250 statement credit toward travel purchases
Earn 1.5 points per $1 spent on all purchases
Longer intro APR on qualifying purchases and balance transfers
No foreign transaction fees
Earn unlimited 1.5 points per $1 spent on all purchases, with no annual fee and no foreign transaction fees and your points don't expire.
25,000 online bonus points after you make at least $1,000 in purchases in the first 90 days of account opening - that can be a $250 statement credit toward travel purchases.
Use your card to book your trip how and where you want - you're not limited to specific websites with blackout dates or restrictions.
Redeem points for a statement credit to pay for travel or dining purchases, such as flights, hotel stays, car and vacation rentals, baggage fees, and also at restaurants including takeout.
0% Introductory APR for 15 billing cycles for purchases, and for any balance transfers made in the first 60 days. After the intro APR offer ends, 18.24% - 28.24% Variable APR will apply. A 3% fee applies to all balance transfers.
If you're a Preferred Rewards member, you can earn 25%-75% more points on every purchase. That means instead of earning an unlimited 1.5 points for every $1, you could earn 1.87-2.62 points for every $1 you spend on purchases.
Contactless Cards - The security of a chip card, with the convenience of a tap.
This online only offer may not be available if you leave this page or if you visit a Bank of America financial center. You can take advantage of this offer when you apply now.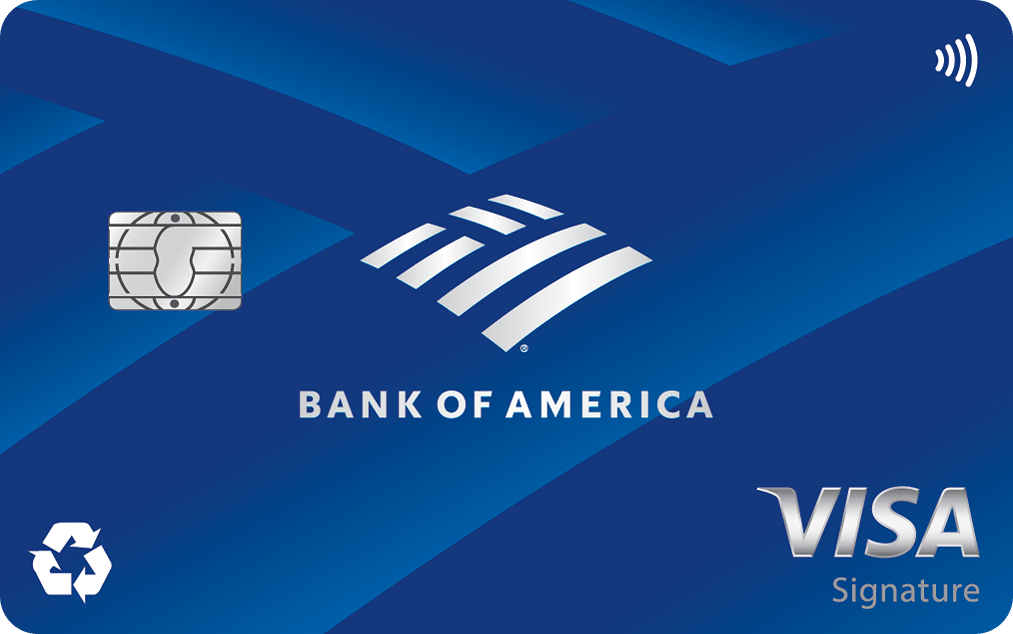 Apply Now
on Bank of America's secure website
Read Card Review
Intro Offer
Earn 25,000 online bonus points after you make at least $1,000 in purchases in the first 90 days of account opening - that can be a $250 statement credit toward travel purchases