With many international travel plans being delayed or canceled entirely, this is gearing up to be the summer of road trips. In fact, a recent FinanceBuzz survey on summer travel found that nearly half of Americans (48%) said they don't anticipate getting on a plane for at least a year, and roughly another quarter (23%) said they wouldn't consider flying until there's a COVID-19 vaccine.
And although having a widely available vaccine isn't likely to happen soon, that doesn't mean you can't enjoy a good vacation this summer — especially if you're willing to rent an RV and hit the wide open road.
A road trip during coronavirus might mean checking out some of the U.S.'s best drive-through destinations where you don't even have to get out of the car, or it might mean finding nature in one of the National Parks that is typically without crowds. But whatever your destination, you're going to need the wheels to get there.
This article will teach you everything you'll want to know before renting an RV this summer so your road trip is a memorable one (in a good way). That includes how to know the different types of RVs, where to rent one, and how much you can expect to pay.
And be sure to watch our video to get some insider RV tips from a full-time RVer too:
Where you can rent an RV
There is a dizzying number of ways to rent an RV for your next road trip, but here's a breakdown of some of the most common options.
Rent from a commercial retailer
Chances are you've spotted a Cruise America RV at least once while sitting in traffic — especially because those cute doggo window decals are pretty hard to miss. Companies like Cruise America and El Monte RV have been renting campers to road-trippers for years. With countrywide locations and rental packages, these commercial RV retailers are a good place to start if you've never rented an RV before.
Rent from a peer-to-peer site
That's right, the peer-to-peer market has made its way into the world of RV rentals, giving you even more choice when it comes to finding the perfect way to camp on your next getaway. Sites such as Outdoorsy and RVShare have huge inventories of just about any kind of RV you can imagine. These rentals typically come with flexible pickup and drop off locations to help you simplify your road trip plan.
Rent from an RV dealership
Another way to rent an RV is to just give a call to your local RV dealership. If there's a local business you like and want to support, it might be worth asking if they offer rentals as plenty of them do. This has the upside of potentially cutting down on the driving to pick up your rental too.
How your itinerary will impact your rental choice
Before you dive headlong into an RV rental contract, it's good to have a rough idea of where you'll go and how long you plan on staying. Do you plan to start your trip by flying to your starting point? Do you plan to leave right from your house?
Although most RV companies can arrange for traditional round-trip rentals (you pick up and drop off your rental at the same location) they might not have the resources for more complicated itineraries or they may charge you extra to accommodate your plans.
For example:
Some companies, notably Cruise America, have so many locations that they're able to offer one-way or point-to-point trips. That means you can pick up your RV, drive it hundreds or thousands of miles, and return it in an entirely different city.
Other rental services, such as Outdoorsy and RVshare, offer delivery services to help you receive your rental and in some cases even return it.
Some companies, such as El Monte RV, have specific trip itineraries they support that include sightseeing destinations. This can be a great option for people who aren't quite sure of the places they'd like to visit.
Whichever direction you choose to go, it's worth considering your desired destinations and finding out which rental service will be the most accommodating.
Different types of RVs: What you need to know
Another thing to figure out before finalizing your rental, is what kind of RV you'd like to get. As a newcomer to the RV world, the terminology might feel overwhelming. And with so many options to choose from, it's good to know a bit about each one in order to make the best decision for your trip.
Here are the most common types of RV rental options you're likely to encounter:
Class A
Class A motorhomes are the big luxury models you so often see retirees in — and with good reason. These top-of-the-line RVs offer most, if not all, the luxuries of a modern home, which is why they're such popular choices for full-timers and travelers alike.
Some class A motorhomes will have residential-quality appliances, spacious bathrooms, and extra storage space. Coming in at roughly 30 to 40 feet long, you should be prepared to feel like you're driving a bus (because essentially you are). Also make sure to budget for the gas or diesel expenses that come with renting a large vehicle.
Class B
This might seem out of order, but class B motorhomes are some of the smallest models on the market. Also known as campervans, these compact RVs typically include most of life's essentials, such as a bed, refrigerator, and electricity. But depending where you rent from, you might get one made by a manufacturer or one that was renovated in somebody's spare time (#vanlife, anyone?). So be aware that the amenities and interiors can vary quite a bit.
These vehicles generally don't exceed 20 to 25 feet in length. That makes them a good choice for solo campers, couples, or smaller families who don't need the extra space and are concerned about driving something larger.
Class C
These RVs fall somewhere in between the class A and class B both size and comfort-wise. Although they tend to offer many of the same amenities as their class A counterparts, they're also typically a bit smaller. This can make a class C RV a better choice if you want to access places with rough terrain that larger RVs sometimes can't handle due to size and low clearance.
Known for their distinct cab-over look (in which a bed or extra storage rests over the driving compartment) these campers are a good choice for larger families looking to spend a little less on gas or couples planning a longer trip.
Fifth wheel
Although these three previously mentioned RV types all function as independent vehicles with their own engines, the next three RV types are towable, which means you'll need your own vehicle to haul them around.
The fifth wheel is the largest kind of towable RV and can offer a similar size and comfort level as the class A motorhomes. A nice feature of these RVs is the ability to detach them from your vehicle and leave them at your campsite. This makes fifth wheels an ideal choice for anyone camping long term in one place, as you'll be able to drive your truck around separately.
One thing to keep in mind is how these RVs are attached. As the name would suggest, these trailers are meant to be pulled using a fifth wheel hitch installed in the bed of the truck. And because of their large size, you'll want to be sure your truck is rated to tow this kind of weight before you rent this style of RV.
Travel trailer
Travel trailers are more like a normal trailer you might already be used to towing around. They attach to a hitch on your bumper and can be secured to a wider variety of vehicles than a fifth wheel. Much like fifth wheels, you can leave these trailers parked in your campsite or tow them around at your leisure.
With a variety of layouts, weights, and sizes, these mid-size campers are a good choice for campers who want to be able to use their vehicle separately for day trips. But although travel trailers tend to be smaller than fifth wheels, you'll still need to be sure your vehicle is rated to safely tow the trailer's weight.
Truck camper
If you do have a big truck but don't want to haul around a fifth wheel, then a truck camper might be the perfect solution. More compact in size, these campers sit on the bed of your truck. This can give you high clearance for trekking into more remote locations. Truck campers offer less space and comfort, but for anyone looking to access remote locations, they're a solid choice.
What renting an RV will cost you
As you can imagine, the cost of renting an RV can vary quite a bit depending on what kind of camper you choose. Another factor that goes into the cost of renting is how old the RV is, as newer more modern models tend to cost more than their older counterparts.
According to the experts at The Wandering RV, here's how much you can typically expect to pay for each of the RV types:
Class A: $350 to $450 per night for newer models; $175 to $275 per night for older ones
Class B: $200 to $350 per night for new models; $100 to $200 per night for older ones
Class C: $225 to $400 per night for new models; $150 to $200 per night for older ones
Fifth wheel: $150 to $300 per night for new models; $60 to $150 per night for older ones
Travel trailer: $125 to $200 per night for new models; $50 to $125 per night for older ones
Keep in mind that although these estimates are current for 2020, prices will vary based on your location and whom you choose to rent from. Because peer-to-peer renting sites such as Outdoorsy and RVshare often allow RV owners to set their own rates, you may end up paying significantly more or less when renting through these services.
How to drive an RV
Another thing to consider before you lock in your RV rental is how to drive it. Driving an RV might seem simple at first glance, but for anyone who's never driven one, you'll likely experience some sort of learning curve.
Because of the size and shape, driving any RV is significantly different from driving a car or even a large truck. If you know in advance that you won't feel comfortable driving a big class A or fifth wheel, consider renting something smaller and more manageable. And no matter what you rent, you should schedule time to get in a little practice before you hit the road on your trip.
Another point to keep in mind is that you'll want to be sure you buy adequate insurance coverage for your trip. Although this might be included in your rental package, it's always a good idea to double check your coverage before heading out.
Where you can stay in an RV
Now that you know a bit about renting an RV, you're probably wondering where to take it — and where you can park it. You have three basic camping options when it comes to traveling with your RV rental:
Public camping
Public camping can be either paid or free, and includes places such as national forests, national parks, state and county parks, and even city parks. Sometimes these campgrounds can be as luxurious and well-maintained as the private ones (and cost less), but other times they'll require you to rough it and be just as pricey as their fancier private counterparts.
Because these campgrounds can vary so much, it's a good idea to research their facilities ahead of time if you have specific needs. You may want to make reservations as well because walk-in reservations can be hard to come by at the more popular public camping destinations.
You might save money by sticking to traveling within your own state as many state parks offer discounted camping to residents. Some national lands, like national forests or lands owned by the Bureau of Land Management offer free or cheap camping options, but these won't necessarily come with the same facilities as a full-blown campground. We'll talk more about that later in this section.
Privately owned RV parks
RV parks tend to be the most accessible and stress-free camping option for new RV renters, as most will offer a full set of utility hookups (electricity, water, and sewer service). This makes it easy to just pull up and park, no problem. Often RV park attendants can even help you hook up your utilities if you've never done it before.
RV parks also tend to be very clean, and offer extras like pools, on-site laundry, shower houses, and sometimes even dog parks. As a result of all this, they tend to be the most expensive camping option too. But if you're new to RV camping and have the budget for it, private RV parks can be an easy way to visit your bucket-list destinations and know you'll have everything you need.
Boondocking or dry camping
For those looking for a more rugged and less expensive camping experience, you might be tempted by boondocking. This is also known as dry camping as most boondocking destinations come without amenities. That means you won't have any utility hookups for your RV, and you might not even have access to fresh drinking water.
If you're prepared to arrive with everything you need to be self-sufficient (and follow leave-no-trace guidelines) and you want to truly get away, then boondocking on BLM land or at other dispersed camping sites might be the camping experience you've been looking for.
Tips for booking campsites for the total beginner
For those who have never spent any time camping in an RV, you might do best to stay at a campsite with full hook-ups. This means you will have access to fresh water, electricity, and a sewer to drain your waste water. If you don't have bathrooms in your RV rental, then partial hook-ups might suffice. This typically means you have water and electricity, but no sewer. These campsites sometimes cost less as well.
If you're planning to rent a completely self-sufficient RV (one with solar panels or a generator and large water holding tanks) you might be able to get away with staying at a dry campsite. Amazing dry camping locations can be found on websites like HipCamp and Boondockers Welcome. Apps like iOverlander also offer info on free and cheap camping locations, but keep in mind that just because someone else slept there doesn't mean you want to. Whether it's an RV park or a peer-to-peer campsite you're considering, you should always read the reviews, look through any comments on a listing, and cross check the info on multiple resources.
If this all feels overwhelming, just spend some time on a website like Campendium. You can search a geographic area and sort by the type of camping you want to do. There will be reviews from other campers, as well as ratings. Whether you plan on staying in a private campground, a state park campground, or just boondocking down by the river — chances are someone has stayed there before you. Read about their experience and make sure it's in-line with what you're looking for.
How to save money by RVing
Unlike other types of vacationing, RVing is very much a choose-your-own-adventure way of travel. This also means you'll have more freedom when it comes to choosing how much money you spend.
Although you can of course go all out on the most expensive rental and campsites, or you could not spend a dime on a campsite if you're comfortable with boondocking. There are also plenty of ways to save money at RV parks with various strategies and the right credit cards on hand.
One surefire way to control how much you spend is by limiting your driving. This has the added benefit of giving you more time for sight-seeing. You should also be sure to use one of the best credit cards for gas purchases throughout your trip.
Finally, much like any other type of vacation, you'll save more by eating out less often. Because you'll most likely have a refrigerator in your RV, you'll be able to shop for groceries and plan meals on the cheap. You might also consider applying for one of the best credit cards for groceries so you can earn rewards on purchases before you go on your trip. 

Bottom line
Traveling by RV is a great way to see the country and spend some quality time outdoors with your favorite people. It's also a good way to see something new and not spend thousands of dollars doing it. If you're new to RVing, don't be intimidated — there are other new RVers out on the road every summer, and this one won't be an exception. 
Start by figuring out where you'd like to go, and what kind of camping experience you're looking for, then start shopping for your rentals. You can earn rewards on some of your bookings and dining when you choose the best travel credit card. The wide open road awaits. Happy traveling!
Easy-to-Earn Unlimited Rewards
Earn 25,000 online bonus points after you make at least $1,000 in purchases in the first 90 days of account opening - that can be a $250 statement credit toward travel purchases
Earn 1.5 points per $1 spent on all purchases
Longer intro APR on qualifying purchases and balance transfers
No foreign transaction fees
Earn unlimited 1.5 points per $1 spent on all purchases, with no annual fee and no foreign transaction fees and your points don't expire.
25,000 online bonus points after you make at least $1,000 in purchases in the first 90 days of account opening - that can be a $250 statement credit toward travel purchases.
Use your card to book your trip how and where you want - you're not limited to specific websites with blackout dates or restrictions.
Redeem points for a statement credit to pay for travel or dining purchases, such as flights, hotel stays, car and vacation rentals, baggage fees, and also at restaurants including takeout.
0% Introductory APR for 15 billing cycles for purchases, and for any balance transfers made in the first 60 days. After the intro APR offer ends, 18.24% - 28.24% Variable APR will apply. A 3% fee applies to all balance transfers.
If you're a Preferred Rewards member, you can earn 25%-75% more points on every purchase. That means instead of earning an unlimited 1.5 points for every $1, you could earn 1.87-2.62 points for every $1 you spend on purchases.
Contactless Cards - The security of a chip card, with the convenience of a tap.
This online only offer may not be available if you leave this page or if you visit a Bank of America financial center. You can take advantage of this offer when you apply now.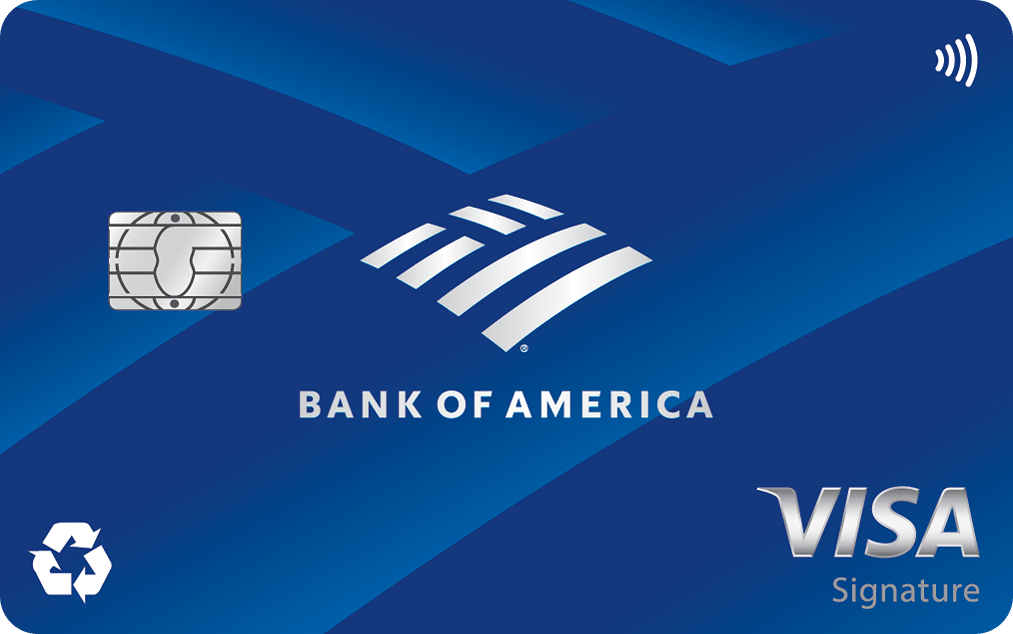 Apply Now
on Bank of America's secure website
Read Card Review
Intro Offer
Earn 25,000 online bonus points after you make at least $1,000 in purchases in the first 90 days of account opening - that can be a $250 statement credit toward travel purchases