Travel is a pretty personal topic — and everybody travels in their own style. While a lot of people love to fly and stay in hotels, my husband and I prefer to travel in our RV. In fact, we prefer our RV so much that we moved into it full-time back in early 2017.
Yep, we're full-time RVers, and one of our primary motivators in becoming full-timers is our goal of financial independence. But you don't have to be a full-time RVer to enjoy camping or to save money. For 2022, the RV Industry Association (RVIA) projected that 72 million people would be taking a vacation in an RV, up from the 61 million projected for 2021.
So maybe one of those RVers is you? If so, or even if you're just researching RVing and have discovered that the nightly rates at RV parks aren't as financially appealing as you imagined — don't worry. After years of full-timing, I've learned a few things about how to save money on RV parks, and I'm going to share my tips with you.
Become a member of an RV club

RV clubs are great for a lot of reasons — they often provide you access to roadside assistance programs, insurance discounts, and, most importantly, discounts on weekly and daily rates at RV parks. We rarely stay at RV parks for less than a month because monthly rates are typically the most heavily discounted. By comparison, nightly and weekly rates can be very high. I've seen them as high as $90 per night in popular areas like the Black Hills of South Dakota.

But with an RV club membership, you can get a percentage taken off those nightly and weekly rates, and that can save you substantial money over time. The actual discount will often vary by park, but the important part is to keep an eye out for RV club logos on a park's website or simply ask about any available discounts when you make your reservation. You can quickly recoup the cost of your membership after just a few nights at an RV park, and then you're saving every night from there.

I've been a member of both the Good Sam Club and Escapees RV Club for many years. As of May 2022, Good Sam membership starts at $29 a year, and Escapees is $49.95 for a new year-long membership for U.S. residents. Other popular RV discount clubs and programs include Passport America, KOA, and FMCA. If you travel with family, becoming a member of Fulltime Families can also unlock further valuable campground discounts.

Pro-tip: you can stack your savings by joining Fulltime Families first, then joining Good Sam for free and Escapees at a 20% discount (as of May 2022) — since Fulltime Families comes with discounts to each of those clubs.

Buy an RV and enjoy free camping

Okay, not really, but if you do happen to be shopping for an RV, there's a tip you should know about. Some RV dealerships have a relationship with Thousand Trails. As part of that relationship, they give new RV owners a free one-zone, one-year camping pass (regularly priced at $630).

Having a Thousand Trails camping pass allows you to pick one camping "zone" and stay at the parks in that zone for up to 14 days with no nightly charge. There are five different zones, and each has a fair number and variety of campgrounds available.

Be aware, though, that if you're planning to be on the road for a longer trip that you can't just go from one Thousand Trails park to the next — if you stay at one of their parks for more than four consecutive nights, you then have to be "out of the system" for seven days before you can check in to your next Thousand Trails park.

With that in mind, Thousand Trails is great for people who plan to travel frequently, but for periods of two weeks or less. It's also great for people who don't mind either paying for other accommodations for a week in-between or who enjoy short spurts of boondocking (camping without being hooked up to utilities).

Many people who get a free-year pass go on to pass for additional "zones" in the Thousand Trails system or renew their membership the following year (hence why they give them out for free to new RV owners!). If Thousand Trails sounds like it might be a good fit for you and you're RV shopping, be sure to ask your salesperson about this free-year incentive.

Try this RV timeshare trick

As with hotel companies, there are RV park networks that operate a lot like timeshares. As such, if you're willing to sit through a timeshare presentation, you can stay for a few days totally free at the RV park. I've personally seen these parks along the Colorado River in Arizona, and some of them were very nice — definitely more on the "resort" end of the RV park scale.

My husband and I considered staying at one in Bullhead City, Arizona, just because it looked so enjoyable, even though we knew it meant sitting through a sales talk. When we wavered about staying while on the phone with a representative, they started offering us more and more free days. We ultimately decided to literally go another direction (more on where we ended up in the next section), but taking advantage of this sort of incentive is in the back of our minds for the future if we want to save money and stay somewhere a little posh.

If you decide to try the timeshare trick, remember not to be too eager so that you can get as many free days as possible. And, also, let me know how it goes!

Go to New Mexico

So, where did we go instead of staying in a free timeshare in Arizona? New Mexico! Giving the advice to "go to New Mexico" probably sounds random, but stick with me for a moment.

If you're an experienced camper, you probably already know that state parks are generally an expensive way to RV for any length of time. If you're not an experienced camper yet, well, be aware that state parks are an expensive way to RV for any length of time.

But there is one huge exception: New Mexico.

The New Mexico State Parks system is not only robust, but it offers an amazing deal if you purchase an annual camping pass. Even for non-residents, the New Mexico state park pass is an incredible deal. The annual camping permit costs $180 for New Mexico residents and $225 for non-residents. It's valid from the day you purchase it for one year. The pass covers your vehicle, your trailer, and the occupants (or if you're in a motorhome, it covers your motorhome and a towed vehicle).

Essentially what this pass does is get you up to $10 per day off the regular camping fees. So if a full-hookup site (one with electric, water, and septic connections) costs $18 normally, you only pay $8 per night. If you're willing to boondock, which is normally $8 per night, then you can camp for free. For a year! Even if you choose to camp with utility hookups, and even taking into consideration the annual fee, that comes out to a very small fee per night in comparison to a typical RV park.

And it's a great deal even in comparison to other state park programs. For example, in Colorado, an annual state park pass for one vehicle will only cost you $80 (as of May 2022), but that doesn't get you any discount on camping. You will pay $32-41 per night for an RV spot in addition to that annual pass.

Our spot in a New Mexico State Park




The catch is that there is a 14-day limit when it comes to how long you can stay in each individual park. But, unlike with Thousand Trails, there's no requirement for you to go "out of the system" between parks. This is where the robust nature of the New Mexico State Park system comes into play. Because they have so many parks, you can easily move from one to the next and find another spot without having to drive too far.

Each park has some spots that are set aside for first come, first served, and others are available to book through the online reservation system (with an additional fee per reservation). If you know you're headed to a popular destination, the reservation fee can be worthwhile. That said, if you're willing to wait in the boondocking areas (which are typically massive and gorgeous), you can also try the first-come, first-served strategy and just boondock at no charge until a site with utility hookups becomes available.

Boondocking in a New Mexico State Park



Save with travel rewards credit cards
As the RV lifestyle continues to grow, more and more credit card companies are catching on as well. Booking an RV spot counts as "travel" on many of the best travel credit cards now, which means you can earn points, miles, or cash back on those expenditures.
I'm a big cashback girl myself since we rarely stay in hotels or fly. But if you're looking for a great rewards rate and flexibility on how you can redeem those rewards, then the American Express® Green Card is a great way to go. You can earn 3X points on eligible travel and transit purchases, and at eligible restaurants worldwide, including takeout and delivery in the U.S., and "travel" includes campgrounds.
You can redeem your rewards for a statement credit if you just want cash back, or you can use your Membership Rewards to book travel through the Amex Travel portal or transfer your points to travel partners. You can also buy gift cards and take advantage of other redemptions, as well. The Amex Green Card also has a nice welcome bonus — you can earn 60,000 membership rewards points after spending $3,000 on purchases in the first 6 months (plus, earn 20% back on eligible travel and transit purchases during the first 6 months, up to $200 back in the form of a statement credit) — and a $150 annual fee.
All information about American Express® Green Card has been collected independently by FinanceBuzz.
Other credit cards that can earn you points on RV parks and campgrounds include the Chase Sapphire Preferred® Card and Chase Sapphire Reserve®. These cards are a great way to go if you tend to travel in a variety of ways over the course of a year, and they both come with great perks for non-RV travelers as well.
The RV club Good Sam also offers its own credit card, the Good Sam Rewards Visa, which is issued by Comenity Bank. This card earns 5X points on purchases through Good Sam, Camping World, and Gander Outdoors; 3X points at campgrounds and gas stations; and 1X points everywhere else. Rewards can be redeemed for cash back, Good Sam memberships, gift cards, and more.
Also, consider having a rewards credit card on hand that earns points, miles, or cash back on fuel and food, as these are likely your two other big expenses when you're traveling via RV. Our current favorite for both of those expense categories is the Blue Cash Preferred® Card from American Express. With this card, you earn 6% cash back at U.S. supermarkets (for first $6,000 per year, after that 1%) and on select U.S. streaming services, 3% cash back at U.S. gas stations and on eligible transit, and 1% cash back on other eligible purchases. (Cash back is received in the form of Reward Dollars that can be redeemed as a statement credit.)
Special note: If you're renting an RV, it may not count as a "travel" expense on your credit card. Sometimes it's categorized as a "hauling vehicle," and you won't get your bonus rewards in that case, so be sure to find out the details on your particular card.
Bottom line
The popularity of camping and RVing continues to grow. And with over half of the new RVers in 2021 being Millennials, it's likely that the lifestyle will continue to expand. But whether you see RVing as a route to retirement or financial independence, or you're simply doing it to get away for a weekend, you don't have to spend a fortune while you're trying to de-stress. There are plenty of ways that you can make any length of RV adventure more economical.
Easy-to-Earn Unlimited Rewards
Earn 25,000 online bonus points after you make at least $1,000 in purchases in the first 90 days of account opening - that can be a $250 statement credit toward travel purchases
Earn 1.5 points per $1 spent on all purchases
Longer intro APR on qualifying purchases and balance transfers
No foreign transaction fees
Earn unlimited 1.5 points per $1 spent on all purchases, with no annual fee and no foreign transaction fees and your points don't expire.
25,000 online bonus points after you make at least $1,000 in purchases in the first 90 days of account opening - that can be a $250 statement credit toward travel purchases.
Use your card to book your trip how and where you want - you're not limited to specific websites with blackout dates or restrictions.
Redeem points for a statement credit to pay for travel or dining purchases, such as flights, hotel stays, car and vacation rentals, baggage fees, and also at restaurants including takeout.
0% Introductory APR for 15 billing cycles for purchases, and for any balance transfers made in the first 60 days. After the intro APR offer ends, 18.24% - 28.24% Variable APR will apply. A 3% fee applies to all balance transfers.
If you're a Preferred Rewards member, you can earn 25%-75% more points on every purchase. That means instead of earning an unlimited 1.5 points for every $1, you could earn 1.87-2.62 points for every $1 you spend on purchases.
Contactless Cards - The security of a chip card, with the convenience of a tap.
This online only offer may not be available if you leave this page or if you visit a Bank of America financial center. You can take advantage of this offer when you apply now.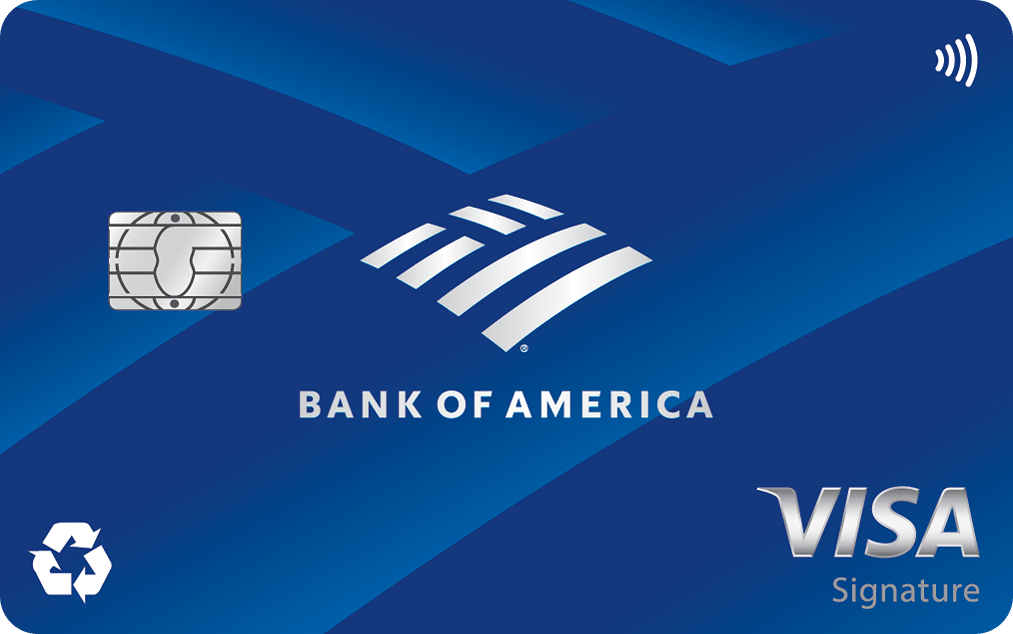 Apply Now
on Bank of America's secure website
Read Card Review
Intro Offer
Earn 25,000 online bonus points after you make at least $1,000 in purchases in the first 90 days of account opening - that can be a $250 statement credit toward travel purchases