Over the last few decades, cities with dark skies and prime stargazing spots have become harder to find. Light pollution from development has made it more difficult to observe the full brilliance of the heavens.
However, the International Dark-Sky Association (IDA) certifies locations that are bucking this trend. And in addition to national parks and sanctuaries, many communities, cities, and urban spaces have made the list.
Following are 12 of the best cities for stargazing in America. So grab one of your top credit cards, fuel up the car, and head to one of these places where stargazing still takes center stage.
Tucson, Arizona
Two men in Tucson, Arizona, founded the IDA in 1988, so it stands to reason that the city itself is exceptionally friendly to stargazing.
As part of the vast Sonoran Desert, Tucson experiences an average of more than 300 sunny days a year. The city also is home to several observatories.
However, in some areas around Tucson, you shouldn't have to leave your back porch on a clear night to see the stars.
Heber City, Utah
Heber City is a small community in Utah. The Wasatch Mountains block out much of the light pollution nearby Salt Lake City produces.
Both Heber and three area state parks have taken steps to keep their own light pollution down. Thanks to those efforts, residents can still glimpse the Milky Way on the clearest nights.
Canton, Ohio
Located about an hour away from Cleveland, Canton is home to around 70,000 people and the Pro Football Hall of Fame. It's less than a 20-minute drive to Fry Family Park, the first area in Ohio to earn an IDA designation of Urban Night Sky Place.
A drive to the park makes for a nice outing, and Fry Family Park's efforts to dim the lights at night give Canton residents ample opportunity to see the stars from close to home.
Olivette, Missouri
Olivette is a St. Louis suburb located just 15 minutes from the city center. The 8,000-person town has its own 35-acre city park with an IDA Urban Night Sky Place designation.
During the daytime, Stacy Park is the site of youth baseball and soccer games. But at night, the trees ringing the park's edges suppress the city's glow enough to showcase the glimmering night sky.
Goldendale, Washington
Goldendale is the county seat of Klickitat County, which has just 23,000 residents. Thanks to the sparse population and clear skies, Goldendale is the ideal place for stargazing.
For a special experience, watch the stars at the nearby Goldendale Observatory State Park, which is two miles from downtown.
Ketchum, Idaho
The one-time home of writer Ernest Hemingway, Ketchum, Idaho, has earned a Dark Sky Community designation for its efforts to control light pollution.
While skiing and hiking are the area's most popular draws, it also attracts stargazers from around the globe.
Beverly Shores, Indiana
Beverly Shores is an hour's drive and a state border away from Chicago. While both cities are on the shores of Lake Michigan, only Beverly Shores residents and visitors have the privilege of seeing the stars in all their glory.
Home to just a few hundred people, the city is surrounded by the Indiana Dunes National Lakeshore, which is one key reason for its dark skies. City lighting regulations ensure that humans and animals alike can continue to enjoy the benefits of a truly dark night sky.
Julian, California
It might seem unbelievable that a city in the middle of San Diego County is a stargazing destination, but it's true.
In fact, each August, the San Diego Astronomy Association partners with Julian for the Julian StarFest. The three-day festival features exhibits, games, and a public stargazing party.
Wimberley Valley, Texas
The warm climate in Texas ensures there are plenty of outdoor activities year-round in Wimberley Valley, including outdoor movie showings and live theater performances. Opportunities for stargazing make these events even better.
Since it has around 14,000 people and is located between two major urban centers (San Antonio and Texas), the Wimberley Valley area is one of the bigger regions on our list to secure Dark-Sky status.
Pro tip: If you are going to travel to one of these stargazing meccas, consider using a credit card that allows you to earn travel rewards or other perks.
Sedona, Arizona
Sedona draws many tourists, including those seeking the stars. Located around two hours away from Phoenix, the city's dark skies punctuate its beautiful high-desert scenery, which is just as beautiful at night as it is during the day.
Crestone, Colorado
Crestone is north of the Great Sand Dunes National Park, and the desert landscape combined with its high elevation make it an ideal spot for stargazing.
The city is within 45 minutes of several hot springs. It's also located at the base of a mountain range, so those who live in the area can easily stay near home and stargaze from their backyard.
Torrey, Utah
The small town of Torrey is at its busiest during the summer season when tourists flock to nearby Capitol Reef National Park.
Stargazing is easy within Torrey's city limits, thanks to the town's isolated location and its commitment to dark skies.
Bottom line
Stargazing isn't an activity reserved exclusively for visitors to national parks. The places on this list can be great locations for gazing at the heavens.
And if you are fortunate to live near one of these places, you won't even have to travel to get to darkness. That means you can both see the stars and keep more money in your wallet.
Easy-to-Earn Unlimited Rewards
Earn 25,000 online bonus points after you make at least $1,000 in purchases in the first 90 days of account opening - that can be a $250 statement credit toward travel purchases
Earn 1.5 points per $1 spent on all purchases
Longer intro APR on qualifying purchases and balance transfers
No foreign transaction fees
Earn unlimited 1.5 points per $1 spent on all purchases, with no annual fee and no foreign transaction fees and your points don't expire.
25,000 online bonus points after you make at least $1,000 in purchases in the first 90 days of account opening - that can be a $250 statement credit toward travel purchases.
Use your card to book your trip how and where you want - you're not limited to specific websites with blackout dates or restrictions.
Redeem points for a statement credit to pay for travel or dining purchases, such as flights, hotel stays, car and vacation rentals, baggage fees, and also at restaurants including takeout.
0% Introductory APR for 15 billing cycles for purchases, and for any balance transfers made in the first 60 days. After the intro APR offer ends, 18.24% - 28.24% Variable APR will apply. A 3% fee applies to all balance transfers.
If you're a Preferred Rewards member, you can earn 25%-75% more points on every purchase. That means instead of earning an unlimited 1.5 points for every $1, you could earn 1.87-2.62 points for every $1 you spend on purchases.
Contactless Cards - The security of a chip card, with the convenience of a tap.
This online only offer may not be available if you leave this page or if you visit a Bank of America financial center. You can take advantage of this offer when you apply now.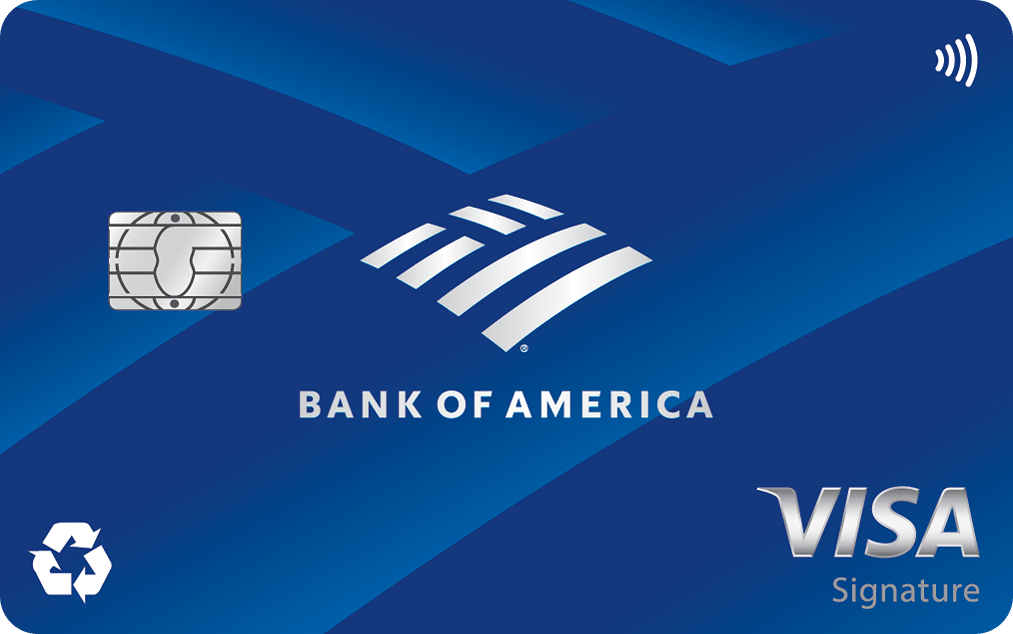 Apply Now
on Bank of America's secure website
Read Card Review
Intro Offer
Earn 25,000 online bonus points after you make at least $1,000 in purchases in the first 90 days of account opening - that can be a $250 statement credit toward travel purchases