Air travel is expensive and more precarious than ever before, with cancellations, delays, staff shortages, and route mergers now the norm.
By knowing a few general rules and guidelines for how tickets are priced, along with the likelihood of being delayed at different times and days, you can spend less money on flights that are more likely to leave and arrive with no issues.

Most expensive day to fly
Mondays and Fridays are the most expensive days to fly because business travelers want to fly on work days so they can be home on weekends, so demand is higher for those days.
Cheaper days to fly
Wednesdays and Thursdays are the cheapest days to fly during the week, simply because there's less demand on those days, especially for business travelers. Saturdays are the cheapest day of the weekend to fly, because business and leisure travelers all want to be at their destination on Saturdays and not leave it again until Sunday.
Most expensive time to fly
The most expensive times to fly are in the middle of the day, from around 10 a.m. to around 7 p.m. Travelers do not want to have to wake up super-early and fight rush hour traffic to the airport, nor do they want to arrive late at night when they're tired and hungry.
Cheaper times to fly
Early-morning and late-night flights, plus red-eyes, are the cheapest flights because these flights are not in demand. Some travelers claim to love flying red-eyes because they can sleep during the flight and not waste daytime traveling. But this is not a majority opinion, so red-eyes are a cheaper choice.
Most expensive times of year to fly
The most expensive times of the year to fly are holidays without a lot of wiggle room for scheduling of events. That means that Thanksgiving weekend is the single worst time to fly in the United States, followed by Super Bowl weekend.
The days right around Christmas and Easter week are horrible for domestic and international flights. Year-end holidays have the added complication of weather that may cause extra delays, cancellations, and equipment issues on top of the high demand.
Cheapest time of year: Shoulder season
The "shoulder season," in travel industry jargon, is the week or two between the switch from peak season to off-season. Shoulder season almost always corresponds to times that kids are starting or finishing school, which is a big reason demand is down then.
Working parents tend to schedule business trips for other times, and families can't travel for leisure then. As a result, that decreases demand significantly bringing prices down. 
Pro-tip: To get business trip perks and rewards, check out our list of the best business travel credit cards.
Cheapest time of year: Off-season
The other cheapest time of year to fly is off-season, whatever the season is. It's always cheaper to go to a ski resort, whether domestic or international, during the summer when there's no snow. By the same token, it's cheaper to go to beach locations when it's warm and sunny everywhere else.
Destinations that rely on tourism to support the local economy have created other things to do during their off-seasons, so you can still have a great vacation by going when the crowds are staying home, and it'll be a much cheaper great vacation.
Pro tip: You could save even more booking your overseas flights with one of the best credit cards for international travel.
Most delayed day to fly
The worst day of the week for delays is Friday. Almost a third of scheduled flights going out on Fridays go out late.
On-time days to fly
Saturday flights tend to be on time, possibly because there are fewer travelers in general on Saturdays and fewer business travelers with intense needs and demands on that day.
Most delayed time of day to fly
Flights scheduled for the evening around 6 p.m. is the time of day with the most delayed flights.
Any delays from earlier in the day have snowballed, and there are so many flights scheduled for this time of day that delays cause more delays on runways and gates that are often scheduled tightly for use.
On-time times of day to fly
Flights that are scheduled to leave between 6 a.m. and 10 a.m. are more likely to be on time than later flights are.
Most delayed time of year to fly
The most delayed time of year to fly is when the weather is bad in any part of the airline system. This means that flying from Chicago to Paris is more likely to be delayed in January. That makes sense.
But so is flying from Dallas to Miami. Why? The equipment and staff for a flight can be stuck someplace in the system because of inclement weather anywhere in the system.
In general, winter in the location you're flying from or to will be more likely to have delayed flights than summer will.
It's worth noting that some airports tend to have more delays all year long than others do. Jakarta and Newark are at the top of the international and domestic lists of most delays.
On-time times of year to fly
The time of year with the most on-time flights is whenever it is clear and moderate in temperature in both your departure and arrival destinations and for the rest of the airports in your airline network. For domestic flights, that means May, June, September, and October.
Worst overall time to fly: U.S.
The worst overall time to fly in the U.S. has got to be Thanksgiving weekend. But other factors added to the holiday may increase delays: On routes that can be frozen or hit with a blizzard, the delays are compounded because the airport may be difficult for pilots and flight attendants to get to in inclement weather.
If your flight is at 6 p.m., you'll probably wait. And if the airline you're flying doesn't have another flight on your route that day, you'll wait.
Worst overall time to fly: International
The worst overall time to fly internationally is any time the residents of the country you're going to are on holiday or have other obligations (civic or religious), and weather can cause delays, cancellations, and equipment problems.
Many Americans try to fly to Europe in August, but the entire continent is on vacation during the month of August. For travelers, resources are stretched tight and that can affect flights, not to mention accommodations and activities at the destination.
The same is true of other times of the year such as Ramadan for primarily Muslim countries such as Indonesia, and hurricane season in August and September in the Caribbean.
If August is the only time you can go to Europe, Ramadan is the only time you can go to a Muslim country, and hurricane season is the only time you can go to the islands, make sure have a credit card with no foreign transaction fees in case banks and currency vendors aren't fully staffed.
Best overall time to fly
And the best overall time to fly anywhere at any time of day is when you don't have to be there at a specific time, so delays or cancellations don't really affect you. And these days, airplane seats are in such demand that you may be able to take advantage of an airline's offer to get a voucher or cash for giving up your seat.
If you happen to end up on a day with clear, good weather that isn't too hot, you won't have to suffer through turbulence. Flying off-season can increase your chances of having smooth flights, as can avoiding local holidays and events.
Bottom line
The best way to plan a trip involving air travel is to be flexible about when you can fly, build in enough time so that snafus don't ruin your trip, and then consider buying your tickets on a Tuesday around six weeks out from the trip.
Flying airlines with more flights to your destination and a better record of making up for delayed and canceled flights will decrease the chance that you'll be stuck without recourse or delayed longer than necessary.
Also note that travel insurance can help you if you get sick, injured, or robbed on a trip because the insurance will pay to get you home ASAP. For a high-stakes trip or a trip far from home or with greater-than-normal potential for injury, consider springing for trip insurance.
The best credit cards for travel insurance could also help you get out of a jam when you're far from home.
Easy-to-Earn Unlimited Rewards
Earn 25,000 online bonus points after you make at least $1,000 in purchases in the first 90 days of account opening - that can be a $250 statement credit toward travel purchases
Earn 1.5 points per $1 spent on all purchases
Longer intro APR on qualifying purchases and balance transfers
No foreign transaction fees
Earn unlimited 1.5 points per $1 spent on all purchases, with no annual fee and no foreign transaction fees and your points don't expire.
25,000 online bonus points after you make at least $1,000 in purchases in the first 90 days of account opening - that can be a $250 statement credit toward travel purchases.
Use your card to book your trip how and where you want - you're not limited to specific websites with blackout dates or restrictions.
Redeem points for a statement credit to pay for travel or dining purchases, such as flights, hotel stays, car and vacation rentals, baggage fees, and also at restaurants including takeout.
0% Introductory APR for 18 billing cycles for purchases, and for any balance transfers made in the first 60 days. After the intro APR offer ends, 17.99% - 27.99% Variable APR will apply. A 3% fee applies to all balance transfers.
If you're a Preferred Rewards member, you can earn 25%-75% more points on every purchase. That means instead of earning an unlimited 1.5 points for every $1, you could earn 1.87-2.62 points for every $1 you spend on purchases.
Contactless Cards - The security of a chip card, with the convenience of a tap.
This online only offer may not be available if you leave this page or if you visit a Bank of America financial center. You can take advantage of this offer when you apply now.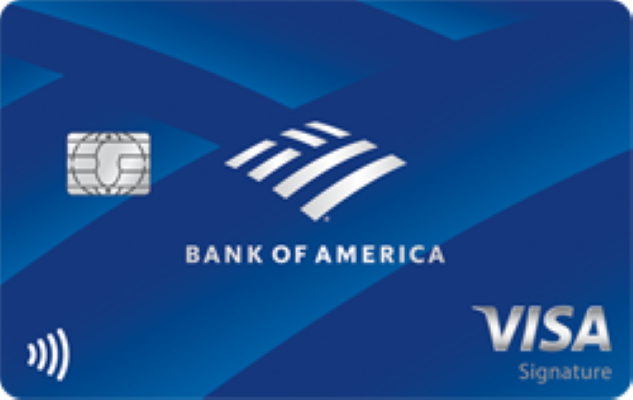 Apply Now
on Bank of America's secure website
Read Card Review
Intro Offer
Earn 25,000 online bonus points after you make at least $1,000 in purchases in the first 90 days of account opening - that can be a $250 statement credit toward travel purchases