Quirky hotels are more than just spectacle — they're an insight into local culture, past or present, and they're full of stories. Many times, they're a view into someone's incredible imagination and creativity, which is a beautiful thing! Once you're financially prepared to start planning your next travel, consider one of these unusual hotels. It will definitely make your trip and knowledge of the destination much more interesting.
From a giant bird's nest as a place to rest to the former home of a voodoo priestess, these 50 hotels from every state are absolutely bizarre.
The Silos at Seven Springs Lodge in Tuscumbia, AL
A once ubiquitous symbol across rural America, the grain silos at Seven Springs Lodge are a fun throwback to farming days. Although containers built to store wheat and corn might seem, er, unsuitable for sleeping humans, galvanized sheet metal is actually really great for temperature and humidity control, and you'll feel nice and toasty in the circular enclosed space.
The Aurora Express in Fairbanks, AK
At the Aurora Express Bed & Breakfast, a set of antique Alaska Railroad train cars sit on their own track, overlooking the city of Fairbanks, and the owners have outfitted the suites in a pretty cheeky style. The Bordello Suite — decorated with a campy risqué painting, plum-colored walls, and chandeliers — is next door to the Immaculate Conception Suite, where a portrait of the Virgin Mary and two cherub statues gaze sweetly over the bed.
The Shady Dell Vintage Trailer Court in Bisbee, AZ
This collection of late 1940s to 1950s era airstreams and trailers — even a 1947 bus and Chris Craft yacht — on historic Highway 80 is super fun and hip. The owners of The Shady Dell Vintage Trailer Court have really doubled down on vintage with historically accurate furnishings, black and white television set, record players, and there's even a 1950s diner.
The Crescent Hotel in Eureka Springs, AR
Built in 1886 as a luxury resort before falling into disrepair, the Crescent Hotel was also home to a miracle cancer treatment center run by a "doctor" who had no medical training in the late 1930s. Some believe this is when the spirits that haunt the premises first began their roamings. Two of the most strange paranormal experiences reported are a baby face apparition and one ghost that repeatedly tucked a couple into bed at night.
Treebones Resort in Big Sur, CA
You'll feel like a baby bird at Treebones Resort, where guests can book the artist-designed "Human Nest." Made entirely of encircled tree limbs, the nest sits atop of a wooden platform with an eagle eye view of the Pacific Ocean. Bizarre? Yes, but also beautiful. 
The Stanley Hotel in Estes Park, CO
This classic hotel couldn't look more typical, with its muted color palette and non-descript furnishings. Except it's the inspiration for Stephen King's "The Shining." In fact, the "Spirited Rooms," as The Stanley Hotel calls them, are so popular they require advance booking. One word of advice, if two little girls ask you to come play with them, it might be best to skip it out.
Winvian Farm in Litchfield Hills, CT
If you've ever had helicopter pilot dreams, now is your chance to live out that fantasy. At Winvian Farm, one of the more unique quarters features a fully restored 1968 Sikorsky HH-3F Pelican Coast Guard helicopter embedded in the cottage. Hello, cocktail hour in the pit, and Netflix and chill in the fuselage.
Pro tip: At almost $1,000 a night, staying in this accommodation is pretty steep, but with these travel credit cards, you'll likely earn points.
The Towers Bed & Breakfast in Milford, DE
It's pink. It's giant. The Towers Bed & Breakfast, with its elaborate, lacey woodwork and turrets is classic example of a gothic architectural style that imitated the fanciful river steamboats of the South. Inside the B&B, guests will find dark wood galore, cherub statues, and a tower suite named after Rapunzel.
Jules' Undersea Lodge in Key Largo, FL
Jules' Undersea Lodge is the place for those who want to scuba dive and sleep in an underwater lair. Guests can reside in a 1970s era research laboratory originally designed for marine scientists — at the bottom of a lagoon. The simple three-room hotel has 42-inch windows from which you can view the lagoon habitat while dining on the lodge's specialty meal — pizza delivery.
The Castle Inn in Helen, GA
Stay in an Old English-style inn nestled in a Bavarian-themed village, in the middle of Appalachian Georgia. Adding to the clash of cultures and time periods, The Castle Inn overlooks the Chattahoochee River and from the hotel deck on warm days, you can watch tourists float by in swimsuits and lime green inner tubes.
Volcano House in Pāhoa, HI
Remember in elementary school when you made a paper mache, baking soda, and vinegar volcano and watched it erupt? At the historic Volcano House, which sits 4,000 feet above sea level on the edge of the very active Kīlauea Volcano, you'll experience the real life version. For the past 2,500 years, this volcano has alternated between periods of explosive eruption and frequent lava flow that's over 2,000 degrees Fahrenheit.
Dog Bark Park Inn in Cottonwood, ID
Towering over I-95 and the surrounding prairie is a giant sweet-faced, side-eyeing metal and wood beagle, with a B&B inside called Dog Bark Park Inn. The massive dog even has a name, Sweet Willy, along with a friend named Toby and his own private super-sized fire hydrant. The husband and wife team owners are also artists, and at their on-site gallery, you can view their dog sculpture creations, carved from wood with a chainsaw.
The Davie School Inn in Anna, IL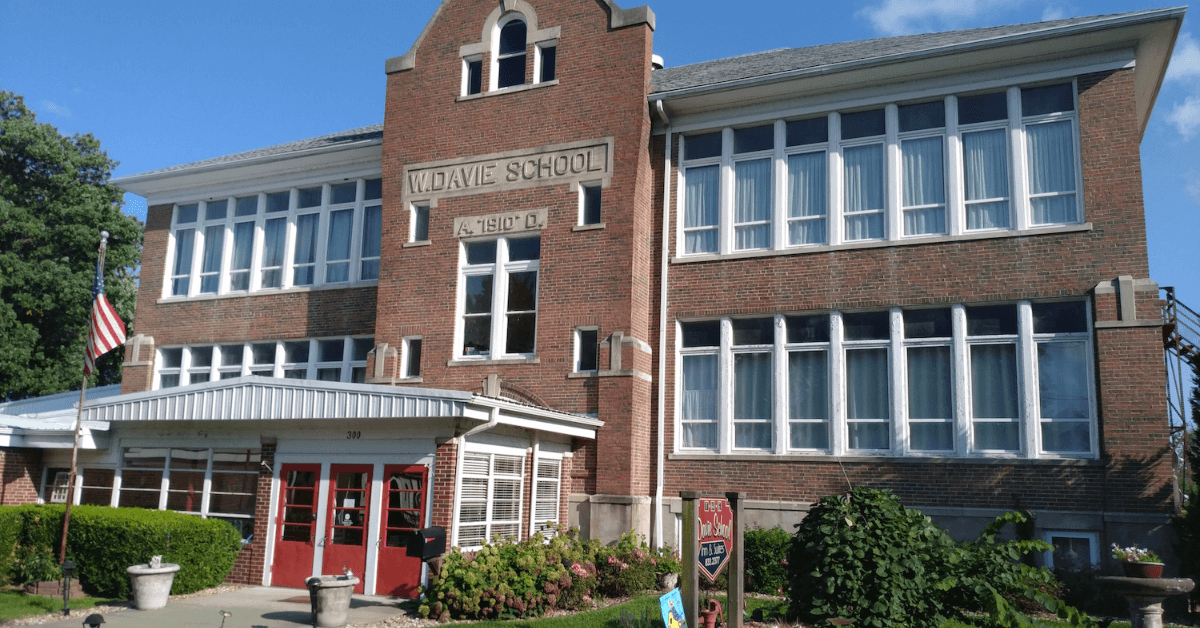 Were you one of those students who secretly never wanted school to end? The Davie School Inn is located inside an original 1910 schoolhouse, and many of the rooms maintain elements of their former selves. The classroom suites — organized by school subject — have giant chalkboards, and of course, those old-fashioned desk and chair sets.
Crowne Plaza Downtown Union Station in Indianapolis, IN
Built in 1888, the Crowne Plaza Downtown Union Station has seen the likes of Abraham Lincoln and Thomas Edison. These are not kitschy accommodations made for train enthusiasts, but rather plush convention visitor digs where guests can sleep in one of 26 train car rooms and soak up the history. One favorite story is that Edison used to work at the station as a telegraph operator but "was eventually fired for conducting too many useless experiments on the job."
Pro tip: This accommodation may be a good candidate for hotel reward programs that allow you to travel in luxury.
Villisca Axe Murder House in Villisca, IA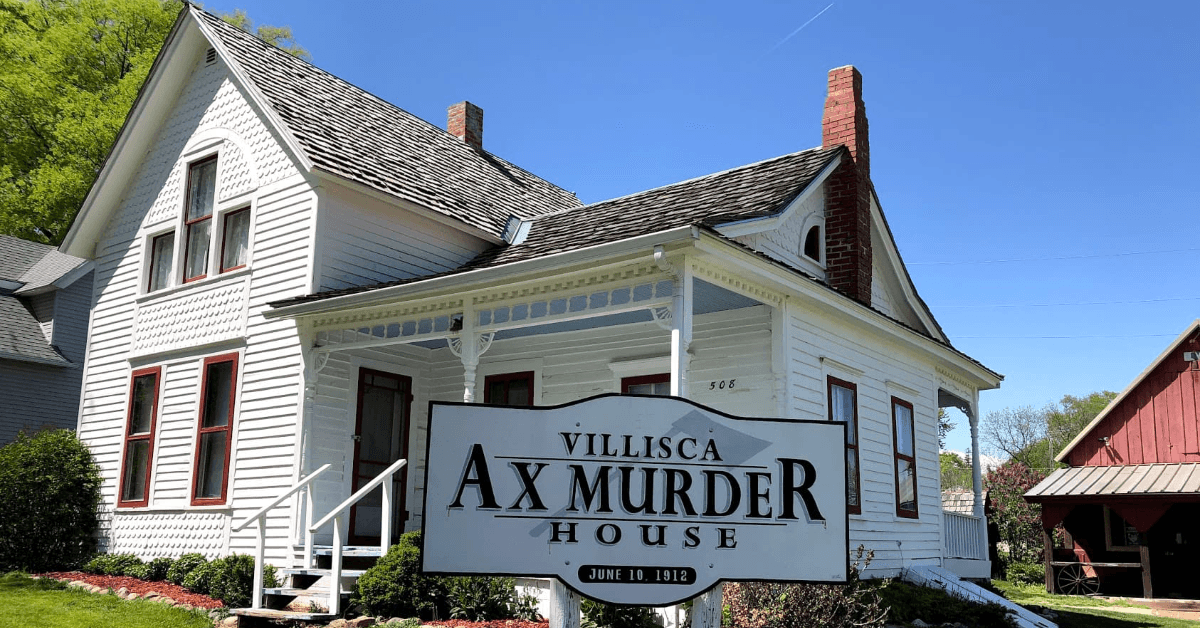 One night in 1912, an axe murderer broke into this simple white wood home and bludgeoned to death eight people — six of whom were children. Whether this gruesome murder was committed by a local state senator, traveling reverend, or serial killer ravaging rural America was never discovered, but it tore apart the small town. Its current owners have restored the Villisca Axe Murder House to reflect its state on the night of the butchery, and crime junkies and paranormal enthusiasts alike can stay overnight and soak up the vibes.
Old Station Inn in Cawker City, KS
Fill 'er up and stay the night at this cute red and white 1950s era gas station. At the Old Station Inn "mini hotel," the owners have painstakingly restored the retro pumps, ice boxes, and phone booth. As an added bonus, the world's largest ball of twine is right across the street.
Wildwood Inn in Florence, KY
It's all about caves and cars at Wildwood Inn, a hotel with nearly 30 themed rooms. There's the Arctic Cave, designed to look like a melting glacier. And then there are the oddly-specific lower 48 cave suites like the New Mexico suite, inspired by the Carlsbad Caverns and its dripping stalactites. Meanwhile the Arizona suite is a replica of Antelope Canyon, with its striated color palette of wind shaped rock formations. Auto aficionados can choose a room with an ensuite car such as the Happy Days suite with a Cadillac or the Rustic Country suite with a vintage truck.
Inn on St. Ann in New Orleans, LA
Stay in the former home of New Orleans' most famous voodoo priestesses, Marie Laveau, at the Inn on St. Ann in the French Quarter. Laveau, who lived from 1794 to 1881 was a free woman of color who helped enslaved persons, New Orleans' elite, and those inflicted with yellow fever.
The Old Iron Inn in Caribou, ME
The Old Iron Inn Bed and Breakfast is full of — you guessed it — old irons. According to the flat iron enthusiast owners, there are "tens of thousands of distinctly different (pre-electrical) irons" in the world. And by the looks of it, hundreds of them are hanging on the walls of this unique, antique-filled B&B.
Greener Pastures Family Farm in Keedysville, MD
In this 200-year-old unfinished barn, you'll be sleeping in a romantic, four-poster canopy bed, but surrounded by bales of hay and with goats and cows for neighbors. The owners of the Big Red Barn have even posted explicit instructions for how to feed the goats who live just outside Hint: With a flat hand, fingers straight.
Borden Flats "Lighthome" in Fall River, MA
In the middle of Taunton River, this nearly 150-year-old lighthouse — accessible by boat and steel-rung ladder — is a quaint, four-level tower decorated like a traditional New England B&B. Although the lighthouse is operational, you'll be an honorary Lighthome Overnight Keeper rather than a hotel guest. Don't worry, the flashing light is automatic and the U.S. Coast Guard is still in charge.
Bavarian Inn in Frankenmuth, MI
The Bavarian Inn is a curious complex of buildings mimicking the architectural style of the German state but with a giant water slide coming out of one of its traditional towers. Antiques and animal skins decorate the walls, and Bavarian-style shuttered windows overlook the indoor pool. In the restaurant, chow down on some potato cheese puffs, served with some — very American — ranch dressing.
Nordic Inn Medieval Brew and Bed in Crosby, MN
At this interactive dinner theater and lodge for groups, prepare to wear horned helmets and embrace the Viking lifestyle for the weekend. You'll burn things, feast on roasted meat, and attend raucous performances by the Nordic Players. Guests of the Nordic Inn Medieval Brew and Bed can sleep in a replica of a wooden ship surrounded by spears and other Viking weapons.
Shack Up Inn in Clarksdale, MS
Elvis Presley was famously born in a "shotgun" shack — a humble, wood abode where sharecroppers lived. At The Shack Up Inn, situated on a former cotton farm, guests may better understand a tiny bit of this dark period in history by staying in a tricked out sharecropper's cabin. Thankfully, these shacks have running water and a bathroom. And the on-site live music venue is a great place to listen to some of that legendary Delta Blues.
The Windmill Inn in Branson, MO
There is no limit to the outlandishness in Branson. The exterior of this motel mimics a Dutch farmhouse and is topped by a giant yellow and green windmill. In true Branson style, the Windmill Inn is next door neighbors with a 43 foot rooster wearing a star-patterned vest.
The Shire of Montana in Trout Creek, MT
In the foothills of the Cabinet Mountains, a husband and wife team built an exact replica of the cottage from "The Hobbit." The surrounding grounds of The Shire of Montana are full of the rest of J.R.R. Tolkien's fantasy land, with miniature elf villages, troll houses, and favorite characters. You'll feel cozy inside the hobbit's abode, with a wood burning stove, wildflower roof, and overflowing bookshelves.
River Inn Resort in Brownville, NE
This former riverboat has a new life as a floating B&B. The 18-room hotel is docked on the Missouri River in the historic town of Brownville. Although the River Inn's former working days are long over, guests can book a dinner cruise on its sister attraction, a paddlewheel riverboat called the Spirit of Brownsville.
The Clown Motel in Tonopah, NV
Rising out of the Nevada desert is a 19-foot red-wigged, red-nosed, giant-shoes-wearing cutout of a clown, adorning a very simple-looking motel. This is the World Famous Clown Motel and museum, home to over 3,000 clowns crammed into every available space. Here, BYOCC (bring your own clown costume) is a thing. Did we mention that the motel is next door to a 19th-century cemetery? Coulrophobics, we're not sure where you'll feel less scared.
Adventure Suites in North Conway, NH
Do you want to have a "Roman Rendezvous" in a suite with Greek statues, or sleep under a flying dragon with troll statues for friends? At Adventure Suites, there are nearly 20 quirkily designed rooms with fantastical furnishings, like a giant tree with a face topped with a sleeping loft, or a bed in the shape of an open clam.
Feather Nest Inn in Cherry Hill, NJ
Too much is never enough at the Feather Nest Inn, where every square inch is used to create a vibe in their over-the-top theme rooms. In the Blue Lagoon suite, soak up in a hot tub under a thatched roof covered with jungle tree branches and plastic tropical flowers. In the Pagoda room, sleep on a red silk covered bed up on a bamboo platform, underneath a traditional red ceramic tile "roof." And if you're feeling in the mood, there are "Romance Suites" with the requisite heart-shaped hot tubs.
The Eklund in Clayton, NM
Don't worry — the bullet holes in the walls of this hotel have been there a very long time. The Eklund used to be a saloon and gambling hall in the late 1800s, and its owners are committed to preserving its Wild West roots. Step inside the restaurant with its original tin ceiling, heavy oak bar, and 19th century furnishings from the period and you'll feel the spirits of dusty bullet-dodging travelers.
TWA Hotel in Queens, NY
You'll feel like you're in the movie Catch Me if You Can at the glamorous TWA Hotel at JFK Airport in New York. The 1962 TWA Flight Center has been remodeled and converted into a luxury hotel with an infinity pool overlooking the airport runway, a cocktail lounge inside a 1958 "Connie" airplane, and a 1960s "Twister Room" where you can play the iconic game on the floor and wall.
Frying Pan Tower in Canton, NC
Thirty-two miles off the coast of North Carolina is a soaring steel structure partially made from an oil drilling platform that used to house U.S. Coast Guard crewmen. Today, it's a marine research station and protected reef area, and its restoration efforts are funded through ecotourism. Whether you're a fisherman, scuba diver, or beer and cornholer, you'll be at one with the Atlantic Ocean when you stay at the Frying Pan Tower.
Enchanted Castle in Regent, ND
At the end of the "Enchanted Highway" — a 32-mile stretch of western North Dakota road lined with numerous gigantic, fantastical, sculptures — lies the Enchanted Castle. Visitors are greeted by a whimsical avant-garde metal dragon and a motel with a fortress-like exterior. Even if you don't plan on staying the night, travelers are encouraged to lay down their swords and dine together at the medieval-themed Excalibur Tavern.
Ravenwood Castle in New Plymouth, OH
Built by lifelong Anglophiles who had traveled extensively through Great Britain, the Ravenwood Castle had some very specific inspiration when it was constructed. It was modeled after 12th and 13th century castles built to defend the border between England and Wales in that time period. Behind the incredibly realistic castle walls, you'll find knights' armor statues in every corner, and tastefully decorated suites named for British historical figures.
Orr Family Farm in Oklahoma City, OK
At the Orr Family Farm, you won't have to travel far out onto the prairie to get a taste of the state's pre-statehood, Indian Territory days. Located within the OKC metro area are glammed-up Conestoga wagons similar to those used for hauling goods in the 1800s, and teepees styled after those used by nomadic indigenous tribes. Circle around the campfire and get cozy — these surprisingly spacious lodgings have full frame beds, bunk beds, and even little tables inside.
Out 'n About Treesort in Cave Junction, OR
Out 'n About Treesort is a whimsical complex of treehouse suites, many of them nearly 40 feet high in the trees, accessible through a network of suspension bridges. The vibe here is laid-back and rustic, but these treehouses are wonders of carpentry, with vintage stained-glass doors, intricate and stylized woodwork, and full bathrooms.
Pocono Palace Resort in East Stroudsburg, PA
The Pocono Palace love nest is so campy, it's hip. It's also home to the much-photographed seven-foot-tall champagne glass hot tub. With its circular beds, mirrors galore, and heart-shaped hot tubs, the hotel says they've been "recharging romances since 1984," and we believe them.
Jailhouse Inn in Newport, RI
For over 200 years, from its colony days up until the mid-1980s, Jailhouse Inn has served as both prison and police station. In the 19th century, the jail had a reputation as a place that was easy to escape, and several prisoners did just that. These days, the hotel is so comfortable and quaint that you might never want to leave, but there are still some vestiges of its past, like the "Solitary Confinement" suite with an iron door closet.
Carolina Heritage Outfitters Treehouses in St. George, SC
You'll have to work a little bit to get to these rustic stilted wood cabins at the edge of the Edisto River. The Edisto is America's longest free-flowing blackwater river and a paddler's dream. At the end of a 13-mile canoe journey through tupelo-cypress tree stands covered in Spanish moss, you'll arrive at the Carolina Heritage Outfitters Treehouses, hidden among the oak trees with hammocks and sleeping lofts.
Historic Bullock Hotel in Deadwood, SD
If you didn't know, Deadwood — as in the TV series and movie — is an actual place, and its main character, Sheriff (Seth) Bullock, was an actual person. He built the Bullock Hotel on Deadwood's Main Street around 1895. Much of the town of Deadwood is a sort of living museum to its Gold Rush days and legendary inhabitants, like "Wild Bill" Hickok and "Calamity Jane," but it's here in Bullock's turn-of-the-century Victorian hotel where you might sense history the most. Literally. Bullock's ghost is said to roam the hotel's halls, moving objects in front of guests' eyes, and turning on showers.
The Inn at Christmas Place in Pigeon Forge, TN
Taking the holiday decorations down in January is always a bit sad, but at this hotel, it's Christmas 365 days a year. The Inn at Christmas Place is filled with twinkle lights, garland, miniature elves, and decked out holiday trees on magical grounds. The most exciting detail might be the fact that Santa visits almost every day and he doesn't mind if you share his cookies at night.
Hangar Hotel in Fredericksburg, TX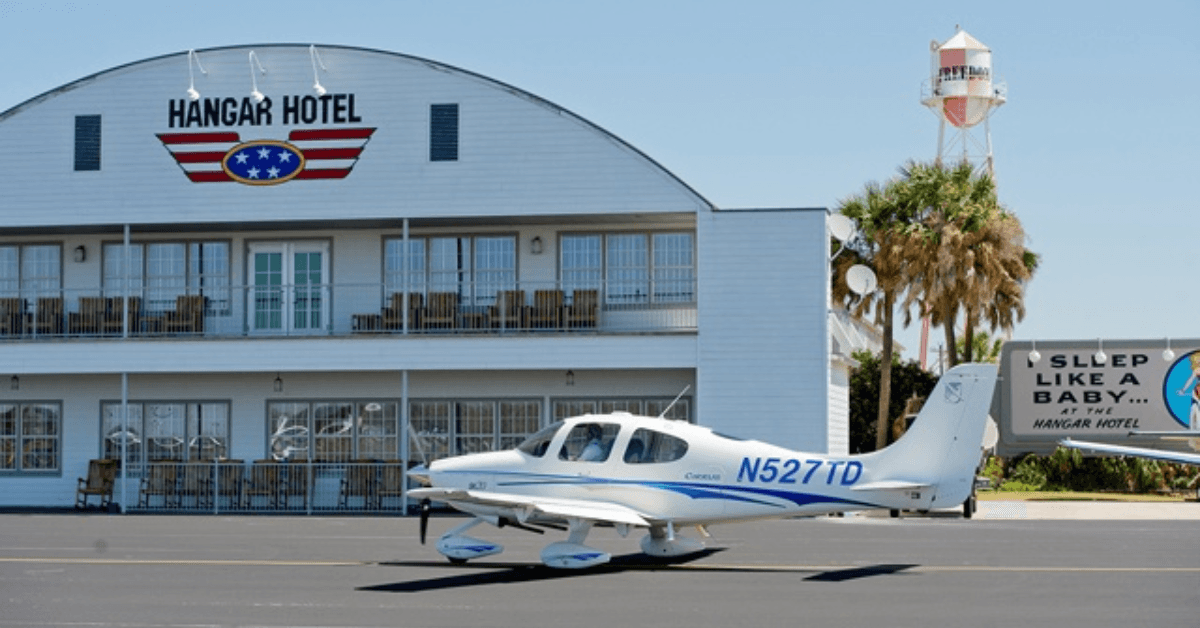 Military and aviation history devotees will appreciate this hotel, designed to look like a World World II airplane hangar, located next to an actual working airport. The guest rooms and hotel bar — the "Officer's Club" — are decorated with period pieces, like vintage red leather chairs, and antique phones. There's even an on-site 1940s style airport diner at the Hangar Hotel, with black and white tiles and counter stools, where you can watch the planes come in.
Moore's Old Pine Inn and Old West Town in Marysvale, UT
These sister properties are remnants of the town's late 1890s mining days. At Old West Town, guests can stay in an original cabin from the now closed Alunite mining site just south of Marysvale. Other cabin suites are replicas of the former mining buildings, like the "Fallen Dove Brothel" and "Sheriff's Office/Jail." The nearby Old Pine Inn once had Butch Cassidy as a guest and still has The New York Times newspapers from 1882 glued to its rafters.
Starlight Inn in Colchester, VT
Each room in this roadside motel is dedicated to a different film star of days past, like Audrey Hepburn or Marilyn Monroe, with movie posters and Hollywood Walk of Fame star replicas. But what really makes the Starlight Inn really unique is the drive-in movie theater on the property. All guests get free entrance to the Sunset Drive-In movie theater, where they can watch one of Hollywood's latest releases.
Rose River Farm in Syria, VA
You'll feel like you're on the Gobi-Manchurian steppe and not rural Virginia in these Mongolian yurt-inspired cabins. The round high-ceiling cedar, glass, and steel buildings at Rose River Farm are an unorthodox departure from the rural architecture typical of this area.
Fort Worden Historical State Park in Port Townsend, WA
This former military base was part of the U.S.'s coastal defense system in the early 1900s. Today, the turn-of-the-century on-base lodgings at Fort Worden Historical State Park are available to rent. One of the more interesting homes is Alexander's Castle, a simple brick and wood cottage with a medieval style tower on top. Legend has it that the Reverend Alexander built the pseudo castle for his Scottish bride-to-be, but before he could make the trek across the Atlantic, she married someone else.
The Greenbrier in White Sulphur Springs, WV
Above ground, this palatial 710-room resort has some serious Alice in Wonderland meets colonial estate with a bit of southern sorority house vibes. But below ground is where it gets really weird. For over 30 years, The Greenbrier housed a massive Cold War bunker designed to withstand a nearby nuclear blast for members of the U.S. Congress. "The Bunker," declassified in 1992, held a dormitory, hospital, broadcast center, 470-seat auditorium, and periodically refreshed six-month supply of food. It's been largely preserved and is available for tours.
Don Q Inn in Dodgeville, WI
Parked directly in front of the Don Q Inn is a Boeing C-97 — signed by Farah Fawcett. Although not all of the rooms are flight-themed, it's in this motif where the hotel really shines. In one suite, guests can sleep inside a towering Gemini spacecraft capsule replica and soak in a moon crater hot tub. Or there's an actual hot air balloon with a bed in its basket.
Cody Trout Ranch Camp Sheep Wagons in Cody, WY
Before digital nomads popularized decked out campervans, Wyoming herders had sheep wagons. In the late 1800s, as thousands of sheep roamed for weeks and months out on the vast tracts of unfenced rangeland, these simple wagons provided mobile shelter. Next to the banks of the Shoshone River, with lanterns and lofted beds, the sheep wagons at the Cody Trout Ranch Camp are an unusual but cozy way to experience the past.
Bottom line
Although traveling to an international destination in search of the bizarre and unconventional might be enticing, with this list you'll see that stateside travel can be just as interesting — and maybe even save you money. With over 90,000 hotels and motels in the U.S., and the colossal rise of Airbnb, there are many weird and wonderful accommodations out there. Some of them might even be in your own backyard.
Easy-to-Earn Unlimited Rewards
Earn 25,000 online bonus points after you make at least $1,000 in purchases in the first 90 days of account opening - that can be a $250 statement credit toward travel purchases
Earn 1.5 points per $1 spent on all purchases
Longer intro APR on qualifying purchases and balance transfers
No foreign transaction fees
Earn unlimited 1.5 points per $1 spent on all purchases, with no annual fee and no foreign transaction fees and your points don't expire.
25,000 online bonus points after you make at least $1,000 in purchases in the first 90 days of account opening - that can be a $250 statement credit toward travel purchases.
Use your card to book your trip how and where you want - you're not limited to specific websites with blackout dates or restrictions.
Redeem points for a statement credit to pay for travel or dining purchases, such as flights, hotel stays, car and vacation rentals, baggage fees, and also at restaurants including takeout.
0% Introductory APR for 15 billing cycles for purchases, and for any balance transfers made in the first 60 days. After the intro APR offer ends, 18.24% - 28.24% Variable APR will apply. A 3% fee applies to all balance transfers.
If you're a Preferred Rewards member, you can earn 25%-75% more points on every purchase. That means instead of earning an unlimited 1.5 points for every $1, you could earn 1.87-2.62 points for every $1 you spend on purchases.
Contactless Cards - The security of a chip card, with the convenience of a tap.
This online only offer may not be available if you leave this page or if you visit a Bank of America financial center. You can take advantage of this offer when you apply now.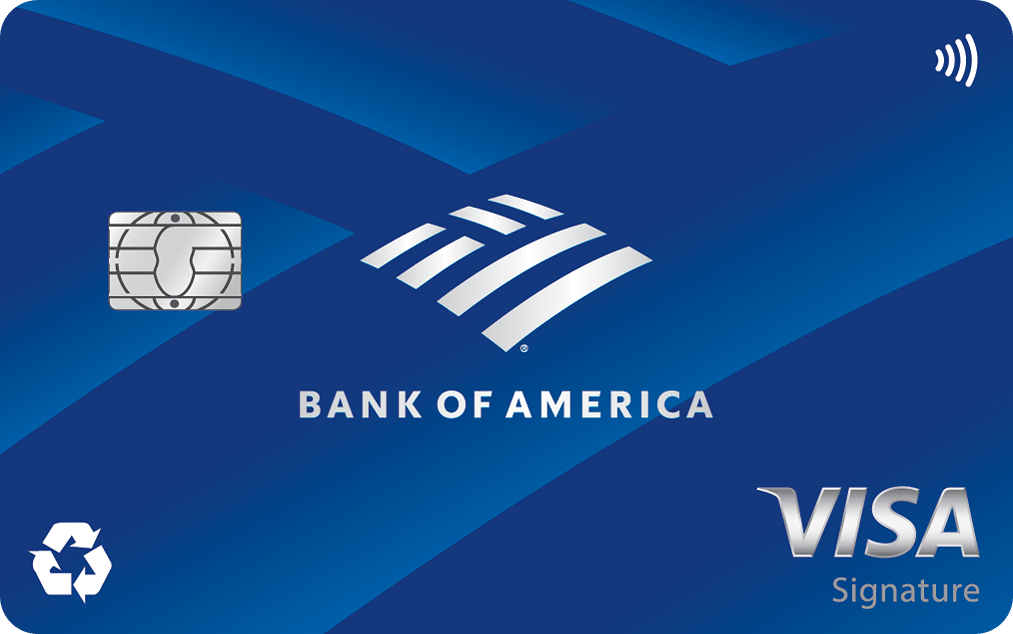 4.1
FinanceBuzz writers and editors score cards based on a number of objective features as well as our expert editorial assessment. Our partners do not influence how we rate products.
Apply Now
on Bank of America's secure website
Read Card Review
Intro Offer
Earn 25,000 online bonus points after you make at least $1,000 in purchases in the first 90 days of account opening - that can be a $250 statement credit toward travel purchases