Undoubtedly, plane tickets are one of the most expensive aspects of traveling. Flying saves lots of time compared with other modes of transportation, but we pay for that convenience in ticket prices that can range widely — depending on which websites and apps you use for your research. I recently drove more than 10 hours to the departure port for a cruise rather than paying for three airline tickets for myself and my kids.
Rather than paying exorbitant airline prices or driving hours out of your way, some great strategies and tools can help you time your ticket purchases and save money. And when you're planning any kind of trip that involves air travel, great seats at cheap prices are really the golden ticket everyone wants to find. And, when you do pay for travel, using the right credit cards can help you earn rewards. 

4 tips for scoring cheap flights
1. Create flight alerts
Who doesn't like to get automatic alerts when looking for deals? Just like with many other services out there, travelers can stay on top of the ups and downs of airline pricing using some cool apps and tools.
The first to check out is Dollar Flight Club, which is a flight deal alert service that does the research for you when it comes to finding the best prices. Though there is a free version that gives you limited access to available flight deals, the $69 annual membership fee is very affordable. And given that members save an average of $500 per ticket, the service more than pays for itself. All you have to do is input the details for your flights and you'll start getting alerts about prices.
Hopper is also worth checking out. This app is changing things up with a prediction algorithm that makes precise recommendations for when to buy your ticket. It provides prices and personalized advice on when to wait and when to move on a price. You can also book your flight directly through the app and sign up for alerts that will let you know when prices change for better or worse.
Skyscanner is another service that makes it easy to set up alerts for flight deals. Using either the website or app, you can research flights with lots of flexibility in your travel dates. You'll get a list of pricing options that you can either book directly or create a price alert that goes to your phone or email. There's even a new feature in beta that looks at price trends and gives recommendations as to when to book.
I'm already benefiting from all three of these services. My parents are looking to fly first-class from New Jersey to Alaska this coming September, and I've found fantastic prices using these options. Even though Hopper recommends buying tickets now, they're not ready to pull the trigger just yet. So, I've set up flight alerts through each so that I'll be able to keep my parents in the loop on the right time to buy.
2. Keep an open mind about your destination
Flexibility is an essential travel tool as things can sometimes go awry on any trip. But being flexible with your departure and arrival dates can save you some serious cash. It's no secret that airline fares change day-to-day based on all kinds of factors that we as mere humans could never fathom.
When you're flexible in the exact dates you fly, however, you have more options in terms of shopping around for prices. Most travel search websites allow you to add a few days before and after your departure/arrival dates. Some also give you a calendar view of prices so you can see which days offer the best prices. If you can have some wiggle room in when you're flying, you can make your selection based on price, rather than exact dates.
You can also take advantage of deals if you're more open with your travel days. For example, Dollar Flight Club delivers the best airfare deals to your inbox every day. If you're a Dollar Flight Club member, those regular emails make it easy to compare prices across different days, which could save you big bucks on your next ticket.
3. Watch for mistake fares
How does flying roundtrip from Tokyo to Montreal for $178 sound? How about roundtrip from New York City to Buenos Aires for $227? Both of these fares were available this year thanks to mistakes caused by computer glitches or human error. Airlines sometimes make mistakes in listing their fares, but finding them on your own can be difficult.
Luckily there are some websites that specialize in finding mistake and cheap fares. The first one is SecretFlying.com. This site focuses on helping users find the best prices for flights and hotels and has a separate section for "error fares." Some of these are few and far between, not to mention for very specific destinations (Business class tickets from Curacoa or Aruba to Germany or London anyone?)
Booking mistake fares also comes with some risk. These errors can be caught and corrected, which can also lead to your tickets being canceled. SecretFlying provides a disclaimer urging users to delay making full plans for their trip as long as possible, just in case their ticket is canceled. Mistake fares also are usually very short-lived. So when you come across one, you won't have much time to think about whether or not to take advantage before the deal expires.
AirfareWatchdog.com is another travel research site that can help you find cheap tickets. Though they don't offer a specific error fare section, they do have a daily listing of deals that can include fares listed by mistake. Again, these opportunities can be short-lived and for specific locations, but they also can be for only one-way travel. It's important to fully understand what's being offered before you book.
4. Consider a different time
Finally, planning your trip around times of the year or days of the week when airlines are more likely to offer less-expensive tickets. Take, for example, the ticket prices for Alaska Airlines' first-class flights from Newark, NJ, to Fairbanks, AK, during September 2020. Most of the prices hover around $821 to $850. However, there are a few that are significantly higher.
Flights the first two weeks of the month are also more than those later on. One weekend, in particular, has high rates. Do we know why? I'm sure there is a reason, but all I really need to know is that taking the trip later in the month will give my folks better options for saving money.
Another thing to consider is planning a trip during shoulder season for wherever your target destination may be. A shoulder season is a low-traffic time between two busier periods where tourism is usually pretty high. Businesses in the hospitality industry want to attract people to book and spend money during these periods, which means you can find some really great prices for your flights.
Shoulder seasons vary from destination to destination. For example, tourism in the U.S. and Europe is generally lower during the school year because people usually don't want to pull their kids out of school to go on vacation. In the summers, though, people are traveling to these places a lot. If you're OK with traveling during off-peak times — which can bring some weather woes — you'll save a bunch on your airfare and hotel, then researching shoulder seasons and prices is a good idea.
Next: Book your cheap flight using travel rewards
Once you've done your homework and found a cheap flight, it's time to make sure you're on that plane! You could pay cash, but booking cheap fares in the Chase Ultimate Rewards portal can be a great way to redeem your points. When the ticket price is low, you'll need fewer points to book it.
Plus, if you use your Chase Sapphire Reserve card you can get up to 50% more value from your points. Points are generally worth 1 cent each. However, with a premium card like the Chase Sapphire Reserve, you'll get 50% more value on travel redemptions in the Chase Ultimate Rewards portal. In other words, every point is worth 1.5 cents in travel. If you're a Chase Sapphire Preferred cardholder, your points are worth 1.25 cents when you use them to book travel through the portal.
For example, let's say you find an amazing deal in Google Flights: a round-trip ticket to Spain for $375. With your Chase Sapphire Reserve, that ticket would only cost 25,000 Chase Ultimate Rewards points to book. If you use your Chase Sapphire Preferred card, that same ticket will cost you 30,000 Chase Ultimate Rewards points.
How to book your cheap flight in the Chase portal
Booking your flight in the Chase portal is a quick and easy process. To start, you're simply going to find the same flight you found elsewhere in the Chase portal.
First, bring up the deal in a separate browser tab so you have the information handy. Next, log into the Chase portal, input your travel dates and destinations, and find the same flight. You'll see the cash price and points price for each flight. Select the flight you want and use your points to purchase your ticket. Then, just await your email confirmation and start mapping out the rest of your trip!
The bottom line on finding and booking cheap flights
Research and timing are crucial factors in finding cheap flights. In my book, starting your trip planning sooner than later and using the right tools can help you keep your costs down. Using travel rewards is also a fantastic option for your next trip, especially when you can get a free fare for your smart spending. Just make sure you choose the best travel credit card to maximize your rewards. 
As I help my parents navigate their trip-planning to a potentially-expensive destination far, far away, I am more confident now that any money they spend will be on the best deals we can find. Time, attention, and due diligence are the keys to finding those cheap flights!
Easy-to-Earn Unlimited Rewards
Earn 25,000 online bonus points after you make at least $1,000 in purchases in the first 90 days of account opening - that can be a $250 statement credit toward travel purchases
Earn 1.5 points per $1 spent on all purchases
Longer intro APR on qualifying purchases and balance transfers
No foreign transaction fees
Earn unlimited 1.5 points per $1 spent on all purchases, with no annual fee and no foreign transaction fees and your points don't expire.
25,000 online bonus points after you make at least $1,000 in purchases in the first 90 days of account opening - that can be a $250 statement credit toward travel purchases.
Use your card to book your trip how and where you want - you're not limited to specific websites with blackout dates or restrictions.
Redeem points for a statement credit to pay for travel or dining purchases, such as flights, hotel stays, car and vacation rentals, baggage fees, and also at restaurants including takeout.
0% Introductory APR for 15 billing cycles for purchases, and for any balance transfers made in the first 60 days. After the intro APR offer ends, 18.24% - 28.24% Variable APR will apply. A 3% fee applies to all balance transfers.
If you're a Preferred Rewards member, you can earn 25%-75% more points on every purchase. That means instead of earning an unlimited 1.5 points for every $1, you could earn 1.87-2.62 points for every $1 you spend on purchases.
Contactless Cards - The security of a chip card, with the convenience of a tap.
This online only offer may not be available if you leave this page or if you visit a Bank of America financial center. You can take advantage of this offer when you apply now.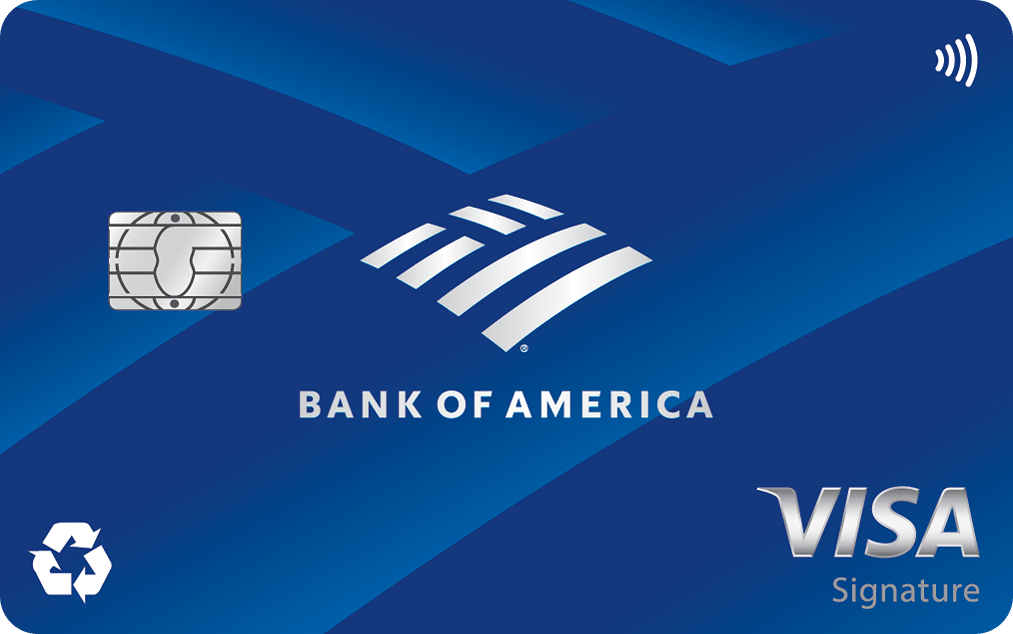 4.1
FinanceBuzz writers and editors score cards based on a number of objective features as well as our expert editorial assessment. Our partners do not influence how we rate products.
Apply Now
on Bank of America's secure website
Read Card Review
Intro Offer
Earn 25,000 online bonus points after you make at least $1,000 in purchases in the first 90 days of account opening - that can be a $250 statement credit toward travel purchases