There's nothing like the feeling you get when you score a flight at a major discount, especially if the destination has been on your wishlist for a while. Airlines often offer fare deals, web specials, and other promotions that can save you big time if you can time it right.
Another way to save money on your next flight is through mistake fares, which are tickets that are often — and unintentionally — sold at a deep discount. Mistake fares don't happen often, so it's important to know how they work and what to look for, so you don't miss out.
What are mistake fares?
A mistake fare is an airline ticket that an airline or travel agency sells for a lot less than it meant to. This can happen for several reasons, which we'll cover in a minute.
For example, we found the following examples of past mistake fares:
Hanoi, Vietnam to New York City in Business Class for roughly $700.
Washington, D.C. to Beijing, China in Business Class for $442 in taxes and fees ($0 base fare).
Los Angeles or San Francisco to Asia in Business Class for $600.
Boston to Auckland, New Zealand in Economy for $248.
Miami to Mallorca, Spain in Economy for $201.
Not all mistake fares are created equal, but some can provide eye-popping value. For example, while the Hanoi to New York City example we shared required you to start in Vietnam, the savings were upwards of $30,000. Also, the Washington, D.C. to Beijing fare price was a tenth of the lowest fare we could find for the same trip.
When mistake fares happen, they typically don't last long, so it pays to take advantage of them by booking as soon as possible and figuring out the rest of your travel plans later. While this can be stressful for people who prefer to have everything planned before booking, the potential savings are usually worth it.
How do mistake fares happen?
Mistake fares can happen for a few different reasons. Here are just a few examples:
Human error: When an airline or online travel agency employee enters the price for a fare into the system, they sometimes make mistakes. For example, instead of entering $1,800, a person may accidentally leave off the last zero, giving you a 90% discount with a $180 fare.
Technology problems: Airlines typically use algorithms to determine flight prices, and while they generally work the way they're intended to, sometimes a hiccup occurs during the process, and a mistake fare pops out on the other end.
Communication issues: Airlines allow you to book your flight directly with them or via a travel technology company (think Expedia or Orbitz). The airlines communicate fare prices to the travel companies electronically, but sometimes the wires get crossed and incorrect information gets transmitted. In this scenario, the flight may be heavily discounted on the travel company's website but not on the airline's.
Foreign currency conversions: The value of foreign currencies are always going up and down. In instances where there's a significant devaluation in a short period, you may be able to score mistake fares paid for in that currency before the airline's system catches up. You may also be able to take advantage when an airline system makes a mistake when converting foreign currencies.
5 ways to find mistake fares
If you're looking for a getaway and aren't picky about where you're heading, taking advantage of mistake fares can satisfy your wanderlust without lightening your wallet too much. Here are some tips to help.
1. Check airline websites
This is one of the most inefficient ways to spot mistake fares because it requires a lot of legwork on your part. However, if you have a specific destination in mind, you may be able to get lucky if you check prices every day or two.
If you're willing to consider more than one airline, you can save some time by using services like ITA Matrix to check prices from multiple airlines in one place.
2. Set price alerts for your preferred routes
Again, if you have a specific trip in mind (or several routes you're considering), you can set alerts for those routes through sites like Google Flights and Kayak. You'll then receive an email when the price has dropped, allowing you to keep an eye on potential mistake fares without doing the work yourself.
3. Subscribe to access the best deals
Websites like Going and Dollar Flight Club have made a business out of finding cheap airfare for the average consumer. If you join as a premium member, you can gain access to the best deals they can find, including mistake fares.
Of course, these services aren't free. For instance, Going costs $49 per year. But considering the sheer amount of savings you can gain from just one mistake fare, it's money well spent.
4. Get instant alerts from travel apps
If you don't check email often or you simply want as many services searching for you as possible, consider using an app like Hopper to get alerts when prices go down. Hopper provides real-time alerts, so you know immediately that a mistake fare is happening. The more travel apps you have, the better chances you have of getting the deal you've been looking for.
5. Follow the experts
Countless travel websites and blogs are just as obsessed with travel as you are, if not more so. Some of these people don't focus on daily deals that happen, but many of them do. Seek out travel experts that watch out for and pass along information about mistake fares as soon as they get them.
That includes websites like FlyerTalk, The Flight Deal, Airefarewatchdog, and more.
How to book a mistake fare
If you find a mistake fare and want to take advantage of the savings, the best approach for most people is to book directly through the airline's website. If you book through an online travel company, the process to request a ticket from the airline can take hours in some cases, during which the mistake fare could be corrected. If this happens, you may just be refunded the amount you paid.
Another reason to book directly with the airline is that you're guaranteed a 24-hour period, during which you can cancel the flight and get a full refund. This gives you a little time to decide whether you really want to move forward with the trip. If you book through a travel company, you may not get this benefit.
If you're sure you want to take the trip, want to gain even more value on the transaction, and have a Chase Sapphire Preferred® Card, Chase Sapphire Reserve® or Ink Business Preferred® Credit Card, consider booking your trip through the Chase Ultimate Rewards travel portal.
With these credit cards, you'll get 25% or 50% more value when you use your Chase points to purchase your ticket through the company's travel portal. This means you'll not only get the discount from the mistake fare but also the bonus value your card provides, which saves you even more money. These are some of the best travel credit cards to maximize your rewards.
Even if you don't have a travel rewards card, you can still earn miles with mistake fares if you have a co-branded credit card for the airline or one that is a participating carrier. You can compare cards to find the best airline credit card to meet your needs. 
FAQs about mistake fares
As we researched mistake fares, we came across several common questions that people had. Here are some of these questions, along with their answers.

Do airlines have to honor mistake fares?
Federal law doesn't allow airlines to increase the cost of an airline ticket after it's been booked, but it does make an exception for mistake fares. This means that it's very possible that you could book a mistake fare and later get a message that the flight has been canceled.
However, this doesn't always happen, so the effort isn't futile.
How often do mistake fares happen?
Compared with the sheer volume of fares calculated and listed every day, mistake fares are relatively rare. That said, there's one report that Going had found 31 mistake fares from January through May of 2019 alone.
Because there are so many variables, however, it's impossible to predict when the next mistake fare will happen, which airline it will be or where you'll be able to fly for cheap.
How do I get notified about a cheap flight?
When you sign up for a service like Going, you'll typically get emails as part of your subscription when mistake fares occur. If you're using websites like Google Flights or apps like Hopper, you can request notifications directly through the website or app.
How long do mistake fares last?
Once mistake fares are discovered, you can generally expect the deals to be dead within 24 hours. In some cases, it can even happen within a few hours. The more popular deals are likelier to be axed quickly because they typically get more traction on social media, where airlines can catch them. As a result, it's essential to have real-time notifications set up and to act immediately when you find one.
A final word of caution on mistake fares
Mistake fares can be a great way to save hundreds (or even thousands) of dollars on a flight to a bucket-list destination, but it's important to maintain reasonable expectations throughout the process. First, there's no guarantee you'll ever get a mistake fare to the destination of your choice, so you may need to have some flexibility with your travel plans.
Also, airlines do cancel these tickets sometimes once they discover the mistake, so it's best to avoid planning the rest of your trip — especially things that are non-refundable — for at least one or two weeks after you booked the flight, just in case.
As you keep these tips in mind, you'll not only have a much better chance of spotting mistake fares when they occur but also ensure you get the best experience possible when they work in your favor.
Easy-to-Earn Unlimited Rewards
Earn 25,000 online bonus points after you make at least $1,000 in purchases in the first 90 days of account opening - that can be a $250 statement credit toward travel purchases
Earn 1.5 points per $1 spent on all purchases
Longer intro APR on qualifying purchases and balance transfers
No foreign transaction fees
Earn unlimited 1.5 points per $1 spent on all purchases, with no annual fee and no foreign transaction fees and your points don't expire.
25,000 online bonus points after you make at least $1,000 in purchases in the first 90 days of account opening - that can be a $250 statement credit toward travel purchases.
Use your card to book your trip how and where you want - you're not limited to specific websites with blackout dates or restrictions.
Redeem points for a statement credit to pay for travel or dining purchases, such as flights, hotel stays, car and vacation rentals, baggage fees, and also at restaurants including takeout.
0% Introductory APR for 15 billing cycles for purchases, and for any balance transfers made in the first 60 days. After the intro APR offer ends, 18.24% - 28.24% Variable APR will apply. A 3% fee applies to all balance transfers.
If you're a Preferred Rewards member, you can earn 25%-75% more points on every purchase. That means instead of earning an unlimited 1.5 points for every $1, you could earn 1.87-2.62 points for every $1 you spend on purchases.
Contactless Cards - The security of a chip card, with the convenience of a tap.
This online only offer may not be available if you leave this page or if you visit a Bank of America financial center. You can take advantage of this offer when you apply now.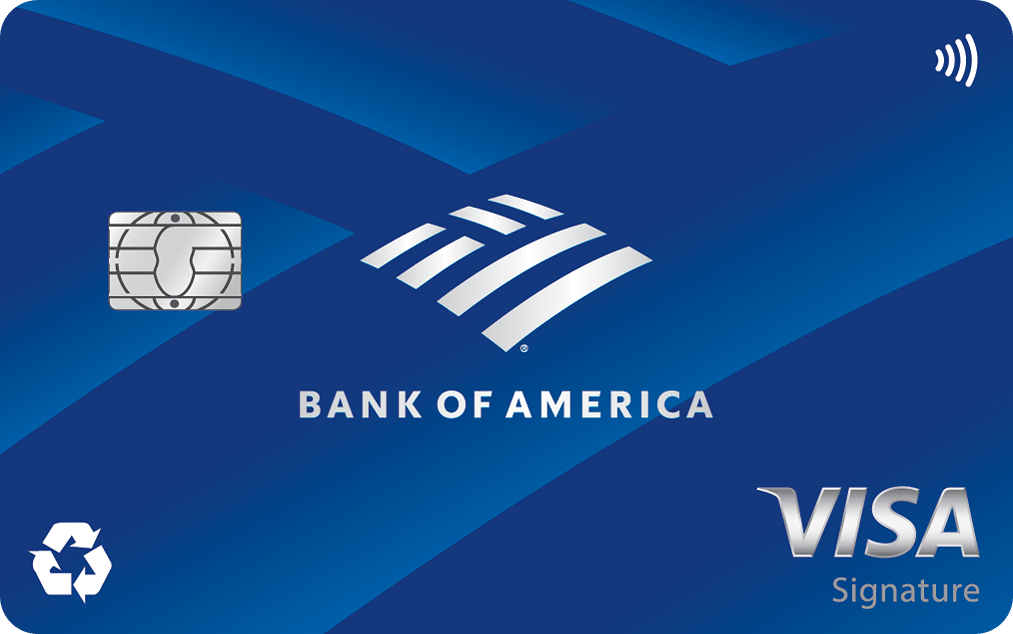 4.1
FinanceBuzz writers and editors score cards based on a number of objective features as well as our expert editorial assessment. Our partners do not influence how we rate products.
Apply Now
on Bank of America's secure website
Read Card Review
Intro Offer
Earn 25,000 online bonus points after you make at least $1,000 in purchases in the first 90 days of account opening - that can be a $250 statement credit toward travel purchases