It's time to start traveling again for the summer, and that means hotel reservations, rental cars, and plane tickets.
To save money on travel, you may be considering a flight on a budget airline like Southwest Airlines, JetBlue, or Spirit Airlines.
But before you book that budget flight on that budget airline, here are some drawbacks that could make you rethink that ticket.
Everything costs extra
Sure, your plane ticket costs money no matter which airline you use, but a ticket on a budget airline may come with extra monetary baggage.
Reserving a seat, checking a bag, and even beverages or snacks on the flight could cost you extra money. And those additional costs could be the difference between sticking close to or busting your budget.
Few flights to major airports
One of the reasons budget airlines can keep costs low is that they may not be paying fees required to fly into a major airport like O'Hare in Chicago or LAX in Los Angeles.
Instead, budget airlines fly into smaller, regional airports that may be less convenient. As a result, you may end up further from your destination and be responsible for extra costs to get to where you want to go, such as a longer cab ride or higher fees for rental cars.
Limited carry-ons
You may think you'll save some cash by skipping the checked baggage fee and carrying on everything you need for your trip.
But you're not the only one with this idea, and the airlines know it — and charge fees in kind. 
Make sure you understand each airline's restrictions regarding how big your carry-on can be and how many carry-on bags you can bring with you.
Weird departure times
Slots for the most popular times to leave an airport are limited, and bigger airlines with more money usually get the priority slots.
So if you're using a budget airline, you'll have to be flexible with when you want to leave and understand that the best time for you may not be the times they have available.
Fewer routes
It can be helpful if you're flying into a major city that might have more than one airport to accommodate the smaller airlines. But getting a seat on a budget flight to a smaller destination can be challenging.
Budget airlines may fly to fewer destinations than bigger airlines or require you to change flights somewhere. By comparison, major airlines offer more direct routes from your home to your destination.
Little flexibility to change tickets
Airlines may give you flexibility once you buy your ticket to make changes. For example, you may have to move your reservation to a different time or date.
Budget airlines often don't allow passengers much flexibility once their ticket is booked, which means any changes won't be allowed or will cost you to make them work.
Cramped interiors
You may have noticed your legroom shrinking on airlines, or you have to pay extra for a separate seat with a little more space. But at least on major airlines, you have some comfort as you fly.
Budget airlines go for the minimum when it comes to the plane's interior to get you from one place to another on a budget. So you may want to consider a different airline if you're tall and need more room.
No seat perks
Bigger airlines have been bumping up the perks you may have in your seat.
For example, there may be screens on every seat back to watch live television, or you can use in-flight Wi-Fi to avoid roaming charges while flying.
However, don't expect perks like those on a budget airline.
No seat reservations
Seat reservations are great if you want to sit with a group of people or if you prefer a window or aisle seat.
But don't expect to lock in a seat reservation if you're on a budget airline, which could be a major issue if you're traveling with some children. 
If you still decide to go the budget airline route, get to the airport early so you can get on the plane as soon as possible.
Poor customer service
You expect a certain level of customer service that you might not be able to get if you take a budget airline instead of a major carrier.
Budget airlines might have a different number of staff members at your check-in gate or may employ fewer workers to track down your luggage if it gets lost somewhere in the system.
Costly cancellations
Sometimes flights get canceled and you have to rebook your tickets to get home due to weather or mechanical issues.
Getting rebooked on another flight is much easier if you're on a major carrier with plenty of other routes to get you back home. Unfortunately, it's difficult with a budget airline, and rebooking a canceled flight may cost you more.
Bottom line
It's a good idea to create a budget for your next vacation to decide what you need and what you can cut to save money.
Also, remember to use a travel credit card to earn travel rewards for flying. Bonuses and points can add up and save you a lot of cash, boosting your budget.
Easy-to-Earn Unlimited Rewards
Earn 25,000 online bonus points after you make at least $1,000 in purchases in the first 90 days of account opening - that can be a $250 statement credit toward travel purchases
Earn 1.5 points per $1 spent on all purchases
Longer intro APR on qualifying purchases and balance transfers
No foreign transaction fees
Earn unlimited 1.5 points per $1 spent on all purchases, with no annual fee and no foreign transaction fees and your points don't expire.
25,000 online bonus points after you make at least $1,000 in purchases in the first 90 days of account opening - that can be a $250 statement credit toward travel purchases.
Use your card to book your trip how and where you want - you're not limited to specific websites with blackout dates or restrictions.
Redeem points for a statement credit to pay for travel or dining purchases, such as flights, hotel stays, car and vacation rentals, baggage fees, and also at restaurants including takeout.
0% Introductory APR for 15 billing cycles for purchases, and for any balance transfers made in the first 60 days. After the intro APR offer ends, 18.24% - 28.24% Variable APR will apply. A 3% fee applies to all balance transfers.
If you're a Preferred Rewards member, you can earn 25%-75% more points on every purchase. That means instead of earning an unlimited 1.5 points for every $1, you could earn 1.87-2.62 points for every $1 you spend on purchases.
Contactless Cards - The security of a chip card, with the convenience of a tap.
This online only offer may not be available if you leave this page or if you visit a Bank of America financial center. You can take advantage of this offer when you apply now.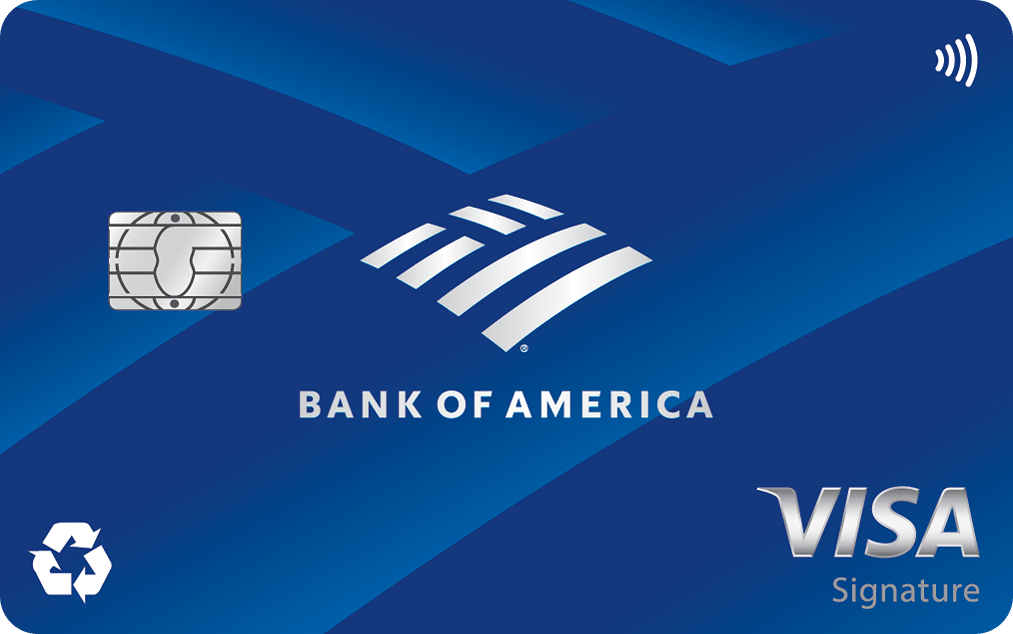 Apply Now
on Bank of America's secure website
Read Card Review
Intro Offer
Earn 25,000 online bonus points after you make at least $1,000 in purchases in the first 90 days of account opening - that can be a $250 statement credit toward travel purchases