The summer tourism season is expected to return to pre-pandemic levels (and maybe beyond) this year. American travelers with their sights on Europe may want to add extra cash into their budgets due to sheer demand. 
While booking with the best travel credit cards is one way to cut costs on vacation, being flexible with destinations may save you even more.
Do yourself a favor and avoid the high costs (and crowds) of the following European hot spots — and consider their lesser-known (but just as delightful) alternatives instead.
London, England
London often makes must-see lists when it comes to European travel. The UK's capital boasts a rich history, a thriving arts and theater scene, incredible shopping districts, and pop culture phenomena.
But London also sees a huge volume of tourists, with about 21 million visitors having made their way to the city annually before the pandemic.
Where to go instead: Brighton, England
Brighton has its own seaside charm and is a great option for those looking for a burst of culture and incredible food options.
From festivals to live music and interactive art, there's plenty to do in Brighton. And if you're still dead set on London, it's only a short train ride away.
Barcelona, Spain
From its beautiful weather to its history, architecture, and famed tapas and wine, it's clear why Barcelona is a must-see European destination for many.
However, the area sees heavy tourist traffic year-round (to the tune of 27 million visitors) — and many of those tourists come in the summer months.
Where to go instead: Valencia, Spain
Valencia offers much of the charm (and the delicious dining options) that Barcelona boasts but tends to attract far fewer visitors.
It's just a few hours south (by car) along the coastline, and visitors can enjoy slightly warmer weather, plus art, beautiful beaches, and more.
Rome, Italy
Rome is another one of the most popular tourist destinations in the world, and the most visited city in Italy.
While it's certainly worth a trip (there's nothing like seeing the Colosseum in person), planning a visit during the high summer season may not be wise.
Where to go instead: Florence, Italy
Florence is also a hot tourist spot in Italy, but you'll find far fewer travelers in this Tuscan gem located north of Rome.
From a thriving arts scene to incredible food and wine, Florence has plenty to offer those in search of "la dolce vita."
Paris, France
Paris is certainly worth a visit for any traveler, with its rich cultural history, landmarks (like the Louvre, the Eiffel Tower, and Notre Dame), and exquisite French food.
However, if you plan to travel to France's capital during the summer months, expect massive crowds. It's one of the most popular tourist destinations on Earth.
Where to go instead: Nice, France
Though it's got nothing on the sheer volume of visitors in Paris every year, Nice is also a popular vacation destination.
Like in Paris, visitors can enjoy French culture and delectable dining options. Plus, Nice also happens to be a gorgeous seaside town with delightful Mediterranean weather.
Santorini, Greece
Santorini is very popular in the summertime, with its sun-kissed beaches, beautiful views of the Aegean Sea, and delectable dining options.
It's no wonder millions of tourists flock to the island every year, with the majority coming in June through August.
Where to go instead: Milos, Greece
A lesser-known island that offers the same beauty and (perhaps more) tranquility as its popular neighbor, the island of Milos is just a ferry ride away from Santorini.
The island offers an idyllic Greek vacation, complete with gorgeous views, boutique hotels, and plenty of space for visitors to spread out.
Lisbon, Portugal
Many are attracted to Lisbon due to its gorgeous architecture, beautiful weather, and tourist-friendly activities (you can hit all the hot spots while aboard one of the city's Trams).
However, Portugal's capital is the most frequently visited city in the country.
Where to go instead: Coimbra, Portugal
Coimbra is nearby and offers natural beauty, history, and a great dining scene — similar to the perks that draw many to Lisbon.
Because it's far less well-known, however, travelers can likely find cheaper accommodations in Coimbra.
Copenhagen, Denmark
Denmark's capital city has become a particularly hot tourist spot over the last decade or so.
From picturesque canals to its thriving arts scene, Copenhagen tends to land high on many "must-see" travel lists.
Where to go instead: Aarhus, Denmark
Just a few hours away from Copenhagen by bus, train, or car, Aarhus has plenty of charm as well.
It has a thriving arts scene (ARoS Aarhus Art Museum is a must-visit), offers natural and architectural beauty, and is a top foodie destination.
Berlin, Germany
As one of Europe's top tourist destinations, Berlin has something for everyone, with fascinating museums (particularly for history buffs) and one of the most famous club scenes in the world.
It also offers relaxing options, like the Tiergarten district, for those looking to escape the hustle and bustle of the city.
Where to go instead: Nuremberg, Germany
A few hours south by car, visitors can find authentic German charm in Nuremberg.
Many of the highlights travelers enjoy in Berlin — like beautiful architecture, a city steeped in history, and incredible drinking and dining options — can be found in Nuremberg, along with smaller crowds.
Capri, Italy
Capri is a hot destination for international tourists, with millions making their way to the small island off the coast of southern Italy every summer.
While Capri certainly has a lot to offer — from breathtaking views of the Mediterranean to glamorous beach clubs — expect it to be jam-packed in the summer.
Where to go instead: Ischia, Italy
Another (larger) island off Italy's southern coast, Ischia is lesser known to international travelers (unless they happen to be big fans of Elena Ferrante's Neapolitan Novels).
The island is very well known to Italians, though, and offers the same natural beauty and charm as Capri. It also offers the potential for a less tourist-driven vacation experience.
Amsterdam, Netherlands
Amsterdam is another hot European destination, with pre-pandemic annual visitors at around 20 million.
The Dutch city attracts massive crowds with its beauty, bikeable streets, canal system, and, of course, many special coffee shops.
Where to go instead: Utrecht, Netherlands
Think of Utrecht as the untapped Amsterdam. It's just 30 minutes away by train, and while it's popular as well, it's nowhere near as well-known as the Netherlands' capital.
Guests can enjoy the beautiful architecture and cultural landmarks, indulge in authentic dining, and still fit in a quick day trip to Amsterdam if needed.
Dublin, Ireland
Dublin is the most popular tourist destination in Ireland and was attracting about 6 million tourists per year pre-pandemic.
From its lively city streets to its world-famous churches and boozy landmarks (like the Guinness Storehouse and the original Jameson Distillery), it has a lot to offer.
Where to go instead: Galway, Ireland
A few hours west of Dublin by car, bus, or train sits another (lesser-known) gem: Galway.
Travelers can enjoy a thriving nightlife, arts scene, and plenty of history in the city, plus proximity to some of the country's most breathtaking wonders like the Cliffs of Moher.
Prague, Czech Republic
Tourists flock to Prague to enjoy picturesque views along the Vltava river, architecture that places gorgeous medieval structures next to modern gems, and some of the best beer in the world.
In 2022, nearly 6 million visitors made their way to the Czech Republic's capital.
Where to go instead: Kutná Hora, Czech Republic
Even though Kutná Hora is known as the "City of Silver" (due to its location atop old silver mines), you're likely to find better deals and fewer tourists in the area.
It offers stunning landmarks, gothic churches, and fascinating museums, and it's just a short bus ride from Prague.
Stockholm, Sweden
Stockholm is another hot destination on many European travel lists, with more than 15 million visitors in 2019.
The city boasts an array of museums (including one dedicated solely to ABBA), beautiful gardens, boat tours, and so much more. Visitors should also expect packed summers.
Where to go instead: Ystad, Sweden
At the bottom of Sweden, along the coast, sits another great option for travelers: Ystad.
The area also offers delightful museums and colorful architecture, plus nearly 25 miles of beaches, making it a great (albeit far lesser-known) summer vacation destination.
Edinburgh, Scotland
From Edinburgh Castle to the National Galleries of Scotland, there's plenty to do in Edinburgh. Around four million visitors make the trek to Scotland's capital annually.
While vacationers can find much beauty and history in the city, summer travelers will also find huge crowds.
Where to go instead: Gullane, Scotland
Fortunately, just a short bus ride away from Edinburgh lies a seaside village called Gullane.
Visitors can enjoy beautiful beaches, several massive golf courses, plenty of delectable dining options, and regular bus service to and from Edinburgh.
Zurich, Switzerland
The view of the Swiss Alps alone is enough to entice travelers to Zurich. And the chocolate and laid-back lifestyle (not to mention nearby ski resorts) is enough to keep them coming back.
Pre-pandemic, about 12 million tourists visited the city annually.
Where to go instead: Montreux, Switzerland
About two hours southwest of Zurich by car sits another Swiss gem: Montreux.
The city is close to the French border and offers a delightful Old Town, a beautiful waterfront promenade, and even a much-loved monument for Queen's Freddie Mercury (the band recorded multiple albums there).
Bottom line
If you're looking forward to summer travel but are less amped about summer crowds, the 15 alternate destinations provided all offer plenty of European charm.
Plus, if your financial fitness isn't exactly where it needs to be, vacationing in less in-demand cities can lead to big savings.  

Easy-to-Earn Unlimited Rewards
Earn 25,000 online bonus points after you make at least $1,000 in purchases in the first 90 days of account opening - that can be a $250 statement credit toward travel purchases
Earn 1.5 points per $1 spent on all purchases
Longer intro APR on qualifying purchases and balance transfers
No foreign transaction fees
Earn unlimited 1.5 points per $1 spent on all purchases, with no annual fee and no foreign transaction fees and your points don't expire.
25,000 online bonus points after you make at least $1,000 in purchases in the first 90 days of account opening - that can be a $250 statement credit toward travel purchases.
Use your card to book your trip how and where you want - you're not limited to specific websites with blackout dates or restrictions.
Redeem points for a statement credit to pay for travel or dining purchases, such as flights, hotel stays, car and vacation rentals, baggage fees, and also at restaurants including takeout.
0% Introductory APR for 15 billing cycles for purchases, and for any balance transfers made in the first 60 days. After the intro APR offer ends, 18.24% - 28.24% Variable APR will apply. A 3% fee applies to all balance transfers.
If you're a Preferred Rewards member, you can earn 25%-75% more points on every purchase. That means instead of earning an unlimited 1.5 points for every $1, you could earn 1.87-2.62 points for every $1 you spend on purchases.
Contactless Cards - The security of a chip card, with the convenience of a tap.
This online only offer may not be available if you leave this page or if you visit a Bank of America financial center. You can take advantage of this offer when you apply now.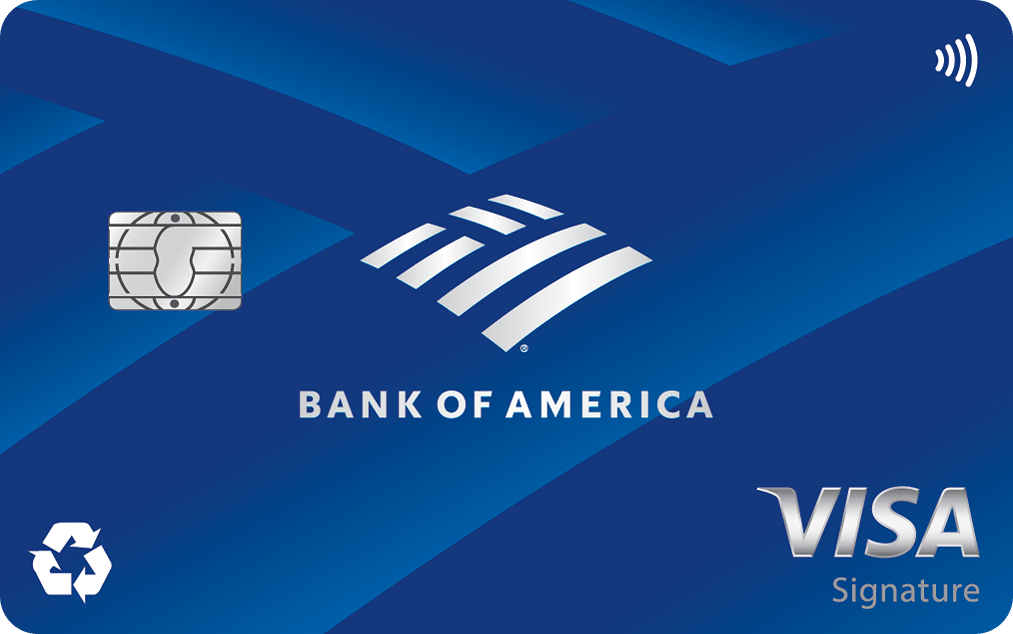 Apply Now
on Bank of America's secure website
Read Card Review
Intro Offer
Earn 25,000 online bonus points after you make at least $1,000 in purchases in the first 90 days of account opening - that can be a $250 statement credit toward travel purchases