Your home is an important part of everyday life, so it's essential that you're comfortable. But rising real estate prices in your area might make it difficult to buy a house that fits your lifestyle and budget.
If you're looking to buy a home and have the ability to relocate, you might want to consider different housing markets with more budget-friendly options. Surprising as it may be, many U.S. cities still offer three-bedroom homes for less than $100,000.
Whether you're buying your first home or buying your second home, saving money on a house can help secure your financial future. After you've explored our list of these 15 affordable locations, check out the home-buying tips we've also included. They can help you navigate the home-buying process and save money at the same time.
Our methodology: FinanceBuzz used search data from Zillow to find U.S. cities with multiple listings for three-bedroom homes that cost less than $100,000. Specific search parameters included: Houses for sale; no minimum price range; maximum price range of up to $100,000; any square footage; and three or more bedrooms. All info is as of Jan. 30, 2021.
Alabama: Birmingham
The city of Birmingham is located in central Alabama, about a two-hour drive from Atlanta, Georgia. It's currently (as of Jan. 30, 2021) the largest city in Alabama, though Huntsville and Montgomery are close behind.
Birmingham attracts visitors for its food and music scenes, as well as its history with the Civil Rights Movement. Popular activities in the area include hiking, biking, scenic overlooks, and more.
Birmingham has a population of about 209,000 residents.
Arkansas: Little Rock
The capital of Arkansas is located almost exactly in the center of Arkansas along the Arkansas River. This central Arkansas location provides easy access to plenty of outdoor recreation, including biking and hiking.
For urban exploration, visit one of Little Rock's many districts, including SoMa and the River Market District. These neighborhoods allow you to enjoy alcoholic beverages while visiting the area and its participating businesses.
Little Rock has a population of about 197,000 residents.
Georgia: Augusta
Augusta is a city in eastern Georgia located along the Savannah River and South Carolina border. It's known as the home of the Augusta National Golf Club, which hosts the annual Masters Tournament for professional golf players.
The Augusta area has fair weather throughout the year, so activities like walking along the Augusta Riverwalk and exploring the Augusta Canal National Heritage Area are encouraged.
Augusta has a population of about 198,000 residents.
Illinois / Iowa: Rock Island / Davenport
Rock Island and Davenport sit across the Mississippi River from each other along the Iowa and Illinois border. Both Midwestern cities together form half of the group of cities known as the Quad Cities.
The Quad Cities area promotes plenty of activities along the riverbank, including festivals, biking, walking, or simply taking in the view from a rooftop bar. Popular outdoor activities in the area include boating, kayaking, disc golf, and hiking.
Rock Island has a population of about 37,000 residents. Davenport has a population of about 102,000 residents.
Indiana: Evansville
Evansville is a city in southwest Indiana that sits on the border with Kentucky and close to the Illinois border. It's located on the Ohio River and close to both the Hoosier and Shawnee National Forests.
Evansville attractions include multiple museums, baseball fields, shopping centers, and more. For nearby cities, Evansville is well situated for visits to St. Louis, Missouri; Louisville, Kentucky; and Nashville, Tennessee.
Evansville has a population of about 118,000 residents.
Kansas: Independence
Independence, Kansas (not to be confused with Independence, Missouri) is a small city in southeastern Kansas, located near the Oklahoma border. The nearest major cities include Wichita, Kansas, and Tulsa, Oklahoma, which are both less than two hours driving distance away.
Popular attractions include Elk City State Park and Montgomery County State Park, though you can expect to find local stores and restaurants as you explore a small Midwestern city like Independence.
Independence has a population of about 8,500 residents.
Mississippi: Jackson
The capital city of Mississippi sits in the central region of the state, about a three-hour drive north of New Orleans, Louisiana. Known as the "City With Soul," Jackson is a Southern city steeped in culture. Popular attractions include the Mississippi Civil Rights Museum and the Fondren District, a local destination for shopping, dining, and entertainment.
Jackson has a population of about 160,000 residents.
Montana: Cut Bank
To get away from the hustle and bustle of larger cities, consider a small city like Cut Bank, Montana. This city is located next to the Blackfeet Indian Reservation and about a one-hour drive from Glacier National Park. It's also about a 40-minute drive from the border with Canada.
The area is remote, but you still have some grocery stores and restaurants to choose from. However, the appeal of Montana is being in the great outdoors and exploring everything Big Sky Country has to offer.
Cut Bank has a population of about 3,000 residents.
New York: Binghamton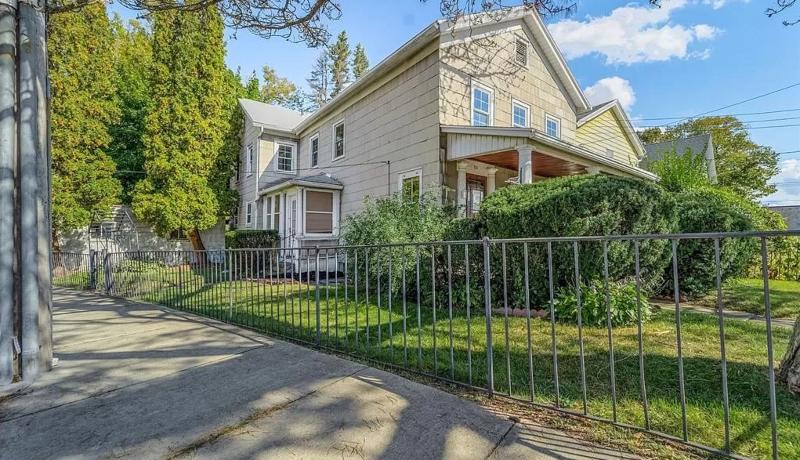 The city of Binghamton sits on the Susquehanna and Chenango rivers in New York state, just north of the Pennsylvania border. It's also about 1.5 hours driving distance from Syracuse, so it's close to many of the same outdoor attractions in the Finger Lakes area. Binghamton is known for its spiedes (pronounced speedies), a culinary dish consisting of marinated and grilled skewers of meat served on a long roll.
Binghamton has a population of about 44,000 residents.
New York: Syracuse
Syracuse is in upstate New York on the shores of Onondaga Lake. It's known as the home of Syracuse University, the location of the Destiny USA shopping complex, and for being one of the snowiest cities in the country. Nearby outdoor recreation activities include hiking at Chittenango Falls State Park, skiing at Labrador Mountain, and exploring the many lakes of New York state's Finger Lakes region.
Syracuse has a population of about 142,000 residents.
Ohio: Cleveland
Cleveland is one of the largest cities on this list and one of the largest cities in Ohio. It's location along Lake Erie and the Cuyahoga River makes for picturesque views of the water, which can be enjoyed as you explore more than 24,000 acres of parks within the Cleveland Metroparks system. Cleveland is also home to professional sports teams like the Cleveland Browns, Cleveland Cavaliers, and Cleveland Indians.
Cleveland has a population of about 381,000 residents.
Pennsylvania: Harrisburg
Harrisburg is a city in Pennsylvania and about a three-hour drive from Binghamton, New York. Similar to Binghamton, this city is located on the Susquehanna River.
Popular attractions include nearby vineyards, wineries, breweries, and distilleries. For outdoor fun, consider hiking at Boyd Big Tree Preserve or kayaking at Swatara Creek. You might also enjoy a visit to the Hersheypark amusement park, about a 25-minute drive from downtown Harrisburg.
Harrisburg has a population of about 49,000 residents.
Texas: Wichita Falls
Wichita Falls is a city in northern Texas about a two-hour drive from either Dallas, Texas, or Oklahoma City, Oklahoma. It's a big enough city to fulfill your everyday shopping needs, and there are plenty of parks and dining options. Nearby outdoor recreation areas include Lake Wichita and Lake Arrowhead State Park.
Wichita Falls has a population of about 105,000 residents.
West Virginia: Beckley
Beckley is a city in southern West Virginia that's home to the West Virginia University Institute of Technology. It's close to loads of outdoor activities, including the Appalachian Trail, New River Gorge, and the Winterplace Ski Resort.
The one-time coal-mining city is the eighth-largest city in West Virginia and holds underground tours of its Exhibition Coal Mine. Cities within a five-hour drive include Washington, D.C., Charlotte, North Carolina, and Columbus, Ohio.
Beckley has a population of about 16,000 residents.
Wisconsin: Milwaukee
Milwaukee is a major city in Wisconsin located just up the shoreline from Chicago, Illinois, on Lake Michigan. It's home to professional sports teams like the Milwaukee Bucks and Milwaukee Brewers, as well as Marquette University. Popular activities include visiting the many breweries, hitting the beaches of Lake Michigan, and walking the Milwaukee RiverWalk.
Milwaukee has a population of about 590,000 residents.
Home-buying tips
If you find a house you love and think you want to move, here are some tips on the home-buying process:
Bonus tip: If you are in the market to sell, home updates can help you sell faster and for more. From small repairs to whole-home renovations, Curbio does it all. There's $0 due until the home sells with no interest charges.
Bottom line
If you have the freedom to relocate, the opportunities for buying affordable homes throughout the U.S. are out there. And surprisingly, they're not all in middle-of-nowhere locations without infrastructure or amenities. You have loads of appealing cities and areas to choose from. But the best part? You'll get a jumpstart on saving for a house by simply changing where you want to be located.
Curbio Benefits
Update your home so you can sell faster and for more
All-inclusive service means you don't have to lift a finger
Small repairs to whole-home renovations, Curbio can do it all
$0 due until the home sells with no interest charges