The holidays are coming soon, and companies are hiring seasonal employees to cover the extra work.
Seasonal work can be a great way to earn a little more money when times are tight. Or, perhaps you just want to save for a goal you have set.
Check out these businesses to see if you can take on some additional hours this holiday season.
Get paid up to $225 a month while watching viral videos
It sounds crazy. And maybe you're not even sure if it's worth your time. But come on … you're at least a little curious. Getting paid while watching viral videos is a real way to earn cash, and you can do it with a company called InboxDollars. 
No … it's not going to get you rich. Yes ... it's probably one of the lowest-effort side hustles. But it's totally worth it if you're just sitting on the couch scrolling anyway. Instead of just watching viral videos on YouTube, you could be getting paid actual cash while watching those videos and taking surveys instead. Every little bit of extra money counts.
It's simple. You sign up here and confirm your email. Then you watch videos and take surveys. Then you earn cash (yes, actual cash … not "points"). Whenever you're just chilling on the couch, log in and see how you can earn up to an extra $225 every month. 
BONUS: Free $5 when you sign up, confirm your email and phone.
Sign up and start getting paid today
SPONSORED
Target
Target says it is looking for what it describes as "heroes" to help the retailer meet holiday demand.
Temporary employees are eligible for a 10% discount on Target purchases, which might help you boost your bank account by trimming the cost of holiday shopping this year.
United States Postal Service
The holidays are the busiest time of year for the United States Postal Service, so this can be a great place to pick up extra work.
The USPS is hiring seasonal workers now, so see if your local post office needs help with delivery services, driving, sorting or handling.
Macy's
Earlier this fall, Macy's announced plans to fill 38,000 seasonal positions.
The jobs were slated to be available in Macy's, Bloomingdale's, and Bluemercury stores. The retailer also said it was hiring for its distribution centers.
Resolve $10,000 or more of your debt
Credit card debt is suffocating. It constantly weighs on your mind and controls every choice you make. You can end up emotionally and even physically drained from it. And even though you make regular payments, it feels like you can never make any progress because of the interest.
National Debt Relief could help you resolve your credit card debt with an affordable plan that works for you. Just tell them your situation, then find out your debt relief options.
How to get National Debt Relief to help you resolve your debt: Sign up for a free debt assessment here. (Do not skip this step!) By signing up for a free assessment, National Debt Relief can assist you in settling your debt, but only if you schedule the assessment.
Amazon
Amazon says it has seasonal warehouse jobs to fill. Candidates can get a job offer right away, without the need to interview.
One nice perk of working for Amazon is that you can choose your own payday and even access money directly after your shift.
Best Buy
There will be plenty of electronic gifts under the tree this year, and one great place to purchase them is Best Buy.
Best Buy has seasonal openings in its retail stores and distribution centers. You can also find work with the Best Buy Geek Squad, where you will help customers get the most from their tech.
Gap
Clothing retailer Gap needs seasonal associates in its stores and help in its warehouse distribution centers.
Seasonal employees can get a 50% discount at the Gap's family of brands, which also includes Banana Republic, Old Navy, and Athleta.
Kohl's
When you join Kohl's as a seasonal retail sales associate, you will be eligible for a 15% discount. Material handler positions also are available.
Kohl's says more seasonal jobs will be available soon, and invites you to sign up to have the latest updates on seasonal work delivered to your inbox.
UPS
UPS is another package delivery service that's going to see extra work during the holidays. In September, the company announced that it was hiring more than 100,000 seasonal workers.
At the time, UPS said it mostly needed seasonal delivery drivers, commercial driver's license (CDL) drivers, and package handlers.
FedEx
FedEx needs some additional hands during the holiday season.
The company is looking for a variety of positions, including package handlers who can help FedEx get packages to where they need to go.
Join AARP and double your number of interviews within 60 days
Finding a new job is difficult. But join AARP today, and you'll get access to skill-building courses, a free resume review, and AARP's exclusive job board to help you stand out in the competitive job market.
How to become a member today:
Go here, select your free gift, and click "Join Today."
Create your account by answering a few simple questions.
Start using AARP's job search tools!
An AARP membership unlocks resources that could help you land the perfect role. Plus, you'll get access to tools like The AARP Resume Advisor to supercharge your resume, cover letter, and even your LinkedIn profile.
AARP claims they can help double your number of interviews within 60 days, or they'll rewrite your resume for free.
Important: Start your membership by creating an account here and filling in all of the information (do not skip this step!). Doing so will allow you to take up to 25% off your AARP membership, making it just $12 per year with auto-renewal.
1-800-Flowers
The holidays aren't just about packages. Flower deliveries also increase at this time of year.
Seasonal positions — such as a hybrid role for a seasonal order entry associate — are available at 1-800-Flowers.
Bottom line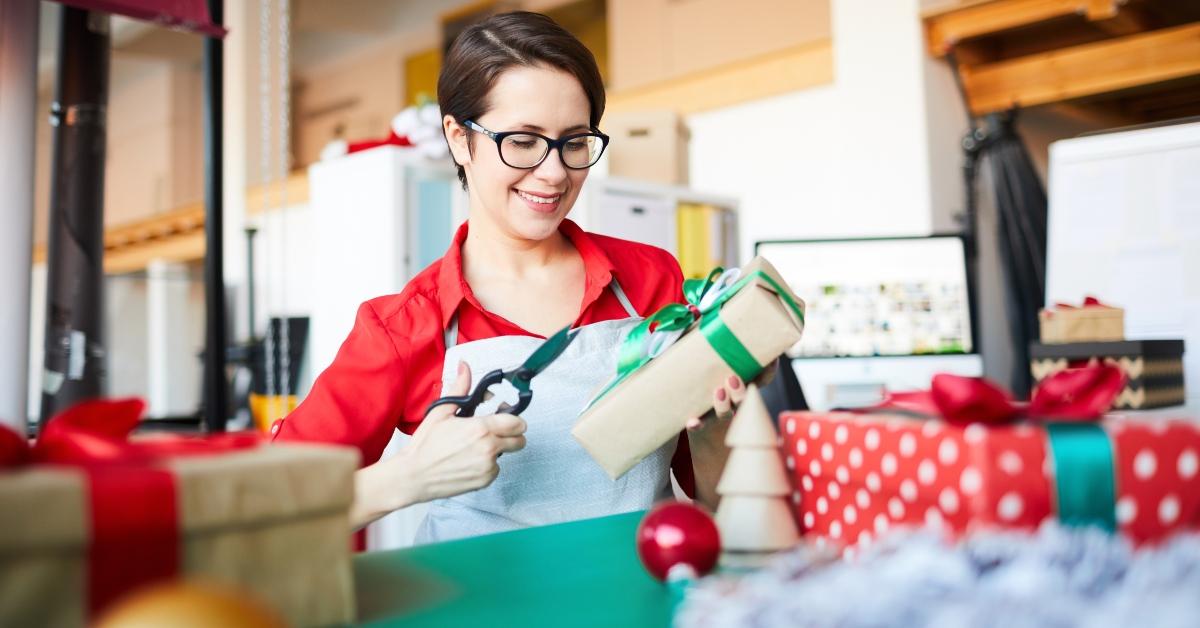 Seasonal work can be a great way to put more money in your wallet for holiday-related expenses or other financial goals.
So, if you need a little extra cash, the time to look for a temporary job is now. The companies on this list can be a great place to start your search.
National Debt Relief Benefits
No upfront fees
One-on-one evaluation with a debt counseling expert
For people with $7,500 in unsecured debts and up