The coronavirus pandemic has disrupted the lives of billions of people around the world, and changed the way we live, work, and play on a daily basis. For many, the serious implications of the pandemic weren't fully understood until closures and stay-at-home orders started to impact how we live our lives. When travel bans were put into place, it seemed like the world became so much smaller.
Looking toward the future, travelers can start to see a glimmer of hope for making a comeback as things begin to slowly normalize. We aren't out of the woods yet, and the travel experience may be forever changed, but if you want to get ready for your next adventure, now is the time to start preparing.
How to take a cheap vacation when this is over
Waiting until the dust settles on everything pandemic-related before making any travel decisions seems like a logical course of action. Nobody knows exactly what the travel landscape will look like, so better safe than sorry, right? But that doesn't mean you can't start your travel preparations right now.
As we get closer to the eventual lift on travel bans, it's more important than ever to understand how the coronavirus affects travel. Some countries have 14-day quarantine rules in effect, and many airlines and hotels have adjusted their change/cancellation policies. You can also expect new guidelines when traveling regarding masks, seating arrangements, and health screenings.
Overall, though, this shouldn't affect your financial preparation for future travel. Even as the travel industry sorts itself out, you can still earn points and miles for use on your next trip.
If you follow the steps outlined below, you can make sure you're ready to take a grand vacation when the time is right. Even better, these tips can help you save money on future travel so you aren't breaking the bank on a much-needed getaway.
1. Use credit cards to rack up points
Many of us fear a recession and many industries have been disrupted, but we still have to earn money, pay bills, and put food on the table, so our daily tasks have remained relatively the same. You can take advantage of that.
If you want to plan for an inexpensive vacation, using a travel credit card is one of the best ways to minimize your travel expenses. You can pay for your everyday purchases, such as bills and groceries, with a credit card and earn valuable rewards along the way. It's easy to do, and certain card issuers are even offering COVID-19 perks on specific cards right now. 

With these perks, you can earn bonus rewards points that wouldn't normally be available. In particular, you can earn bonus points on grocery purchases when using many Chase and American Express credit cards. Cards such as the Marriott Bonvoy Brilliant American Express Card and The World of Hyatt Credit Card don't typically offer any extra points for spending done at U.S. supermarkets, but this feature is now available for a limited time.
Two other rewards cards included in this limited-time bonus offer are the Chase Sapphire Reserve and the Chase Sapphire Preferred. These credit cards are generally thought of as two of the best travel credit cards available because of their reward rates, generous sign-up offers, and access to amazing travel deals.
When you earn Ultimate Rewards points with either of these cards, you can then redeem them toward travel in the Chase travel portal. Travel redemptions can include flights, hotel stays, rental cars, and more. So you can earn bonus points on all the groceries you're amassing right now and then redeem those points toward travel later on.
Ultimate Rewards points can generally be redeemed at a 1:1 ratio (one point equals 1 cent) for cash back and gift cards, but when you redeem them for travel with the Chase Sapphire cards, they're worth more. Points are worth 50% more in travel with the Sapphire Reserve and 25% more in travel with the Sapphire Preferred.
That means 50,000 points earned with the Sapphire Reserve would be worth $750 toward travel. For the Sapphire Preferred, 60,000 points would be worth $750 toward travel. And you can also transfer your points to more than a dozen Chase transfer partners in the airline and hotel industries. This gives you plenty of flexibility when searching for great award travel opportunities with brands like Emirates, JetBlue, United, World of Hyatt, and Marriott Bonvoy.
2. Start looking for deals now
Let's focus on the idea of award travel opportunities for a minute. It's no surprise that businesses in the travel industry are struggling to cope with the current crisis. With a huge decrease in travel, airlines simply don't have the passengers to fill their planes, and airports have become ghost towns.
Nobody knows for sure what that will mean for prices on flights, hotel stays, and more as travel begins to resume, but we can safely assume there will be some good deals. We can assume this because companies want to bring customers back through their doors, and there's no better way to entice people than by offering great opportunities.
There have already been plenty of great deals in the past few months and they don't seem to be letting up. For example: $74 and below for roundtrip flights from California to Florida. You can find most flight deals by using Google Flights and plugging in the cities you're flying out of and into. Then you can put in your dates and click on the calendar icon. At this point, you can easily check different dates to see when the best fares are available.
If you want some help finding deals, there are plenty of fare-finding services available that can assist you. You can get frequent email alerts about flight deals from The Flight Deal, Matt's Flights, Going, Flights From Home, Skyscanner, and more. Apps like Hopper can be helpful too.
Most services offer free alerts, but some also offer paid subscriptions for you to receive more frequent and customizable alerts. This makes it easier to find specific deals out of your home airport to destinations you're interested in. No matter where you find your deals, make sure you double- and triple-check flight prices on multiple websites, just to be safe. Checking the actual airline website is always a good idea, too.
3. Book early and take advantage of lenient change policies
Many airlines and hotels have announced changes to their change and cancellation policies and, in most cases, customers can cancel or rebook itineraries for no fee. You can use this to your advantage to book good flight and/or hotel deals now while you wait to see what happens. If you end up having to cancel or rebook, you won't be charged. And if all goes off as planned, then you'll have landed yourself a great travel deal.
There's no clear time frame for when we'll actually be traveling again because we don't know what's going to happen, but you can stay up-to-date on news and guidelines for wherever you're traveling to and adjust your bookings accordingly. At the moment, big trips planned for closer to the end of 2020 seem to be OK, but there are already reports that international destinations will open doors well before then.
And although the changes to airline and hotel policies are certainly helpful, it's never a bad idea to be extra careful. You can use travel cards like the Chase Sapphire Reserve or the Platinum Card from American Express for their credit card travel insurance, or you can purchase your own travel insurance.
Keep in mind, travel insurance and credit card travel insurance probably won't cover you if you decide not to travel because you're worried about the coronavirus. Travel insurance covers many things, but fear of the coronavirus is not one of them.
4. Be prepared that travel may be different
International travel might still be a ways off, depending on the country you're interested in visiting. Many countries are hoping to reopen their doors to tourists, but the reality is we don't know when would be the best time to do so.
Some countries are currently allowing tourists to visit, but you have to submit to a 14-day quarantine upon arrival. If you have a lot of time and a strong desire to travel, it may be worth it to travel to one of these countries and stay for a long period of time. Otherwise, you may want to wait until things clear up or choose another destination.
In general, you can expect the entire travel experience to be different. Many airlines are already requiring passengers to wear face masks. Additional airport screening methods, such as thermal cameras and sanitation booths, may soon become normal practice.
If you want to feel better and safer while traveling, you might want to consider doing even more than what's required. It's hard to avoid public areas while traveling, but you can minimize contact with other individuals as much as possible by accessing private airport lounges. The Chase Sapphire Reserve and Amex Platinum cards offer cardholders free access to more than 1,300 Priority Pass lounges worldwide. You can also access Centurion Lounges and American Express lounges with the Amex Platinum card.
In addition, it wouldn't be a bad idea to carry your own disinfectant wipes to clean off armrests, tray tables, light switches, and whatever else you can think of. Having soap with you to wash your hands could also be useful.
Although we don't know how long future airport screenings may take, it could be beneficial to have a Global Entry or TSA PreCheck membership to speed up the process. Consider applying for a credit card with TSA PreCheck or Global Entry fee reimbursement to join one of these programs for free. If you regularly travel through airports equipped with CLEAR, that could be a good option to have as well.
Bottom line
It doesn't look like travel is going to normalize anytime soon, and we shouldn't push the boundaries of safety and responsibility. Still, that doesn't mean we can't plan for the time when we're back in the air.
If you start preparing for travel now, you can be completely ready for a safe and inexpensive vacation when the time comes. There's nothing wrong with stockpiling some credit card rewards for an epic trip that's sure to be worth the wait.
Easy-to-Earn Unlimited Rewards
Earn 25,000 online bonus points after you make at least $1,000 in purchases in the first 90 days of account opening - that can be a $250 statement credit toward travel purchases
Earn 1.5 points per $1 spent on all purchases
Longer intro APR on qualifying purchases and balance transfers
No foreign transaction fees
Earn unlimited 1.5 points per $1 spent on all purchases, with no annual fee and no foreign transaction fees and your points don't expire.
25,000 online bonus points after you make at least $1,000 in purchases in the first 90 days of account opening - that can be a $250 statement credit toward travel purchases.
Use your card to book your trip how and where you want - you're not limited to specific websites with blackout dates or restrictions.
Redeem points for a statement credit to pay for travel or dining purchases, such as flights, hotel stays, car and vacation rentals, baggage fees, and also at restaurants including takeout.
0% Introductory APR for 18 billing cycles for purchases, and for any balance transfers made in the first 60 days. After the intro APR offer ends, 17.74% - 27.74% Variable APR will apply. A 3% fee applies to all balance transfers.
If you're a Preferred Rewards member, you can earn 25%-75% more points on every purchase. That means instead of earning an unlimited 1.5 points for every $1, you could earn 1.87-2.62 points for every $1 you spend on purchases.
Contactless Cards - The security of a chip card, with the convenience of a tap.
This online only offer may not be available if you leave this page or if you visit a Bank of America financial center. You can take advantage of this offer when you apply now.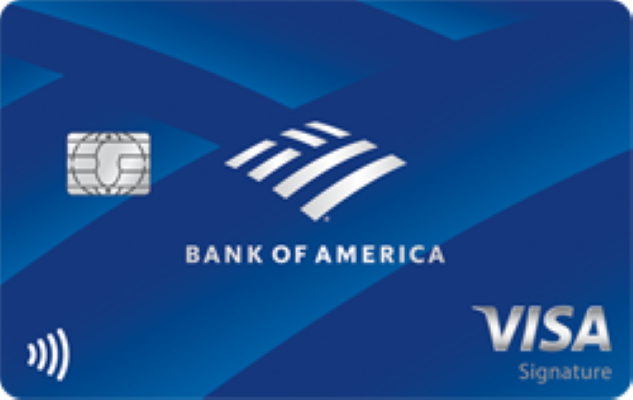 Apply Now
on Bank of America's secure website
Read Card Review
Intro Offer
Earn 25,000 online bonus points after you make at least $1,000 in purchases in the first 90 days of account opening - that can be a $250 statement credit toward travel purchases