It can be challenging to plan a night out when money is tight, let alone enjoying luxury dining on a budget.
Many Costco members turn to this value store to save on everyday grocery items. But did you know they also offer exclusives on gourmet meals and ingredients?
You don't have to break the bank to savor an indulgent three-course meal that's cheaper than a restaurant.
Editor's note: Prices are subject to change and may also vary by location.
Get a protection plan on all your appliances
Did you know if your air conditioner stops working, your homeowner's insurance won't cover it? Same with plumbing, electrical issues, appliances, and more. Not being able to make repairs could leave you in a bad situation — but a home warranty could protect you against surprise expenses.
Whether you're a brand-new homeowner or you've owned your home for years, a plan from Choice Home Warranty could pick up the slack where homeowner's insurance falls short.
If a covered system in your home breaks down, you can call their hotline 24/7 for assistance to get it repaired. They have a network of over 15,000 technicians that can assist you, making sure any issue can be taken care of swiftly — without breaking the bank.
Not sure if it's for you? Rest easy: they were named one of the "Best Home Warranty Companies" by US News 360 Reviews and were awarded Best Company's 2020 Consumer's Choice Award. For a limited time, you can get your first month free when you sign up for a Single Payment home warranty plan.
Kirkland Signature Aged Balsamic Vinegar of Modena
Price: $11.99
This luxury ingredient can be used for dressings, drizzles, and more. You can enjoy luxury food on a budget by keeping more money in your bank account.
With its complex sweetness and savory notes, this balsamic vinegar can be used for many elevated meals. Make a sauce for your steak or a fresh dressing for your salad as a starter.
Secret Hint Organic Saffron
Price: $12.99
A little bit of saffron goes a long way in your dish.
This spice adds deep red color and rich antioxidants to your meal. Try it with chicken tagine or saffron rice.
Cuisine Solutions Sliced Grass-Fed Beef Sirloin
Price: $11.49
This sirloin will steal the spotlight of any extravagant dinner.
It's already prepared so you can add it to your table with fresh vegetables and freshly-baked bread. And at this low price, you get a cheaper ready-made dinner than a restaurant.
Stop overpaying when you shop online
Shopping online has its perks. It's super convenient, but it can be time consuming to find the best deals. Instead of hunting for coupon codes (that don't always work!) and opening tons of browser tabs comparing prices, you can try Capital One Shopping.
Capital One Shopping makes saving money effortless. Just add the browser extension and when you check out, it'll scour the internet for coupon codes to help you save cash. And before you check out at 25+ major retailers, Capital One Shopping will notify you with a friendly pop-up if the item you're buying is available cheaper somewhere else.
Capital One Shopping is free to use and won't show you ads. Add it today and stop overpaying!1
The Spice Lab Curated Gourmet Sea Salts
Price: $9.97
Seasoning is vital to any meal, so add this to your spice arsenal.
These gourmet sea salts come in various grains and flavors. Have international tastes for an affordable price, all from your spice cupboard.
Kirkland Signature Imported French Brie
Price: $9.99
Try this brie with figs, plums, or a dry white wine.
Easily enhance any recipe with the addition of this creamy cheese. You may also want to try baking it for an ultra-indulgent appetizer before the main course.
Phillips Premium Lump Crab
Price: $26.99
Grab premium lump crab without the premium price tag at Costco.
This wild-caught crab can create delectable crab cakes, crap dip, and so much more. You can even add it to your pasta with cream-based sauces.
Holland Rembrandt 12 Month Aged Gouda Cheese
Price: $9.89
Here's another luxury ingredient that is versatile enough for any high-class meal.
This aged gouda can be paired with a fresh display of bread, fruit, crackers, or even your favorite glass of wine. Try shredding it on fresh pasta for a rich, complex flavor profile.
Foppen Smoked Norwegian Salmon Slices
Price: $12.99
Savor Norwegian salmon from the comfort of your own home.
These smoked salmon slices are already seasoned and ready to eat. Top off your bagels for a gourmet breakfast or brunch with this ingredient.
Truff Black Truffle Salt
Price: $12.69
This black truffle-infused salt injects earthiness and savoriness into any dish.
Try it on snacks, like popcorn, or season your meats for a bold flavor. This is one bargain Costco item you may want to buy again and again.
Earn 2% cash rewards at grocery stores and Costco
The Wells Fargo Active Cash® Card(Rates and fees) is a powerful rewards card that allows you to earn unlimited 2% cash rewards on purchases — including on groceries, even at warehouse stores like Costco.

New cardholders can also earn a one-time cash rewards bonus — $200 cash rewards bonus after spending $500 in purchases in the first 3 months!
If you're looking for a powerful rewards card that offers an extended intro APR period, look no further, the Wells Fargo Active Cash® Card checks that box too!
This card also offers an intro APR of 0% for 15 months from account opening on purchases and qualifying balance transfers (then 20.24%, 25.24%, or 29.99% variable). Which is great for someone who wants a break from high interest rates, while still earning rewards.
The best part? There's no annual fee.
Click here to apply for the Wells Fargo Active Cash® Card now.
Rock River Cattle Co. Bacon-Wrapped Top Sirloin Fillet
Price: $16.99
Feed the whole family a luxury meal they soon won't forget.
This four-pack of top sirloin fillet comes wrapped in applewood smoked bacon for a delicious and lavish dinner. Try it with asparagus, drizzled in the aged balsamic vinegar, or topped with shredded gouda.
Veroni Antipasto Italiano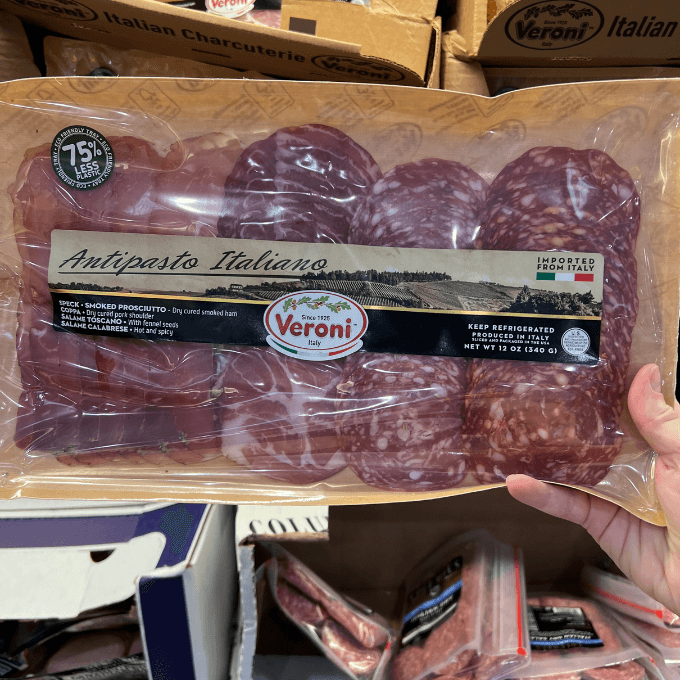 Price: $12.99
What gourmet dinner is complete with an appetizer?

This first course will set the tone for the night with these flavorful smoked and cured meats. Serve them with your favorite slices of bread, cheeses, and maybe even a fresh honeycomb for sweetness.
Kirkland Signature Cabernet Sauvignon Cheese
Price: $8.99
Adding this cheese to any luxury meal is sure to elevate it.
You can even serve this as part of your hors d'oeuvres or on a charcuterie board. It provides a full-bodied and nutty taste, all at an affordable price.
Kirkland Signature Organic Vanilla Beans
Price: $17.69
These vanilla beans bring a rich flavor to any dessert.
Every luxury dining experience needs an indulgent treat to finish the meal. Use these vanilla beans in your homemade ice cream or gelato for that fresh dose of flavor.
Kirkland Signature Frenched Lamb Rack
Price: $14.99/lb.
This entree will give you a five-star meal without the expensive cost.
Marinate and season this with your favorite all-star ingredients, like some of the seasonings on this list. And just serve it with roasted vegetables you snagged on your Costco trip.
Wild Cooked Dungeness Crab
Price: $9.99/lb.
Costco's fresh meat and seafood section has all you need for a posh meal at home.
This wild-cooked crab is ready to enjoy with melted butter and warm bread. You can also make your own crab rolls for an easy, affordable dinner that's luxe in taste.
Bello Tiramisu
Price: $11.49
This deluxe bite of dessert takes the cake.
After laboring over your luxury meal, savor this sweet tiramisu for an upscale final course. And at such a steal, you may want to keep a few in your freezer for the future.
Wild Warm Water Lobster Tail
Price: $24.99/lb.
Make your own surf and turf night, starting with these sumptuous lobster tails.
Pour buttery garlic over this seafood while cooking for an explosion of flavor. You may not even want to wait for dinner to enjoy these.
Rana Maine Lobster Ravioli
Price: $13.99
Here's another lobster dish at a price that can't be beaten! It's a much better way to eat what you want while eliminating some money stress by not eating out. 

This lobster ravioli can be easily cooked and paired with a variety of delicious sauces. Shop around Costco on your trip to find the best sides, like garlic bread and baked vegetables.
Bottom line
There are endless possibilities for your luxury dinner and Costco's low prices.
You can even try to do luxury dinners from around the world, using international ingredients and recipes.
Being a Costco member has some pretty big perks, including living a little lavishly while letting you keep more money in your wallet.
Lucrative, Flat-Rate Cash Rewards
Current Offer
$200 cash rewards bonus after spending $500 in purchases in the first 3 months
Rewards Rate
Earn 2% cash rewards on purchases