Costco offers many shoppers a place to buy everything they need, from groceries to home goods.
And with a ton of Costco hacks to help save both time and money, it's no wonder this store is so popular for shopping in bulk. But did you know that the Costco brand, Kirkland, has a wide range of healthy foods?
Whether you're trying to eat healthier or stick to specific diets due to allergens or intolerance, the Kirkland brand has product options for dairy-free, vegan, keto, or even paleo lifestyles. Here are 17 great options. 
Editor's note: These are the prices as of May 31. Prices are subject to change and may also vary by location.
Get a protection plan on all your appliances
Did you know if your air conditioner stops working, your homeowner's insurance won't cover it? Same with plumbing, electrical issues, appliances, and more. Not being able to make repairs could leave you in a bad situation — but a home warranty could protect you against surprise expenses.
Whether you're a brand-new homeowner or you've owned your home for years, a plan from Choice Home Warranty could pick up the slack where homeowner's insurance falls short.
If a covered system in your home breaks down, you can call their hotline 24/7 for assistance to get it repaired. They have a network of over 15,000 technicians that can assist you, making sure any issue can be taken care of swiftly — without breaking the bank.
Not sure if it's for you? Rest easy: they were named one of the "Best Home Warranty Companies" by US News 360 Reviews and were awarded Best Company's 2020 Consumer's Choice Award. For a limited time, you can get your first month free when you sign up for a Single Payment home warranty plan.
Kirkland Signature Organic Protein Bars - Cookie Dough and Chocolate Brownie
Price: $20.99
Calories: 190 per serving
These Costco brand protein bars are so delicious you'll wonder if you're secretly eating a candy bar. Plus, at this price, you won't feel the need to earn extra cash just to indulge. 
With their quality ingredients, you get 21 grams of protein, real chocolate, and a gluten-free formula that anyone can enjoy. These are great for those busy days when you're on the go and need something healthy and satisfying.
Kirkland Signature Organic Quinoa
Price: $10.99
Calories: 160 per serving
If you're trying to incorporate healthier grains into your diet, consider buying Kirkland Signature's organic quinoa.
Quinoa beats brown rice in more micronutrients, fewer carbs, and more protein. And when you buy this value-sized resealable bag with over 46 servings, you'll have plenty of quinoa for all your nutritious meals.
Kirkland Signature Nut Bars
Price: $17.99
Calories: 200 per serving
Health nuts will go wild over these health bars!
Packed with protein and fiber, you'll love this snack with its variety of almonds, pecans, and cashews, especially when your sweet tooth makes you crave a little chocolate.
With its real cocoa drizzle, you can indulge in tastiness without derailing your fitness goals.
Stop overpaying when you shop online
Shopping online has its perks. It's super convenient, but it can be time consuming to find the best deals. Instead of hunting for coupon codes (that don't always work!) and opening tons of browser tabs comparing prices, you can try Capital One Shopping.
Capital One Shopping makes saving money effortless. Just add the browser extension and when you check out, it'll scour the internet for coupon codes to help you save cash. And before you check out at 25+ major retailers, Capital One Shopping will notify you with a friendly pop-up if the item you're buying is available cheaper somewhere else.
Capital One Shopping is free to use and won't show you ads. Add it today and stop overpaying!1
Kirkland Signature Super B-Complex with Electrolytes
Price: $15.99
This one-a-day vitamin comes with a powerhouse of vitamins, from vitamin C to B12, for increased energy. These B-Complex vitamins come with electrolytes, so you stay hydrated and energized while boosting your metabolism.

With over 500 tablets, you'll be all set for anything from short, intense workouts to those longer stretches like hiking or biking.
Pro tip: Using Kirkland brand items for things you buy regularly can help you stop wasting money on essentially the same products. Plus, you could end up saving quite a bit on your monthly budget. 
Kirkland Signature Men's and Women's Athletic Socks
Price: $13.99
As a fitness buff, you may be going through socks more quickly than most, which is why this eight-pack will undoubtedly come in handy.
These moisture-wicking athletic socks ensure your feet stay dry during your workouts, whether hot or cold. You can even check out Costco's athletic shoes and clothing section, such as cooling shirts, to complete your outfit.
Kirkland Signature Almond Butter
Price: $7.99
Calories: 210 per serving
Almond butter is a great alternative to peanut butter, whether you're worried about allergies or adding more vitamins and minerals into your diet.
With just one tablespoon of this nut butter, you'll also get more fiber, vitamin E, calcium, iron, and magnesium.
And with 27 ounces of creamy almond butter, you can use it for breakfast toast or a healthier PB and J, complete with fresh fruit.
Kirkland Signature Wild Alaskan Sockeye Salmon
Price: $44.99
Calories: 220 per serving
This wild-caught Alaskan salmon packs a powerful punch and delicious flavor that keeps you on track for daily protein. Since it's boneless and skin-on, it's also a quick and easy meal for those long workdays.
Toss it in the air fryer with your favorite fresh veggies (like the Normandy vegetables just below) for a healthy dinner that will still feel five-star.
Kirkland Signature Organic Normandy Vegetables
Price: $12.89
Calories: 30 per serving
Get your favorite vegetables in one easy bag with Costco's organic frozen variety of broccoli, cauliflower, and yellow and orange carrots.
What's great about these veggies is that they can be cooked and seasoned however you'd like.
And since vegetables are frozen at peak ripeness, you'll get all the same nutrients as fresh vegetables without the hassle of prepping.
Kirkland Signature Organic Unsweetened Almond Beverage
Price: $9.99
Calories: 30 per serving
This almond beverage, or almond milk, is a wonderful alternative to dairy-free diets or for those just looking to make their meals healthier.
Kirkland Signature's organic almond drink comes in a twelve-pack that is shelf stable, so you don't have to run the store week after week once you run out.
Plus, this unsweetened milk alternative is just thirty calories and made with California almonds.
Earn 2% cash rewards at grocery stores and Costco
The Wells Fargo Active Cash® Card(Rates and fees) is a powerful rewards card that allows you to earn unlimited 2% cash rewards on purchases — including on groceries, even at warehouse stores like Costco.

New cardholders can also earn a one-time cash rewards bonus — $200 cash rewards bonus after spending $500 in purchases in the first 3 months!
If you're looking for a powerful rewards card that offers an extended intro APR period, look no further, the Wells Fargo Active Cash® Card checks that box too!
This card also offers an intro APR of 0% for 15 months from account opening on purchases and qualifying balance transfers (then 20.24%, 25.24%, or 29.99% variable). Which is great for someone who wants a break from high interest rates, while still earning rewards.
The best part? There's no annual fee.
Click here to apply for the Wells Fargo Active Cash® Card now.
Kirkland Signature Organic Dried Blueberries
Price: $10.49
Calories: 140 per serving
Snag a value-sized bag of dried, organic blueberries that reseals for freshness.
Dried blueberries are a wonderful addition to any snack, like Greek yogurt or the now-viral cottage cheese ice cream.
A good source of fiber, calcium, and potassium, you can quickly grab a handful and snack on the go with this sweet treat.
Kirkland Signature Almond Flour
Price: $12.99
Calories: 180 per serving
Not only is almond flour a good source of protein and fiber, but gluten-free, kosher, and paleo dieters will love this flour alternative.
Costco's blanched almond flour is super fine and can be added to most recipes instead of flour. With nearly fifty servings, you'll get plenty of use from this product.
Kirkland Signature Daily Multivitamin
Price: $19.99
It's vital to keep up your strength while working out, and these multivitamins have both calcium and vitamin D to support your bones.
These daily multivitamins come with everything you need for a healthy system while also being gluten and yeast-free. Not to mention, you have 500 tablets that make it great to share with your spouse or family.
Kirkland Signature Variety Snacking Nuts
Price: $16.99
Calories: 270-290 per serving
When you need a heartier, heart-healthy snack, these Kirkland snacking nuts will do the job.
These peanuts, almonds, and cashews come roasted and salted, and their size makes them perfect for packing on hiking trips.
These nuts are a great source of protein and potassium, and the cashews and almonds are packed with a dose of your daily fiber.
Kirkland Signature Organic Roasted Seaweed
Price: $11.99
Calories: 20 per serving
Seaweed isn't just for the fish, and this organic, roasted snack will prove to be a new favorite. The roasting process offers a delectable taste for a savory snack like no other.
You wouldn't expect such a small bite to be full of so many vitamins and nutrients, but these seaweed treats provide iodine, iron, magnesium, vitamin A, and so much more.
Kirkland Signature Keto Snack Mix
Price: $13.99
Calories: 190 per serving
When following a Keto diet, you may worry about feeling limited in your snacking options, but Costco has just what you need.
This Keto snack mix is complete with a variety of delicious nuts, such as macadamia and Brazil nuts, and dried cheese bites for added tastiness.
Pro tip: Add these nuts to a baking mix for salty sweetness in cookies, cakes, or protein bars and keep more money in your bank account than you would if you bought them separately.
Kirkland Signature Chicken Breasts, Boneless Skinless
Price: $21.99
Calories: 100 per serving
Chicken breasts are versatile for any diet, and health fiends will appreciate this low-calorie, high-protein option.
No matter your preferences, you can dress up these boneless and skinless chicken breasts however you want, whether that's panko breading or your favorite spices.
And since they can be cooked from frozen, it's a great last-minute lunch or dinner idea for the family.
Kirkland Signature Cheese, Fruit, and Nut Snacks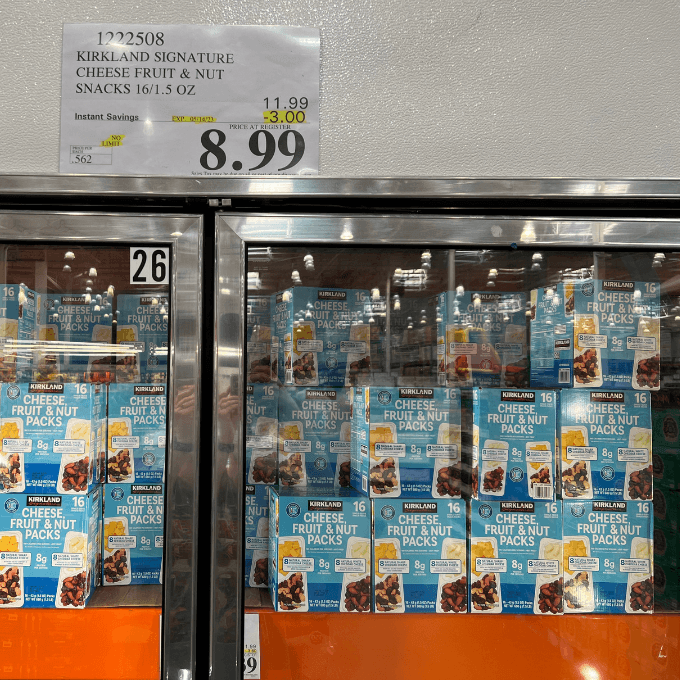 Price: $13.99
Calories: 180 per serving
Here's another easy on-the-go snack with protein and flavor. Kids will also love this snack for their after-school activities.
Kirkland brand's cheese, fruit, and nut snacks give you everything for savory and sweet, with natural cheddar or white cheddar cheese, cashews and almonds, and dried cranberries thrown into the mix.
Bottom line
Staying healthy doesn't have to break the bank or be boring. In fact, there are many ways that healthy living saves money.
You can enjoy plenty of delicious Costco snacks and easy meals while focusing on your protein and nutrient intake. You and your family can start making healthier habits now.
Even the walk around Costco is a great way to get your steps in for the weekend!
Lucrative, Flat-Rate Cash Rewards
Current Offer
$200 cash rewards bonus after spending $500 in purchases in the first 3 months
Rewards Rate
Earn 2% cash rewards on purchases