Repeat with me: all points are NOT created equal. That's the first critical thing to understand when you get interested in "travel hacking" by using points and miles to book award travel.
The same way that the U.S. dollar and the Japanese yen have different values, the value of credit card points and miles varies with each currency too. And just as a diversified portfolio is critical to your traditional investments, diversity in points and rewards currencies can prove to be beneficial.
Although many people don't think of points and miles as currency, that's exactly what they are. Points and miles are powerful currencies that can be used as payment toward travel, and they can dramatically reduce the cost of your trip — but only if you understand how to correctly calculate their value.
Let's take a look at how points and miles work, and then put your knowledge to the test.
The simple points math
When reading about points and miles, you'll see the phrase "points valuation." That's just a fancy way of talking about how much each point and mile is worth in cash.
Generally speaking, one point is worth about 1 cent. But that average can vary greatly depending on which points you have and how you use them. If you use the Chase Sapphire Reserve card, for instance, you'll get a guaranteed value of 1.5 cents per point if you book travel through the Chase portal.
The simplest way to calculate the value you're getting from your points is to take the dollar value of the hotel room or flight and divide it by the number of points you're using. So if a flight you're looking to take costs $700 in cash or 70,000 miles, then you divide 700 by 70,000 and you get 0.01. That's .01 of $1, which means you're getting a 1-cent-per-point redemption value.
But, as you probably know, the math isn't always that simple in real life. The kind of value you can get from your rewards will depend on the type of credit card points you're earning. Some airlines and hotels have a fixed value to their points, whereas others have a fluctuating award chart. Not to mention that prices of tickets and rooms change over the year. And there can be transfer bonuses, different transfer ratios, free bonus nights, and much more to factor into the valuation of your points and miles.
So the question is: do you know how to calculate what your points and miles are worth so you can be sure you're getting the absolute best value for each redemption?
Grab your pencils (and maybe your calculator) — we've got a pop quiz for you! Read the questions and look over the info we've provided for you. Then, do your calculations and write down your answers. After that, scroll down to the answer key to see how you did.
Points valuation quiz
Question 1: Should I pay 12,000 Hyatt points for this Washington D.C. Hyatt Place hotel or should I pay $97 cash?
Question 2: Chase Sapphire Reserve Ultimate Rewards points or American Express Platinum Membership Rewards to book a hotel?
Should I book a hotel through the Chase portal using my Ultimate Rewards points from my Chase Sapphire Reserve?

Or should I book that same hotel in the American Express portal using my Membership Rewards points earned from The Platinum Card® from American Express? Your answer should include the value of the points for each of these two redemption options, as well as which redemption you would pick.
Question 3: I want to fly from Frankfurt to Washington, D.C., in Lufthansa business class. Should I use 55,000 Aeroplan miles or 70,000 United MileagePlus miles?
Hint: Fewer points is better, right? But what about the fees?
Here is the Aeroplan option:
And the United option:
Question 4: If I transfer 60,000 Marriott Bonvoy points to Virgin Atlantic at a 3:1 transfer ratio, how many Virgin Flying Club miles will I get?
No, this isn't a trick question — or maybe it kind of is.
Question 5: Should I spend 30,000 Wyndham points or 50,000 Hilton points on a hotel room?
I want to book a stay in a city that has both a Wyndham and a Hilton convenient to where I need to be. To earn the points, I could open a new Wyndham Rewards® Earner Card or the Hilton Honors American Express Card. How much do each of these rewards currencies end up being worth per point? And which room should I book?
Answer key
Answer 1: Cash is king on this one
To calculate the value per point in this scenario, divide $97 by 12,000 points. 97 / 12,000 = .008. That means you'd get a value of 0.008 per point. That's less than 1 cent per point — and that's not stellar.
Because the World of Hyatt loyalty program offers some incredible perks and boasts some of the lowest required point redemptions, you can usually expect to get at least 1 cent per point. In this scenario, because you'd be getting only 8/10 of 1 cent per point, it's best to just pay the low $97 cash rate and save your points for another day.
Speaking of which, how about this scenario for a date two months later at the very same hotel?
Still paying cash now? Nope. When you can redeem for a whopping 3.9 cents per point, this is a clear-cut case of points being victorious. (479 / 12,000 = .0399)
This is an example of why it's important to do the math and look at each booking separately. Never assume that one currency is always better than the other, even at the same hotel. Prices fluctuate wildly with supply and demand, so always take a close look.
Answer 2: Chase Sapphire Reserve Ultimate Rewards
It's true: both the Chase Sapphire Reserve and the American Express Platinum are premium cards with high annual fees. Both of these credit cards carry a variety of perks such as travel credits and the flexibility to transfer directly to travel partners. But there's a big difference when it comes to using these points to book hotels directly. Let's walk through the math.

To determine the value of the hotel in the Chase travel portal, we take the $393.75 cash price and divide it by the 26,250 points price to get a total value of 1.5 cents per point. ($393.75 / 26,250 = .015)
Now, let's look at what happens if we want to use our American Express Membership Rewards through Amex Travel. Doing the same math, we get a point value of just 0.007 cents per point. (446 / 63,750 = .0069) That's nearly 50% less value than the Chase example!
When you're using Ultimate Rewards points from your Chase Sapphire Reserve, you're guaranteed to get a fixed value of 1.5 cents per point. This comes in handy for me on many trips if I'm looking to book smaller or boutique hotels. I often book hotels directly in the Chase portal at 1.5 cents per point for my family trips.
Although American Express Membership Rewards can hold great value for many travel redemptions, using them to book hotels through the portal isn't one of them.
Answer 3: 70,000 United MileagePlus miles
On the surface, this is a complete no-brainer. Why would you pay 15,000 more of your hard-earned miles for the same flight? This one-way business cabin Lufthansa flight costs a staggering $8,967 if you booked it with cash.
If we do our valuation math, we find incredible values per point for both Aeroplan and United. If we paid 70,000 United miles for this flight, we'd get a value of 12.8 cents per mile. And if we paid 55,000 Aeroplan miles, we'd eek out an unbelievable 16.3 cents per mile.
But just as not all points are created equal, neither are all fees. Let's look again at our redemption options, starting with the booking using United miles:
I can book this flight for 70,000 miles and a low fee of just $5.60 for this premium cabin flight. But here's what the fees look like if you book the same flight using Aeroplan miles:
Ouch! Yes, in this scenario, I'll pay 15,000 fewer miles than United. But I'll also get hit with a whopping set of taxes and fees that's close to $700! That means booking through United is the way to go. Always remember that the required points and miles are only part of the picture, so make sure you're always taking the taxes and fees into account as well.
Answer 4: 25,000 Virgin Flying Club miles
No, this isn't a trick question. At a transfer ratio of 3:1, if you transferred 60,000 Marriott Bonvoy points to your Virgin Atlantic account, you would get 20,000 miles.
But there's a pleasant surprise that many people miss.
As part of the Marriott Bonvoy loyalty program, for every 60,000 Bonvoy points you transfer to a partner airline, you get a 5,000-point bonus. That means you'll actually earn 25,000 Virgin Flying Club miles when you transfer 60,000 Bonvoy points.
This wasn't part of the question, but while we're on the topic, if you're transferring Bonvoy points to United, you'll earn an extra 10%. Because Marriott and United have a special partnership, you can transfer to United at a ratio of 3:1.1. Those 60,000 Bonvoy points would turn into 22,000 United miles, plus the extra 5,000 bonus, for a total of 27,000 United miles.
Finally, because Marriott has more than 40 airline transfer partners (more than both Chase and American Express), transferring your Bonvoy points to airlines such as Alaska, Asiana, or American can be a great deal. Because these airlines are not transfer partners of Chase or Amex, transferring your Bonvoy points can be a great way to build your mileage balances.
Just make sure you're transferring in 60,000 increments in order to get the 5,000 bonus.
Answer 5: 50,000 Hilton Honors points
Here's another great exercise that demonstrates why there's more to the point value equation than simple math. If comparable rooms at a Wyndham property and a Hilton property each cost $250, the surface valuation would be cut and dry.
A $250 room with 30,000 Wyndham points works out to 0.008 or a little less than 1 cent per point (250 / 30,000 = .008). A room at the same cash price using 50,000 Hilton points means the value of your Hilton points is 0.005, or half a cent (250 / 50,000 = .005). The Wyndham points earn a higher value, so many people would declare that redemption option the winner and call it a day.
But here's a big factor those people would miss: Hilton Honors points are exponentially easier to earn. Let's compare the no annual-fee credit card options for Wyndham and Hilton to determine which is the best travel credit card:
The Wyndham Rewards® Earner Card has a bonus offer where new cardholders can earn 30,000 bonus points after you spend $1,000 in the first 90 days. You'll also earn 5X points at participating Wyndham properties and on eligible gas purchases; 2X on eligible dining and grocery store purchases (excluding Target and Walmart); 1X on everything else.
The Hilton Honors American Express Card, on the other hand, has a more generous welcome offer. Earn 100,000 Hilton Honors Bonus Points after spending $2,000 in purchases in the first 6 months. Better yet, this card earns faster on everyday purchases. You'll earn 7X points at participating hotels and resorts in the Hilton portfolio; 5X points at U.S. restaurants, U.S. supermarkets, and U.S. gas stations; and 3X points on all other eligible purchases.
So let's say you spent $2,000 on both a new no-annual fee Wyndham card and a Hilton card with identical expenses:
| | | |
| --- | --- | --- |
| Expense | Wyndham Card Earn | Hilton Card Earn |
| $500 groceries | 1,000 points | 2,500 points |
| $300 gas | 600 points | 1,500 points |
| $400 restaurants | 400 points | 2,000 points |
| $800 misc. | 800 points | 2,400 points |
| Bonus points | 30,000 points | 100,000 Hilton Honors Bonus Points |
| | 32,800 points | 108,400 points |
On top of the accelerated earnings power from the credit card, the Hilton Honors loyalty program often has lucrative promotions. These let you earn even more points on your Hilton stays. Wyndham, on the other hand, is not well-known for great promotions.
Plus, Hilton is a transfer partner of American Express Membership Rewards, whereas Wyndham has no transfer partner relationship.That means you could use your Amex rewards to contribute to your Hilton bookings if you were short some points, but you couldn't do that with Wyndham.
So how did you score?
Even if you didn't get any questions right, don't worry. You're still a winner in my book because that means you just learned a bunch of new valuable tips that will help you think about your points and miles in a new (and more lucrative) way.
If you're a veteran points-and-miles expert and sailed through all of the questions — congratulations! It's always great to be reminded of things you know so you can keep on top of your game. (Plus, now you've got an article you can share with friends and family to show that you're trying to get into the hobby.)
The bottom line? Remember to always explore various scenarios when you're looking to redeem points. Do the math, but then also take a step back and think about what makes the most sense for you. There's more to the value of points than just what they're equal to in cents. If a "bad" points redemption means you're able to take a trip instead of staying home, I personally count that as a big win. Spend your point currencies judiciously, but don't scrutinize so much that you get analysis paralysis and miss out on the trip of your dreams.
Easy-to-Earn Unlimited Rewards
Earn 25,000 online bonus points after you make at least $1,000 in purchases in the first 90 days of account opening - that can be a $250 statement credit toward travel purchases
Earn 1.5 points per $1 spent on all purchases
Longer intro APR on qualifying purchases and balance transfers
No foreign transaction fees
Earn unlimited 1.5 points per $1 spent on all purchases, with no annual fee and no foreign transaction fees and your points don't expire.
25,000 online bonus points after you make at least $1,000 in purchases in the first 90 days of account opening - that can be a $250 statement credit toward travel purchases.
Use your card to book your trip how and where you want - you're not limited to specific websites with blackout dates or restrictions.
Redeem points for a statement credit to pay for travel or dining purchases, such as flights, hotel stays, car and vacation rentals, baggage fees, and also at restaurants including takeout.
0% Introductory APR for 15 billing cycles for purchases, and for any balance transfers made in the first 60 days. After the intro APR offer ends, 18.24% - 28.24% Variable APR will apply. A 3% fee applies to all balance transfers.
If you're a Preferred Rewards member, you can earn 25%-75% more points on every purchase. That means instead of earning an unlimited 1.5 points for every $1, you could earn 1.87-2.62 points for every $1 you spend on purchases.
Contactless Cards - The security of a chip card, with the convenience of a tap.
This online only offer may not be available if you leave this page or if you visit a Bank of America financial center. You can take advantage of this offer when you apply now.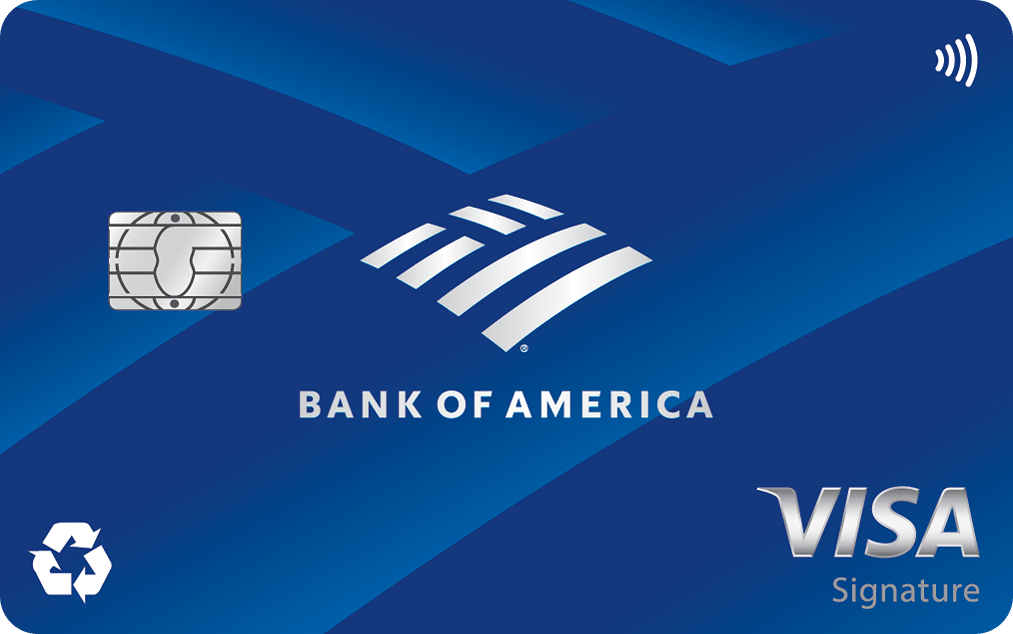 4.1
FinanceBuzz writers and editors score cards based on a number of objective features as well as our expert editorial assessment. Our partners do not influence how we rate products.
Apply Now
on Bank of America's secure website
Read Card Review
Intro Offer
Earn 25,000 online bonus points after you make at least $1,000 in purchases in the first 90 days of account opening - that can be a $250 statement credit toward travel purchases