If you've grown accustomed to checking the website of your preferred airline to see how many miles you need to get a free flight, you're not the only one. Curious to find out how many miles you'd need to travel first-class to Bermuda during the off-season? There's an award chart for that — or at least, there probably was one until very recently.
Award charts have historically been the easiest way to verify the amount of miles needed to travel to your dream destinations for free. But unfortunately, the award models being used by many airlines are changing at lightning speed, and for many of us, it's no longer quite so simple to find out what your next trip might cost in miles.
Keep reading to learn more about how award charts and their replacements work — plus how you can continue to use miles to fly for free, despite the changing times. You'll also get some tips on leveraging the right credit cards to take advantage of awards.
What is an award chart?
Although the format of these charts can vary, the idea remains the same: On the website of any given airline with a fixed rewards system, you can easily search the award chart and see how many miles you'll need to book a flight, based on a few simple factors. Typically these include things like the rewards program you're enrolled in, the type of seat you want (main cabin or first class), and of course, the destination.
Many of these charts categorize miles based on regions of the world, often grouping several countries together like the chart you see below. Some award charts also break things down based on the time of the year, explaining the various costs for peak season and off-peak season travel.
Award charts vary by airline, but the way in which the information is laid out generally makes them pretty easy to understand. They also make saving up for a particular trip simple, since you can check your miles and track how many more you'll need to book your dream vacation.
Fixed rewards charts vs. dynamic pricing
While the fixed rewards charts we've grown accustomed to using provide concrete numbers based on the factors of your trip (destination, dates, etc.), dynamic pricing is pretty much what it sounds like: An award system that frequently changes, with flights that don't cost a fixed number of miles anymore.
In fact, the reason dynamic pricing changes so much is because it often correlates to the cash value of the ticket — and as we all know, this can change on a daily or sometimes even hourly basis.
Rather than your next trip to Hawaii costing you a flat 15,000 miles, for example, the dynamic system currently being adopted by many airlines doesn't provide you with clear-cut numbers in advance. And since demand for a specific flight can cause the award price to rise, this also means you'll probably need more miles to cover peak flights.
The dynamic system also makes saving awards for your upcoming travel plans next to impossible, since the amount of miles needed for any given flight can change up until the moment you actually book a flight.
Award charts are in decline
Despite their convenience to customers, fixed rewards charts are on the decline. Delta, United, Southwest, JetBlue, and more have dynamic pricing models on award flights, and other major airlines like American Airlines have announced plans to follow suit.

Although some travel experts claim this new rewards model can offer more competitive pricing for domestic flights, the general consensus is that dynamic pricing makes it harder for the average person to get the most value out of their miles — especially without the transparency that previously allowed them to save up miles for cheap air travel.
Dynamic pricing is also changing the way people can spend their miles. Previously, frequent-flyer miles were seen as an affordable way to book last-minute flights or holiday travel that would have otherwise been too expensive — or even to save for an upgrade and fly first or business class. Since dynamic pricing models can change based on demand and other factors, these types of spending strategies don't really apply to the new awards systems.
How to work around dynamic pricing
Although this new awards system isn't happy news for most miles-savvy travelers, there are still a few ways to rack up travel rewards and get the most bang for your buck. Here are some ideas on how you can save up for your dream destinations despite dynamic pricing.
1. Earn flexible miles
Rather than marrying your miles to just one airline, now might be the perfect time to sign up for a flexible travel rewards card like the Chase Sapphire Reserve or Platinum Card from American Express, both of which allow you to transfer points to a variety of airlines.
By earning points that can be used on several airlines, you can jump on discounted flights or sales as they arise. So if United is offering a killer deal on a flight to Honolulu and Virgin Atlantic has a sale on routes to Europe, you can make sure you get the best deal on each award booking you make.
If your credit score is really good, you might even qualify for one of the best travel credit cards with a generous sign-up bonus — which could allow you to earn tens of thousands of extra points in your first few months of using the card.
2. Vary your mile earnings
A similar strategy to get the most out of your miles is to start earning rewards with a few select airlines. Airline-branded credit cards can help you earn miles with your everyday spending, but frequent travelers can also rack up miles with their regular paid flights on their favorite carriers.
While you probably shouldn't bother with airlines you rarely fly with, if you travel often enough and have some flexibility in your dates, it might be worth having more than one airline to choose from — that way, you can see which one is currently offering the most competitive price per mile. You'll want to think about your travel history and plans to find the best airline credit card options.
3. Spend miles faster
While fixed award charts made it easy to stack up miles and cash them in for big trips months later, the more volatile dynamic systems make knowing what your miles will really be worth in the future harder. Airlines can also change their award systems at any time, and updates could suddenly devalue your hoard of miles in one fell swoop.
This is why some travel experts recommend people earn the miles they need and spend them as quickly as possible thereafter. Or at the very least, that people stop stashing away unused miles for long periods of time.
Although not everyone jet-sets on the regular, the bottom line here is pretty clear: If your favorite airline makes the switch from award charts to dynamic pricing, don't put all your miles in one basket. Earn miles and spend them — and also plan on diversifying your miles enough so you can continue to find the best deals on flights.
Easy-to-Earn Unlimited Rewards
Earn 25,000 online bonus points after you make at least $1,000 in purchases in the first 90 days of account opening - that can be a $250 statement credit toward travel purchases
Earn 1.5 points per $1 spent on all purchases
Longer intro APR on qualifying purchases and balance transfers
No foreign transaction fees
Earn unlimited 1.5 points per $1 spent on all purchases, with no annual fee and no foreign transaction fees and your points don't expire.
25,000 online bonus points after you make at least $1,000 in purchases in the first 90 days of account opening - that can be a $250 statement credit toward travel purchases.
Use your card to book your trip how and where you want - you're not limited to specific websites with blackout dates or restrictions.
Redeem points for a statement credit to pay for travel or dining purchases, such as flights, hotel stays, car and vacation rentals, baggage fees, and also at restaurants including takeout.
0% Introductory APR for 15 billing cycles for purchases, and for any balance transfers made in the first 60 days. After the intro APR offer ends, 18.24% - 28.24% Variable APR will apply. A 3% fee applies to all balance transfers.
If you're a Preferred Rewards member, you can earn 25%-75% more points on every purchase. That means instead of earning an unlimited 1.5 points for every $1, you could earn 1.87-2.62 points for every $1 you spend on purchases.
Contactless Cards - The security of a chip card, with the convenience of a tap.
This online only offer may not be available if you leave this page or if you visit a Bank of America financial center. You can take advantage of this offer when you apply now.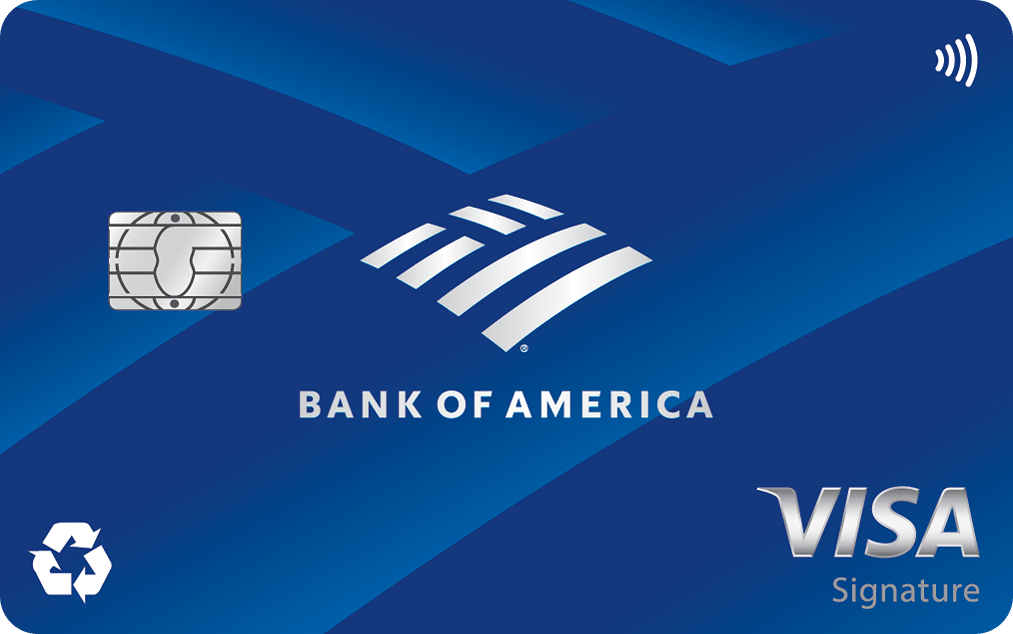 4.1
FinanceBuzz writers and editors score cards based on a number of objective features as well as our expert editorial assessment. Our partners do not influence how we rate products.
Apply Now
on Bank of America's secure website
Read Card Review
Intro Offer
Earn 25,000 online bonus points after you make at least $1,000 in purchases in the first 90 days of account opening - that can be a $250 statement credit toward travel purchases