I remember vividly the summer of 2016 when the Chase Sapphire Reserve hit the market with a bang. 100,000 Ultimate Rewards as a sign-up bonus, worth $1,500 for travel booked through the portal — could this be for real?!

It was indeed true, and I wasn't the only one clamoring for the new card despite its eyebrow-raising $450 annual fee. The Sapphire Reserve became so popular that Chase even ran out of the metal cards. The card achieved cult-like status (not an easy feat for a credit card), and made premium credit cards the new normal.
But now the loyalty of Chase Sapphire Reserve enthusiasts will be put to the test. Chase just announced a substantial 22% increase in it's annual fee. Starting on April 1, 2020, current cardholders will be presented with a $550 annual fee when their renewal hits, up from $450.
Sure, Chase is adding some benefits to the card to compensate for the increase. But are they enough? Is the card still worth keeping?
I've crunched the numbers and have given this question a lot of thought. Ultimately, I've decided the card is still a keeper for me. Here's why...
What you get for $550
Let's start with the new additions. All the existing Chase Sapphire Reserve perks will remain as-is. Here's what's also being added as of January 12:
DoorDash and DashPass: Chase Sapphire Reserve customers will receive $60 in annual credits for the next two years (2020 and 2021) for the food delivery service DoorDash. Card holders will also get a free subscription for at least one year to DashPass. This gives free DoorDash delivery for eligible orders over $12.

Lyft: Another added benefit for Reserve cardholders is one free year of Lyft Pink. This membership (retail price $19.99/month) gives unlimited Lyft rides at 15% off, relaxed cancellations, plus 3 free 30-min scooter or bike rides per month. Sapphire Reserve cardholders will also earn a whopping 10x on all Lyft charges.
Plus, all the existing benefits, including:
$300 annual travel credit
$100 credit for Global Entry or TSA PreCheck
Priority Pass lounge access
Points worth 50% more for travel through the Ultimate Rewards portal
Primary auto collision insurance on rentals
Comprehensive travel insurance, including baggage delay insurance
Roadside assistance
3x earnings on dining and travel
Why I'm sticking with the Chase Sapphire Reserve
There are several reasons I'm still committed to the Reserve card, and the Chase Ultimate Rewards points ecosystem including the ease and value of redemptions, Priority Pass restaurant benefits, and the card's other travel perks. Let's take a closer look...
Reason 1: 1.5 cent Chase portal redemptions
It's true that savvy rewards seekers can often get outsized value from their points and miles. By transferring Ultimate Rewards points directly to airlines or even some hotel chains, it's not uncommon to redeem them for 2, 3, 4, or even 5 cents or more each.

But the ability to lock-in a guaranteed 1.5 cents per point when you redeem for travel through the Chase portal is solid and respectable. And it's a huge reason the Sapphire Reserve is still a keeper for me.
Don't get me wrong, I love big chain hotels for much of my travel. I like the consistency, I like the perks that come with my elite status, and I like the ability to earn and burn my points with ease.
There are many times, however, when booking travel through the Chase portal is hands-down the best choice for me. Without a Sapphire Reserve card, I won't be able to get that 1.5 cent value from bookings in the travel portal.
Here's a recent example of why this is so valuable to me.
Last spring, my family and I traveled in Eastern Europe. Several of the stops we made were pretty off-the-beaten path, and were completely void of any big name hotels. We could have paid cash — but instead, we booked some amazing rooms with our Ultimate Rewards points.
Like this incredible fairy tale-esque cabin near Plitvice Lakes National Park in Croatia. We had a full two-story, two-bedroom cabin with a fully stocked kitchen, wood-burning stove, a playroom chock full of toys, an outdoor hot tub, a laundry room, and even a private playground.
Can't I book hotels in the American Express and Citibank portals?
Yes, you could use your Membership Rewards and ThankYou Points to book hotels in the respective Amex and Citibank travel portals. But I probably wouldn't ever do that.
That's because you'll get a fraction of the value that the Sapphire Reserve would give you.
Check out this identical hotel booking using Ultimate Rewards points from the Chase Sapphire Reserve, compared to using Amex Membership Rewards: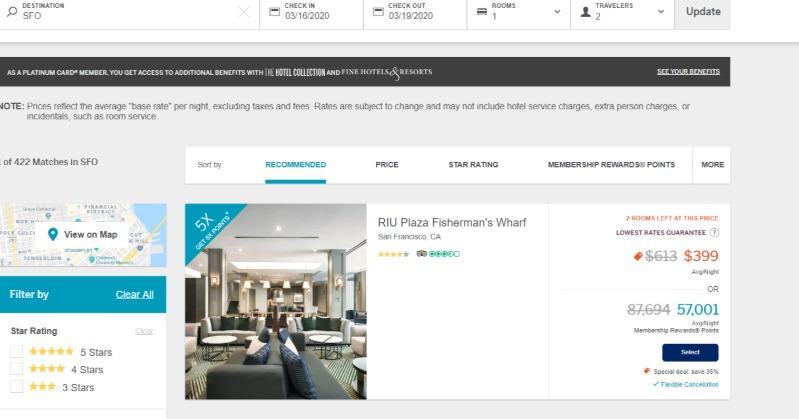 If I ditched my CSR in favor of an American Express Platinum card, I'd only get about .7 cents per point if I wanted to book a hotel through the portal.
If I used my Citibank Prestige card, I'd do better at 1.25 cents value per point. But I'll stick with my guaranteed 1.5 cents in the easy-to-use Chase portal.
When it makes sense for me to book flights through the Chase portal
I also like to use my Ultimate Rewards to book flights in the Chase portal on occasion. You'll usually get the greatest value by transferring your points directly to partner airlines to redeem for premium cabin seats. But there are times when it makes sense for my travel needs to book for 1.5 cents through the portal.
For example, since my home airport is a base for Southwest Airlines, I tend to fly them a lot domestically. If I'm short on points, I could transfer my Ultimate Rewards points directly to Southwest at a 1:1 transfer ratio. Southwest points are generally valued right around 1.5 cents.
Instead, I use my Ultimate Rewards points to book my Southwest ticket directly, without the transfer. I just call Chase and ask them to book the ticket I want on Southwest. Since a ticket booked with Ultimate Rewards looks like a cash ticket to the airline, I'm able to earn Southwest points on the flight.
I'll also look at booking flights through the Chase portal at 1.5 cents when I find cheap cash fares. When you book flights through the portal, the price is tied to the cash price of the ticket. So instead of dealing with finding award availability, you can use your points to cover the cost of the "cash" fare — and you'll earn miles on the flight to boot.
This option is especially helpful for my family since our travel dates are often not flexible. Even if there is no available award space, I know I can still use my points to pay for the trip.
Reason 2: Priority Pass restaurants
Another great benefit I can only get from my Chase Sapphire Reserve is the ability to use my Priority Pass card to its fullest potential.
While most of the options in the Priority Pass network are traditional lounges, there are several airport restaurants that participate in the program as well.
I recently visited Stephanie's when I was traveling through Boston Logan International. I arrived in Terminal B, which had no lounge, but I was able to use my Priority Pass card for a full meal at Stephanie's restaurant. I received $28 in dining credit for me and for my guest, for a total of $56. We each enjoyed a lovely salmon avocado eggs benedict and a mimosa, and still had credit to spare.
I visit Priority Pass restaurants several times a year when I travel through airports like Boston, Miami, Cleveland, Seattle, and Houston, to name a few. If my husband and I visit one of these Priority Pass restaurants just twice a year, that's up to $112 in value that I get from my Chase Sapphire Reserve.
Earlier this year, American Express cut this restaurant benefit from its Priority Pass cards.
Reasons 3 and 4: Travel insurance and international acceptance
The Chase Sapphire Reserve has long had some of the best travel protection around. When you book your trip with your Reserve (or even if you pay with points and only pay the taxes and fees with your Reserve), you'll be covered up to $10,000 per person if your trip is delayed or cancelled.
You're also entitled to industry-leading travel accident insurance, lost luggage reimbursement, and emergency evacuation coverage.
As of January 1, American Express did add many of these travel protection benefits into several of their cards. (On the other hand, Citibank actually slashed all of these perks last year.)
But there's one area where Chase credit cards still shine: car rental insurance. The Sapphire Reserve gives primary coverage on auto collision damage, whereas American Express cards give secondary coverage.
What's more, the Sapphire Reserve still gives a roadside assistance benefit, whereas American Express just cut this perk from its cards.
Another thing I like about carrying my Chase Sapphire Reserve when I travel is that I know the Visa card will be accepted in virtually every country I visit. The same can't be said for American Express, where many establishments overseas (and some domestically) don't take Amex.
Reasons 5 and 6: Easy-to-use travel credits, easy-to-earn points
One of the things I love most about the Sapphire Reserve is the generous $300 annual travel credit — and how easy it is to use. The credit happens automatically every year. I don't have to remember to activate it, I don't have to submit any paperwork, and I don't have to worry about it being doled out in monthly increments and expiring if I don't use it.
I just use my CSR to charge flights, hotels, baggage fees, ride shares, train rides, or any other travel and my statement gets credited back automatically up to $300 each year. It couldn't be easier.
Not only are the credits easy to use, but the Ultimate Rewards points are easy to earn with my Reserve. I like getting 3x from both dining and travel categories from just one card. Sure, there are cards that offer higher returns on one or the other of these categories, but I like the solid returns I earn on both with my Reserve.
New benefits: DoorDash and Lyft
Admittedly, these benefits aren't super exciting to me. Are they worth the $100 bump in annual fee?
Maybe. Though DoorDash has not been my delivery service of choice up until now, ordering dinner in for my family is something I already do on occasion. I will certainly use the $60 credit this year (and next year) to order food, and thanks to the DashPass membership I'll get free delivery.
If $60 of the annual fee increase is covered by the food I'll get from DoorDash, I need to get $40 in value from the new Lyft perks. A membership to Lyft Pink costs $19.99 per month, for an annual retail value of $239. But since it's unlikely that I would ever subscribe to that service, I don't value it that highly.
Lyft Pink gives me 15% off all rides, so I'd need to spend $267 a year on Lyft rides in order to save $40. Is that realistic for me? Probably. I don't use ride shares in my every day, but I often use them when I travel. It's not unusual for me to spend $100 or more over the course of a few days on a trip. I may even enjoy a few of the 30-minute scooter or bike rides that are included if I'm exploring a city with these vehicles. Plus, I'll earn an amazing 10x now for the Lyft charges I make on my CSR.
Bottom line
After careful thought, the Chase Sapphire Reserve is still a keeper for me.
After the automatic $300 travel credit, I believe I'll get enough value from the travel portal, the Global Entry credit, the insurance, the Priority Pass restaurants, and the new DoorDash and Lyft benefits to outweigh the effective $250 annual fee.
But this is far from a universal decision. Many CSR cardholders have also evaluated what they get out of the card, and can no longer justify holding it with the higher annual fee.
Take a close look at your spending patterns, and the perks you actually use. Does DoorDash not deliver to you? Do you always transfer your points out and never book through the portal? Do you ever use ride shares like Lyft? If not, this might be the best travel credit card option and your conclusion about this card may well be different than mine.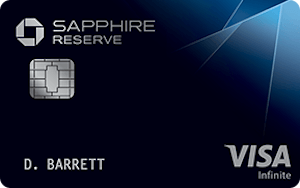 5.0
FinanceBuzz writers and editors score cards based on a number of objective features as well as our expert editorial assessment. Our partners do not influence how we rate products.
Current Offer
Earn 60,000 bonus points after you spend $4,000 on purchases in the first 3 months from account opening
Rewards Rate
5X points on flights and 10X points on hotels and car rentals when you purchase travel through Chase Ultimate Rewards® immediately after the first $300 is spent on travel purchases annually; 3X points on other travel and dining & 1X points per dollar on all other purchases