As more Americans travel again, it may be a good idea to revisit your typical travel plans.
Flying to a destination can be a bit of a pain, with security, crowds, and delays. After all, it's not like packing the kids and your suitcases in the car and stepping on the gas.
But there are steps you can take before you head to the airport to make the trip a little easier.
Here are 14 things you might want to do before you sit down at the gate and wait for your flight to board.
Have a food plan
Airlines may still give you a little bag of crackers, but anything bigger than that could cost you. Some airlines charge for snack boxes or for meals that may be expensive. Instead, pack your carry-on bag with sandwiches and snacks before you leave home or have a meal at a restaurant at the airport before you board your flight.
Double-check departure time and gate
There's been an uptick in flights getting canceled or delayed this year with 3.2% of flights canceled and 24% of flights delayed in the first six months of the year, according to the U.S. Department of Transportation. With so many delays and cancellations, it may be a good idea to check your departure time before you leave to see if there have been any changes.
Download airline app
Airline apps could be a great place to get updates on any of your travel plans. They may have all the information about your upcoming flights. Some apps may also track your luggage or have airport maps to help you navigate all the gates and other amenities when you arrive.
Wear comfortable clothing
It used to be that airline passengers would dress up in suits and dresses for traveling, but things are a lot different now. When traveling, it may be better to wear comfortable clothing if you're sitting in a seat for a long period of time. You also might want to wear sneakers or other comfortable shoes to navigate the airport.
Be aware, however, that there's a difference between comfortable and too comfortable. Airlines have used their power to kick passengers off a flight if they're dressed inappropriately, so remember to check what you're wearing before you head to the airport.
Pack medicines in carry-on
When flights get delayed or canceled, it may be a while before you're reunited with your checked baggage. Remember to keep things like medications with you in a carry-on instead of packing them in checked luggage in case you have issues. And if you want to err on the side of caution, feel free to throw in a toothbrush or change of clothing if you're worried about delays.
Download entertainment
Some airplanes have internet access, but it could be expensive and not that fast. If you have an electronic device, consider downloading any entertainment you want before you get on the flight. Everything from movies and TV shows to books and music may be better when they're stored on your device than trying to stream or upload when the flight is in the air.
Get a seat assignment
Airlines may overbook flights in order to make extra money in case passengers don't show up. But what happens if they're overbooked and people are at the gate? The airline may start bumping passengers off the flight starting with those who don't have a seat assignment. Instead, you may want to lock in your seat assignment when you book your flight to ensure you have a seat when the plane takes off.
Check-in online
Some airlines may allow you to check in for your flight and get a boarding pass about 24 hours before takeoff, which may be a good option if you want to avoid some of the lines at the airport. This may also be a good move if you aren't checking luggage, allowing you to walk in the door of the airport and go immediately to the security line with your boarding pass.
Schedule your ride
If it's easier for you to take a ride-sharing or car service to the airport, try to reserve your ride before you have to leave instead of waiting until the last minute. You may have a better chance of finding a ride and getting to the airport on time instead of rushing because there aren't enough cars available.
Get TSA PreCheck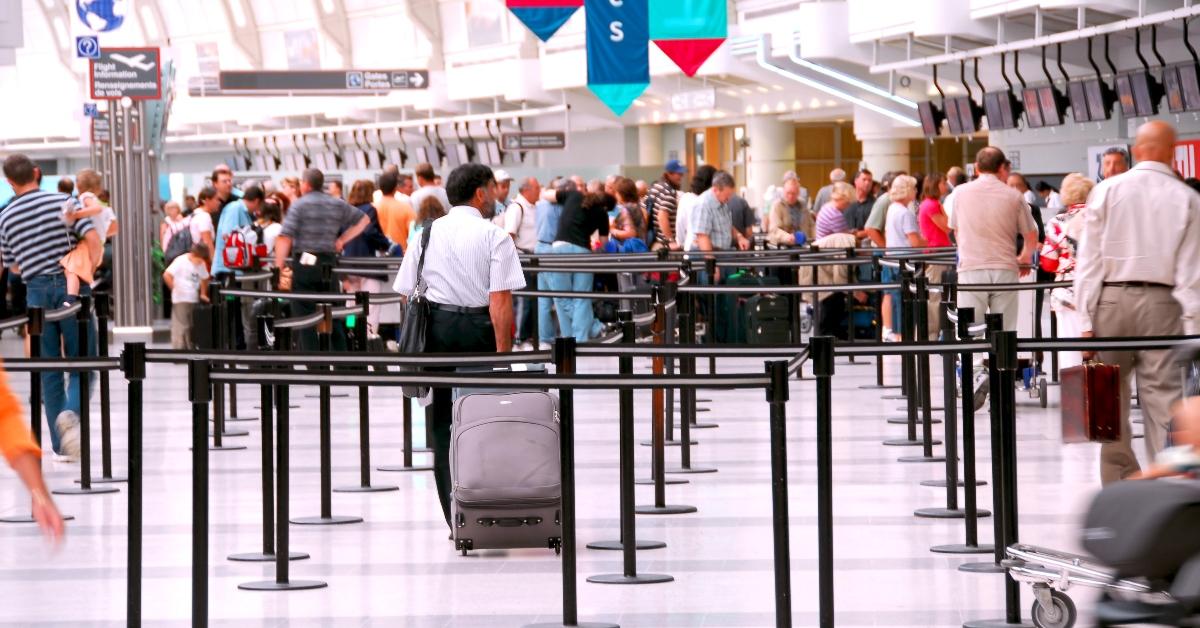 The U.S. Transportation Security Administration, or TSA, allows passengers to be prequalified before they get to the security check at the airport. You can apply for TSA PreCheck online or at an enrollment center. The cost is $78.
It may be worth it if you're a frequent flyer as it could cut down on wait times to get through checkpoints. In fact, most PreCheck flyers waited less than five minutes in security lines in August, according to the TSA. And you don't need to remove shoes, belts, or your computer when you go through security.
Check your ID and passport
One of the biggest issues that could stand in the way of you getting on a plane is an expired driver's license, passport, or other forms of ID. Check these in the weeks before you leave to make sure they won't expire before or during your travel. In the case of a passport, most countries require that your passport is valid for at least six months beyond your travel dates.
Check your travel rewards
You may be surprised that you can fly for free if you meet the right criteria with your credit cards. Check with your credit card company to see if you have enough points for free tickets or free upgrades depending on how much you've spent recently and how many points you have.
Get there early
Flying can be a bit of a hassle even before you get on the plane. You might have to stand in line to check your luggage and then another line to get through security. Some times are busier than others, which could mean long delays before you even get to your gate.
Try not to cut your arrival at the airport too close to your departure. And if you get to your gate early, you may be able to spend time at the shops and restaurants before your flight is ready to board.
Have a contingency plan
Things can happen when it comes to flying. Perhaps your flight gets canceled or you may get stuck in a weather delay. It may be a good idea to have some flexibility built into your schedule in case there are changes. And remember that some of the best travel credit cards may be able to help you rebook your flight, secure a hotel room, or get a rental car if you decide to drive home instead.
Bottom line
So are you finally ready to go? Remember to use some of the best airline credit cards for your trip to earn extra points. Then pack up and get ready for your next adventure no matter how short or long your flight is to your new destination.
Easy-to-Earn Unlimited Rewards
Earn 25,000 online bonus points after you make at least $1,000 in purchases in the first 90 days of account opening - that can be a $250 statement credit toward travel purchases
Earn 1.5 points per $1 spent on all purchases
Longer intro APR on qualifying purchases and balance transfers
No foreign transaction fees
Earn unlimited 1.5 points per $1 spent on all purchases, with no annual fee and no foreign transaction fees and your points don't expire.
25,000 online bonus points after you make at least $1,000 in purchases in the first 90 days of account opening - that can be a $250 statement credit toward travel purchases.
Use your card to book your trip how and where you want - you're not limited to specific websites with blackout dates or restrictions.
Redeem points for a statement credit to pay for travel or dining purchases, such as flights, hotel stays, car and vacation rentals, baggage fees, and also at restaurants including takeout.
0% Introductory APR for 18 billing cycles for purchases, and for any balance transfers made in the first 60 days. After the intro APR offer ends, 17.99% - 27.99% Variable APR will apply. A 3% fee applies to all balance transfers.
If you're a Preferred Rewards member, you can earn 25%-75% more points on every purchase. That means instead of earning an unlimited 1.5 points for every $1, you could earn 1.87-2.62 points for every $1 you spend on purchases.
Contactless Cards - The security of a chip card, with the convenience of a tap.
This online only offer may not be available if you leave this page or if you visit a Bank of America financial center. You can take advantage of this offer when you apply now.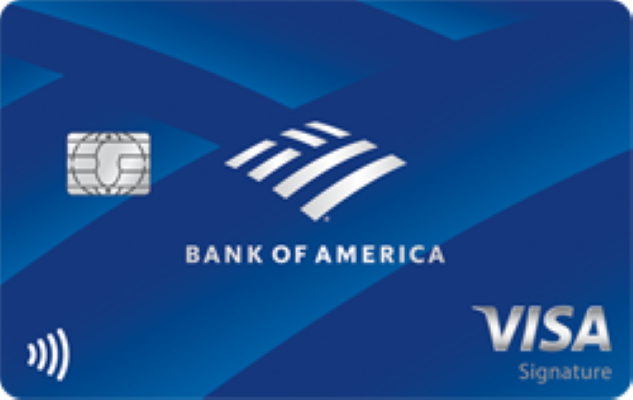 Apply Now
on Bank of America's secure website
Read Card Review
Intro Offer
Earn 25,000 online bonus points after you make at least $1,000 in purchases in the first 90 days of account opening - that can be a $250 statement credit toward travel purchases