It can be daunting to face your 60s worried about your money and investments. By now, you've hopefully stopped throwing money away so you are set up well for retirement.
You might be surprised the next time you check your financial portfolio and find you're doing better than you expected, especially when compared to other people your age. 
Keep these signs in mind when you think about your finances after 60, and see if you're still on a successful financial path or if you need to make some adjustments before it's too late. 
Get out of $10,000 or more in debt
Credit card debt is suffocating. It constantly weighs on your mind and controls every choice you make. You can end up emotionally and even physically drained from it. And even though you make regular payments, it feels like you can never make any progress because of the interest.
National Debt Relief is designed specifically to help you get out of credit card debt faster, without having to make drastic life changes. With National Debt Relief, you could pay off your credit card debt (with potentially way less interest) in one simple monthly payment.
How to get National Debt Relief to pay off your debt: Sign up for a free debt assessment here. (Do not skip this step!) By signing up for a free assessment, National Debt Relief can immediately assist you in paying off your debt, but only if you schedule the assessment.
Your home is paid off
Your home is likely the most expensive thing you bought during your lifetime. While it can be a great way to grow your wealth, it also can be a burden if you're paying on a mortgage after retirement.
Paying off your home in your 60s can be a great financial relief, freeing up cash each month that can go to other investments or spending.
It also means you have a home that belongs to you free and clear so you don't have to worry about moving because you can't afford your mortgage anymore.
You've already completed any needed renovations
Living in a home you own isn't just about the roof over your head but also whether that roof and other areas in your home need major renovations.
Make sure you prioritize things that need to be done to keep your home safe and running properly like replacing the roof, furnace, or water heater.
And get any elective renovations finished and paid off as well like finishing your basement, adding an extension, or redesigning your kitchen.
You have money for leisure time
Your 60s may be a great time to start traveling and going to different cities or countries. Those trips can also be expensive. So check out your budget and your financial portfolio. 
You're in good shape if you're not worried about covering that dream vacation to Australia or renting an RV to drive around the country and go to all the national parks on your bucket list.
Earn $200 cash rewards bonus with this incredible card
There's a credit card that's making waves with its amazing bonus and benefits. The Wells Fargo Active Cash® Card(Rates and fees) has no annual fee and you can earn $200 after spending $500 in purchases in the first 3 months.
The Active Cash Card puts cash back into your wallet. Cardholders can earn unlimited 2% cash rewards on purchases — easy! That's one of the best cash rewards options available.
This card also offers an intro APR of 0% for 15 months from account opening on purchases and qualifying balance transfers (then 20.24%, 25.24%, or 29.99% variable). Which is great for someone who wants a break from high interest rates, while still earning rewards.
The best part? There's no annual fee.
You're comfortable with your Social Security decisions
Your 60s are a time for you to start considering your distribution payments for your Social Security.
The earliest you can start collecting Social Security benefits is at 62 years old, or you could defer your payments a few years to earn more per month. You can delay your benefit distribution until you're 70 years old to increase your monthly benefit.
The right answer for when you start taking distributions is up to you, but it's a good sign if you have made your decision and you're comfortable with it. You can change your decision anytime after 62 years old depending on changes in your finances.
Your 401(k) is working for you
A 401(k) is an important part of your retirement portfolio whether you retired early or still go to a job daily.
Your 401(k) should have enough to cover a decent portion of your retirement expenses, especially if you previously maxed out any matching funds with your employer.
You can start taking distributions from your 401(k) when you're 59 1/2 years old to help boost your finances, or you can hold off and let your 401(k) earn more money while it's invested.
You can enjoy hobbies
Reaching your 60s can mean you have more time to spend on hobbies and activities outside of work hours.
It also could mean you have the money to invest in supplies or you have the free time to try new things or work on existing projects because you don't have to worry about your cash flow.
You've paid catch-up contributions
It can be tough to start saving for retirement when you're younger, and you may regret not adding to a 401(k) early on.
But you can still pay into your 401(k) with catch-up contributions to help you secure a strong retirement portfolio.
Talk to a financial advisor or accountant to see if you qualify for catch-up contributions, and know that you're doing well financially if you're able to add those funds to your 401(k) to help you prepare for the future.
Your portfolio isn't in risky investments
There are some great investments you can make when you're younger and can take on more risk. After all, you would hopefully have plenty of time to cover any losses you have on big risks.
But as you reach your 60s, it's a good idea to have a portfolio that doesn't expose you to too much risk since you need that money soon.
You're in good shape if you've already reviewed your portfolio and put your money in safer investments that will still make you money throughout your 60s.
You have a plan for your estate
What happens to your money when something happens to you?
It's important to have a thought-out estate plan with specific designations for where you want money and other investments to go as well as property like your home or important items.
You're in good shape if you have an estate plan already in place in your 60s, but you also may want to revisit it and make any potential adjustments depending on your changing financial situation.
If you're over 50, take advantage of massive discounts and financial resources
Over 50? Join AARP today — because if you're not a member you could be missing out on huge perks. When you start your membership today, you can get discounts on things like travel, meal deliveries, eyeglasses, prescriptions that aren't covered by insurance and more.
How to become a member today:
Go here, select your free gift, and click "Join Today"
Create your account (important!) by answering a few simple questions
Start enjoying your discounts and perks!
You'll also get insider info on social security, job listings, caregiving, and retirement planning. And you'll get access to AARP's Fraud Watch Network to help you protect your money, as well as tools to help you plan for retirement.
Important: Start your membership by creating an account here and filling in all of the information (Do not skip this step!) Doing so will allow you to take up 25% off your AARP membership, making it just $12 per year with auto-renewal.
You have little to no debt
Debt can eat into your savings, especially after you retire and may have to pull from your retirement funds to pay off debts.
It's a good idea to get rid of as much debt as you can as you reach your 60s. A mortgage could be taking a good chunk of your money each month so find a way to pay that off. You'll also want to consider getting rid of your car payments.
And remember, only use your credit cards for items you can pay off in full at the end of each month rather than carrying a balance that could accumulate interest.
You have a retirement plan
You're probably spending hours and hours of your 60s thinking about retirement whether you're still working or you've already retired.
Regardless of your work situation, you should have a retirement plan in place by your 60s. It might include when you plan to retire when you want to start collecting Social Security, or how you'll manage your retirement funds.
Having a plan in place already is a good sign you're taking your retirement prospects seriously and have a strategy to help you succeed in retirement.
You've talked to a financial advisor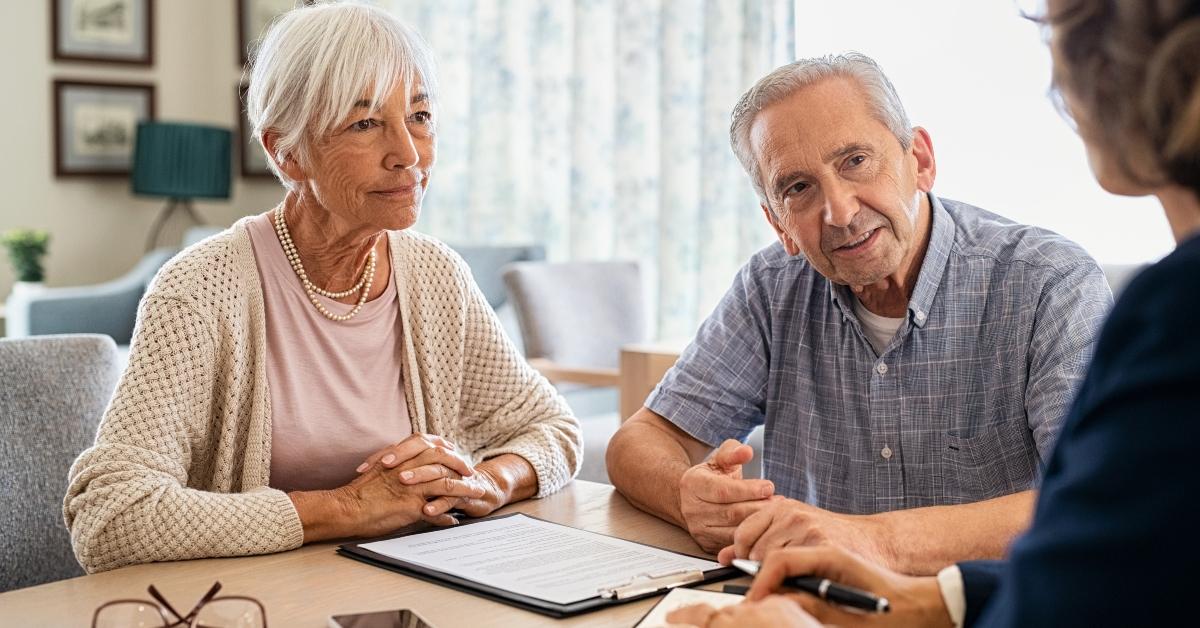 A financial advisor can help you stay on the right path for retirement as you decide where to invest your money to boost your bank account or how the rest of your financial portfolio should look.
It's a good idea to find a financial advisor who specializes in retirement portfolios so they know how to best advise you on where to invest your money and how to adjust your portfolio as you age.
Bottom line
It can be hard to know whether you're on the right path to financial stability in your 60s, but some signs can tell you that you're going in the right direction.
Keep track of your money with a budget so you know where you are spending and saving.
Revisit your portfolio regularly to adjust it as needed for changes in your financial situation like retirement or paying off debts.
National Debt Relief Benefits
No upfront fees
One-on-one evaluation with a debt counseling expert
For people with $7,500 in unsecured debts and up