Wild weather has wreaked havoc in communities across the U.S. in recent years. From winter's frigid temperatures and snow-capped roofs to the 75-mile-per-hour winds and heavy rain of hurricane season, extreme weather can strike year-round. These extreme events generate natural disasters that can cost homeowners a pretty penny.
According to the National Centers for Environmental Information (NCEI), between 2015 and 2021, there were seven wildfires, six droughts, 62 severe storms, 19 tropical cyclones, 13 flooding incidents, and five winter snow or ice storms that generated billion-dollar disasters (CPI-adjusted). In 2021 alone, 20 individual weather and climate disasters cost at least a billion dollars. In total, the weather-related events of 2021 cost $145 billion, making it the third most costly year on record.
With extreme weather events becoming more common and forecast to increase in frequency, the FinanceBuzz team surveyed 1,000 people across the country to find out which weather events cause them the most anxiety, how extreme weather impacts where they choose to live, and more.
Key Findings:
A tornado is the weather event that makes the most Americans anxious — 28% cited twisters as their top concern, followed by hurricanes (17%) and earthquakes (15%).
61% of Americans say they "definitely" or "possibly" consider the risk of extreme weather when deciding where to live.
1 in 3 people don't know if their homeowners or renters insurance would fully cover their losses if a natural disaster destroyed their home.
Which weather events make people the most anxious?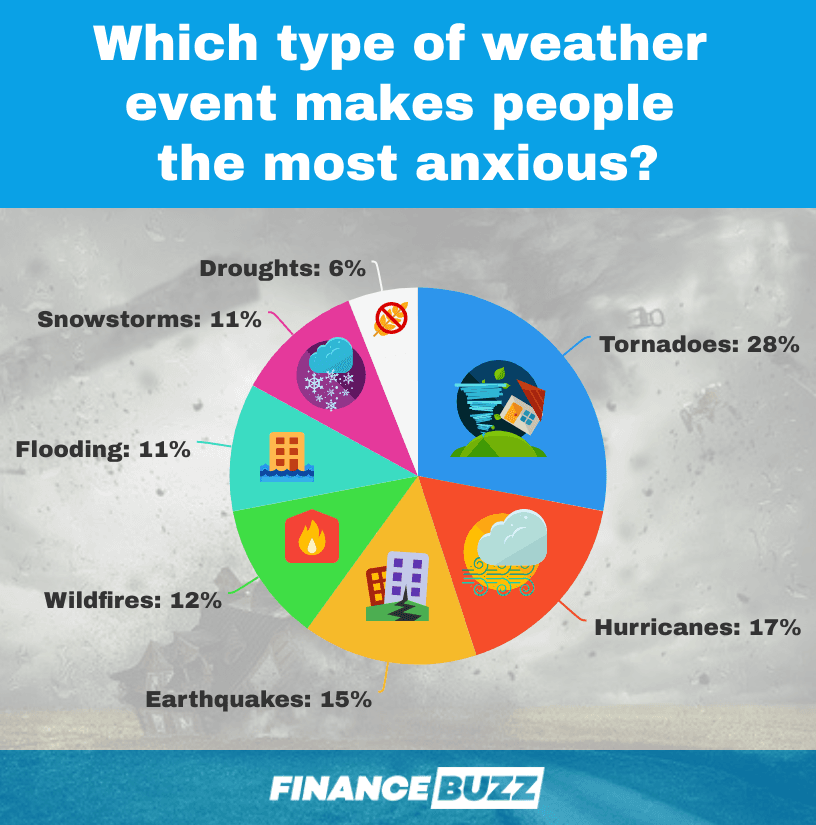 Of the seven major weather events respondents could choose from, tornadoes were chosen as the most anxiety-inducing event by the highest percentage of people. Tornadoes can be deadly, and if conditions are right, they can appear almost anywhere in the United States.
There's an average of 1,200 tornadoes each year, with some parts of the country being especially fertile ground. At that frequency, it is unsurprising that tornadoes were the most common weather events to cause at least one billion dollars worth of destruction in the U.S. from 2015 to 2021.
Across the country, tornadoes are a common concern, ranking as the weather event people are most worried about in the Northeast, Midwest, and South. In the West, earthquakes rank as the number one concern (chosen by 24.92% of people), but even there, tornadoes are a close second (22.44%).
How extreme weather impacts where people choose to live
Extreme weather can happen anywhere in the country, so it's natural to wonder how that affects where people choose to live.
The results make it clear that most people do consider the types of extreme weather an area may experience when choosing where to live. The majority of people (61%) say they "definitely" or "possibly" consider the risk of extreme weather when deciding which part of the country they'd like to live in. On the other end of the spectrum, only 20% of people responded "definitely not" or "probably not" when asked if they look at the risk of extreme weather when considering where to call home.
On a regional level, people who live in the West are most likely to take extreme weather into consideration. Of the people who live in that part of the country, 46% answered that they "definitely" consider potential extreme weather events when choosing where to live.
While most people do include the risk of extreme weather in their calculations of where to call home, nowhere in America is truly safe from natural disasters. According to the NCEI, since 1980 every single state in the country has been affected by at least one natural or weather-related disaster that cost over one billion dollars in damages.
What weather events are covered by insurance if disaster strikes?
Homeowners insurance and renters insurance typically help protect your assets from fire, hail, wind, and lightning damage. Additionally, homeowners or renters insurance could provide coverage for hurricanes, earthquakes, tornadoes, wildfires, and more — but it's possible you might have to pay more for that type of coverage.
How well do people know the terms of their homeowners or renters insurance, and how confident are they in their coverage?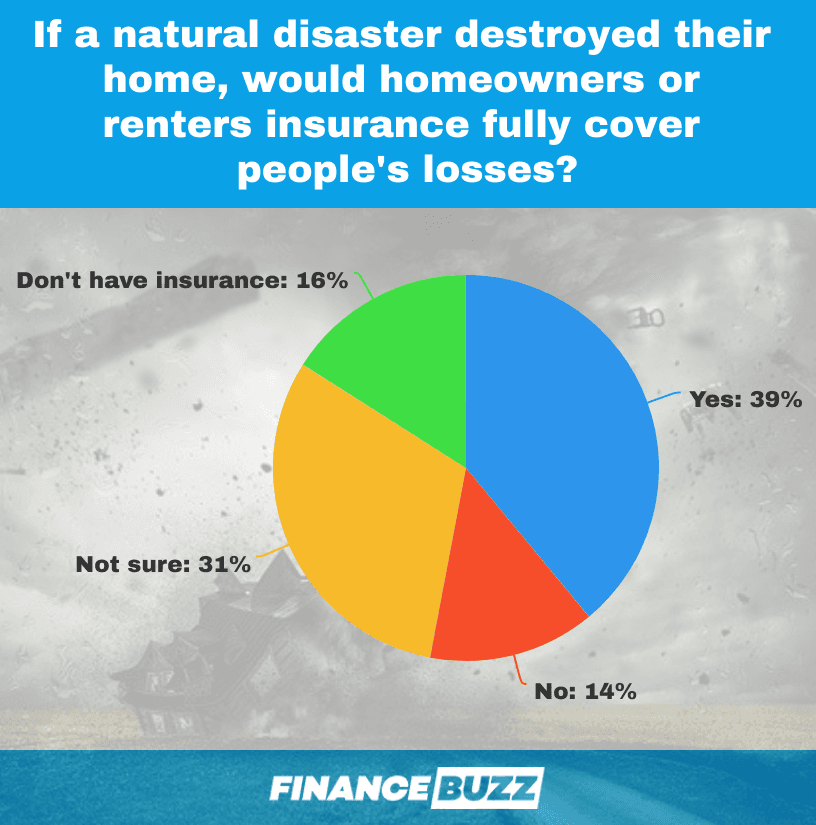 Only 39% of people are confident they have insurance that would fully cover their losses should their home be damaged or destroyed during a natural disaster. A little over 30% of people are simply uncertain about the extent of their coverage, while another 14% know for certain they do not have adequate coverage should disaster strike.
Around 16% of respondents reported they do not have homeowners or renters insurance at all. This leaves them completely financially unprepared should extreme weather damage their home.
On a regional level, residents of the Northeast are the least confident in the quality of their insurance coverage. While at least 44% of residents of the other three regions believe that their existing insurance is adequate to cover damages from a natural disaster, only 31% of those in the Northeast have the same level of confidence in their coverage.
Additionally, nearly half (48%) of those in the Northeast indicated they are unsure about the extent of their insurance coverage. This level of uncertainty is 14 points higher than the next-highest region.
So which natural disasters are covered by common home insurance? Hurricanes, hail, wildfires, and lightning are typically covered by most home policies. Earthquake damage, floods, mudslides or sinkholes, and water damage from poor maintenance such as a pipe freezing and bursting are generally not covered by a standard policy.
How to prepare for a natural disaster or extreme weather event
Since the weather in the United States is some of the most diverse and intense weather in the world, it's important to protect yourself, your family, your finances, and your home. Here are a few tips to help you learn what to do in the case extreme weather strikes:

Have a plan in place. If you're preparing for a natural disaster or extreme weather, you likely have looked into ways to keep yourself and your family safe. But what about your finances? Here are nine ways you can protect your money during a natural disaster.
Create an emergency fund. Unexpected expenses are a part of life, so it's best to set yourself up to at least try to cover an unexpected cost. Don't wait until there is a natural disaster to set up an emergency fund.
Save on your home and auto insurance. Disaster doesn't wait until you're safe and sound at home. One of the easiest ways to save money on insurance is to go for a multi-policy insurance discount and bundle your home and car insurance.
Methodology
FinanceBuzz surveyed 1,000 U.S. adults ages 18 or older, who comprise a nationally representative sample, on January 12, 2022.

Compare Quotes Benefits
Get quotes in 60 seconds
Compare rates from top insurers
Coverage you need at an affordable price
It's free and fast to compare quotes