Saying goodbye to summer means saying hello to apple cider, hayrides, and, of course, pumpkin picking.
But you don't have to choose between these heartwarming traditions. You can keep more money in your wallet by visiting one of these charming farms across the country that offer it all.
We've compiled a list of the most popular pumpkin patches you can visit in the U.S. Go for the pumpkins and stay for the corn mazes, live music, baked goods, and more!
Earn a $250 travel bonus with this incredible card
There's a credit card that's making waves with its amazing bonus and benefits. The Bank of America® Travel Rewards credit card has no annual fee and you can earn 25,000 points after spending $1,000 in purchases in the first 90 days of account opening.
You can earn additional points just by using this card for your everyday purchases — unlimited 1.5 points per $1 spent on all purchases. The 25,000 points can be redeemed for a $250 statement credit toward travel or dining purchases.
If you want to travel and dine out more, the Travel Rewards card can help you get where you want to go.
The best part? There's no annual fee.
Siegel's Pumpkin Farm: Lockport, Illinois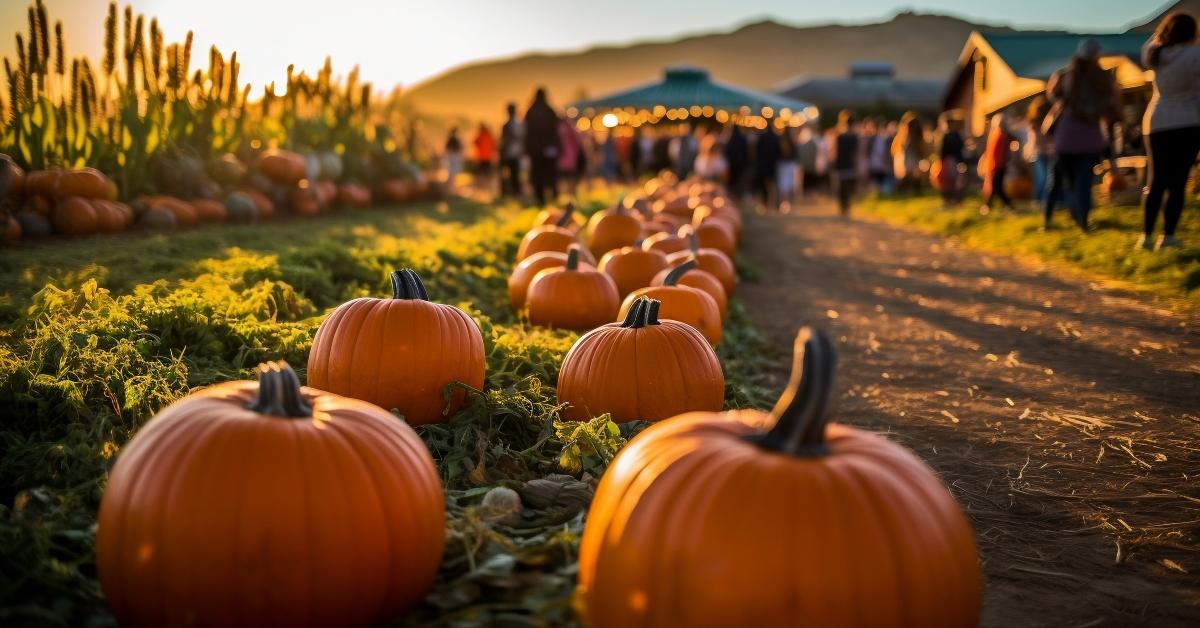 The beloved Siegel's Pumpkin Farm is a whole fall destination in itself. It's so fun it will make you want to step up your travel game!
In addition to the pumpkin picking field, there are rides, games, a corn maze, a Pumpkin Princess for the kiddos, and so much more.
Several food shacks around the farm offer plenty of grub for the family. Try the smoked turkey leg or fried chicken sandwich. But leave room for hot chocolate and apple cider donuts!
Dell'Osso Family Farm: Lathrop, California
The Dell'Osso Family Farm has a beautiful pumpkin patch to explore. But that's not all. Get lost in the enormous corn maze or kick off Halloween in the Haunted Castle.
Don't let the kids skip the pony rides, pig races, gem mining, rat rollers, and pumpkin painting. Be prepared to spend the whole day here!
Cox Farms: Centreville, Virginia
Cox Farms is famous for its Fall Festival. With the sound of live music in the background, visitors can explore farm life in a whole new way.
Buy some local pumpkins or apples, or learn to milk a cow! There is also a tractor museum, a goat village, and plenty of farm-themed slides.
Check out the Fall Food Festival for Instagram-worthy treats or the Fields of Fear for some spooky attractions.
If you're over 50, take advantage of massive travel discounts and trip-planning resources
Over 50 and love traveling? Join AARP today — because if you're not a member, you could be missing out on huge travel perks. When you start your membership today, you can get discounts on hotels and resorts, airfare, cruises, car rentals, and more.
How to become a member today:
Go here, select your free gift, and click "Join Today"
Create your account (important!) by answering a few simple questions
Start enjoying your discounts and perks!
An AARP membership not only unlocks discounts that could save you hundreds on your next trip, but you'll also have access to deals on vacation packages, guided tours, and exclusive content to help plan your next getaway.
Important: Start your membership by creating an account here and filling in all of the information (do not skip this step!). Doing so will allow you to take up to 25% off your AARP membership, making it just $12 per year with auto-renewal.
Wills Family Orchard: Adel, Iowa
This is one for the picture book. Wills Family Orchard has acres of serene farmland to escape to.
When you arrive for pumpkin picking, you'll get a wagon and clippers to quickly harvest some pumpkins from the patch.
And if you need some beautiful family photos, there's also a breathtaking sunflower field.
Linvilla Orchards: Media, Pennsylvania
Pumpkinland is a time-honored tradition here at Linvilla Orchards. The setup is larger than life, with giant scarecrows and flowers.
There are plenty of pumpkins to choose from, as well as caramel apples, roasted corn, and apple cider donuts.
Check out the Ship Bottom Beer Garden for a kid-free hang beneath some picturesque string lights.
Bates Nut Farm: Valley Center, California
Don't let the name stop you. Bates Nut Farm has way more than just nuts — its Pumpkin Patch is hailed as the largest and oldest in San Diego County.
Sign up for "The Life of a Pumpkin" educational tour to get even more familiar with these gourds. Stop by the Farm Zoo to see the emu, llama, and other farm animals.
Topaz Farm: Portland, Oregon
This farm, known for its farm-to-plate dinners, also has pumpkin picking in the fall, complete with hayrides, mazes, and trick-or-treating.
In September, guests can attend Brewer's Dinners, which feature a meal with super fresh ingredients from the farm and a locally brewed beer.
Richardson Adventure Farm: Spring Grove, Illinois
Richardson Adventure Farm is a beautiful fall oasis for the whole family. The farm grows thousands of pumpkins, so be sure to take a free wagon ride out to the path on weekends.
Up for a challenge? Try the 28-acre corn maze and accompanying games. It's billed by the farm as the "world's largest."
Green Bluff Farms: Spokane, Washington
Green Bluff is a wonderful collection of over 30 farms in the Spokane area. Pumpkins are available at 12 farms in September and 13 in October.
Visit your favorite for some good old-fashioned pumpkin picking. Several of the farms also serve pumpkin donuts. Let us know if they're better than their apple cider cousins!
Don't let home repairs drain your bank account
Did you know if your air conditioner stops working, your homeowner's insurance won't cover it? Same with plumbing, electrical issues, appliances, and more. Not being able to make repairs could leave you in a bad situation — but a home warranty could protect you against surprise expenses.
Whether you're a brand-new homeowner or you've owned your home for years, a plan from Choice Home Warranty could pick up the slack where homeowner's insurance falls short.
If a covered system in your home breaks down, you can call their hotline 24/7 for assistance to get it repaired. They have a network of over 15,000 technicians that can assist you, making sure any issue can be taken care of swiftly — without breaking the bank.
Not sure if it's for you? Rest easy: they were named one of the "Best Home Warranty Companies" by US News 360 Reviews and were awarded Best Company's 2020 Consumer's Choice Award. For a limited time, you can get your first month free when you sign up for a Single Payment home warranty plan.
Vala's Pumpkin Patch: Gretna, Nebraska
Vala's Pumpkin Patch has 55 acres of farmland for you to explore.
Choose from about 30 varieties of pumpkins either in the field or from a pre-picked selection. Apparently, visitors can find giant pumpkins over 80 pounds!
Be sure to stop by Grandma's Kitchen for a warm home-style dinner or the Pie Barn for a salted caramel apple pie with an all-butter crust. Yum!
Hollin Farms: Delaplane, Virginia
For a classic American farm, check out Hollin Farms. It's a beloved family-owned establishment that wants its guests to feel like family.
Pumpkins are available in September and October, along with a slew of other bright and delicious crops, like squash, leafy greens, apples, and pears. The best part? You can bring your dog!
Assiter Punkin Ranch: Floydada, Texas
With Floydada, Texas, being called the "Pumpkin Capital of Texas," it's no wonder the city is home to some bustling patches.
Assiter Punkin Ranch is a great stop for some family fun. Along with pumpkin patches, there's a petting zoo for the kids with donkeys, horses, puppies, and goats.
Mr. Bones Pumpkin Patch: Culver City, California
For those who prefer Jack Skellinton over a pumpkin spice latte, Mr. Bones Pumpkin Patch is the place to be.
This patch embraces spooky Halloween themes with a skeleton slide and spider bounce house. Pumpkins come in all shapes and sizes and are sourced from farms across Northern California.
Bainbridge Island/Suyematsu Farms: Bainbridge Island, Washington
Visit Bainbridge Island/Suyematsu Farms for luscious Pacific Northwest landscapes. There are pumpkins for all your fall needs, from carving to baking and decorating.
Visitors love the Kiddy Hay Maze and tractor rides, and dogs are welcome!
Underwood Family Farms: Moorpark, California
Head to the Underwood Family Farms for a huge farm and even bigger memories.
The Moorpark location hosts the Fall Harvest Festival, where you can sift through a massive pumpkin patch and see some great pumpkin displays.
The fun continues with corn mazes, wagon rides, a chicken show, pig races, and live bands. Additional tickets will get you gem mining, horse-drawn wagon rides, and animal petting.
Anderson Farms: Erie, Colorado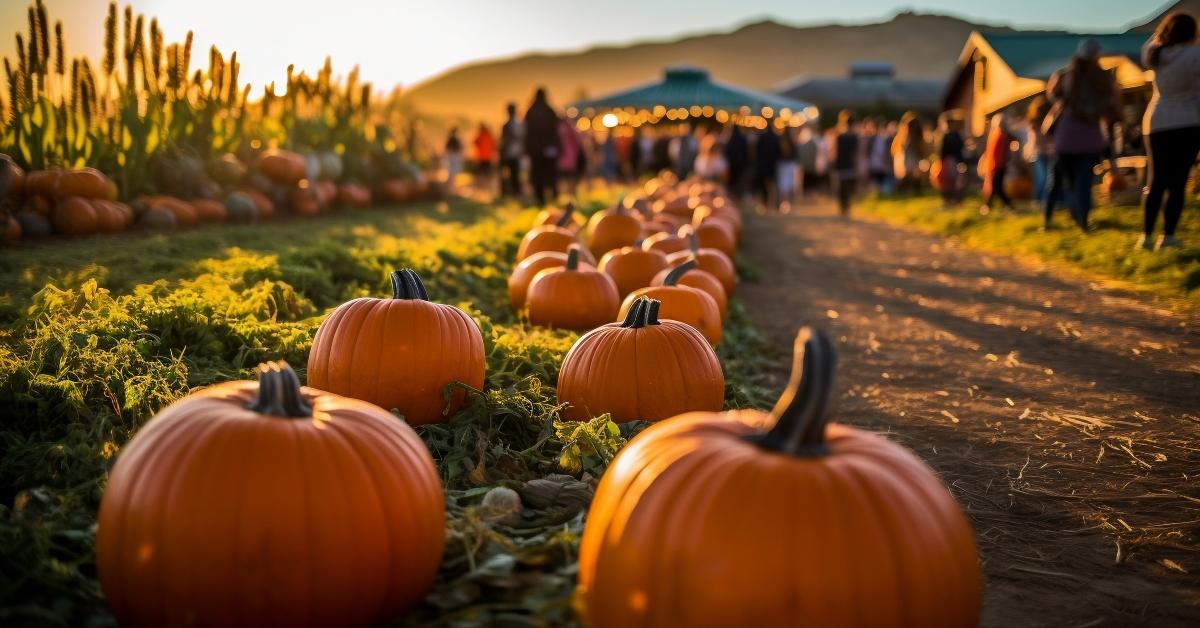 Take a wagon ride — pulled by an antique Oliver tractor — to the giant pumpkin patch at Anderson Farms. There are over 70 varieties of gourds to choose from.
Don't miss the pumpkin cannon that shoots small pumpkins up to a quarter mile! And stick around for the evening fire and s'mores in the main yard.
Rock Creek Farm: Broomfield, Colorado
You'll find over 80 acres of pumpkins at Rock Creek Farm. It's billed as one of the largest patches in Northern Colorado.
Explore the corn and hay bale mazes with the family, or even meet a few barn animals.
Cool Patch Pumpkins: Dixon, California
If you didn't know there was a Guinness World Record for corn mazes, you do now.
The corn maze at Cool Patch Pumpkins was dubbed the world's largest in 2007 and 2014 when it was 60 acres.
It's still pretty big today, and the design changes every year. Pumpkins are pick-your-own and include edible and non-edible varieties.
Lowe Family Farmstead: Kuna, Idaho
The Lowe Family Farmstead has a lot to offer. Fun is on another level here.
There's the traditional pumpkin patch and flower field, of course. But the farm also features an incredible candy cannon that blasts sugar into the air, sandbox-like play areas full of corn kernels, and apple blasters that shoot fruit into targets.
Jones Family Farm: Shelton, Connecticut
Enjoy the beautiful fall foliage of New England at Jones Family Farm. In addition to the robust selection of pumpkins, the farm's got hayrides, a corn maze, and farm animals.
You can even take the hayride through the vineyard, which supplies the Jones Winery.
Craven Farm: Snohomish, Washington
Strap on your favorite overalls and head to Craven Farm for some family-owned fun. This farm has been offering fall activities since 1983, and it shows.
In addition to the beautiful pumpkin patch, what makes this one special is the picture-perfect barn and party rooms available for birthdays or company gatherings.
Schilter Family Farm: Olympia, Washington
Schilter Family Farm is a vibrant farm with sunflowers and pumpkins in the fall. Kids (and adults) can enjoy the baby farm animals, zip swings, and hay pyramid.
Paintball shooting is available for an additional charge! But when it gets dark, try renting a private fire pit in the corn fields for a memorable fall experience.
Autumn at the Arboretum: Dallas Arboretum and Botanical Garden
If you're in Texas, you'll want to stop by the Dallas Arboretum and Botanical Garden.
Autumn at the Arboretum celebrates all things pumpkin with incredible gourd displays and structures unlike anything you've seen.
Throughout the season, there are guided hikes, squash art demonstrations, a Coffee Day celebration with tasty treats, and two Oktoberfest parties full of German beer and food.
Hathaway Farm: Rutland, Vermont
Hathaway Farm is your classic farm with some good pick-your-own pumpkins and a well-designed corn maze.
Take the kids to the Livestock Barn to meet some farm animals or let them explore the Punchin' Pumpkins play area.
On your way out, grab a bottle of the farm's maple syrup to take a taste of Hathaway home with you.
Connors Farm: Danvers, Massachusetts
Connors Farm is like a mini amusement park.
You'll see the pumpkin patch right at the entrance, but so much more fun is packed into the rest of the farm — from campfire pits to picnic areas and you-pick apple trees.
There are also tons of games, activity courses, apple cannons, livestock, train rides, and delicious snacks. Get ready to spend the whole day here.
Lyman Orchards: Middlefield, Connecticut
Lyman Orchards offers never-ending fields of fall produce. Pick-your-own pumpkins, apples, and pears are available.
Check out the on-site creamery and bakery for delicious treats featuring fresh crops from the farm!
Summers Farm: Frederick, Maryland
Go to Summers Farm for the pick-your-own pumpkins and stay for the "Rugged Farmer Obstacle Course!" This huge structure is a unique attraction for the farm.
In addition to plenty of games and activities, the farm offers campfire rentals for groups and puts on a firework show every Friday and Saturday night from September 29 to October 29.
Pinto's Farm: Miami, Florida
Said to be one of Miami's best pumpkin patches, Pinto's Farm offers a great mix of tropical greenery and classic fall vibes.
Your admission will include a magic show, pedal boat ride, pony rides for kids, and access to the race track.
Barton Orchards: Poughquag, New York
If you need an escape from New York City, Barton Orchards is the place to go. This farm hosts popular fall festivals, like Country Music Weekend, Jack O'Lantern Jubilee and Boos & Brews.
Barton Orchards faced a big fire in 2022, so it's great to see this beloved farm back up and running.
Papa's Pumpkin Patch: Bismarck, North Dakota
Papa's Pumpkin Patch has plenty of interactive attractions for the whole family and showcases all the beautiful nature North Dakota has to offer.
A pumpkin cannon shoots out a gourd every half hour, and kids can climb all over the log course, slides, and the "Great Pumpkin Chair."
If you're traveling to go see this great patch, consider taking a credit card that helps you earn travel rewards. 
Bottom Line
Don't settle for a sad pumpkin from your grocery store. Get out and welcome the season at these incredible pumpkin patches, taking fall festivities to a new level.
With rides, obstacle courses, animals, and delicious treats, there's much more than gourds.
So grab one of your top travel credit cards and head to one of these most beloved pumpkin patches nationwide.
Easy-to-Earn Unlimited Rewards
Earn 25,000 online bonus points after you make at least $1,000 in purchases in the first 90 days of account opening - that can be a $250 statement credit toward travel purchases
Earn 1.5 points per $1 spent on all purchases
Longer intro APR on qualifying purchases and balance transfers
No foreign transaction fees
Earn unlimited 1.5 points per $1 spent on all purchases, with no annual fee and no foreign transaction fees and your points don't expire.
25,000 online bonus points after you make at least $1,000 in purchases in the first 90 days of account opening - that can be a $250 statement credit toward travel purchases.
Use your card to book your trip how and where you want - you're not limited to specific websites with blackout dates or restrictions.
Redeem points for a statement credit to pay for travel or dining purchases, such as flights, hotel stays, car and vacation rentals, baggage fees, and also at restaurants including takeout.
0% Introductory APR for 15 billing cycles for purchases, and for any balance transfers made in the first 60 days. After the intro APR offer ends, 18.24% - 28.24% Variable APR will apply. A 3% fee applies to all balance transfers.
If you're a Preferred Rewards member, you can earn 25%-75% more points on every purchase. That means instead of earning an unlimited 1.5 points for every $1, you could earn 1.87-2.62 points for every $1 you spend on purchases.
Contactless Cards - The security of a chip card, with the convenience of a tap.
This online only offer may not be available if you leave this page or if you visit a Bank of America financial center. You can take advantage of this offer when you apply now.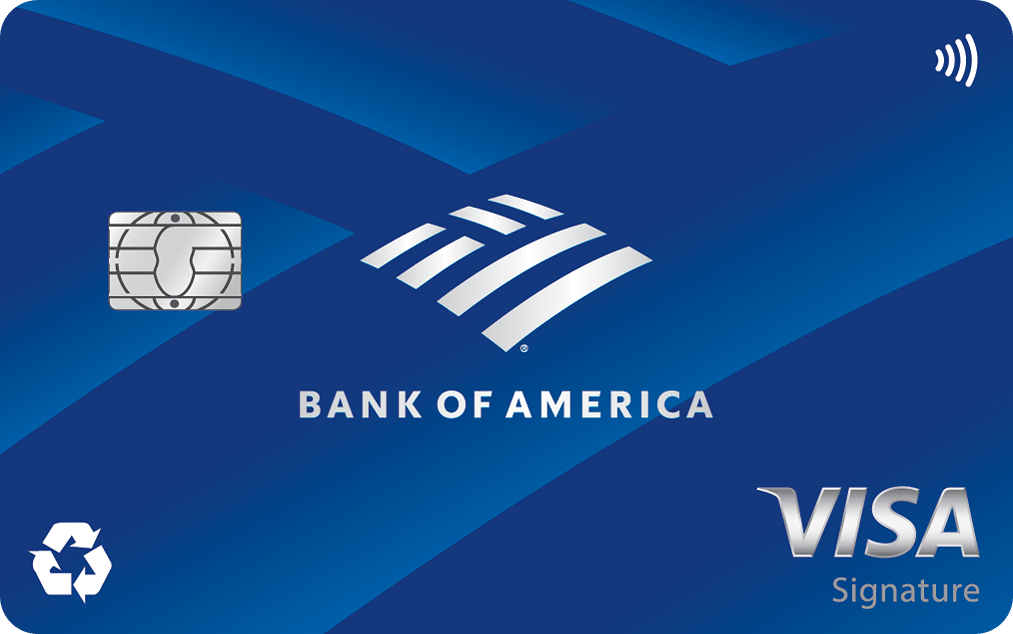 Apply Now
on Bank of America's secure website
Read Card Review
Intro Offer
Earn 25,000 online bonus points after you make at least $1,000 in purchases in the first 90 days of account opening - that can be a $250 statement credit toward travel purchases