Who doesn't love a great American road trip? We often romanticize these excursions with thoughts of freedom and the open road, so much so that taking on "van life" — or living fully remote out of a van or other vehicle — is becoming an increasingly popular trend.
One of the best parts about road trips is the rest stops and gas stations you visit along the way. Here are 15 gas stations with devoted followings you should add to your travel bucket list. We've also included a must-try item for each (where you can potentially earn travel rewards with each purchase).
Buc-ee's
Originating in Texas, Buc-ee's has one of the biggest cult followings on this list. Their stores are known for being huge and sell an overwhelming amount of snacks, drinks, and knick-knacks. 
Like Waffle House, this southern institution never closes, but the real highlight of Buc-ee's is the roundup station. Bonus points for their sparkling restrooms.
Must-try item: Buc-ee's serves up a brisket sandwich that's a fan favorite. Honorable mention goes to Beaver Nuggets, a sweet and savory crunchy snack.
Wawa
Another beloved gas station is Wawa, which was born in Philadelphia and has since expanded throughout the U.S. While they try to keep gas prices low, it's the in-house specialty food offerings that make this convenience store so popular.
Must-try item: You can't beat the hoagies. These iconic sandwiches come in many varieties, but the seasonal Gobbler — a Thanksgiving tradition — takes the cake. It combines turkey, stuffing, cranberry sauce, and gravy in one sandwich roll.
Sheetz
Another Pennsylvania convenience store fave (and a rival to Wawa) is Sheetz. Like their counterpart, they sell delicious sandwiches that you can get made to order or "MTO" on a touchscreen — a convenience that makes people love them so much. They also, like Buc-ee's, never close.
Must-try item: The Big Mozz. It's a giant chicken sandwich with mozzarella sticks — ooey, gooey chicken parmesan perfection.
Pilot Flying J
While Pilot Flying Js may not have the cult status of some of its competitors, it is one of the biggest gas station chains out there. In fact, there's at least one in almost every state. In their shop, you'll find everything from eggrolls and mac and cheese to hot dogs.
Must-try item: Pepperoni pizza. NYC residents might not agree, but folks in 36 states named this one of their favorite Pilot foods.
Parker's Kitchen
You can't fuel up at Parker's Kitchen without stepping inside for some of their Southern food specialties. They consistently rank highly in the ratings, thanks to both the food and their friendly staff. You'll find these stores in Georgia and South Carolina.
Must-try item: The spicy chicken tender sandwich is a must if you have a road trip along the Southeast Coast.
Royal Farms
If you're traveling through the Northeast but still have a hankering for delicious, Southern-fried cuisine, Royal Farms has you covered. With spots in Pennsylvania, Maryland, Delaware, and Virginia, you can snag both gas and indulgent delights while on the road.
Must-try item: The fried chicken and their breaded potato wedges known as "western fries." The fare may look deceivingly humble, but take one bite, and you'll be the one humbled.
7-Eleven
You can find 7-Eleven stores all over the world, a convenience store that's kept us sipping on slurpees and flavored coffee for decades. 
Food offerings have come a long way in that time, too, as 7-Eleven sells so much more now than its famous hot dogs. And, of course, gas.
Must-try item: The Monterey Jack Taquito. The cheese is stretchy, the exterior is crunchy, and the chicken hits all the high notes.
RaceTrac
RaceTrac has an energy similar to 7-Eleven, with roller grills glistening for folks who need food on the go. This southern chain also has meal bundle deals that allow you to round out your taquito or dog with chips and a beverage the next time you fill up.
Must-try item: The frozen yogurt and toppings bar. You can make it as healthy or indulgent as you want, thanks to the many flavors and options.
Allsups
Allsups are located in Texas, New Mexico, and Oklahoma, a region of the country known for big open country and long stretches of interstate. Naturally, you would expect that the Tex-Mex food in this part of the country is going to be good, and Allsups is no exception.
Must-try item: The chimichanga. It's not an overly complicated affair, but the spicy beans and meat come alive with the hot sauce. For a gas station, it's perfect.
Stewart's Shops
If you didn't grow up in upstate New York, you might not have heard of Stewart's Shops — but for kids that did, the memories of stopping by will stick with you for a lifetime. 
The family-operated chain is known for its breakfast offerings of buttered rolls (a New York staple), coffee, and more.
Must-try item: Ice cream cones. This is what Stewart's does best, so indulge your inner child and let the nostalgia roll over you.
Love's
Love's provides travelers with a heap of options, given that it's a truck stop you can find all over the country. You can even take a shower here before fueling up, grabbing a meal, and hitting the road again. That's in addition to picking up clothing, snacks, and electronics. You name it, and they likely have it.
Must-try item: The sausage, egg, and cheese sandwich served on a waffle. It might not be the healthiest option, but it sure is tasty.
QuikTrip
With humble beginnings in Tulsa, QuikTrip has proliferated across the Southern United States. Now you can treat yourself to a variety of snacks at the gas station chain, from yummy brisket sandwiches and chorizo tacos to soft-serve ice cream.
Must-try item: Blueberry pigs in a blanket if you can find them. They are sweet and savory perfection. Otherwise, go for the ridiculously indulgent brisket mac and cheese.
Casey's General Store
Like QuikTrip, Casey's General Store is another gas station that started as a standalone spot — specifically in Ankeny, Iowa. It now has over 2,000 locations in the Midwest, selling pizza where historically there was a void. Now it's a pizza juggernaut in its own right.
Must-try item: Breakfast pizza — yes, it's a thing. This Midwestern creation offers the perfect crust, delicious gravy, eggs, and your meat of choice.
Thorntons
"Fresh" is the word that Thorntons — big in Chicago and Louisville — likes to use when branding their food, which ranges from doughnuts and breakfast sandwiches to slushies and stick-to-your-ribs burgers, dogs, and taquitos. And, oh yes, they sell gas and offer a variety of services to truckers.
Must-try item: The sausage, egg, and cheese burrito with tater tots, while an honorable mention goes to the soft serve.
Dodge's Southern Style
Though not the first or even second Southern gas station eatery on our list, the final spot is filled well by Dodge's Southern Style. It may look like a regular gas station, but the presence of some serious fryers will clue you in on the deliciousness that you can expect from this southern chain.
Must-try item: The leg, thigh, and breast-fried chicken combo. The price is right, the crunch is perfect, and you'll be satisfied for miles.
Bottom line
Gas stations are no longer just for fueling up your car; they have evolved into destinations that offer delicious food and fun shopping experiences. The chains listed above, in particular, have managed to stand out by serving stuff that is so good they've garnered cult followings.
Another perk? Using the right card to purchase some of these items can help you earn cash back, so be sure to pack your wallet and this list before your next road trip in order to take it to the next level.
Easy-to-Earn Unlimited Rewards
Earn 25,000 online bonus points after you make at least $1,000 in purchases in the first 90 days of account opening - that can be a $250 statement credit toward travel purchases
Earn 1.5 points per $1 spent on all purchases
Longer intro APR on qualifying purchases and balance transfers
No foreign transaction fees
Earn unlimited 1.5 points per $1 spent on all purchases, with no annual fee and no foreign transaction fees and your points don't expire.
25,000 online bonus points after you make at least $1,000 in purchases in the first 90 days of account opening - that can be a $250 statement credit toward travel purchases.
Use your card to book your trip how and where you want - you're not limited to specific websites with blackout dates or restrictions.
Redeem points for a statement credit to pay for travel or dining purchases, such as flights, hotel stays, car and vacation rentals, baggage fees, and also at restaurants including takeout.
0% Introductory APR for 18 billing cycles for purchases, and for any balance transfers made in the first 60 days. After the intro APR offer ends, 17.99% - 27.99% Variable APR will apply. A 3% fee applies to all balance transfers.
If you're a Preferred Rewards member, you can earn 25%-75% more points on every purchase. That means instead of earning an unlimited 1.5 points for every $1, you could earn 1.87-2.62 points for every $1 you spend on purchases.
Contactless Cards - The security of a chip card, with the convenience of a tap.
This online only offer may not be available if you leave this page or if you visit a Bank of America financial center. You can take advantage of this offer when you apply now.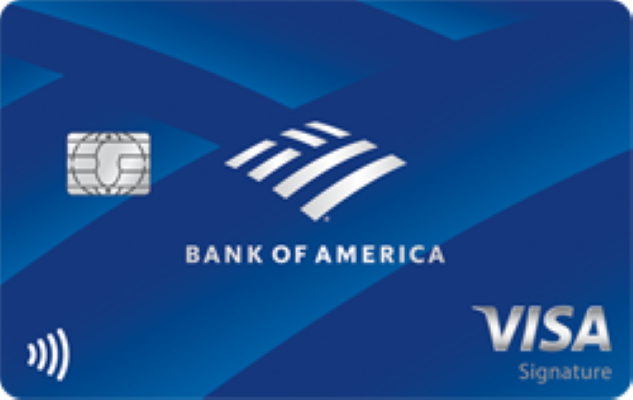 Apply Now
on Bank of America's secure website
Read Card Review
Intro Offer
Earn 25,000 online bonus points after you make at least $1,000 in purchases in the first 90 days of account opening - that can be a $250 statement credit toward travel purchases