Many people are itching to get away as soon as possible, especially since air travel is picking up again. Many places — both across the U.S. and around the globe — are easing COVID-19 restrictions. If you've got your eye on a vacation that's slightly out of your current budget, you may want to consider something called a "fly now pay later plan."
These plans allow travelers to take out a loan to pay for things like flights and vacation packages. It's a pay over time approach rather than paying for your vacation in one lump sum.
While it may seem like a dream to book a trip and think about the bills later, fly now pay later may not always be the smartest approach financially. We've broken the process down for you here.
What is a fly now, pay later plan?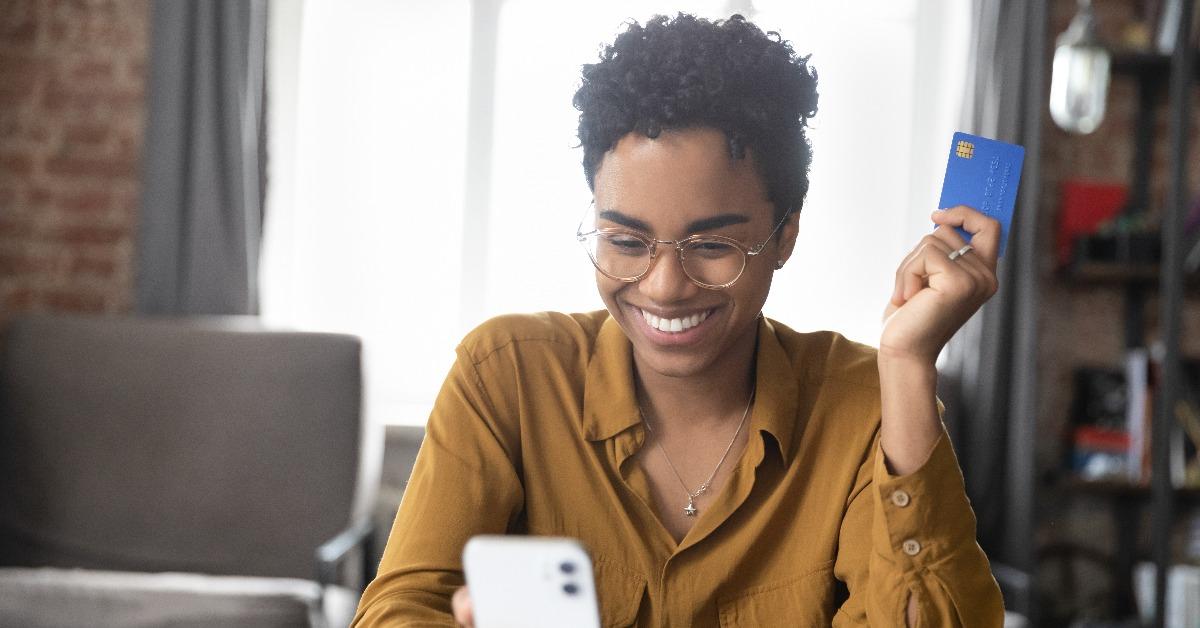 Several companies offer customers the opportunity to finance vacations. Basically, the company will lend you the money to pay for a trip upfront, and you will pay that back in much smaller payments.
Plenty of companies that sell items online — from clothing to furniture — offer customers the opportunity to enroll in a buy now pay later plan at checkout. Fly now pay later plans function in the same way. You will select the option to pay for your trip in smaller payments over time, apply for the loan, and be given the APR and repayment term you are eligible for.
What companies/airlines offer the service?
Travel companies and airlines work with payment services like Affirm, PayPal, and Uplift for travelers looking to pay for their trips in installments. There are also apps like the Fly Now Pay Later app, where you can get a loan as well.
Many major airlines around the world offer travelers the opportunity to book with some sort of payment service. For example, when booking with United, you can select the Uplift option at checkout to break your payment up into installments. The process is simple and just requires a quick application. Travelers will find out if they qualify and the terms of the loan in seconds.
Some travel companies also allow customers to pay using PayPal Credit, which offers no interest on purchases over $99 when you pay it off in six months or less.
What about interest?
Interest is definitely something to think about when considering the fly now pay later approach — you could end up paying much more for your trip in the long run.
If the APR is too high, it simply may not be worth it. The Fly Now Pay Later app allows customers to pay off their trip in monthly installments, but it has a large APR range and you could end up paying a high rate. You'll have to crunch the numbers for the loan you're approved for to figure out if it's worth the extra money you'll spend over time.
It may be a better alternative to look into the best travel credit cards instead.
How long do you have to pay for the trip?
This also depends on the company you use to book your trip and the terms of the agreement. Depending on your credit score, you may be able to score a loan with 0% interest, where you can essentially borrow the money for free as long as you pay it off by a specific date. However, travel loans can also go up to 30% and beyond.
When you are given the terms of your loan, you will also be given information on how long you have to pay it off. It could be a term of a few months or a few years depending on how much you borrow.
Will it affect your credit score?
Although applying for a travel loan will likely involve some sort of credit check on the lending company's part, it's unlikely that this will affect your credit score because it will be what's known as a soft inquiry.
Uplift — which is offered by many popular airlines in the U.S. like United, American, and Frontier — completes a soft credit check before issuing a loan. Unlike a hard inquiry on your credit, a soft check won't affect your credit score and may not even be recorded in your credit reports.
What are the pros of fly now, pay later plans?
The fly now pay later option is a great route to go if you qualify for 0% APR or an extremely low interest rate. It's also smart if you don't have the savings to dip into to pay for an extravagant trip now, but you know you can make payments on time monthly.
It could be helpful if you need to make an unexpected or emergency trip that you have not been saving for. It also doesn't hurt to apply for the loan, since it will not affect your credit health.
What are the cons?
Of course, not all those who apply will get a good APR. The interest rate you are offered will depend on your credit score as well as the price of the trip you want to take. If the interest rate is too high, you could end up paying a lot more than you would have if you had paid for the trip outright.
This option could also tempt would-be travelers to spend more than they can actually afford since the monthly payments may appear low. This can lead to more unnecessary debt in the long run.
How else can you pay for a big trip?
While the fly now pay later option may be a smart choice for some, there are many other options for how to finance a vacation. Perhaps the most obvious is to set up a savings account and wait until you hit a specific goal before booking the trip. You can even set up a separate savings account just for travel and set up direct payments to go in every month or every paycheck.
Many travel credit cards also offer miles and other rewards for frequent travelers. If you don't travel that often but want to budget for the occasional trip, there are plenty of other cards that offer cash back and even travel deals that may come with better interest rates than the fly now, pay later options. Even if you don't want a premium travel card, it could be worth it to look into the best cashback credit cards.
Bottom line
Many experts in the travel industry, including the CEO of online travel giant Expedia, are predicting that the summer of 2022 is going to be the busiest travel season in history due to pent-up demand and easing COVID-19 restrictions.
If you want to travel this summer but are wary of dropping a large amount of cash at one time, the fly now pay later approach may be the way to go. It's not the only way to go though, so consider travel credit cards and designated savings accounts as well.
Easy-to-Earn Unlimited Rewards
Earn 25,000 online bonus points after you make at least $1,000 in purchases in the first 90 days of account opening - that can be a $250 statement credit toward travel purchases
Earn 1.5 points per $1 spent on all purchases
Longer intro APR on qualifying purchases and balance transfers
No foreign transaction fees
Earn unlimited 1.5 points per $1 spent on all purchases, with no annual fee and no foreign transaction fees and your points don't expire.
25,000 online bonus points after you make at least $1,000 in purchases in the first 90 days of account opening - that can be a $250 statement credit toward travel purchases.
Use your card to book your trip how and where you want - you're not limited to specific websites with blackout dates or restrictions.
Redeem points for a statement credit to pay for travel or dining purchases, such as flights, hotel stays, car and vacation rentals, baggage fees, and also at restaurants including takeout.
0% Introductory APR for 15 billing cycles for purchases, and for any balance transfers made in the first 60 days. After the intro APR offer ends, 18.24% - 28.24% Variable APR will apply. A 3% fee applies to all balance transfers.
If you're a Preferred Rewards member, you can earn 25%-75% more points on every purchase. That means instead of earning an unlimited 1.5 points for every $1, you could earn 1.87-2.62 points for every $1 you spend on purchases.
Contactless Cards - The security of a chip card, with the convenience of a tap.
This online only offer may not be available if you leave this page or if you visit a Bank of America financial center. You can take advantage of this offer when you apply now.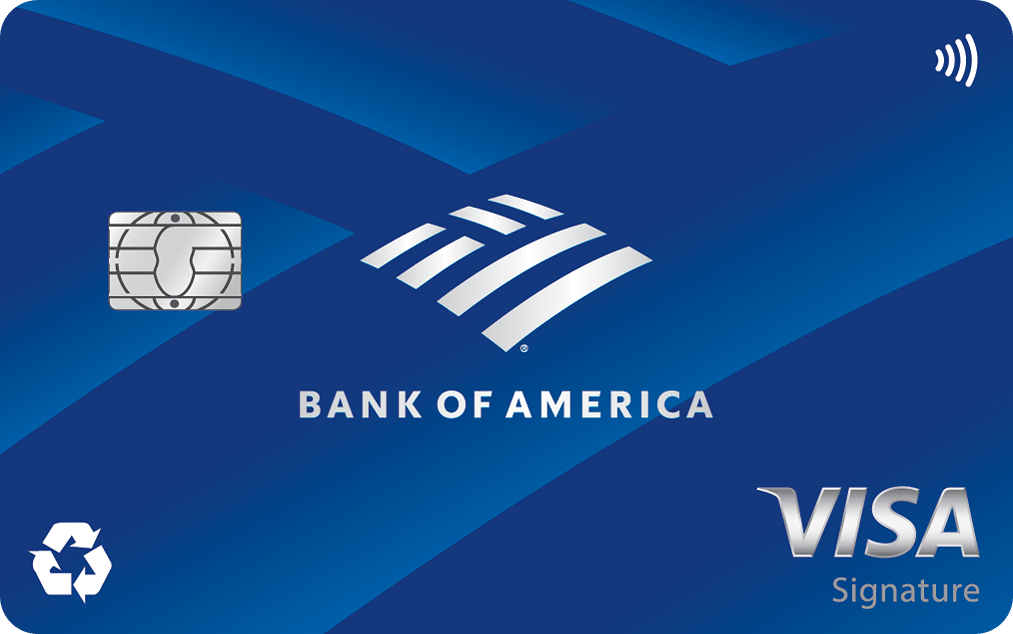 4.1
FinanceBuzz writers and editors score cards based on a number of objective features as well as our expert editorial assessment. Our partners do not influence how we rate products.
Apply Now
on Bank of America's secure website
Read Card Review
Intro Offer
Earn 25,000 online bonus points after you make at least $1,000 in purchases in the first 90 days of account opening - that can be a $250 statement credit toward travel purchases