Mobile restaurants aren't new, as food carts have been serving the streets for thousands of years. However, food truck culture as we know it today — diverse, urban, and arguably hip — was born out of the social media movement.
Now we find ourselves in a foodie renaissance, with thousands of food trucks hoping to serve up your next meal. It's not the choice to make if you're trying to save on groceries, but if you've already set aside money for eating out or you're traveling to a city where food trucks are popular, then you'll want to check out our list.
So which truck can claim the title of best in their state? We scoured the reviews to see who lives up to the hype.
Alabama: Dos Hermanos Taco Truck
Dos Hermanos Taco Truck in Birmingham is not only the best in Alabama, but also among the top trucks in the country. Fans of this cash-only establishment say it even rivals its counterparts in Mexico City.
Here you can score tacos, burritos, tostadas, and more with both familiar and exotic fillings. These range from steak and chicken to pork skin and cow brain, so you can be as adventurous here as your appetite desires.
And yes, there will be a line, but we promise it's worth the wait.
Alaska: El Green-Go's
Mexican, Tex-Mex, and vegan cuisine are all executed perfectly at El Green-Go's in Anchorage. Here North Carolina native Chef Tyler Howie serves up everything from tofu burritos with black bean coconut queso to halibut tacos topped with fennel and pickled blueberries.
Vegans and meat eaters alike can get their grub on at El Green-Go's, as Chef Howie smokes tofu and various types of meat all the same: perfectly.
Arizona: Emerson Fry Bread
Chef Loren Emerson makes culinary magic at Emerson Fry Bread in Phoenix, Arizona. Drawing on his Native and Mexican heritage, Emerson serves up the sublime in the form of fry bread, best ordered topped with carne asada, fire-roasted salsa, and sour cream.
Everything here is delicious, honestly, including sugary homemade drinks, mutton sandwiches, and delicately balanced salads. The portions are huge, too, but chances are you'll still finish it.
Arkansas: Yeyo's El Alma de Mexico
James Beard Award nominee Chef Rafael Rios is the brains behind Yeyo's, a Bentonville restaurant that operates two food trucks. Founded by Rafael's father, Hector, Yeyo's cuisine is made with ingredients the family grows on their local farm.
Famous dishes include street tacos served on scratch-made tortillas, braised pork served in banana leaves, house-made chorizo, and so much more. The New York Times even named Yeyo's as one of the best restaurants in the country.
California: Kogi BBQ Taco Truck
It was renowned Chef Roy Choi that ushered in the new age of food trucks with his Los Angeles operation, Kogi BBQ. This perfect fusion of Korean and Mexican flavors forever changed the food landscape, notably with short rib tacos and burritos.
And yes, you can add kimchi to your order, which we recommend doing for an even more scrumptious experience.
Thank you, Chef Choi, for starting a revolution.
Colorado: Yuan Wonton
What do you get when a James Beard nominee quits her executive chef job, perfects her wonton skills, and opens a food truck in Denver? Yuan Wonton, the brainchild of Chef Penelope Wong. Her wontons, dumplings, and noodles are second to none in Colorado and beyond.
From tom kha dumplings many would choose for their last meal to chili dumplings people want to bathe in, this culinary experience is a can't miss.
Connecticut: Crispy Melty by Caseus
New Haven is a food mecca, and Chef Jason Sobocinski and his brother Tom have been a part of it for years. Their current operation is Crispy Melty (formerly The Cheese Truck), and their dishes are the best grilled cheese sandwiches in the state.
Menu favorites include The Classic — a blend of six cheeses with cornichons and mustard on the side — and the Hog, a super porky version.
And yes, you can get tomato soup on the side.
Delaware: Mojo Loco
Truly global in scope, the cuisine that Chef Steve Ruiz serves at Mojo Loco in Wilmington is awe-inspiring. The mojo pork is the backbone of the operation; you'll find it in items like tacos, Cuban sandwiches, and more. But there is also beef, chicken, shrimp, and fish.
It's Delaware, so you'll also find crab on the menu, which Ruiz makes shine in quesadillas and piled on fries. Word on the street is that one bite will change your life.
Florida: Ms. Cheezious
You'd be hard-pressed to find an award list that Ms. Cheezious isn't on. Founded in 2010 by Chefs Fatima Mullins and M. Christian Dickens, this Miami institution serves up impossibly good grilled cheese sandwiches with delectable meaty fillings and mouthwatering sides.
Want a crabby grilled cheese? You got it. More in the mood for goat cheese and prosciutto? You got that too. Plus there are veggie options.
And for dessert, order the s'mores melt — yes, really.
Georgia: Blaxican Food Truck
Chef Will Turner's cuisine is the fusion of Mexican and soul food you dream about. Think shrimp and grits tostadas, collard green quesadillas, Cajun marinated blackened fish tacos, macaroni and cheese with jalapeños — you get the idea. These flavors are big and bold.
Critics are especially fond of their al pastor and barbeque steak tacos, though nothing on this menu will disappoint. There's even an Asian fusion option, aptly named The Blasian.
Hawaii: Giovanni's White Shrimp Truck
Not only is this one of the oldest food trucks in Hawaii, it's also consistently singled out by locals as a must-try.
Some classic preparations for plump local-caught shrimp are scampi, hot and spicy, or lemon and butter. Each plate comes with 12 shrimp, perfectly-cooked rice, and a lemon wedge. Sometimes the simplest preparations are the best, and this is a classic example of that. Mahalo!
Idaho: The Kilted Kod
Fish and chips are a true classic, and Chef Kevin McIntosh fries them both to perfection at The Kilted Kod in Boise. A visit to Scotland prompted McIntosh to open the food truck, and his fried fish recipe keeps customers coming back. Even Brits swear by it.
McIntosh also fries up a mean chicken meal if you're not feeling pescatarian, or you can opt for the surf and turf. The tartar sauce is a must, so get extra if you like the stuff.
Illinois: The Fat Shallot
One of the first food trucks to open in Chicago, Chefs Sam Barron and Sarah Weitz at The Fat Shallot do classic sandwiches right. Whether you're craving grilled cheese with spinach and onions or a truffle BLT, you won't leave this truck hungry.
The fries, tossed in rosemary salt and slathered in sauce that sings, will be the highlight of your week. Don't sleep on the chocolate chip cookie they serve for dessert, either.
Indiana: Pierogi Love
Voted the best food truck in Indianapolis four times, including in 2022, Pierogi Love has mastered the art of this Polish comfort food. Chef Rob Wilder's best dishes include the loaded lender: a cheddar, potato, and bacon wallop of flavor rounded out with sour cream and chives.
You'll also find Polish sausage on the menu, served with sauerkraut and bacon. Word on the street is the bananas foster dessert perogies that pop up from time to time are divine.
Iowa: Island Vybz Mobile Rasta-Rant
Often the food truck with the longest line at the event, Island Vybz is a favorite in Iowa City. Chefs Kelly and Robert are famous for their Jamaican fusion operation, with tasty dishes including jerk chicken quesadillas, perfectly fried plantains, and jerk pork sandwiches.
Vegetarians, you won't be left out, as the veggie quesadilla is a gooey, cheesy veggie delight. Don't sleep on the rice and beans, either, as they're full of flavor.
Kansas: The Flying Stove
With a menu that changes every week but always lists delicious burgers, tacos, and sandwiches, Chef Rob Schauf and his brother Jeff were inspired by the Los Angeles food truck scene. They opened The Flying Stove in their hometown of Wichita and haven't looked back.
Delectable offerings will likely include braised pork tacos, truffle-infused fries, classic beef burgers, and cheesy veggie sandwiches — all made from real ingredients.
Kentucky: Traveling Kitchen
A chip off of the Kogi BBQ Taco Truck block, The Traveling Kitchen is the architect of Korean and Mexican food fusion in Louisville. Chef Pagva Victor is at the helm, creating tasty bites like bulgogi tacos, tempura veggie tacos, deep-fried dumplings, and more.
Chef Victor cuts and marinates the meats himself the night before so you're guaranteed fresh flavors the next day.
Pro tip: If there's soup on the menu, get it, even if you have to wait in line.
Louisiana: Diva Dawg Food Truck
New Orleans is one of the world's culinary capitals, and Diva Dawg is the perfect mobile ambassador. New Orleans native Chef Ericka Lassair elevates hot dogs to dizzying heights with toppings like crawfish etouffee sauce, red beans, and the nacho cheese of your dreams.
For vegetarians, Chef Lassair's chili is not to be missed, especially slathered on nachos and fries. For dessert, try some of her legendary apple pie bread pudding. It's paradise.
Maine: Bite into Maine
If customers, Food & Wine, and Eater all swear by this food truck, then you can trust that Bite Into Maine is the real deal. While classic Maine lobster rolls dominate the menu — including twists like curry rolls and wasabi rolls — they also serve juicy burgers and delicious sammies.
We recommend ordering the flight of lobster rolls, which will allow you to sample all of the flavors this wonderful food truck is dishing out.
Maryland: Flash Crabcake Company
When crab cakes are done right, it's because the crab is the star of the show, complemented by other ingredients instead of clouded by filler. That philosophy has helped Chefs Jeff and Jo Gordon build Flash Crabcake Company into a food truck nirvana.
Not only do their crabcakes shine — and you can buy them single, in 6-packs, or in 12-packs — but their cream of crab soup is also seafood simplicity executed perfectly.
Massachusetts: The Chicken & Rice Guys
The people of Boston have spoken, naming The Chicken & Rice Guys as their favorite food truck, beating out Bon Me and Daddy's Bonetown Burgers. This halal operation perfectly cooks up your choice of protein and rice or veggies, which they then hand to you to sauce.
That's where the magic happens, as sauces like mint-cilantro jalapeño, creamy garlic, and barbecue elevate your dish to god tier. Just be mindful of the spicy stuff, as it packs a punch.
Michigan: Hero or Villain
The brainchild of Chef Richard Zemola, Hero or Villain wants to serve you sandwiches that evoke pop culture nostalgia. And they do just that with a selection of grilled, hearty meats, perfect bread, ooey gooey cheese, and yummy grilled veggies.
These delicious creations include the Kingpin — a chicken and mozzarella sammie that's their most popular — and their signature Deathstroke, a steak-and-cheese perfection.
Minnesota: Tot Boss
You may have seen Tot Boss on Food Network and the Cooking Channel, and with good reason: Chef Dan Docken has elevated these humble freezer staples to glorious culinary heights. Tot nachos? Yes. Tot pizza? Indeed. Poutine? Of course. Bacon-wrapped? Please.
For a real Minneapolis experience, order the tot hotdish, a spin on the local version. Docken's is a soup-based casserole of tots, meat, and veggies elevated with a homemade cheese sauce.
Mississippi: One Guy Steak & Chicken
With decades of experience and Le Cordon Bleu training, Chef Kendrick M. Gordon does incredible work at the grill. You'll always find One Guy Steak & Chicken at the top of the Jackson food truck rankings thanks to his elegant grilled meats that are sauced perfectly.
You can be as healthy or decadent as you want at this food truck, and you won't miss out either way. Bonus points for the fairly low prices for such elevated cuisine.
Missouri: Seoul Taco
Chef Roy Choi is arguably the father of the food truck movement with his Los Angeles Korean and Latine fusion foods. Seoul Taco in St. Louis is the perfect parallel to this groundbreaking combination, with Chef David Choi (no relation) serving up similar offerings with his own twist.
Whether it's a burrito with kimchi fried rice, a quesadilla with Seoul sauces, or bulgogi steak tacos, this food truck is not to be missed in St. Louis.
Montana: El Rodeo
Authentic, delicious, and huge portions — this is what makes the line so long at Bozeman's El Rodeo, which satiates customers' bellies with tacos, burritos, enchiladas, tamales, fajitas, and more. Protein options range from chicken and carnitas to shrimp and steak.
Reviewers are especially fans of the green burrito, thanks to the tasty sauce. They also rave about how tender the meats are, the cornerstone of good Mexican food. The price is right, too.
Nebraska: La Casa Pizzaria
While everyone gets fired up over Chicago vs. New York pizza, Omaha also has a horse in this race — and no one does it better than the Patane family at La Casa Pizzaria. You can find their truck dishing out pizza by the slice, sandwiches, toasted ravioli, and more.
The definitive toppings for Omaha pizza are ground beef, onions, mozzarella, and romano on a thin square crust. That's what we recommend you order.
Nevada: The Cookie Bar
Las Vegas is a foodie destination for those who truly want to indulge, and there's no better place to satiate your sweet tooth than The Cookie Bar. Dessert maven Jennifer Baumgartner is the brains behind the operation, which sells decadent treats in boozy and non-boozy form.
Think dark chocolate brownies steeped in stout and topped with Irish cream, banana cookies with cream cheese frosting, and a dessert bar with a cookie bottom, peanut butter cup middle, and a brownie top. Perfection.
New Hampshire: The Spot To-Go
Chef Tony Elias wanted to bring the delicious Puerto Rican food he ate growing up to the masses, so he opened The Spot To-Go in Manchester. Menu options include empanadas, jibaritos, mofongo, Cuban sandwiches, and truly inspired fusion milkshakes.
Don't miss out on the stuffed potato balls either, as they are puffy clouds of fried perfection. Another highlight is the tostone tacos, with shells made of fried plantain. Super creative.
New Jersey: Aroy-D, the Thai Elephant
In 2011, Aroy-D, the Thai Elephant started its journey through the streets of Northern New Jersey, and it hasn't looked back since. Mastering classic Thai dishes like coconut curries, noodle dishes, aromatic soups, and fresh salads, the truck is sure to satisfy.
Chef Pupay's flavors are perfectly balanced not just in the savory stuff but also in elegantly crafted desserts — notably scratch-made ice cream with Thai flavors and decadent toppings.
New Mexico: El Chile Toreado
The runner-up food truck OG on this list is El Chile Toreado in Santa Fe, New Mexico. Founded in 2005 by Chef Luis Medina (years before the Roy Choi revolution), this beloved cart serves up Mexican classics like tacos and burritos with (mostly) traditional meat fillings.
Medina's children — one of them Le Cordon Bleu trained — now operate the cart in front of their brick-and-mortar restaurant. You can also score great hot dogs and breakfast here. Don't skip the salsa picante.
New York: The Halal Guys
Naming the best food truck in New York is a fool's errand, but if it came down to life and death, The Halal Guys are more than deserving of the honor. This food cart is a Manhattan staple famous for its gyros, chicken and rice, and falafel sandwiches that draw lines for blocks.
The Halal Guys have gone global, but their recipes remain the classics that made them a New York City institution. No one will argue they're worth the wait.
North Carolina: Pho Nomenal Dumplings
Winner of Food Network's The Great Food Truck Race season 6, Chefs Sophia Woo and Sunny Lin are making magic at this Asian-American fusion food truck. It comes in the form of classic pho, Taiwanese spaghetti, bulgogi sloppy joes, pork and chive dumplings, and more.
There's even a corn dog banh mi on the menu, showcasing how these chefs have merged global flavors into creative culinary masterpieces. And don't worry, the vegan options are good, too.
North Dakota: Taco Bros. Food Truck
For over a decade, the Taco Bros. Food Truck, founded by Chef Octavio Gomez, has been rolling through the streets of Fargo. The menu is straightforward Mexican-American food done right, including pineapple pork tacos, vegan tostadas, and Mexi Dogs — a perfect fusion.
If you're feeling adventurous, order the Trust You Bro platter, which is the chef's choice; that way, you might get to try something new. (Just specify your dietary needs.)
Ohio: The Chili Hut
Chile is a way of life in Ohio, and in Cincinnati, you'll arguably find the best at The Chili Hut food truck. Chef Fadi Khalilieh founded this truck, which still operates in addition to a brick-and-mortar restaurant.
Cincinnati chili is served over spaghetti, and depending on the "way" you like it, topped with cheddar, onions, and/or beans. Or you can nosh on a spicy German sausage topped with chili. It's a local delicacy and a comfort food all in one.
Oklahoma: Bobo's Chicken
Fried chicken can be sublime, and the residents of Oklahoma City who patronize Bobo's Chicken can confirm this. You'll only find this charming red food truck operating on Friday and Saturday nights, but the honey-smoked fried chicken perfection is worth any wait.
Your chicken comes with a choice of fries or fried biscuits. And if you're into seafood, Chef Ozell "Bobo" Pope-Powell makes a mean fried shrimp, too.
Oregon: Bing Mi
Since Chef Nong Poonsukwattana took her operation brick and mortar, we're giving honors to Bing Mi, a food cart serving up jianbing — crepes that originated in northern China. Think classic Asian flavors layered between a crepe, a wonton cracker, veggies, and tasty sauces.
You can also add fatty meats like Spam or duck for a seriously satisfying Portland meal. Top it all off with an egg, and you're in flavortown.
Pennsylvania: Tacos Don Memo
Giant burritos with tender braised meat and black beans seasoned to perfection. Torta sandwiches on freshly baked bread piled high with meat. Top everything off with crema, salsa, onions, cheese, fresh avocado, and cilantro, and you're experiencing culinary heaven.
That's what you find at Tacos Don Memo in Philadelphia, an unassuming food cart brilliantly helmed by Chef Leo Saavedra. Bring your appetite because the portions are huge — and cheap.
Rhode Island: Basil & Bunny
Plant-based food can be delicious, and Basil & Bunny in Providence proves that. Serving up comfort food like buffalo seitan wraps, hand-cut fries with cashew cheese, and smashed Impossible burgers with all the fixings, you will not leave this truck hungry.
Chefs Lyslie Smith and Mathiew Medeiros also have a brick-and-mortar restaurant, but keep your eyes peeled for Fluffy the food truck at festivals.
South Carolina: Roti Rolls
Helmed by Chef Cory Burke, Roti Rolls in Charleston (and Atlanta) consistently wins local votes for its Indian fusion cuisine. Nicknamed the "Green Machine," this truck is famous for its roti parathas stuffed with fresh ingredients sourced from area farms.
Does a butter bean chow-chow with pickled shrimp sound good? Or maybe mac and cheese with short rib and kimchi, creole style? There are vegetarian options, too.
South Dakota: Squealer's Smoke Shack on Wheels
Squealer's Smoke Shack on Wheels is barbecue done right. They're not afraid to mix meats, either, as their signature stockyard sandwich drips with beef brisket and pulled pork. Chefs Dustin and Andrea Kuipers also craft their sauces and sides from scratch.
Squealer's is especially famous for its loaded mac and cheese, which consists of mac, cheese, and meat of your choice for a flavor explosion.
Texas: Micklethwait Craft Meats
Though countless food trucks in Texas are worthy of this honor, Micklethwait Craft Meats is truly doing something special, evidenced by their long list of high-profile accolades. These pitmasters smoke truly drool-worthy brisket and sausage from lamb, duck, and more.
Chef Tom Mickelthwait's sauces and sides are no slouch, either, with acidic pickles and coleslaw to cut the fattiness of the meat perfectly. It's simply Austin barbeque perfection.
Tennessee: The Grilled Cheeserie
The oldest and most popular food truck in Tennessee is The Grilled Cheeserie in Nashville. Helmed by Chef Crystal De Luna-Bogan and her husband, this is the elevated grilled cheese that dreams are made of. Think pimiento mac and cheese or pizza melts, for starters.
There are also plenty of bacon-infused options, as well as spinach and artichoke and buffalo-style melts. If bread isn't your jam, dig into some French onion mac and cheese. Heaven.
Utah: Tacos Don Rafa
The honor of food truck OG goes, without question, to Chef Don Rafa of Tacos Don Rafa in Salt Lake City. He's been in the biz since 1998, selling tacos and burritos with at least 12 filling options, from beef to tongue to tripe. Combine that with old-school corn tortillas for street food perfection.
Tacos Don Rafa keeps prices insanely low. And no matter the weather, he'll keep your belly full, too. Hail to the chief!
Vermont: Farmers & Foragers
Farm-to-table dining will always be in demand, which is why Farmers & Foragers is the best food truck in Burlington. Popular dishes include tacos and rolls made with local ingredients like perch, lobster, cheeses, mushrooms, squash blossoms, and more.
Chefs Sol and Loren Johnson carefully craft everything from scratch once the ingredients are in hand, making for light and delicious dishes. Pair with one of Farmers & Foragers' elegant drinks, and you're set.
Virginia: Sumac
Chevre gnocchi. Bison tartare. Rabbit stir fry. These are just some of the local, organic dishes you may find at Sumac in the bucolic Shenandoah Valley. Chefs Dan and Abigail Gleason embrace the hyper-local movement here, which is obvious from their menu.
Naturally, selections will change with seasons, so you may find duck stuffed cabbage, strawberries roasted with Vidalia onions, or sardines on the menu. All of it, though, will be sublime.
Washington: Off the Rez
Especially famous for its frybread you can pile high with anything from pulled pork to chili verde, Off the Rez is Seattle's first Native American food truck. Helmed by Chefs Mark McConnell and Cecilia Rikard, Off the Rez also serves delicious burgers, fries, and salads.
If that wasn't enough to make your mouth water, you can also order the sweet fry bread topped with Nutella, lemon curd, and jam. Talk about an innovative operation!
Washington, D.C.: PhoWheels
Vietnamese food in and of itself is a fusion of native and colonizer — in this case, French — and PhoWheels adds an American twist to the cuisine. The result is tasty offerings like pork belly tacos, bánh mi with a twist, hearty pho served piping hot, and strong Vietnamese coffee.
PhoWheels is also famous for its bright, graffiti-covered truck that hits all of D.C.'s hot spots — you can't miss it.
West Virginia: Southside Sliders
Southside Sliders may make its bread and butter with the late-night crowd in Huntington, but their food is enchanting enough to attract the corporate lunch crowd, too. The menu is fluid, but the premise stays the same: perfectly cooked proteins, complementary toppings, and a perfect bun.
Double bacon cheeseburger? Check. Lamb burger with tzatziki and Greek toppings? Check. A beef burger on a quesadilla bun? Chef Jason Webb has you covered. Oh, and don't forget the tots.
Wisconsin: Curd Girl
Born out of a love of cheese, Curd Girl in Madison has been serving up fried curds for over a decade. Helmed by the Butcher-Salazar sisters (who took over from founders Jessica Wartenweiler and Kayla Zeal), they deep fry fresh cheese to perfection in a tasty beer batter.
That's it! Then you pair the curds with one of their delectable sauces — think sriracha aioli, ranch dressing, or blueberry basil jalapeño — and you have ooey gooey snack perfection.
Wyoming: Nipa Hut
Filipino food has rightfully claimed its place among the most delicious cuisine in the world, and Nipa Hut in Cheyenne is knocking it out of the park. From lumpia and adobo to deep-fried pork belly and cassava cake, Chefs Gerracio "Jhun" and Merelyn Vinluan have mastered their art.
You can also score halo-halo at Nipa Hut, an iconic Filipino dessert made of fruit, shaved ice, flan, and ice cream. It's sure to delight your inner child.
Bottom line
As you travel from state to state, trying diverse cuisines and immersing yourself in different cultures, you can earn miles and travel more.
However, the joy of seeking out the best food trucks in every state goes beyond that. It's an opportunity to connect with fellow food enthusiasts, discover hidden culinary gems, and embrace the spirit of adventure.
Easy-to-Earn Unlimited Rewards
Earn 25,000 online bonus points after you make at least $1,000 in purchases in the first 90 days of account opening - that can be a $250 statement credit toward travel purchases
Earn 1.5 points per $1 spent on all purchases
Longer intro APR on qualifying purchases and balance transfers
No foreign transaction fees
Earn unlimited 1.5 points per $1 spent on all purchases, with no annual fee and no foreign transaction fees and your points don't expire.
25,000 online bonus points after you make at least $1,000 in purchases in the first 90 days of account opening - that can be a $250 statement credit toward travel purchases.
Use your card to book your trip how and where you want - you're not limited to specific websites with blackout dates or restrictions.
Redeem points for a statement credit to pay for travel or dining purchases, such as flights, hotel stays, car and vacation rentals, baggage fees, and also at restaurants including takeout.
0% Introductory APR for 15 billing cycles for purchases, and for any balance transfers made in the first 60 days. After the intro APR offer ends, 18.24% - 28.24% Variable APR will apply. A 3% fee applies to all balance transfers.
If you're a Preferred Rewards member, you can earn 25%-75% more points on every purchase. That means instead of earning an unlimited 1.5 points for every $1, you could earn 1.87-2.62 points for every $1 you spend on purchases.
Contactless Cards - The security of a chip card, with the convenience of a tap.
This online only offer may not be available if you leave this page or if you visit a Bank of America financial center. You can take advantage of this offer when you apply now.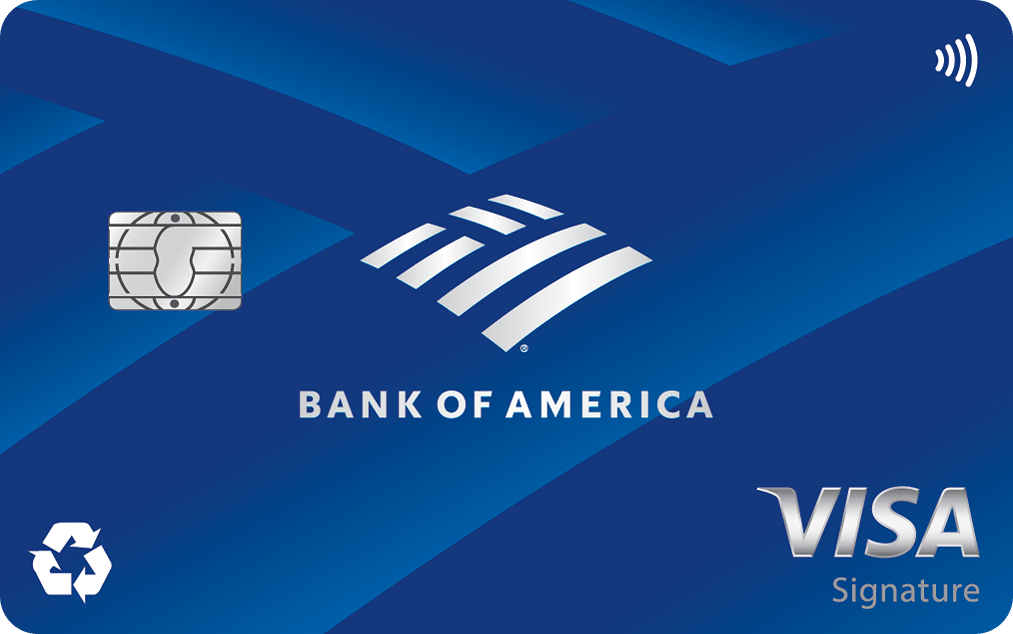 Apply Now
on Bank of America's secure website
Read Card Review
Intro Offer
Earn 25,000 online bonus points after you make at least $1,000 in purchases in the first 90 days of account opening - that can be a $250 statement credit toward travel purchases