A declining economy comes with consequences that can affect workers around the world, especially gig workers or freelancers. During these difficult times, companies will see an unexpected drop in resources that impacts the ability of their teams to continue working at full capacity. Because freelancers aren't considered full-time employees, they are usually the first to see their workloads decrease when the economy is struggling.
For many, freelancing offers increased flexibility and freedom — but at the cost of missing out on full-time benefits and stability. It has become increasingly popular over the years and continues to grow. According to a recent study by Upwork and Freelancers Union, a top freelancing platform and a nonprofit that helps freelancers, 36% of the workforce in America did freelance work in 2021. 
So what should and can a gig worker do when the economy turns sour? How can you figure out how to make money like you used to? To help you survive an economic downturn as a freelancer, we've compiled this list of tips that you can start putting into action today.
Keep your network active
Whether you're a seasoned gig worker or dipping your toes into the freelance world, it's essential to keep your network of clients at the forefront of everything you do. You need to continuously stay in contact with your network.
During an economic downturn, you may find that circumstances will be different with each of your clients. Although some may need less of your services, others could be looking for more help. Either way, your clients have a direct effect on the amount of work you'll have at any given time and they're your best option for finding new clients and getting more work.
Here are a couple ways you can use your network to your full advantage:
Constant check-ins
You don't need to be in the middle of an economic downturn to put this tip into action because it's vital at any point in the life of your business to always be in constant contact with your clients. This will work to your benefit because it shows your employers that you're dependable and willing to put in extra effort.
However your clients like to communicate, whether by email, text, or Slack, make sure those lines are always open. Send messages or emails to see how things are going and whether there's anything you can help with. If you do this and there's more work to be had, you'll be sure to find out.
Referrals
Sometimes there isn't any more work for a client to give you. This is unfortunate, but not entirely unexpected. To find more work as a freelancer, existing and former clients will be some of your top resources.
If you're on good terms with a client, chances are they have already referred you to another client. You may think it's tough to land your ideal client, but it's equally tough for businesses to find their ideal freelancers, so they typically let their colleagues know about the best ones they find.
If you haven't organically received any referrals from doing high-quality work, then it's a simple matter of asking for some. Be polite but straightforward, and make good use of timing. If you've gone above and beyond on a project and your client loved it, this would be the perfect time to see whether they can refer you to anyone else. Use whatever method of communication you've already been using with the client when asking for referrals.
Be prepared to manage expectations with existing clients
You would hope a client would keep you in the loop about anything they may want or need from you, so it's only reasonable for them to expect the same from you. If you're clearly communicating with each other then there will be no surprises from either side.
This communication is especially vital during an economic downturn. A shifting economic climate may cause unforeseen circumstances that need to be worked through together. Your workplace may no longer be accessible, which results in the need to work from home. On top of that, schools may be closed and your new work-from-home environment has become busier with the whole family present.
It's a stressful time, but you shouldn't let up on communicating with clients. Let them know what you're going through and they will do the same in turn. This allows for an opportunity to talk through expectations and create a plan that's mutually beneficial. You can discuss adjusting deadlines to better accommodate the unique trials of the day. Be proactive and start this conversation to get the ball rolling.
Have a clearly defined cancellation and/or rescheduling policy
To protect yourself from uncertainty and financial distress, it's important to include clearly defined cancellation and rescheduling policies in any contract you sign with a client. It's common practice for freelancers to be paid 30 days from the date their work was completed, but what about if work is canceled or rescheduled? And what if you've already completed some tasks and then your contract gets terminated?
Add provisions to your contracts that will safeguard you in these instances. One option would be to include a strict 30-day cancellation or rescheduling clause. So if a client cancels or reschedules at least 30 days prior to any event or project, you keep the deposit fees. If the cancellation occurs within 30 days, you collect money for everything you've worked on up to that point, if not the entire payment. This would be on top of any deposit fees that are nonrefundable, which should cover the time and effort you've already invested.
Keep in mind that a force majeure clause should also be present in your contracts. This provision protects you in the event of an "act of God" or something like a pandemic, war, or famine occurs that would make it impossible to meet performance expectations. Having this clause makes it so you aren't held liable for promised work when it's impossible to complete.
Take inventory of your personal and business finances
There's no better time to take a look at your finances than when work is slow. If you expect a drop in your workload, use that time to review your budget and finances to see whether you can get by for the time being.
Check on your emergency fund and evaluate whether the amount you have saved is enough and how long it could last you. Cut out any excess finances across your budget. Unnecessary spending on items and services should be eliminated to offset the drop in money coming in. You can often negotiate things such as subscription services and phone or internet bills to lower plans that will save you money each month.
As a general rule, saving money is always important and budgeting apps such as Mint and PocketGuard can help you simplify the process.
Take advantage of government aid
With the rise of COVID-19, we're living in a time of economic uncertainty and upheaval. Knowing this, the government is helping to prepare for the possibility of an imminent recession by putting special programs into place to relieve some of the financial burdens we're facing. By taking advantage of these offerings, you may be able to cope with financial stress more easily.
If you're out of work or cannot work because of the coronavirus, a recently signed $2 trillion relief bill may help. Unemployment benefits will be available for a broad range of people in different situations, including self-employed and part-time workers.
Self-employed workers can receive paid sick leave benefits in the form of a refundable tax credit. This comes attached to a bill that grants sick leave benefits to U.S. workers who normally wouldn't have these benefits. The credit is up to a maximum of $511 per day for up to 10 days if the person can't work because of coronavirus-related circumstances. Tax credits can be applied to your 2020 tax return. All provisions of the Families First Coronavirus Response Act (FFCRA) apply from April 1, 2020 through December 31, 2020.
Additionally, tax payments have been deferred without penalties or interest for all individuals and certain businesses because of the ongoing pandemic. This is in reference to 2019 tax payments (including quarterly taxes) that were originally due on April 15, 2020. The new due date is July 15, 2020.
For eligible businesses impacted by the coronavirus, you can apply for a U.S. Small Business Administration (SBA) loan. Currently, there is a streamlined application process to see whether you qualify for a loan from the SBA's Economic Injury Disaster Loan Program. All small business owners experiencing temporary losses of revenue because of the coronavirus are eligible and encouraged to apply. The loan program provides these businesses with working capital loans of up to $2 million and an advance of up to $10,000. The loan advance does not have to be repaid.
For businesses with fewer than 500 employees (including self-employed persons and independent contractors) that are experiencing job retention difficulties, there is the Paycheck Protection Program. This SBA loan is worth up to $10 million for eligible recipients and will be forgiven if all employees are kept on payroll for eight weeks with the money being used for payroll, utilities, rent, or mortgage interest.
Look for opportunities to diversify
Diversifying your skillset is a proven method of standing out from the crowd when going through a job application process. Now more than ever, it's important to continue improving and adding to your skills as increased numbers of people are being laid off and looking for work. 
If you're interested in studying something new or looking to add a skill to your arsenal for future job qualification purposes, the time to act is now. There are plenty of websites offering free online education courses, ranging from learning how to code to brushing up on your Spanish.
Learning your next skill is just a click of a button away. It could make you more appealing to clients in your current line or it could open up a whole new income stream for you.
Re-evaluate whether gig work is for you
Although being a freelancer may sound like a great idea, the reality is it may not be right for everyone. A recent survey by FlexJobs indicated that most people choose to freelance because they want a better work-life balance. In short, they want flexibility in their lives, which is a great benefit to have.
However, not having a set schedule, missing out on full-time benefits, and adjusting to a changing workload can offset the benefits of a flexible work schedule and be difficult to maintain. A possible alternative to freelance work that can still come with flexibility is looking into working remotely.
Remote jobs can come in many forms, including freelance, full time, and part time. With a remote full-time position, you can leave behind the stress of an everyday commute and enjoy greater flexibility. Even some traditional lines of work are actually desk-free and high-paying jobs. Plus, as a full-time employee, you'll be eligible for benefits.
If you think working remotely might be a good idea for you, there are many great sites to help you find remote work.
Bottom line
There's no easy solution to making adjustments during bad economic times, but you can take things step by step and focus on one thing at a time. 
If you're a freelancer, this process is going to involve staying in contact with your network of clients, looking for new clients, and making sure you re-evaluate your finances and whether self-employment is the best option for you. If you need some help along the way, there are government aid programs available.
Stay positive on your freelancing journey and continue to look for ways to diversify your skillset and offer potential clients something unique. Above all, prioritize yourself. If you're healthy, both physically and mentally, then you'll be able to tackle any financial issues with an improved mindset. And remember, now may be the time to think about how to start a business in another, more lucrative, area.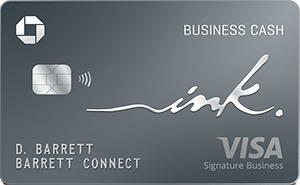 4.8
FinanceBuzz writers and editors score cards based on a number of objective features as well as our expert editorial assessment. Our partners do not influence how we rate products.
Current Offer
Earn $900 bonus cash back after you spend $6,000 on purchases in the first 3 months from account opening
Rewards Rate
5% cash back on the first $25,000 spent in combined purchases at office supply stores and on internet, cable and phone services each account anniversary year; 2% cash back on the first $25,000 spent in combined purchases at gas stations and restaurants each account anniversary year; and 1% cash back on all other purchases