Made for cold, rainy days and served with a can of tomato soup, grilled cheese sounds like such a simple sandwich. Yet, there's much more to today's versions.
The grown-up, gourmet, and over-the-top versions are much more than a kid's lunch; they're big enough and packed with savory flavors for a full dinner.
Here are some of the most beloved grilled cheese destinations in each state if you want to step up your travel game and try the best the country has to offer.
Earn a $250 travel bonus with this incredible card
There's a credit card that's making waves with its amazing bonus and benefits. The Bank of America® Travel Rewards credit card has no annual fee and you can earn 25,000 bonus points after spending $1,000 in purchases in the first 90 days of account opening.
You can earn additional points just by using this card for your everyday purchases — unlimited 1.5 points per $1 spent on all purchases. The 25,000 bonus points can be redeemed for a $250 statement credit toward travel or dining purchases.
If you want to travel and dine out more, the Travel Rewards card can help you get where you want to go.
The best part? There's no annual fee.
SPONSORED
Alabama: MELT (Birmingham)
MELT is the place to go for grown-up grilled cheese, served with a crisp pile of fries and craft beer.
Since 2011, they've been known for their toasted grilled cheese, with options like the Ragin Cajun and the Chicken Bacon Ranch.
Alaska: Bread and Brew (Anchorage)
It's quite the fun place to eat with hip, relaxed décor and over 20 craft beers available at any given time.
But what Bread and Brew does well is create a solid, authentic, traditional grilled cheese that's hard to beat.
The grilled cheese's tried-and-true sharp and white cheddar cheese is excellent — especially the apple and bacon version.
If you want something different, you won't be disappointed by the Philly Beer Cheese Sandwich or the Reuben.
Arizona: Cheese Out! Food Truck (Phoenix)
Cheese Out! Food Truck is a fantastic food truck noted for its 70s theme, far-out grilled cheese, and other menu items.
The truck moves from one location to the next, but if you can find it, choose between the Plain Mary Jane Melt or the Cheese Out Melt (with plenty of other options on the menu, too.
If you're over 50, take advantage of massive travel discounts and trip-planning resources
Over 50 and love traveling? Join AARP today — because if you're not a member, you could be missing out on huge travel perks. When you start your membership today, you can get discounts on hotels and resorts, airfare, cruises, car rentals, and more.
How to become a member today:
Go here, select your free gift, and click "Join Today"
Create your account (important!) by answering a few simple questions
Start enjoying your discounts and perks!
An AARP membership not only unlocks discounts that could save you hundreds on your next trip, but you'll also have access to deals on vacation packages, guided tours, and exclusive content to help plan your next getaway.
Important: Start your membership by creating an account here and filling in all of the information (do not skip this step!). Doing so will allow you to take up to 25% off your AARP membership, making it just $12 per year with auto-renewal.
Arkansas: Hammontree's Grilled Cheese (Fayetteville)
Hammontree's Grilled Cheese isn't a boring or basic sandwich but aims to be innovative in a bar-like setting.
The shop offers a range of gourmet grilled cheese, including the Cordon Bleu featuring a chicken cutlet with ham, Havarti, Swiss, and house cheese, and a tart lemon zest Dijonnaise.
California: The Melt (San Francisco)
Grilled cheese goodness could be defined by the length of the cheese pull. If that were the case, The Melt would be the perfect choice.
The restaurant states they have no badly sourced ingredients and no fee that has artificial colors, preservatives, or flavors in it.
When it comes to melts, choose from options like the Mac Daddy with its mac and cheese filler or the Egg-in-a-Hole with a sunny-side-up egg.
Colorado: Big B's Soup & Grilled Cheese (Idaho Springs)
What makes the grilled cheese at Big B's Soup & Grilled Cheese unique is the third slice of bread that's in between, which allows for better tomato-soup soaking.
For a fun option, choose the Big Islander, which includes pineapple, mango, jalapeno, cilantro, and avocado with pepper jack cheese.
Connecticut: Crispy Melty By Caseus (New Haven)
Once known as The Cheese Truck, Crispy Melty By Caseus is the grilled cheese that comes to you (along with soups, salads, and quesadillas).
While The Classic is a great choice, don't overlook the Cubano, with its addition of pulled pork, smoked ham, pickles, and whole grain mustard.
Delaware: The Bellefonte Cafe (Bellefonte)
A noted Boho-themed location with live music and a fun, colorful vibe, The Bellefonte Café has some outstanding selections on its menu.
A full line of pressed sandwiches is available, including the Grilled Cheese Special, which changes month-to-month. There's also a huge assortment of vegan options on the menu.
Florida: Ms. Cheezious (Miami)
Ms. Cheezious is a Miami food truck noted for its artisanal grilled cheese, the perfect bite when heading to the beach or to do some shopping.
It's been ranked one of the top food trucks in the country by Food Network and also has a brick-and-mortar location on Biscayne Blvd.
Our recommendation is the Sweet Meltdown, which is a decadent blend of ricotta cheese and orange marmalade that's served with a luscious chocolate dipping sauce.
Earn a $250 travel bonus with this incredible card
There's a credit card that's making waves with its amazing bonus and benefits. The Bank of America® Travel Rewards credit card has no annual fee and you can earn 25,000 bonus points after spending $1,000 in purchases in the first 90 days of account opening.
You can earn additional points just by using this card for your everyday purchases — unlimited 1.5 points per $1 spent on all purchases. The 25,000 bonus points can be redeemed for a $250 statement credit toward travel or dining purchases.
If you want to travel and dine out more, the Travel Rewards card can help you get where you want to go.
The best part? There's no annual fee.
Georgia: & Cheese (Atlanta)
Gourmet grilled cheese is the understatement at & Cheese, with exceptional attention to detail put into every meal.
Try the Buckhead, grilled cheese on seasoned marble rye with aged white cheddar, gruyere, smoked gouda, caramelized onions, and mushrooms, topped with truffle oil and balsamic glaze.
Hawaii: Aloha Melt Waikiki (Waikiki)
It's simple and straightforward in its appearance, but Aloha Melt Waikiki offers some outstanding grilled cheese options.
Or, stick with the Classic — which is anything but. It offers cheddar, mozzarella, provolone, and American cheese, along with caramelized onion, bacon, and an aioli sauce made in-house.
Idaho: Meltz Extreme Grilled Cheese (Coeur d'Alene)
Why keep it simple when you can make it extreme? This fun, counter-service destination is noted for its great customer service and intense flavor.
Consider the Rooben Evolooshun, with Swiss cheese, pastrami, house-made kraut, and pickled red onion topped with a creamy cracked mustard and caraway Thousand Island dressing.
Illinois: Cheesie's Pub & Grub (Chicago)
A casual sandwich shop with a full selection of craft beers, Cheesie's Pub & Grub is known for its food truck in the heart of Chicago.
On the menu are plenty of perfect grilled cheese options, including The Mac, which includes house-made macaroni and cheese along with an American cheese and cheddar cheese spread.
Indiana: Fat Dan's Deli (Indianapolis)
A fun location with a Chicago vibe, Fat Dan's Deli is the perfect location on a warm day when you want to sit outside with a drink and a gooey grilled cheese.
Their menu includes a thick grilled cheese sandwich perfectly toasted and served with loaded tots for a nostalgic childhood ride.
Iowa: Cheese Bar (Des Moines)
A laidback bar, Cheese Bar is more than just a simple sandwich shop. There's a full wine and beer menu for those who need something more grown-up to go with your mac and cheese.
As for the grilled cheese, choose from numerous options like the Bacon & Blue, Cuban, or the Breakfast, which includes a sunny-side-up egg, bacon, cheese, and house-made hot sauce.
Kansas: The Wheel Barrel (Topeka)
Quite the rustic spot. You wouldn't know they have such a fantastic menu of gourmet grilled cheese and craft brews at The Wheel Barrel.
The cheese pull is real here, especially on The How Now Bleu Cow, a blend of blue cheese and mozzarella, roast beef, bacon, caramelized onion jam, and a decadent garlic parm aioli.
Kentucky: Sidebar Grill (Lexington)
Sidebar Grill has the perfect grilled cheese and homemade tomato soup combo out there, perfect for a rainy day.
Though known for fantastic ground sirloin burgers, they have a fantastic grilled cheese you can customize with two cheese options, tomatoes, onions, jalapenos, and additional toppings.
Louisiana: Mason's Grill (Baton Rouge)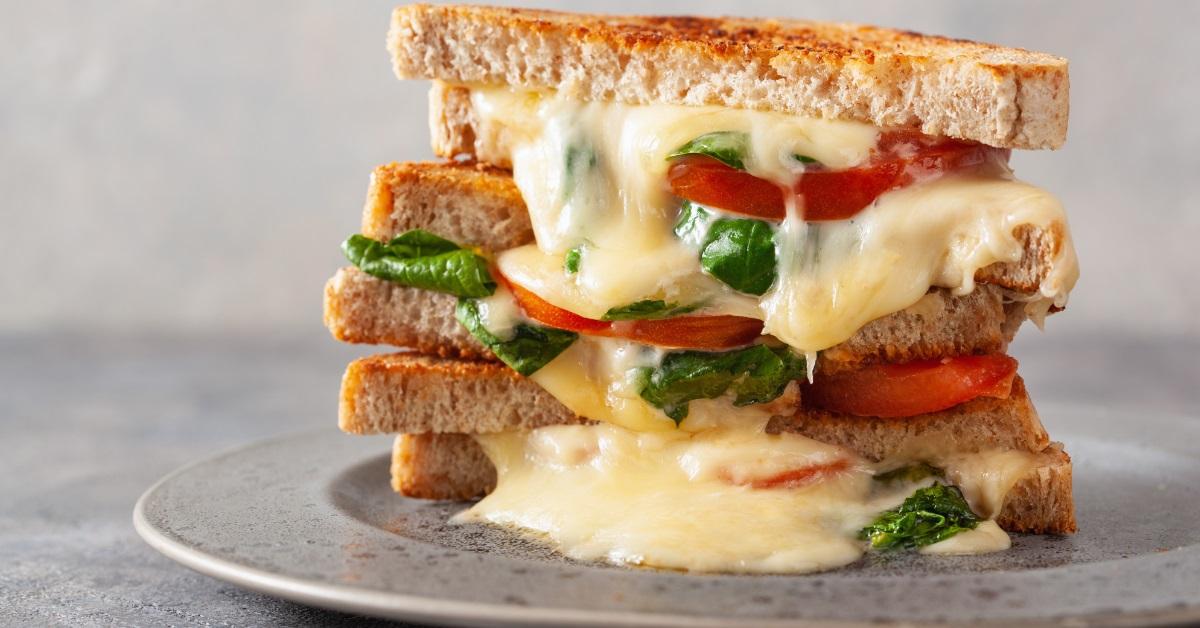 Mason's Grill has a fantastic Grown Up Grilled Cheese in this family-owned, Southern-style destination.
This sandwich includes a blend of cheese with roasted tomatoes on French bread. It's then pressed for the perfect layer of warmth.
Maine: Cheese Louise Portland (Portland)
It's such an easy-going, fun-loving destination that you'll feel right at home here. The menu, which offers both vegan and gluten-free options, offers some great cocktails, too.
Consider the Vermonter, which includes Cabot cheddar and muenster cheeses on a toasty sourdough.
Or, try the Canadian, which includes crispy bacon, apples, maple syrup, and both cheddar and muenster cheeses.
Maryland: The Grilled Cheese & Co. (Catonsville)
The best place for comfort food in Maryland is Grilled Cheese & Co, a small, counter service location that offers some fantastic sandwiches.
Check out the Crabby Melt, which is what they are known for. It's made with their signature Crabby Dip, which includes sweet claw crab meat. The sandwich is then topped with Monterey jack cheese and toasted to perfection.
Massachusetts: Roxy's Grilled Cheese (Boston)
Roxy's Grilled Cheese set out with a mission to be the type of place customers tell their friends about thanks to their good quality food.
Once just a grilled cheese food truck, today, they're much more. One of the best options on the menu is the Allston, featuring herbed goat cheese, fig jam, caramelized onion, and arugula.
Michigan: The Grilled Cheese Shack (Grand Rapids)
Stop by the shack (quite literally) to get a grilled cheese with kettle chips. At The Grilled Cheese Shack, you can choose from some pretty awesome options, including a build-your-own sandwich.
The Three Cheese Melt is the best recommendation from some customers, with its blend of gouda, pepper jack, and cheddar. Don't overlook the other hot specialty melts on the menu, too.
Minnesota: All Square (Minneapolis)
Easily considered one of the best destinations for grilled cheese and tomato soup, All Square is a fun, social place that has an upbeat, light air to it.
Amongst the neon lights, you'll find several craft grilled cheese options, including The Jerk, which features guava jam, Jamaican jerk sauce, mozzarella, and roasted chicken.
Mississippi: Nite Lite (Jackson)
It's a simple destination and the best place to get good food made simply. Nite Lite also has a great grilled cheese made on a hoagie bug and served with one of several homemade soups.
You can also come in for the trivia night or to meet some friends for drinks.
Missouri: Gooey's Grilled Cheese (Springfield)
Find the Gooey's Grilled Cheese food truck for the perfect assortment of comfort foods out there.
It's a fun location where the food is excellent. No matter what you choose, you'll get tons of cheese. Be sure to check out the Pizzeria version, which is a grilled cheese and pizza mash-up.
Montana: Storm Castle Cafe (Bozeman)
Storm Castle Cafe is a farm-to-table location, and that's because the husband and wife team actually own both!
With rustic vibes and a fantastic, simple design, this is a fantastic location for both breakfast and lunch. The grilled cheese is great, especially the Monte Cristo version.
Nebraska: Billie's Grilled Cheese (York)
Billie's Grilled Cheese is a fun food truck that serves some fantastic, gourmet (and simple) versions of our favorite sandwich, many of which use local Nebraska-crafted cheese.
They share their location on their Facebook page. The best option is to build your own using any number of toppings you're craving.
Nevada: Stripchezze (Las Vegas)
When you're in Las Vegas craving a cheesy snack, find the Stripchezze Food Truck.
There's plenty to try on the menu, including the Jam on It, which includes bacon jam on grilled cheese, or the Daddy's on a Roll, which offers mac and cheese melted right into the sandwich.
New Hampshire: Prime Time Grilled Cheese (Manchester)
With the motto "Cheese will fix it," Prime Time Grilled Cheese knows what they're talking about, especially with options like their Beef & Mac and Super Sloppy Joe versions of grilled cheese.
This food truck isn't that simple, though. They also offer soups and salads, drinks, including beer, and even a margarita or mimosa to hit the spot.
New Jersey: Grilled Cheese at the Melt Factory (Morristown)
If you've had a few too many drinks, the food at Grilled Cheese at the Melt Factory is sure to hit the spot.
This is a small destination, but they are big on good food made in-house. Numerous options are on the menu, including versions such as a Chicken Parmesan, Cheesy Mac and Rib, and the Avocado version.
New Mexico: Cheese & Coffee (Albuquerque)
Albuquerque residents can stop into Cheese & Coffee for a filling meal with lots of healthy salads and deli sandwiches. The location is noted for its higher-quality products, including good coffee.
The menu at this upscale eatery includes the Arty Special, which includes ham, green chile, cheddar, and bacon grilled on a sourdough bun for cheesy goodness.
New York: Murray's Cheese Bar (New York City)
It's certainly upscale, but the grilled cheese at Murray's Cheese Bar really is one of the best options in the city.
You can always get the Murray's Melt, which has a blend of three cheeses on Pullman. Add chorizo, chicken, or numerous other proteins to fit your tastebuds.
North Carolina: American Meltdown (Durham)
Papi Queso is a quick-service food truck designed to fill you up on your busy day. The menu is straightforward: grilled cheese and tomato soup, a perfectly filling combo.
For something especially unique, check out the Texas Cheesesteak version, which includes smoked brisket with garlic mayo, peppers, onions, and provolone whiz cheese.
North Dakota: Say Cheese Mac & Melt Co. (West Fargo)
Say Cheese Mac & Melt Co. has some outstanding grilled cheese, especially when you pair it with their homemade chili.
Order online and pick up options like the Axel, which includes American and Swiss cheese and chicken-flavored Ramen noodles.
Ohio: Melt Bar & Grill (Lakewood)
Melt Bar & Grill is the easy choice in Ohio for grilled cheese that's anything but boring. This fun, laid-back eatery makes it a point to be as unique as possible.
These massive sandwiches combine bread and cheese and just about everything else with varieties.
Try The Dude Abides, a version with homemade meatballs, fried mozzarella wedges, basil marinara, roasted garlic, provolone, and Romano cheeses. Yes, it's a grilled cheese sandwich!
Oklahoma: The Mule (Oklahoma City)
The Mule offers the Big A** Grilled Cheese, which includes cheddar and smoked gouda on huge sourdough. You can add bleu or bacon to it, too.
This destination is a lively destination, noted for its cocktails and craft beer menu nearly as much as its higher quality food options.
Oregon: Grilled Cheese Grill (Portland)
Grilled Cheese Grill set out to bring back traditional grilled cheese, like the kind your grandma made when you came to visit on a Saturday.
The food here is made with attention to detail and handcrafted goodness. The grilled cheese is all about fresh bread and a big stack of American cheese (though you can change it up).
Pennsylvania: High Street Philadelphia (Philadelphia)
In the bakery portion of High Street Philadelphia & High Street Bakery, you'll find the Grilled Cheese. Seemingly simple, this is one of the best versions you'll find in the state.
What makes it notable is the Hope Springs sharp cheddar cheese coupled with a sesame semolina bread and cultured buttered.
Rhode Island: Malted Barley (Providence)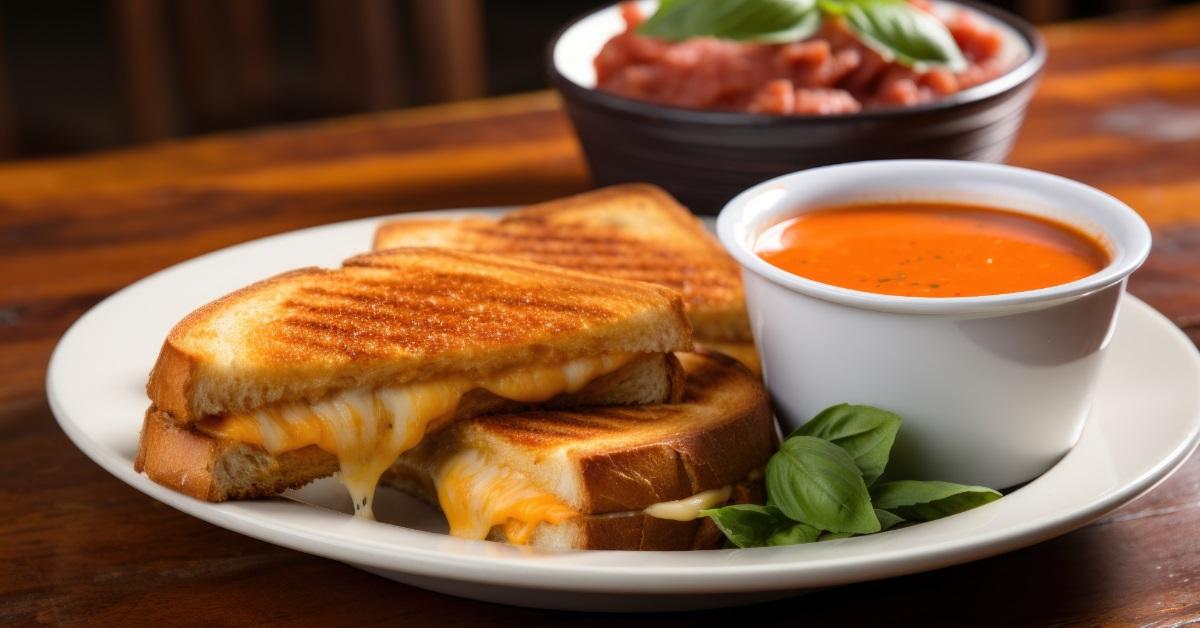 There's lots to love about this small destination, including the grilled cheese with gooey, melted havrait and cheddar on an asiago, parmesan-topped pretzel bun.
Stop in, enjoy one of the rotating craft brews on the menu, and play a bit of foosball with friends.
South Carolina: Sandwich Depot (Columbia)
The Sandwich Depot has some of the best onion rings, along with huge wraps and grilled blueberry muffins.
All of that aside, the Grilled Cheese is a must, especially thanks to the fresh sourdough bread they use.
You could also change it up to the Grilled Pimento Cheese or the Grilled Cuban. Add on potato or pasta salad, fresh chips, or grits.
South Dakota: Bread & Circus Sandwich Kitchen (Sioux Falls)
Draft beer, wines served by the glass, fresh soups, and yummy grilled cheese make for the perfect comfort food combo for adults.
Find it at Bread & Circus Sandwich Kitchen, where you can also get curried cauliflower and falafel with your meal.
Tennessee: The Grilled Cheeserie (Nashville)
At the Grilled Cheeserie, you'll find numerous specialty melts, including the Quesabirria Melt, with beef birria, cumin, lime aioli, and pepper jack cheese on white sourdough.
The Grilled Cheeserie is one of the best-known food trucks in the city. The tricky part is that their menu changes weekly, so you'll need to check online to see what's new.
Texas: The Melted Food Truck (Austin)
The Melted Food Truck is the destination for the best grilled cheese in the city, and it also helps that 100% of its profits are donated to the International Justice Mission.
Aside from the excellent work they're doing, the organization also offers superior comfort food, including gooey grilled cheese made your way.
Utah: Toasters (Salt Lake City)
Toasters is all about quality and custom-crafted sandwiches made with locally sourced ingredients.
Less of a traditional grilled cheese and a bit more refined, the Premium sandwich at Toasters is a must-consider option.
This sandwich includes olive oil with balsamic vinegar on a big, crusty piece of bread. Inside is a combination of prosciutto, fresh mozzarella, tomato, and roasted red peppers.
Vermont: The Meltdown Grilled Cheese and Tap Room (Barre)
Noted as being a beautiful location right on the waterfront, The Meltdown Grilled Cheese and Tap Room is an excellent choice for lunch.
The upscale destination not only offers live music and fun activities but also some of the most outstanding grilled cheese anywhere.
Consider options like Donna's Lobster Grilled Cheese or the Momsie Montreal Smoked Meat Grilled Cheese.
Virginia: Cheesetique (Alexandria)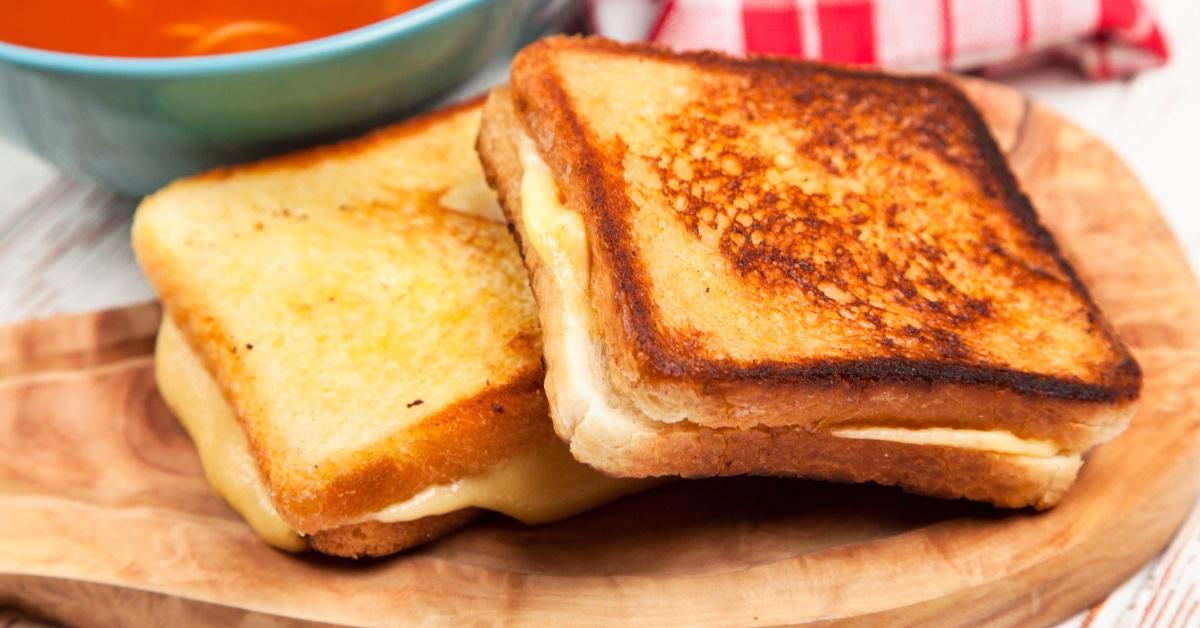 A wine bar and fabulous restaurant noted for its cheese-heavy menu, Cheesetique is the type of place you want to meet friends for a Saturday lunch or lounge around on a relaxing afternoon.
Many options are worthy of consideration, but favorites include The Southern Comfort with its spicy pimiento cheese and the French Onion Press.
Washington: Beecher's Handmade Cheese (Seattle)
Beecher's Handmade Cheese puts time and attention into fantastic sandwiches and soups made in-house in its sit-down café.
They craft exceptional cheese, and it shows in its Grilled Cheese, including its Beecher's Flagship and Just Jack cheeses perfectly.
West Virginia: The Cheese Melt Grill and Bar (Wheeling)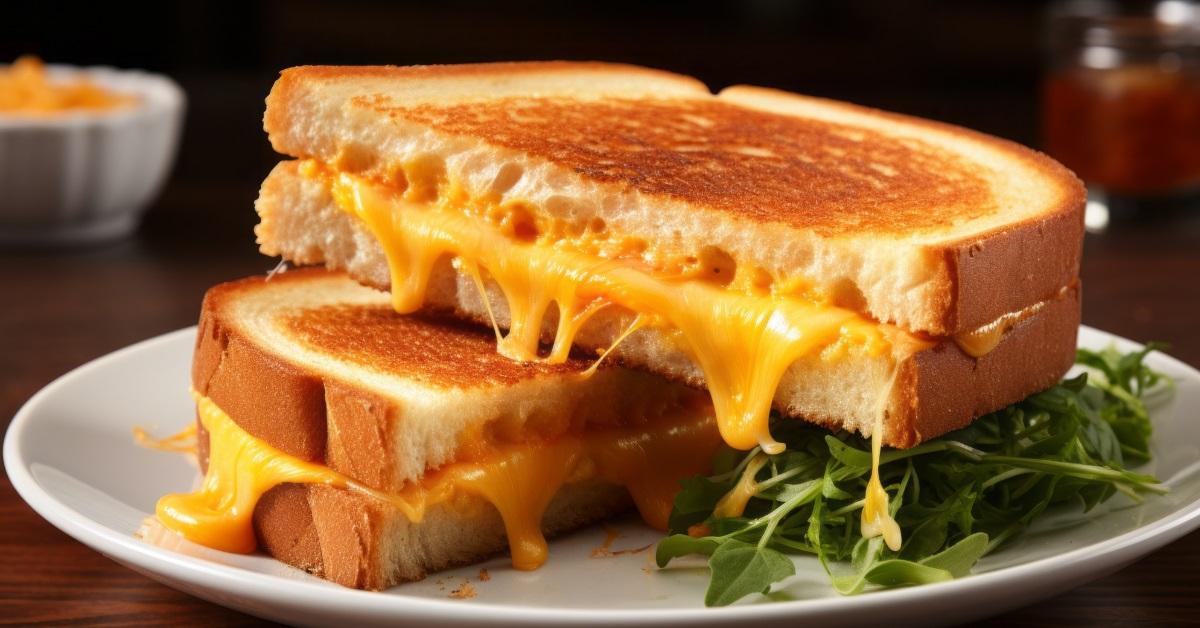 In Wheeling, stop at The Cheese Melt Grill & Bar, a simple, no-fuss location noted for its delicious, filling food.
It all started with a food truck, but now, this sit-down location offers an exceptional cheese-focused menu.
That includes The Classic, which includes two big cuts of sourdough bread with real butter and four slices of Walnut Creek's Gouda Cheese. It's simple and perfectly made.
Wisconsin: MACS (Appleton)
Macaroni and Cheese Shop (MACS) has some outstanding mac and cheese and grilled cheese options that people come to get from far and wide.
The location, which opened in 2013, takes its menu seriously, with options like Chicken Bacon Ranch and the Chipotle Melt.
Wyoming: Liberty Burger (Jackson)
The Liberty Burger is a favorite local place to get good burgers and floats, but the Grilled Cheese is also exceptional.
It's made with Swiss, American, and Cheddar and served with pickles. You can add bacon and tomato to it as well.
Quite the laid-back location, this restaurant offers surprisingly sustainable and artisanal foods across its extensive menu.
Bottom line
Grilled cheese is a sandwich that lends itself to versatility and creativity, depending on what tempts your tastebuds.
This type of comfort food can be as simple or gourmet as you like — whether you pair it with a soda, craft beer, or fine wine.
There's no doubt you'll find something at each location, so grab your best travel credit cards and hit the road in search of your new favorite toasted, gooey treat.
Easy-to-Earn Unlimited Rewards
Earn 25,000 online bonus points after you make at least $1,000 in purchases in the first 90 days of account opening - that can be a $250 statement credit toward travel purchases
Earn 1.5 points per $1 spent on all purchases
Longer intro APR on qualifying purchases and balance transfers
No foreign transaction fees
Earn unlimited 1.5 points per $1 spent on all purchases, with no annual fee and no foreign transaction fees and your points don't expire as long as your account remains open.
25,000 online bonus points after you make at least $1,000 in purchases in the first 90 days of account opening - that can be a $250 statement credit toward travel purchases.
Use your card to book your trip how and where you want - you're not limited to specific websites with blackout dates or restrictions.
Redeem points for a statement credit to pay for travel or dining purchases, such as flights, hotel stays, car and vacation rentals, baggage fees, and also at restaurants including takeout.
0% Introductory APR for 15 billing cycles for purchases, and for any balance transfers made in the first 60 days. After the intro APR offer ends, 18.24% - 28.24% Variable APR will apply. A 3% fee applies to all balance transfers.
If you're a Bank of America Preferred Rewards® member, you can earn 25%-75% more points on every purchase. That means instead of earning an unlimited 1.5 points for every $1, you could earn 1.87-2.62 points for every $1 you spend on purchases.
Contactless Cards - The security of a chip card, with the convenience of a tap.
This online only offer may not be available if you leave this page or if you visit a Bank of America financial center. You can take advantage of this offer when you apply now.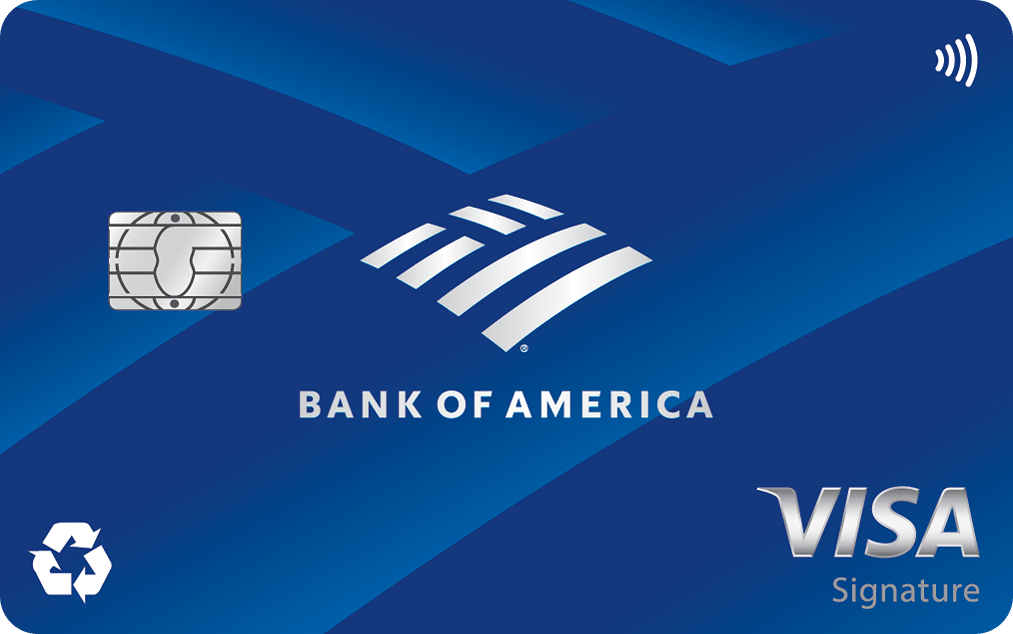 4.1
FinanceBuzz writers and editors score cards based on a number of objective features as well as our expert editorial assessment. Our partners do not influence how we rate products.
Apply Now
on Bank of America's secure website
Read Card Review
Intro Offer
Earn 25,000 online bonus points after you make at least $1,000 in purchases in the first 90 days of account opening - that can be a $250 statement credit toward travel purchases