In need of a vacation? You're not alone. According to the Harvard Business Review, 20% of American workers are engaged in their work but are at a high risk of burnout.
However, going on a trip to relax and unwind can be prohibitively expensive. The average American expects to spend more than $2,000 this year on vacation costs, according to Allianz Global Assistance.
Luckily, there are ways to make travel more affordable. In fact, your credit card can be your secret weapon for saving money on your next vacation.
13 ways a credit card can save money when you travel
If you're new to credit cards, you may know they're a convenient way to pay for your regular purchases. But did you also know they can give you access to tons of free perks and benefits? Using your travel rewards card to book your next vacation could help you save hundreds of dollars.
Here are 13 ways a credit card can save you money when you travel.
1. Free checked bags
Depending on which travel credit card you use, you could avoid costly luggage fees. Some of the best travel credit cards will allow you to check one bag free per person, helping you potentially save more than $100 per roundtrip. With a free checked bag, you don't have to worry about cramming everything into your carry-on, and you'll have plenty of room for souvenirs.
2. Free food at the airport
Many credit cards offer access to Priority Pass, a program that allows you free entry to airport lounges across the globe.
But a lesser-known perk of the program is the restaurant credits Priority Pass offers — you could get an average credit of $28 per person and eat for free at dozens of U.S. airport restaurants.
3. Rental car insurance
When you're at the rental car company's counter, the salesperson will try to convince you to sign up for an optional rental car insurance policy. It can be expensive, and the daily cost is on top of the fee you'd pay just to rent the vehicle.
However, some travel credit cards offer free primary auto rental insurance. Primary insurance kicks in before you have to apply your personal auto insurance. On a week-long car rental, having free primary car rental insurance means you could save up to $133.
5. No foreign transaction fees
If you're traveling outside of the country, it's important to pay attention to your credit card's foreign transaction fees. Some cards charge a fee as high as 3% on every foreign transaction.
Instead, look for credit cards with no foreign transaction fees. Over the course of your trip, having a card with a 0% foreign transaction fee could save you hundreds of dollars.  

6. Free hotel stays
Many travel cards offer valuable rewards and benefits, including free nights at a hotel for every year that you're a cardmember. You can redeem your reward at many hotels, including luxury resorts. Depending on the card and where you decide to stay, that perk can be valuable — worth up to $500 or more.
7. Fee credit for TSA PreCheck or Global Entry
If you're looking to streamline your travel experience and breeze through airport security, signing up for expedited screening programs like TSA PreCheck or Global Entry is a no-brainer. And many credit cards will reimburse you up to $100 to cover the membership fee every four or five years.
8. Free travel insurance
If you're traveling, it's often wise to play it safe and get travel insurance before you leave. Travel insurance can provide coverage against emergencies and interruptions during your journey.
However, these insurance policies can be pricey. According to the National Association of Insurance Commissioners, travel insurance can cost 4% to 8% of the trip's full price. On a $3,000 vacation, that means you could pay $240 just for insurance.
However, many credit cards offer free travel insurance, as long as you use your card to book your trip. With a credit card, you could get common coverages like:
Trip cancellation/interruption insurance: If your trip is canceled before your departure date or your trip is interrupted due to a covered reason — such as jury duty, injury, or illness — you'll be reimbursed for a portion of your travel arrangements.
Baggage delay/loss insurance: If a carrier loses your luggage or it's delayed, you'll get a daily stipend to cover the cost of essentials, like clothing or toiletries.
Travel accident insurance: Travel accident insurance provides coverage against accidental death or dismemberment during your trip.
9. Event access
Many credit card companies offer special events and exclusive promotions to cardmembers. You could get free passes to museums or theaters, discounts on concert tickets, or even snag access to celebrity meet-and-greets.
10. Airline companion passes
If you're traveling with a friend or relative, you may be able to use your credit card to secure free or discounted airfare for them. Several credit card companions offer companion passes; if you spend a set amount each year, you could get round-trip airfare for your friend.
11. Reward redemptions
Travel rewards cards allow you to earn points or miles for your purchases. And if you spend a certain amount within the first three months or so of opening an account, you could even earn a lucrative sign-up bonus. You can redeem those points for free hotel stays, airfare, and even special events like sightseeing tours or hot-air balloon rides.
12. Hotel upgrades
With your credit card, you can qualify for free hotel upgrades and other added benefits. For example, some credit cards will give you a free breakfast for two for each day of your stay, free Wi-Fi, and complimentary early check-in and late check-out.
The savings of those perks can be substantial. According to a recent FinanceBuzz survey, a free breakfast is worth $26.50 per day, on average. Free Wi-Fi is worth $16.30 per day, and complimentary room upgrades are worth $11.16 per day, on average.
If you took advantage of all three benefits over the course of a five-day vacation, you'd save $269.80. But depending on where you stay, those perks could be worth even more.
13. Airline fee and travel credits
Select credit cards will give you an airline fee credit to reimburse you for some of your travel. Depending on the card, you could get as much as a few hundred dollars as a statement credit to cover the cost of your extra airline fees. You'll get that statement credit every year, so you can use it when you budget for your next vacation.
Other cards offer annual credits for all types of travel, including airfare, taxis, or even parking garages.
Using your credit card
If you're planning to go on a trip, consider using a credit card to pay for it. Not only will you earn valuable points or miles, but you'll also get access to a suite of benefits and added perks. From free breakfasts to complimentary hotel stays, credit cards can help you save hundreds of dollars.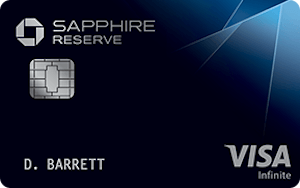 5.0
FinanceBuzz writers and editors score cards based on a number of objective features as well as our expert editorial assessment. Our partners do not influence how we rate products.
Current Offer
Earn 60,000 bonus points after you spend $4,000 on purchases in the first 3 months from account opening
Rewards Rate
5X points on flights and 10X points on hotels and car rentals when you purchase travel through Chase Ultimate Rewards® immediately after the first $300 is spent on travel purchases annually; 3X points on other travel and dining & 1X points per dollar on all other purchases