Like free stuff? By taking advantage of credit card reward programs, you could earn free trips, gift cards, and even cash with your daily spending.
Credit card companies want to encourage you to sign up, so they'll often advertise incentives such as hefty sign-up bonuses or cashback offers to encourage consumers to get a card. Depending on the card, you may also be able to earn rewards on purchases you buy which can be redeemed to travel, cash back, and more.
Though not all of the best rewards credit cards are structured the same way, one thing is clear — knowing how to use them the right way can often provide maximum return. Here's how credit card points work and how you can get in on the action.
What's the difference between points, miles, and cashback rewards?
Credit card rewards programs typically allow users to earn points, miles, or cash back.
How cashback rewards work
The simplest type is usually cashback. Whenever you make a qualifying purchase, your credit card issuer will offer a percentage of it back in cash automatically.
For example, the Blue Cash Everyday® Card from American Express offers 3% cash back at U.S. supermarkets, U.S. gas stations, and U.S. online retail purchases (up to $6,000 per year on purchases in each category, then 1%); and 1% cash back on other eligible purchases. (Cash back is received as Reward Dollars, which you can redeem for statement credits.)
As you can see from this Amex card, some issuers may put a cap on how much you can earn after a certain amount, then reduce your cashback offer. Other issuers may offer unlimited cash back, but they may not offer as high of a rate as this Amex card.
How points and miles work
The other types of rewards you can earn with a credit card — points and miles — often work similarly. Both can be earned based on how much you spend.
For example, the Chase Sapphire Preferred® Card offers 5X points on travel purchased through Chase Ultimate Rewards®; 3X points on dining, select streaming services, and eligible online grocery purchases; 2X points on all other travel purchases, and 1X points per $1 on all other eligible purchases.
Another example, the Capital One Venture Rewards Credit Card offers 2 miles per dollar on every purchase, every day and 5 miles per dollar on hotels and rental cars booked through Capital One Travel.
You can also typically redeem points and miles for similar things. Sticking with our example cards above, both the Sapphire Preferred and Venture Rewards cards allow users to trade in points or miles for travel, cash back, gift cards, or merchandise, though your trade-in value for each point (or mile) may vary depending on which option you choose.
In some instances, however, "points" and "miles" can't be used so interchangeably.
With co-branded travel cards, for example, you may only be able to redeem miles for perks at specific airlines or hotels. Take the Delta SkyMiles® Gold American Express Card — you can earn miles with every dollar you spend, but they can only be traded in for travel on Delta or its airline partners.
How do you earn points, miles, and cash back?
You can earn points in a bunch of different ways, some of which won't require you to do anything different from what you do right now.
Earn on everyday purchases
The most obvious is by using your card on everyday purchases. Instead of using cash at the grocery store, use your card instead and rack up points or cashback rewards for each dollar you spend.
Earn on welcome and sign-up bonuses
Another way to earn rewards is by earning sign-up bonuses. Many credit card issuers roll out special bonus offers to new cardholders if they can meet their requirements — typically making a certain amount of purchases within a specific amount of time.
For example, the Chase Freedom Flex℠ rewards you with a $200 cash bonus if you make $500 worth of purchases within the first 3 months of account opening.
Earn when you refer a friend
Cardholders can even earn points by referring other people to sign up for a credit card. Many card issuers have referral programs that offer a sizeable reward if someone signs up using your special referral link.
Earn when you add authorized users
You can also add an authorized user to your account to help earn even more points.
By adding them to your account, every purchase they make on the card will earn points in your account. While earning rewards this way can be great, be cautious about who you add to your account — you'll also be on the hook to make sure the purchases they make get paid. Also, there may be a fee to add an authorized user, so make sure it makes sense for your bottom line.
How many points can you really earn?
As for how many points or cashback rewards you can earn, it all depends on your spending habits and the card you use.
Some credit cards offer a flat rewards rate, while others offer higher tiers for certain spending categories. For example, the Capital One Savor Cash Rewards Credit Card offers 10% cash back on purchases made through Uber & Uber Eats (through 11/14/2024); 8% cash back on Capital One Entertainment; 4% cash back on dining, entertainment, and select streaming services; 3% at grocery stores (excluding superstores such as Walmart® and Target®), and 1% cash back on all other purchases.
There are also cards that offer rotating bonus categories you can opt-in to claim. In those cases, each quarter (or other specified amount of time), your credit card will offer a higher rewards rate for different spending categories. Once that quarter is over, the bonus categories will change again.
How much are your points worth?
Point values will differ based on how you redeem them and which rewards program the points belong to. Generally speaking, credit card points are often worth about one cent each when you redeem them for travel or merchandise. For example, 60,000 Capital One Venture miles equals $600 worth of travel.
However, there are rewards cards and programs that may offer a higher redemption rate for certain items. The value of Chase Ultimate Rewards points, for instance, can fluctuate if you're booking travel.
The Chase Sapphire Preferred® Card offers 25% more value when you book travel via Chase's online portal, whereas the Chase Sapphire Reserve® offers 50% more value.
You may even be able to transfer points and miles to a travel partner and get more bang for your buck. If you can transfer credit card points to an airline's loyalty program, for instance, you may find your points carry more value there. However, whether or not this is a smart move depends on the specific credit card and airline reward programs — you'll want to read the fine print and do the math to ensure you're really getting the best deal.
How do you redeem your rewards?
How you redeem your rewards depends on the credit card you own.
How to redeem for cash back
Cashback credit cards, for example, often give you the option of redeeming your rewards as a statement credit, via a bank transfer, or as a check that gets mailed to you.
How to redeem your points and miles
When it comes to points and miles, you can usually redeem them in a few different ways.
Redeeming points for merchandise or gift cards is typically available through your card issuer's online shopping portal. Once you log in, you should be able to see the types of items you can redeem with the amount of points you have.
Redeeming rewards for travel works pretty much the same way. Most major credit card companies have a travel booking portal you can use to book hotels, rental cars, flights, and more with your points. In some cases, you can transfer your rewards to a travel partner — such as a specific airline — and redeem them using their portal.
The top rewards credit cards for newbies
It's easy to get overwhelmed by credit card rewards and the multitude of options available. Consider these rewards credit cards for newbies:
Card
Reward Type
Welcome Bonus
Annual Fee
Blue Cash Everyday® Card from American Express
Cash back
Earn a $200 statement credit after spending $2,000 in purchases in the first 6 months
$

0


Terms apply
Capital One VentureOne Rewards Credit Card
Miles
Earn a bonus of 20,000 miles once you spend $500 on purchases within 3 months from account opening
$0
Capital One Quicksilver Cash Rewards Credit Card
Cash back
Earn a one-time $200 cash bonus after you spend $500 on purchases within 3 months from account opening
$0
Chase Sapphire Preferred® Card
Points
Earn 60,000 bonus points after you spend $4,000 on purchases in the first 3 months from account opening
$95
Chase Freedom Unlimited®
Cash back
Unlimited matched cash back. Use your card for all your purchases and at the end of your first year, Chase will automatically match all the cash back you earned (there is no limit to how much you can earn; every dollar in cash back rewards you earn is a dollar Chase will match) 
$0
Head's up: Many rewards credit cards require applicants to have a good to excellent credit score. Check yours for free on a service like Credit Sesame so you know where you stand.
It's also a good idea to look on a credit card issuer's website to see if you can prequalify for a card — that way you can see if you might be approved without dinging your credit.
What to consider before choosing a rewards card
Earning rewards can be fun, but read the fine print before signing up for any card.
Annual fees
First, carefully consider whether it's worth it to sign up for a rewards card that charges a high annual fee. You want to make sure the rewards you earn will offset the annual fee.
Let's say you have a cashback card with an annual fee. If you want to break even (or preferably, earn additional money), you'll need to spend a certain amount on the card in order to earn enough cash back to offset the annual fee.
Limits on how rewards can be redeemed
Second, be sure to read the fine print to see if there are limits to how you can redeem your rewards. Some cards may have blackout dates or other restrictions, for instance, meaning you can't book travel at certain times of the year. Other cards may have rewards that expire. If so, that means you'll need to use up your points within a certain amount of time or you forfeit them.
Earning caps
Something else to consider are rewards earning caps. Some credit cards offer unlimited earning potential, while others set maximums on what you can earn.
For example, the Chase Freedom Flex℠ offers 5% cash back on rotating quarterly categories you activate (on up to $1,500 spent) and travel purchased through the Chase Ultimate Rewards portal, whereas the Capital One Savor Rewards card offers unlimited 4% cash back on dining, entertainment, and select streaming services.
Paying off your balance
Finally, remember that while it's exciting to earn rewards, being a responsible credit card owner is highly important. Overspending on a credit card for the sake of earning rewards could land you in debt. If that happens, the interest you pay could quickly cancel out the value of any rewards you end up earning. Make sure you can afford your purchases and pay off the balance every month.
FAQs
How do you calculate the value of a point?
You can figure out the value of a point by dividing the total value in dollars of the reward you receive by the number of points it takes to get the reward. For example, if you spend 50,000 points to get $750 worth of travel, your points are worth 1.5 cents each (750/50,000). On the other hand, maybe you redeem 25,000 points for $250 in cash back. Each point, in that case, is worth 1.0 cent (250/25,000).
What's better: points or cash back?
Whether points or cash back is better depends largely on what you're most likely to use. If you like to use points to purchase travel or gift cards, that might make more sense. On the other hand, if you prefer cash, which can be used for anything, that might fit your needs and goals better.
Another consideration is that some programs offer point bonuses depending on what you choose to redeem your points for. Some cards might give you a 10% bonus when you redeem points for gift cards, while other programs offer a 25% bonus when you redeem for travel. That means your points are worth 10-25% more than if you cashed them out. To get these bonuses, you normally have to redeem through a specific rewards portal but these bonuses do offer an advantage over opting for straight cash back.
In the end, points vs. cash back is an individual choice that you should make based on your lifestyle, travel frequency, spending habits, and personal goals. There's no one right answer.
Can reward points be converted to cash?
Depending on the program you belong to, you might be able to redeem your reward points for cash back. Usually, this cash back can be redeemed as a statement credit, check, or bank transfer.
Can you transfer points between credit cards?
Depending on the card issuer and your specific card's terms and conditions, you might be able to transfer points between credit cards. However, not every issuer offers this ability, even if you have multiple cards with the same issuer. Check the terms and conditions for your particular cards to see how the process works.
Can you combine points on Chase cards?
How many points do you need to get a free flight?
This depends on the travel rewards program you are using, the airline you want to fly, and various other factors. In many cases, how many points it takes to get a free flight depends on the specific route and the cabin in which you're seated. There is no one point value for a "free" flight.
Do points and miles expire?
Read the terms and conditions for your particular travel rewards program to find out if your points and miles expire. In some cases, programs do have expiration dates. So, if you don't use your points or miles within the allotted amount of time, you lose the rewards. Other programs, don't have expiration dates so you don't have to worry about losing your points and miles unless you close the account. If you are new to award travel, this is something that could be good for you to investigate before you commit to a specific travel rewards program.
Bottom line on points, miles, and cash back
Earning credit card rewards can be a great way to earn free stuff, from flights to gift cards. Once you get that card in your hands, spend wisely to rack up rewards, and you'll be well on your way to cashing in later.
Lucrative, Flat-Rate Cash Rewards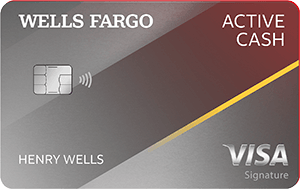 5.0
FinanceBuzz writers and editors score cards based on a number of objective features as well as our expert editorial assessment. Our partners do not influence how we rate products.
Current Offer
$200 cash rewards bonus after spending $500 in purchases in the first 3 months
Rewards Rate
Earn 2% cash rewards on purchases