In March, my mom suddenly got the chance to retire after working for almost 40 years with a national phone company. Shortly before her last day, Southwest Airlines announced rock-bottom fares to kick off its new routes to Hawaii, and I realized that a trip to the state would be a perfect retirement gift for the woman who sacrificed so much to give me a good life.
The total out-of-pocket cost for the trip I've planned is $5,286, but I've only spent $22.40 thanks to the credit card points and miles I've been collecting for years. Here's how I did it.
How I earned the points for a trip to Hawaii
I started earning travel rewards through credit cards back in 2013, so I've had plenty of time to learn how to maximize my rewards, both in terms of earning and redeeming them.
Most of the points and miles I used came from credit card sign-up bonuses I've earned over the past few years but also from regular spending on cards like the Barclaycard Arrival® Plus World Elite Mastercard®* and the Marriott Rewards Premier Business Credit Card.
When I first got the Barclaycard Arrival® Plus World Elite Mastercard® earlier this year, for instance, it came with a sign-up bonus of 70,000 miles after I spent $5,000 in the first three months. Once I got the bonus, I kept using the card for my everyday spending because it offers 2X miles on every purchase.
Some of the points, however, came more indirectly.
For example, in early 2017, Southwest Airlines was still allowing point transfers from hotel partners to count toward earning its famed Companion Pass. To make it happen, I'd need to redeem 270,000 Marriott Rewards (now Bonvoy) points to receive 120,000 Southwest points plus a seven-night certificate with Marriott.
At the time, I only had 80,000 points, so I applied for the Marriott business credit card, which offered a 100,000 point sign-up bonus, and transferred 30,000 SPG (Starwood Preferred Guest) points to my Marriott Rewards account — which were transferring at a 1:3 ratio at the time — to meet the requirement.
I used the Southwest Companion Pass several times in the following two years, I but still had plenty of points left over from the transfer to use for this trip a couple of years later.
To earn the sign-up bonuses and other rewards to make the trip happen, I spaced out my credit card applications to match my spending habits. I also diversified my rewards between airline points and miles, hotel points, and general travel rewards to ensure I could get every element of the trip covered — not just the flights or the hotel stay.
Learn insider secrets from the experts so you can travel for next to nothing with credit card points and miles.
*Editor's note: The Barclaycard Arrival® Plus World Elite Mastercard® is no longer available.
How I redeemed my rewards
Watching my rewards balances grow is a lot of fun, but reaping the benefits of my work through redemptions is my favorite part of the process. Here are the details.
Flights
While I booked the Southwest flights on the day the airline was selling tickets for as low as $49, I was too late to the party to get those deals. That said, I scored round-trip tickets from Oakland, CA to Kahului, Maui, for 22,738 Rapid Rewards points. The dollar cost for the flights was $387.96, giving me a value of 1.7 cents per point.
Because we live in Utah and not the Bay Area, though, I had to book a separate flight from Salt Lake City to Oakland. This flight was amusingly more expensive, costing me 34,308 points. But again, the $574.40 cash value of the tickets gave my points a value of 1.7 cents apiece.
At first, I didn't have enough points to book the first leg of the trip. But I checked the price for the flight from Oakland to Maui again, and it had magically dropped, so I rebooked that flight at the lower rate and had enough left over to cover the other flight.
The only out-of-pocket costs associated with this portion of my trip were the taxes and fees, which were $5.60 per person per one-way trip. Because I booked two separate reservations, the total was $22.40, making for almost-free flights.
Hotel
Through a big sign-up bonus from the Marriott Bonvoy Brilliant American Express Card and regular spending on other Marriott credit cards over the years, I had just over 200,000 points ready to use.
Marriott Bonvoy points aren't the most valuable hotel rewards points, but I was able to get an above-average rate on my redemption.
I picked the Wailea Beach Resort, which sits on the water's edge and cost me 200,000 points for five nights. The cash price for the same reservation was $3,265, giving me a redemption value of 1.6 cents per point, double the average value I've seen in reviews of the rewards program.
The resort charges a daily resort fee and parking fee, which I'll cover with the $300 Marriott credit on my Marriott Bonvoy Brilliant American Express Card. Note that the $300 Marriott credit has since been changed to a $300 annual ($25 per month) dining credit.

Rental car
Booking rental cars with credit card rewards isn't as easy as it is with flights and hotel stays. However, it was simple with the Barclaycard Arrival® Plus World Elite Mastercard®. The card allows you to book just about any type of travel and then use your rewards to get a statement credit against the purchase.
In March, I booked an SUV for six days through Expedia for $401, which would have cost me 40,100 miles when I picked up the car. But last week, I remembered that Costco Travel usually offers much better rates than you can get with the discount travel sites.
Sure enough, I found a convertible Mustang for $328.69, which will cost me 32,869 miles instead.
Activities
In general, Hawaii is incredible enough on its own that you don't need to spend a lot of money on activities to have a good time. But because I want to make the trip special for my mom, I booked preferred seats for a luau and a six-hour snorkeling trip.
I also booked an hour of parasailing for myself because I've always wanted to do it — my mom is planning just to watch.
In total, these activities cost $729.46 through Expedia, which I paid for with my Barclaycard Arrival® Plus World Elite Mastercard®, and then got a statement credit using miles as soon as it posted.
Of course, there are other expenses that won't be covered by credit card rewards, such as food and other activities we may decide to do on the fly. But at this stage of the process, I've already saved over $5,000.
Get started on your dream vacation
It's incredibly rewarding to be able to go on a trip worth thousands of dollars for next to nothing. However, earning enough credit card points and miles to make it happen takes time and discipline.
You typically need to have a good or excellent credit score to qualify for many of the credit cards that offer big sign-up bonuses and great travel rewards and perks. It's also important to keep in mind that most cards have a minimum spend requirement you need to meet to get the bonus — so if you only spend $1,000 per month on your credit cards, a card that requires $5,000 spend in three months probably isn't a good fit.
Most importantly, you need to have a budget. It's easy to overspend on credit cards, especially when you're trying to hit a threshold to earn more rewards. But if you overspend or incur interest on your cards, those costs will eat into the value of the rewards you earn, defeating the purpose of what you're trying to do.
If you can manage to be disciplined with your spending, pick credit cards based on your preferences and where you want to go. For example, if you want to rack up rewards with a certain airline to cover an expensive international flight, a co-branded airline credit card may be the best option for you.
In contrast, if you want a general rewards credit card that gives you more flexibility with your redemption options, go for that. As you consider different credit cards, look at them as a whole instead of focusing on just the rewards program. Some of the best travel credit cards offer a lot of value through their perks that can potentially save you money or make your trip a more luxurious one.
>> Compare travel rewards cards  

Whatever you do, remember to use credit cards responsibly and pay your bill on time and in full every month to maximize the value of the points and miles you're earning.
Easy-to-Earn Unlimited Rewards
Earn 25,000 online bonus points after you make at least $1,000 in purchases in the first 90 days of account opening - that can be a $250 statement credit toward travel purchases
Earn 1.5 points per $1 spent on all purchases
Longer intro APR on qualifying purchases and balance transfers
No foreign transaction fees
Earn unlimited 1.5 points per $1 spent on all purchases, with no annual fee and no foreign transaction fees and your points don't expire.
25,000 online bonus points after you make at least $1,000 in purchases in the first 90 days of account opening - that can be a $250 statement credit toward travel purchases.
Use your card to book your trip how and where you want - you're not limited to specific websites with blackout dates or restrictions.
Redeem points for a statement credit to pay for travel or dining purchases, such as flights, hotel stays, car and vacation rentals, baggage fees, and also at restaurants including takeout.
0% Introductory APR for 15 billing cycles for purchases, and for any balance transfers made in the first 60 days. After the intro APR offer ends, 18.24% - 28.24% Variable APR will apply. A 3% fee applies to all balance transfers.
If you're a Preferred Rewards member, you can earn 25%-75% more points on every purchase. That means instead of earning an unlimited 1.5 points for every $1, you could earn 1.87-2.62 points for every $1 you spend on purchases.
Contactless Cards - The security of a chip card, with the convenience of a tap.
This online only offer may not be available if you leave this page or if you visit a Bank of America financial center. You can take advantage of this offer when you apply now.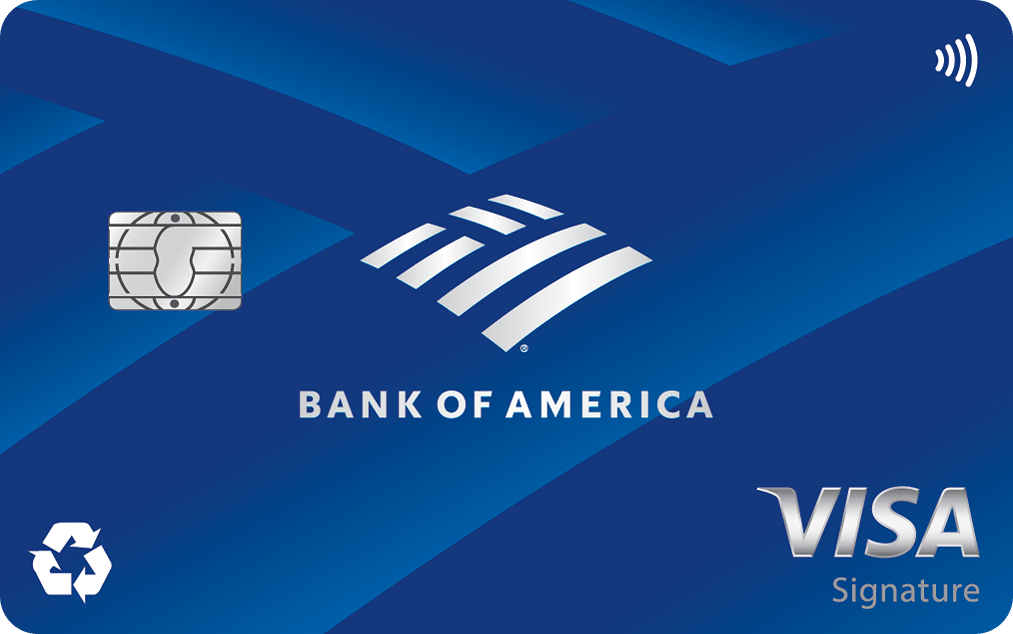 Apply Now
on Bank of America's secure website
Read Card Review
Intro Offer
Earn 25,000 online bonus points after you make at least $1,000 in purchases in the first 90 days of account opening - that can be a $250 statement credit toward travel purchases