As you probably know firsthand, "home sweet home" can come with a hefty price tag. Americans owe a collective $9.5 trillion on their mortgages. And the average homeowner owes a mortgage debt of $202,284, according to Experian.
But not Joseph Petrovic.
Joe, who lives in northeast Ohio with his wife, Jessie, and their two kids, was able to achieve the ultimate American dream of outright homeownership in less than 12 years. Even better, he earned 98,950 American Airlines AAdvantage miles in the process of paying off his home. According to our points valuation, those miles are worth at least $1,384 when redeemed for travel, possibly more.
This financial strategy isn't for everyone, but here's how Joe paid off his mortgage using some of the best rewards credit cards. If you've ever thought about paying bills with your credit card — even your mortgage — here's what you need to know.
How to pay all your bills with a credit card
In 2008, Joe and his wife Jessie took out a 30-year mortgage when they purchased a home in foreclosure. They immediately resolved to stick to a strict budget that would allow them to pay a larger amount of the loan principal each month and pay off their mortgage much sooner. Their goal was to pay it off in seven years.
Just three months later, the market collapsed and the financial crisis that ensued set the Petrovics' goal off-course. But two years later, they were able to refinance to a 15-year mortgage for a lower interest rate. Six years after that, they refinanced again to a 5-year mortgage and locked in an even lower rate.
In 2019, with less than one year of payments left on the mortgage, Joe had an idea. He knew about a service called Plastiq that lets you pay bills with a credit card for a fee. Plastiq is essentially a go-between between you and the company you're trying to pay. You send money to Plastiq for the bill, and they send a check to the vendor on your behalf. In this way, you can pay many bills you're typically unable to pay with a credit card — including a mortgage.
Plastiq's website is pretty simple to navigate and user-friendly. Just enter the account number and information of the company you're trying to pay, put in your credit card info, and Plastiq will take care of the rest. Thanks to the handy calendar function, you can even choose the date by which you'd like the payment delivered.
Generally, Plastiq charges a 2.9% fee for its service. That may not sound like much, but in many cases, that fee will outweigh the credit card rewards you'll earn. If you're paying a $1,000 bill using Plastiq, for example, you'll pay $29 in fees.
But Joe knew that sometimes using Plastiq could make sense. When he received a targeted, limited-time offer allowing him to pay bills for only a 1.5% fee, he quickly hatched a plan.
Joe's credit card game plan
Thanks to using Plastiq in the past and referring friends and family to the service, Joe had a few more offers in his Plastiq account in addition to the special 1.5% rate. He had earned what Plastiq calls fee-free dollars. Fee-free dollars allow you to pay bills with Plastiq without any fee. If you've earned $1,000 in fee-free dollars from referring your friends, that means you can pay $1,000 worth of bills without any extra cost.
Joe also knew that if he opened a new credit card, he would earn a substantial welcome bonus once he hit the minimum spend requirements. And if he used that new card to make payments on his mortgage, he'd easily hit the requirement to earn the bonus plus the points from his spending with the card.
Although Plastiq does accept many major credit cards to pay bills, including American Express, Visa, Mastercard, and Discover, there are restrictions on what bill you can pay with which type of card. Because Plastiq only accepts Mastercard or Discover for mortgage payments, Joe's search for the perfect new card was immediately narrowed.
Joe decided to open a new Citi® / AAdvantage® Platinum Select® World Elite Mastercard®. At the time, it offered 70,000 miles as part of the welcome bonus. Right now, this card offers 50,000 bonus miles for new cardholders after you spend $2,500 in the first 3 months — which is still a great boost to your AAdvantage account.
Even though the AAdvantage Platinum Select would give only 1X miles for the spending Joe was looking to do, he knew he could still make the math work in his favor. Because American Airlines has partner airlines in the oneworld Alliance, Joe could choose to use his American AAdvantage miles to fly luxuriously with companies such as Qatar Airways and Japan Airlines.
Or he could choose to take advantage of some great deals on American Airlines metal, such as 12,500 each way to the Caribbean with Miles SAAver Off-Peak awards. With just 50,000 AAdvantage miles, he and his wife could both fly roundtrip to enjoy a long Caribbean weekend without the kiddos. Not to mention the incredible Economy Web Specials American offers sporadically, for as little as 20,000 roundtrip to Hawaii.
How the numbers broke down
Armed with his new Citi AAdvantage card and Plastiq offers, here's what Joe paid for:

Charge
Plastiq fee (%)
Plastiq fee ($)
Miles earned
Estimated value of miles

(based on valuation of 1.4 cents per mile)

7 mortgage payments of $3,200 each = $22,400
1.5%
$336
22,400
$313
3 car payments of $2,000 each = $6,000
1%
$60
6,000
$84
1 car payment of $550
0%
$0
550
$7
Bonus welcome miles for hitting spend requirement on new card
0%
$0
70,000
$980
TOTAL
$396
98,950
$1,384
As you can see, Joe netted roughly $988 after the fees he paid ($1,384 minus $396). And remember, that's just a rough estimate. Although FinanceBuzz values AAdvantage miles around 1.4 cents a piece, it's possible to redeem them for even greater value when cash prices for plane tickets are high.
Not only that, but Joe also earned an added bonus for spending this much on his AAdvantage card. Once he hit $30,000 in spend on that card, he earned an American Airlines Companion Certificate. That allowed him to bring a companion on a domestic AA roundtrip for just $99 plus taxes.
It's important to note that Joe didn't pay any fees or interest on his credit card for making these charges. That's because he had saved up enough to cover the bills, and paid the credit card off right away once he got his statement. It's never a good idea to charge more on your cards than you can afford to pay back immediately, even when you're earning valuable points and miles in the process.
In fact, Joe grew up in a fiscally conservative household that instilled the values of working hard and paying what you owe right away. "I grew up thinking that credit cards were bad, and any fees were to be avoided at all costs," he said. But now, Joe better understands the power of credit cards, and that the benefits of using them can sometimes outweigh the small fees you may incur.
Should you pay your mortgage with a credit card?
Generally, the answer in a lot of cases is no. If you're being charged Plastiq's standard 2.9% fee and using a credit card you already have in your wallet, the fees probably won't be worth it.
For example:
If you used a Chase Sapphire Reserve® you would earn Ultimate Rewards points worth 1.5 cents each when redeemed for travel in the portal.
Say you used Plastiq to charge a $2,500 mortgage payment on your Chase Sapphire Reserve card at the regular 2.9% fee.
You'd pay $72.50 in fees, and you'd earn 2,500 Ultimate Rewards.
Since Ultimate Rewards are usually worth 1.5 cents a piece, that means your 2,500 points would be worth about $37.50.
In this case, the $72.50 fee would outweigh the $37.50 value of the points you'd earn.
But there are scenarios like Joe's where it may make sense to pay your mortgage with a credit card. Here are Joe's top three pieces of advice for anyone considering doing this.
1. Crunch the numbers
Make sure you have a clear picture of how much you'll pay in fees before you swipe your credit card to pay bills. If you're opening a new card and plan on using Plastiq to help you hit the sign-up bonus requirements, do your research and make sure you're able to use that card for the type of bill you'll be paying. Never charge what you can't afford to pay back right away.
If you're considering paying off your mortgage in full like Joe did, weigh how this could affect your taxes. If you take itemized deductions, you won't be able to write off your mortgage interest any longer (as you won't be incurring any). Also consider whether you could make higher returns by investing that money elsewhere instead of putting it into your house.
2. Watch out for special offers
Plastiq's standard fee is 2.9%. But sometimes you can find ways to reduce that fee. Keep an eye on their website for periodic offers of reduced fees that are available to everyone. Or, if you're lucky like Joe was, you may receive an email for a targeted offer of decreased fees.
Remember you can also earn fee-free dollars by referring friends. Those dollars allow you to pay bills without any fee and save big money if you refer several friends.
3. Monitor your credit score
One of the biggest factors that determines your credit score is your credit utilization, or how much credit you're using compared to how much of an available credit line you have. Basically, if you make a large purchase on your credit card and your statement closes with a high balance it can lower your credit score.
Having an installment loan that you pay off in monthly increments (such as a mortgage) can help your credit score. Fortunately, paying off your mortgage completely shouldn't have a direct negative impact on your credit score as long as it's classified as a "closed account in good standing." But it's always a good idea to monitor your credit report regularly with a service like Credit Karma.
Bottom line
Joe and Jessie Petrovic accomplished an amazing feat of paying off their 30-year mortgage in under 12 years. By using a credit card to pay off the last portion of their mortgage, they earned nearly 100,000 AAdvantage miles and came out on top, despite the payment processing fees they paid.
Paying bills with credit cards doesn't make sense in every situation. Crunch the numbers and consider all possible payment scenarios before you take the plunge. But if you can take advantage of reduced fees and earn a substantial amount of bonus points or miles in the process, doing something like paying the mortgage with a credit card might make sense for you.
Bravo, Joe and Jessie!
Easy-to-Earn Unlimited Rewards
Earn 25,000 online bonus points after you make at least $1,000 in purchases in the first 90 days of account opening - that can be a $250 statement credit toward travel purchases
Earn 1.5 points per $1 spent on all purchases
Longer intro APR on qualifying purchases and balance transfers
No foreign transaction fees
Earn unlimited 1.5 points per $1 spent on all purchases, with no annual fee and no foreign transaction fees and your points don't expire.
25,000 online bonus points after you make at least $1,000 in purchases in the first 90 days of account opening - that can be a $250 statement credit toward travel purchases.
Use your card to book your trip how and where you want - you're not limited to specific websites with blackout dates or restrictions.
Redeem points for a statement credit to pay for travel or dining purchases, such as flights, hotel stays, car and vacation rentals, baggage fees, and also at restaurants including takeout.
0% Introductory APR for 15 billing cycles for purchases, and for any balance transfers made in the first 60 days. After the intro APR offer ends, 18.24% - 28.24% Variable APR will apply. A 3% fee applies to all balance transfers.
If you're a Preferred Rewards member, you can earn 25%-75% more points on every purchase. That means instead of earning an unlimited 1.5 points for every $1, you could earn 1.87-2.62 points for every $1 you spend on purchases.
Contactless Cards - The security of a chip card, with the convenience of a tap.
This online only offer may not be available if you leave this page or if you visit a Bank of America financial center. You can take advantage of this offer when you apply now.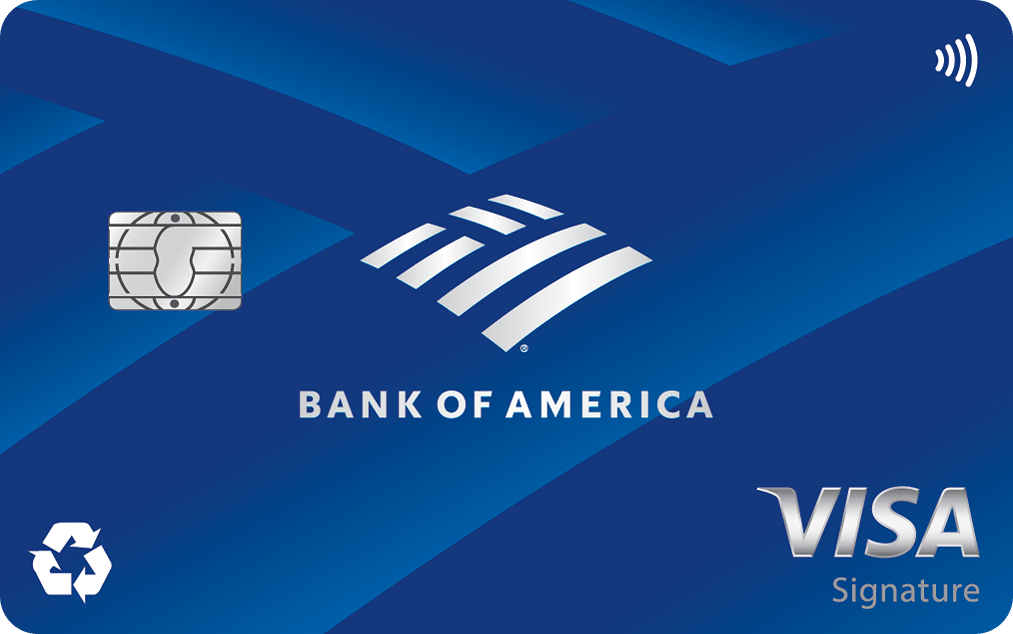 4.1
FinanceBuzz writers and editors score cards based on a number of objective features as well as our expert editorial assessment. Our partners do not influence how we rate products.
Apply Now
on Bank of America's secure website
Read Card Review
Intro Offer
Earn 25,000 online bonus points after you make at least $1,000 in purchases in the first 90 days of account opening - that can be a $250 statement credit toward travel purchases