Cruises offer a luxurious and relatively affordable way to explore the world while enjoying a relaxing vacation. Many cruise ships offer dynamic experiences that involve fine dining, unique shore excursions, and other activities and amenities.
Whether you're an experienced or a first-time cruiser, it's important to plan your cruise vacation to ensure a smooth journey. From choosing the right cruise line to booking excursions, here's how to plan a cruise you'll never forget.
Key takeaways
Cruises offer an entertaining, luxurious, and relatively affordable way to enjoy a relaxing vacation while exploring the world.
When you plan a cruise, research different cruise lines to find a ship with an atmosphere and activities that fit your travel preferences.
Having flexible travel dates and booking local tours are two ways to save money on your cruise.
Make sure to budget for off-shore excursions, spa treatments, gratuities for cruise ship staff, and other costs that may not be included in your cruise ship ticket.
1. Choose the right cruise line
As you start your cruise planning, your first step is researching cruise lines. There are hundreds of cruise ships to choose from, and many cruise lines, and one cruise line might offer a completely different cruise experience than another.
One cruise line might be family oriented, for instance, and offer lots of activities for kids. Another might be geared toward honeymooners or other adults looking for a quieter atmosphere. Some cruise lines are more casual, while others have fine dining restaurants with an upscale dress code.
Here are a few popular cruise lines and the type of experience they usually provide for passengers:
Royal Caribbean: This cruise line tends to be a good fit for families who are looking to keep busy with plenty of activities onboard.
Norwegian Cruise Line: This cruise line's slogan is "freestyle cruising," where you have "no schedule to follow but your own." It might be a good fit if you're looking for lots of flexibility on your cruise.
Holland America: While it has a reputation for being a cruise line for retirees, younger folks who aren't looking for a 24/7 party might enjoy this cruise line as well.
Princess Cruises: This mid-priced line caters primarily to an older crowd, especially on its longer sailings.
Carnival Cruise Lines: As the name suggests, Carnival is known for being a party cruise. If you're looking for a fun, energetic vibe, Carnival might be the cruise for you.
Virgin Voyages: Virgin cruise ships are a good choice if you're looking for an adults-only cruise. They have luxurious designs and restaurants with Michelin-star-chef curated menus.
Disney Cruise Line: If you or your kids love everything Disney, a Disney cruise may be the perfect fit.
2. Pick the perfect itinerary
Your next step in planning your cruise is selecting your itinerary. Consider where you want to travel: whether you want to lounge on Eastern or Western Caribbean beaches, explore the cobblestoned cities of Europe, take in the sights of Hawaii, or enjoy outdoor adventures in Alaska.
Your travel destination will also help determine what time of year you cruise. Caribbean cruises tend to be available all year long (hurricane season allowing), but the most popular times to visit are between November and April.
A cruise to Alaska or Europe, on the other hand, tends to be limited to the spring or summer. Cruises to South America are popular from December through March, while a cruise around Australia may fall between late November and March.
Consider how many nights you want to book, as the number of nights will directly impact your cruise fare. Review the cruise itinerary and consider whether you want more days at sea or more days in ports of call, which would allow for additional excursions.
Keep in mind that cruises during holidays or school vacations may have higher prices. If you can be flexible with your travel dates, you may be able to save money or score discounted travel fares. And consider the cruise's departure port, and include the airfare to get there, if necessary, in your travel budget as well.
Tip
Many cruise lines offer onboard credits and special offers on certain cruises, so keep those in mind as well, especially if you're on a tight budget.
3. Book the cruise
Once you've chosen your cruise line and itinerary, it's time to book your cruise. You can make your booking directly on the cruise's website, through a travel booking site, or with a travel agent.
As you make your booking, think carefully about the stateroom you choose, as well as any dining or beverage packages. Interior cabins on lower floors tend to be less expensive. If you prefer an ocean-view balcony cabin on a higher level, you'll pay more for your room.
It's also worth checking out a map of the cruise ship to make sure your cabin is in a good location. If you want a quiet spot, make sure you're not right next to the cruise's nightclub or water slide. If you want to be close to the breakfast buffet, pick a cabin near your preferred restaurant.
Consider what amenities you want included with your ticket, too. You may opt for an inclusive package upfront, for example, so you don't have to pay for specialty meals or drinks separately when you arrive.
Tip
Cruise lines typically include meals at their main dining room, buffets, and other casual spots, but may also offer higher-end specialty dining for an upcharge.
To protect your reservation, consider booking your cruise using a travel card that comes with trip cancellation or disruption insurance. Compare credit cards and use the one with the best trip protection and travel rewards points. Alternatively, you might purchase travel insurance, so you're covered if plans go awry.
4. Plan excursions
When you dock in a cruise port, you'll have the opportunity to take shore excursions at each destination. You can book excursions through your cruise ship or with local guides. Either way, make sure to take these extra costs into account when planning your travel budget.
The cost of the excursion will vary depending on the activity, length of the excursion, and your location. Keep in mind that popular excursions can sell out quickly, so it's a good idea to book yours 2 to 3 months in advance of your trip.
If you wait to book until you arrive, you might be out of luck. Keep in mind that you don't have to book your excursion through the cruise — you could do your own research and book activities with local tour guides and companies.
Opting for a local tour will take some more research and planning on your part, but you might end up saving money. If you're looking to keep costs down, booking local tours and activities could be worth the extra effort.
Tip
There are blogs and YouTube videos that offer cruise tips for the cruise line and possibly even cruise ship you're choosing. These can help you choose the best room, excursions, and packages for your preferences and are a great resource if this is your
first cruise
.
5. Budget for your cruise
Cruises can be an affordable way to travel the world, but they're still an investment. Budget for your trip by preparing for all the costs you'll have to cover.
In addition to the cruise itself, you may have to pay extra for meals, alcoholic beverages, gratuities for cruise staff, and shore excursions. Bowling, 3D ride simulators, concerts, spa treatments, and other onboard activities and entertainment might also incur additional costs.
Research your cruise line so you know exactly what's included in your ticket and what's not. The last thing you want is to show up expecting free amenities only to find out that your trip isn't as all-inclusive as you thought it was.
You may also need to pay for a hotel the night before you leave or night after you arrive. If your cruise leaves in the morning from a far-away city, it'd be tough to fly in the same morning and make embarkation on time.
It's also worth keeping an eye out for price drops as your trip approaches. Some cruises offer a price adjustment if prices drop after you make your booking. Royal Caribbean, for example, has a Best Price Guarantee Program that lets you adjust your price up to 48 hours before your trip starts.
Check the ticket's fine print to see if price adjustments are allowed, as this could be a great way to save money before you sail.
6. Prepare for your cruise
Once you've put in all the work to plan a cruise, you can turn your focus to packing. Consider the climate and excursions when deciding what clothes to wear. Bring layers, even if you're heading to the Caribbean, so you can bundle up if you get chilly outside or in an air-conditioned restaurant.
Comfy footwear is a must for exploring a new place or partaking in outdoor adventures. Make sure to bring your sunscreen and a hat, too, to protect yourself from getting sunburnt on the open seas.
Tip
When you're ready to go, check in online for your cruise as early as you can. You can typically do this using the cruise line's mobile app.
Depending on your cruise, your luggage may not arrive at your cabin for several hours. That's why it's a good idea to bring essentials in a carry-on bag. These essentials should include your travel documents, passport, phone, credit cards, medications, and any other valuables. Check with the cruise line to see if there are any restricted items for your carry-on bag.
When it comes to making purchases on the cruise ship, it's generally best to use a credit card. Not only do many credit cards come with trip insurance, but you can often earn rewards points back on your spending. Travel credit cards, in particular, might have a high rewards rate on travel purchases. The cruise ship will likely have your credit card on file, but bring a few forms of payment with you to be safe.
FAQ
What are some of the most popular destinations for a cruise?
There are a variety of cruise destinations all over the world, but some of the most popular are the Caribbean (especially the Bahamas, Virgin Islands, Cayman Islands, and St. Martin), Western Europe, and Alaska.
According to Celebrity Cruises, some of the other best destinations for a cruise are Greece, the Mexican Riviera, Iceland, and the Great Barrier Reef.
What is the average cost of a cruise trip?
The average cost of a cruise is $237 per person per day, according to data compiled by Cruise Net. That cost includes cruise ship fare and spending that you may do onboard. Of course, costs will vary depending on the cruise line, destination, length of the trip, and other factors. According to U.S. News & World Report, a 4-night cruise to the Bahamas can cost just $171 per person.
What is the cheapest cruise month?
If you're looking to plan a cruise, the cheapest cruise month will vary depending on the destination. High season for the Caribbean is November through April, so any tickets you can find in June through October will likely be cheaper. But remember, that's hurricane season in the Caribbean.
Cruises to Alaska, on the other hand, will be more expensive in May through September and less expensive (or not available) in the winter months. You can also find cheaper cruise deals if you avoid booking during school vacation dates or holidays.
Bottom line
By planning and preparing for your cruise, you can ensure smooth sailing for your entire vacation. Researching cruise lines, reserving shore excursions in advance, and budgeting for your trip will all help you have an unforgettable and relaxing cruise vacation.
Using a travel credit card on vacation is often a good idea, too, since you can earn rewards points as you go and may be protected with trip or rental car insurance. Paying your balance off in full each month will allow you to avoid interest charges.
For our top picks, check out the best travel credit cards that can earn you rewards points for your next adventure.
Easy-to-Earn Unlimited Rewards
Earn 25,000 online bonus points after you make at least $1,000 in purchases in the first 90 days of account opening - that can be a $250 statement credit toward travel purchases
Earn 1.5 points per $1 spent on all purchases
Longer intro APR on qualifying purchases and balance transfers
No foreign transaction fees
Earn unlimited 1.5 points per $1 spent on all purchases, with no annual fee and no foreign transaction fees and your points don't expire as long as your account remains open.
25,000 online bonus points after you make at least $1,000 in purchases in the first 90 days of account opening - that can be a $250 statement credit toward travel purchases.
Use your card to book your trip how and where you want - you're not limited to specific websites with blackout dates or restrictions.
Redeem points for a statement credit to pay for travel or dining purchases, such as flights, hotel stays, car and vacation rentals, baggage fees, and also at restaurants including takeout.
0% Introductory APR for 15 billing cycles for purchases, and for any balance transfers made in the first 60 days. After the intro APR offer ends, 18.24% - 28.24% Variable APR will apply. A 3% fee applies to all balance transfers.
If you're a Bank of America Preferred Rewards® member, you can earn 25%-75% more points on every purchase. That means instead of earning an unlimited 1.5 points for every $1, you could earn 1.87-2.62 points for every $1 you spend on purchases.
Contactless Cards - The security of a chip card, with the convenience of a tap.
This online only offer may not be available if you leave this page or if you visit a Bank of America financial center. You can take advantage of this offer when you apply now.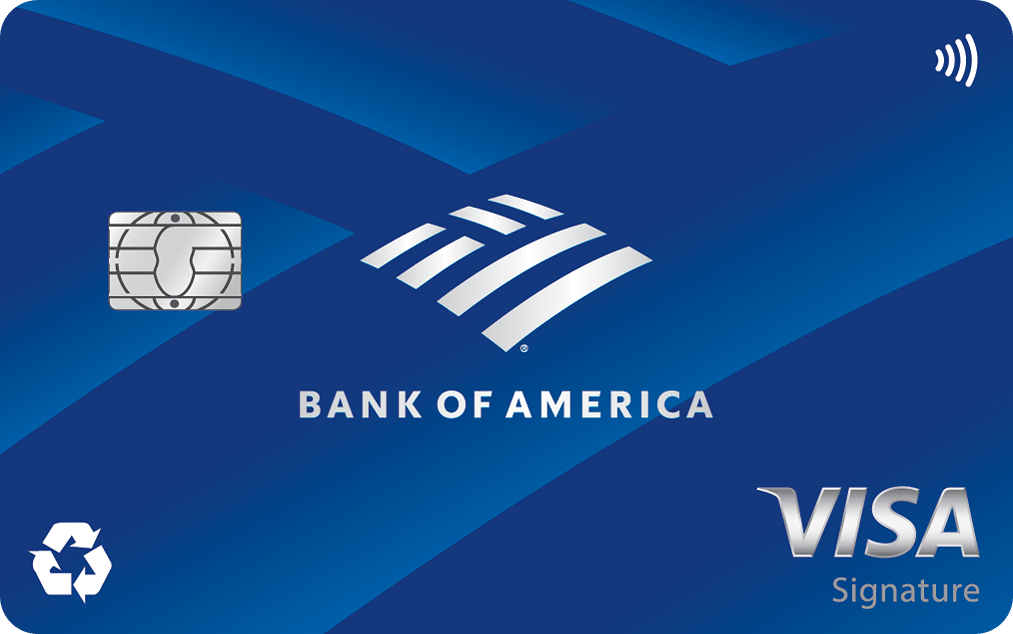 4.1
FinanceBuzz writers and editors score cards based on a number of objective features as well as our expert editorial assessment. Our partners do not influence how we rate products.
Apply Now
on Bank of America's secure website
Read Card Review
Intro Offer
Earn 25,000 online bonus points after you make at least $1,000 in purchases in the first 90 days of account opening - that can be a $250 statement credit toward travel purchases