Whether you've always wanted to go scuba diving in Australia, backpacking in Thailand, or walking the Camino de Santiago in Spain, getting to the bottom of your bucket list will likely require some budgeting and saving. Traveling is one of life's greatest pleasures, but it can also be quite expensive. However, with the right strategies, you can see the world without breaking the bank. 
From scoring cheap flights to maximizing your travel rewards, there are plenty of ways to make your dream destinations more affordable. In this article, we'll explore some tips and tricks to help you travel around the world on a budget and get the most out of your travel rewards.
What are the benefits of travel?
Travel offers a wide range of benefits, including:
Stress relief: Taking a break from your daily routine and exploring new places can help reduce stress and improve your mental health.
Personal growth: Traveling exposes you to new cultures, perspectives, and experiences, which can broaden your horizons and help you grow as a person.
Improved relationships: Traveling with loved ones or meeting new people on the road can strengthen existing relationships and create new friendships.
Learning opportunities: Traveling provides opportunities to learn about history, art, language, and more. Experiencing new cultures and surroundings can also stimulate creativity and inspire new ideas.
Adventure and fun: Traveling can be an exciting and fun-filled adventure, whether you're exploring a new city or trying out new activities like hiking, surfing, or skiing.
Exposure to nature: Traveling can offer the chance to experience natural wonders like mountains, beaches, and wildlife.
The experience of traveling is fulfilling from beginning to end and can enrich your life in countless ways.
How to keep costs low while you travel
If those benefits sound pretty sweet to you, but you're not exactly swimming in $100 bills, consider some of these budget travel tips to keep your bank account afloat.
Comparison shop for cheap deals
Start looking well in advance and set alerts to remind you of changing prices. Consult multiple flight and hotel booking sites (Orbitz and CheapOAir are two of our favorites) to compare costs. Use the map and price calendar tools on Google to determine the best time to fly and the cheapest places to go.
For accommodations, check out Airbnb, which frequently offers lower prices than major hotel brands. There are also countless hostels abroad that offer cheap accommodations if you don't mind sharing a room. Or, if you want to meet locals and stay for free, consider Couchsurfing.
Travel off-season
Prices vary greatly depending on when you travel. Plane tickets and hotel rooms can cost double or even triple in busy seasons, so avoid trips during major holidays and stay away from Europe in the summer if you want to save.
Use your points and miles wisely
If you're strategic with using your points and miles, you may be able to fly for next to nothing. It all starts with choosing the right credit card — one that offers you the maximum return on your overall spending. If you travel frequently, that means picking a card with extra points for dining and travel purchases. 
Once you've racked up enough points, you can book your trip through your credit card issuer's travel portal or transfer your points to airline or hotel loyalty programs. If you have one of the premium credit cards, such as the Chase Sapphire Reserve®, your points could stretch even further when you put them toward travel.
Make money while traveling
Traveling is somewhat of a double whammy on your finances, especially if you don't get paid time off. To avoid losing out on income during your trip, consider a side hustle that you can do remotely while you travel, rent out your home or apartment on Airbnb while you're away, or find a job in your destination city.
Limit food and transportation costs abroad
Eating out for three meals a day can be as expensive as your hotel. So buy food at local markets and grocery stores, and cook in your apart-hotel, Airbnb, or kitchen in your hotel or hostel (it will be important to select accommodations with kitchens if you plan to go this route). 
Rather than renting a car or taking taxis, consider ridesharing services or public transportation, where available.
Plan ahead and budget
Getting ready for your trip can be half the fun of traveling, so use the months ahead of time to seek out inexpensive (yet incredible) local restaurants, plan an itinerary to avoid paying for tours, estimate your total costs, and set a budget for each day. You'll enjoy anticipating your trip, and you may be able to curb expenses just by setting some spending limits.
How to fund traveling the world
Let's assume you're totally broke. You still shouldn't miss out on the joys of traveling since there are several ways you may be able to fund your trip. Whether you earn money during your travels, work in exchange for your stay, join a volunteer trip, or raise the money before you go, it's possible to completely offset the cost of your vacation.
As an added bonus, many of these opportunities allow you to meet locals and have an authentic experience at your destination. Here are a few ways to pay for your trip abroad:
Find remote work while traveling
Start (and grow) a travel blog
Teach English abroad
Work as an au pair
Work for an airline or cruise line
Use your welcome bonus from a rewards card
Crowdfund your trip


Work on an organic farm in exchange for housing and food
Become a tour guide or travel photographer
House-sit or pet-sit abroad in exchange for your stay
Teach scuba diving, yoga, or fitness classes abroad
Travel with a volunteer group
What jobs allow you to travel the world?
There are some jobs you can complete while traveling in exchange for all or part of your trip's expenses, as well as others that pay you enough to offset the cost of your trip. With some travel jobs, you might actually get a salary on top of paid travel expenses. 
There are enough options that you should be able to find something that meets your needs and interests. Workaway is a great site to check for all kinds of international jobs, from working with a family on a farm to helping out at a local school. Here are some good options:
Teach English
There are plenty of teaching jobs available in Asia, Europe, and South or Central America, and salaries can range anywhere from $600 to $4,000 per month, depending on your qualifications and the cost of living where you teach. 
Some employers may even provide free housing as part of your contract. Some jobs don't require a teaching certificate or TEFL (Teaching English as a Foreign Language) certification, but you'll usually need a college degree.
Work on a cruise ship
When you work as a crew member on a cruise ship, traveling is part of your job. The compensation varies greatly depending on your position and the cruise line you work for, but entry-level workers can expect to make around $1,200 to $1,500 per month. 
If that doesn't seem like a lot of money, keep in mind that your room and board will usually be covered. So if you can avoid shopping too much when you get off the boat, you'll likely be able to save most of your earnings. There are a number of positions for different skill sets on cruise ships as well, from youth instructors to hosts to disc jockeys.
Become a flight attendant
If you don't mind spending a lot of your time on an airplane and want to travel the world for free, consider becoming a flight attendant. Flight attendants in the U.S. earn an average of $75,450 annually, but salaries can vary a lot between jobs.
Work for an international nonprofit organization
If changing the world while traveling sounds awesome to you, apply for a position at an international nonprofit organization. Nonprofits need people with all kinds of skills, from accountants to creatives to managers. Check out Idealist to begin your search.
Start a travel blog
Travel blogs are a great way to make money online while traveling the world, but it takes a lot of work, time, and dedication to figure out how to make enough money to pay the bills.
In fact, many travel bloggers and influencers work tirelessly to build up their online presence and following on social media for about a year before monetizing their websites. This might mean you'll have to support your blog on your own initially, but once you're really ready to monetize, it'll be like the gift that keeps on giving.
Work as an au pair
If you love kids, you could become an au pair (or nanny) for a child abroad. Many parents prefer au pairs who speak English because they hope their child will become fluent. Check out AuPairWorld to start your search for a family.
Become a tour guide
For most tour guide positions, you'll need some knowledge of the local area or a background in history. You won't be able to show up in a city and become a tour guide on your first day. But if you've been to a location before and enjoy leading large groups, you could provide tours to fellow travelers in exchange for pay.
Long-term travel guides, on the other hand, tend to be more stable. Usually, working with long-term contracts or even signing on full-time with a tour company gives this option more stability.

Teach yoga, fitness, or scuba diving
There are some teaching jobs you can do anywhere. If you like the idea of practicing yoga all over the world, teaching an aerobics class in a foreign country, or spending your days deep in the ocean, there are plenty of opportunities available. Just know that you'll need some sort of certification for all of these, but you don't necessarily need a degree.
Become a digital nomad
Where would you work if you could choose literally anywhere in the world? Being a digital nomad is a type of job that allows you to be location-independent. A few examples might be travel writers, web designers, virtual assistants, graphic designers, and more. Freelancers are most often able to work wherever they please during whatever hours work best for them.
Sound too good to be true?
The benefits of freelancing are certainly enticing, but it also takes a lot of hard work to earn enough money to make a full-time income. For example, while some freelance writers are able to negotiate $200-$400 per article, most mid-level writers earn between $20-$100 per article - meaning they'll be writing a lot more to keep up. Sites like Upwork and Fiverr can help you get started by connecting you with potential customers.
Get an international house-sitting or pet-sitting job
If you can find a cheap flight to your destination, you may be able to get your accommodations free of charge by looking after someone's house while they're away or taking care of their pets. Nomador is a great resource for finding places to stay in exchange for this type of work.
What are the recommended cards for travel rewards?
If you're going to be traveling frequently, you'll want to choose a card with the best return for how much you typically spend on your trips. Keep in mind that premium travel rewards cards with annual fees won't net any cost to you if you spend enough to offset that expense with rewards points. 
If you travel at least once a year, that's pretty easy to do with most of these cards. Plus, many of the best travel credit cards come with premium travel perks that will lead to an even more enjoyable and stress-free vacation. Here are some of our favorites:
Card name
Annual fee
Welcome offer
Foreign transaction fee
Chase Sapphire Reserve®
$550
Earn 60,000 bonus points after you spend $4,000 on purchases in the first 3 months from account opening
None
Capital One Venture Rewards Credit Card
$95
Earn a one-time bonus of 75,000 miles once you spend $4,000 on purchases within 3 months from account opening
None
The Platinum Card® from American Express
$

695

(Terms apply)
Earn 80,000 Membership Rewards points after spending $8,000 on purchases on your new card in the first 6 months

None
Chase Sapphire Reserve®
While the Chase Sapphire Reserve annual fee may seem high at $550, it's actually not that far off when compared to the Chase Sapphire Preferred® Card. That's because you'll get a $300 annual travel credit and a $60 DoorDash credit, which drops the net cost of the annual fee to $190. 
And since you get 3X points on other travel and dining and 50% more value when you redeem them for travel in the Chase portal, you're essentially getting 4.5 points per dollar. 
You also get many more travel perks with the Chase Sapphire Reserve, from airport lounge access to a credit for Global Entry or TSA PreCheck. And it comes with robust protections like primary rental car insurance as well as trip cancellation and interruption insurance.
Capital One Venture Rewards Credit Card
We love this card because the rewards points are totally straightforward. You earn 2 miles per dollar on every purchase, every day and 5 miles per dollar on hotels and rental cars booked through Capital One Travel. And you can earn a one-time bonus of 75,000 miles once you spend $4,000 on purchases within 3 months from account opening.
You'll also get up to a $100 credit toward Global Entry or TSA PreCheck with this card as well, plus secondary rental car coverage and travel accident insurance. 
The Platinum Card® from American Express
While this card has a $695 annual fee, the highest of any card on our list, it also comes with some really unique perks. You earn 5X points per dollar spent on eligible airfare (on up to $500,000 per calendar year, after that 1X) and eligible hotel purchases, and 1X points per dollar on all other eligible purchases. And you can earn a generous welcome offer of 80,000 Membership Rewards points after spending $8,000 in the first 6 months.
You'll also get value from various perks, including multiple travel-related credits, such as up to $189 CLEAR Plus credit, up to $200 airline fees credit, up to $200 hotel credit (with a minimum two-night stay), up to $200 Uber Cash (good for Uber rides and Uber Eats orders), and more. 
You also get access to airport lounges through Priority Pass and The Centurion Lounge and complimentary Gold Elite status for Marriott Bonvoy and Gold status for Hilton Honors loyalty programs. Select benefits require enrollment.
There are also a number of protections available with this card, from secondary rental car insurance to trip delay reimbursement and trip interruption coverage.
How to get maximum travel benefits from your rewards card
While credit cards are a great way to earn extra money just for completing your everyday purchases, you can earn even more rewards if you use them strategically. Here's how:
Choose the right credit card (and use it)
You'll want to pick a credit card based on how much you spend and what you spend money on the most. So if you're a frequent traveler, that's going to be a card that has a significant return on travel and dining purchases. 
From there, make sure you use your card for all your travel and dining purchases to get the most rewards points possible.
Research travel partners and loyalty programs
If you've earned elite status in a loyalty program by flying frequently on a particular airline or staying at a hotel chain, your points could go further when you transfer them to your credit card's travel partners. So when choosing a card, be sure to check which travel partners are eligible for transfer. 
Also, pay attention to the transfer ratio and make sure you're not losing money in the transfer. To calculate the total value of your points once transferred, divide the cash price by the number of total points needed.
For example, if you'd need 100,000 points to purchase a $1,200 ticket, the value of each point would be worth $0.012 (1,200 / 100,000 = 0.012).
Use your credit cards strategically
The travel rewards card you choose may not be the best one for your everyday purchases. For example, while the Chase Sapphire Reserve only offers 1X points per dollar spent in non-bonus categories, the Chase Freedom Unlimited® offers 5% cash back on Chase travel purchased through Ultimate Rewards®, 3% cash back on drugstore purchases and dining at restaurants, including takeout and eligible delivery service and unlimited 1.5% cash back on all other purchases. 
If you use this card for your everyday spending, you can transfer the points to your Chase Sapphire Reserve and stretch them further toward travel. That's just one example of how you can earn more points by paying attention to which credit card you use for each purchase.
Keep up with the payments
Your reward points will add up to a whole lot of nothing if you end up paying interest on your purchases. To ensure you get the most value from your card, set a budget and make sure to pay off your balance in full every month. This will also protect your credit score from declining, so you'll have the opportunity to apply for other rewards cards in the future.
Use your rewards points to book travel
If you use your rewards points for shopping on Amazon, you're losing money. But if you use them for travel, you're getting the most bang for your buck, especially if you have a premium rewards card from Chase.
Bottom line
You don't need to be sitting on stacks of cash to travel the world. There are a number of part-time or full-time jobs, volunteer positions, and other opportunities that let you travel for free. And if none of these sound appealing to you, you could still snag a free flight just by taking advantage of a rewards card welcome offer.
Ultimately, it's up to you when it comes to how much you spend traveling abroad. Cut costs where you can, and you'll be able to travel more frequently. And the more time you spend planning your vacation, the more you'll make travel a part of your everyday life. So get out there, start planning your trip, and use the right tools to get the best price you possibly can. Here's to filling up your passport!
Easy-to-Earn Unlimited Rewards
Earn 25,000 online bonus points after you make at least $1,000 in purchases in the first 90 days of account opening - that can be a $250 statement credit toward travel purchases
Earn 1.5 points per $1 spent on all purchases
Longer intro APR on qualifying purchases and balance transfers
No foreign transaction fees
Earn unlimited 1.5 points per $1 spent on all purchases, with no annual fee and no foreign transaction fees and your points don't expire.
25,000 online bonus points after you make at least $1,000 in purchases in the first 90 days of account opening - that can be a $250 statement credit toward travel purchases.
Use your card to book your trip how and where you want - you're not limited to specific websites with blackout dates or restrictions.
Redeem points for a statement credit to pay for travel or dining purchases, such as flights, hotel stays, car and vacation rentals, baggage fees, and also at restaurants including takeout.
0% Introductory APR for 15 billing cycles for purchases, and for any balance transfers made in the first 60 days. After the intro APR offer ends, 18.24% - 28.24% Variable APR will apply. A 3% fee applies to all balance transfers.
If you're a Preferred Rewards member, you can earn 25%-75% more points on every purchase. That means instead of earning an unlimited 1.5 points for every $1, you could earn 1.87-2.62 points for every $1 you spend on purchases.
Contactless Cards - The security of a chip card, with the convenience of a tap.
This online only offer may not be available if you leave this page or if you visit a Bank of America financial center. You can take advantage of this offer when you apply now.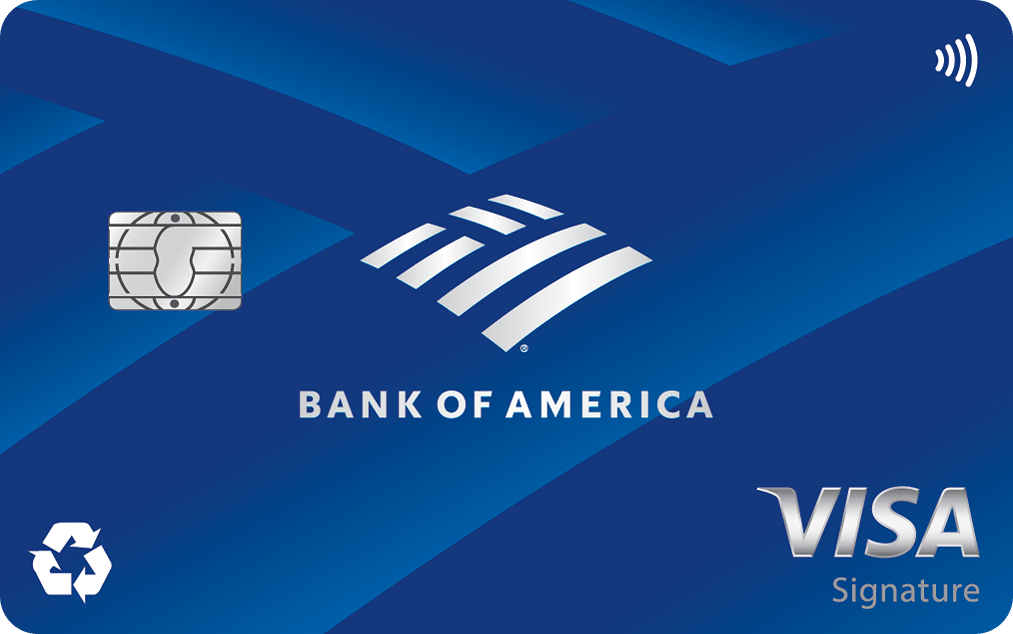 Apply Now
on Bank of America's secure website
Read Card Review
Intro Offer
Earn 25,000 online bonus points after you make at least $1,000 in purchases in the first 90 days of account opening - that can be a $250 statement credit toward travel purchases