You may think it's an unachievable dream to retire when you're 50, but there are steps you can take now to get closer to that goal.
If you're 25, a few small, preliminary steps now will make a huge difference down the road. If you're 45, you may need to make a few aggressive — but not overly risky — moves to make up for lost time.
Whatever the case, check out these crucial moves that can get the ball rolling toward your golden years. With the right preparation, you may be ready to retire sooner than you think.
Save more than your employer matches
Many workplaces offer great retirement benefits, such as a 401(k) that offers a company match of a percentage of the money you contribute to the account.
Many workers contribute up to the company match in their 401(k). But why stop there? Consider talking to your benefits department about increasing the amount of money taken from your paycheck so you can boost your 401(k) account.
Contributing more money to your 401(k) is a great way to get to your retirement goals faster.
Talk to a financial advisor
If investing and money management are not areas where you excel, meet with a financial advisor who can go over your portfolio. An advisor may offer crucial investing insights that can help you reach key financial goals.
Financial advisors can also help you navigate issues that may arise when you're ready to pull out funds after you retire.
Choose an area with a low cost of living
If you already live in an area with affordable housing and amenities, you are ahead of the game on this one. If things are more expensive in your hometown, consider moving to someplace cheaper.
Living in an area with a lower cost of living can both help you save for retirement now and allow you to keep more cash in your retirement accounts once you stop working.
Pay down your debt
It's a good idea to retire without any debt. That way, you don't have to worry about using your well-earned retirement savings for things like credit card bills or student loans.
Try to clear debt off your balance sheet now so you can free up cash for investing. Then, make sure to enter retirement debt-free and stay that way.
Create a budget
Crafting a budget is always a good idea, both before retirement and during your golden years. It also can help to think now about what your expenses will be later.
Make a list of retirement expenses, including:
Housing costs
Utilities
Groceries
Big-ticket items, such as vacations
You may be surprised at how little — or how much — you need to save in order to retire.
Remember long-term care costs
As you age and your health declines, you may need to move to an assisted-care facility or nursing home. Or, perhaps you'll want to hire an in-home aide instead so you can spend your later years at your house.
Whatever your plans, take into account those costs and perhaps even get a long-term care insurance policy so you won't have to spend as much out-of-pocket cash later.
Consider your spouse's plans
Don't automatically assume your better half has the same retirement goals as you. Even if you want to retire at 50, your spouse might enjoy working for several years after you quit your job.
Talk about your retirement plans so you are on the same page about when you plan to retire and how much you need to save.
Look beyond your 401(k)
A 401(k) is a great place to start saving for retirement, but have you considered other investments beyond that basic account?
Do some research on other potential places to park retirement money, such as a Roth IRA or even a basic bank savings account. You may also want to consider adding investments such as real estate to your portfolio.
Develop good spending habits now
Developing good spending habits can help you now and for the rest of your life. Learn how to cook so you can save money that you otherwise would spend at restaurants. Or cut back on how much you spend on clothes and accessories.
If you can develop better spending habits now while you're still working, you will carry those good habits into retirement when you turn 50.
Think about your second act
Even after you retire from your main job, you might still want to explore other ways to make money so you won't have to dip as deeply into your retirement funds.
Perhaps you want to become a consultant in your field, setting your own hours and working when you want to. Maybe you already have a side hustle that you can turn into your main source of income once you retire from your primary job.
Even a little bit of extra cash each month can help you pad savings and allow you to retire earlier than you expected.
Bottom line
If you plan to retire by 50, your best bet is to start working toward the goal as soon as possible. Get a budget in place now and give your investments a good look to see how they're working for you.
You also may want to consider talking to a financial professional to help you maximize your savings long before your turn in your resignation letter and ride into your golden years.
FinanceBuzz is not an investment advisor. This content is for informational purposes only, you should not construe any such information as legal, tax, investment, financial, or other advice.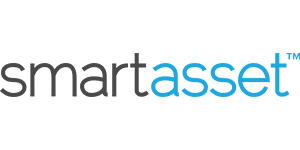 Smart Asset Benefits
Get matched with fiduciary financial advisors
Advisors are vetted and certified fiduciaries
Take the mystery out of retirement planning
Their matching tool is free
FinanceBuzz doesn't invest its money with this provider, but they are our referral partner. We get paid by them only if you click to them from our website and take a qualifying action (for example, opening an account.)