Manhattan is a must-visit destination on many travel lists — and frankly, there's no place like it. Even growing up right outside of the city, I always understood that it had a certain charm everyone should see at least once. That being said, it's not cheap.
If you're heading to Manhattan for a vacation, budgeting for the trip can be daunting. There's a lot to do in NYC and many of those activities can hurt your overall financial fitness — but that's not what we're talking about today.
This is about your cheap, but fun, day. There are plenty of things to do in the city that will cost you very little (or nothing) while still having a blast. Here's how I spent a full day in the city for less than $100!
Stroll through the West Village
I began my day at the Christopher Street Path Station, with the intention of strolling through the West Village (aka Greenwich Village) enjoying the spring weather on the way to the High Line, the first stop on my tour of free things to do in Manhattan.
This general area is home to several landmarks that you can view for free, like the Stonewall Inn (and Christopher Park) and the "Friends" apartment. The area is lovely any time of year and there's no shortage of shops, restaurants, or coffee shops to pop into as you explore.
Cost: Free
Grab breakfast to-go
Since I was trying to conserve cash, I stopped at the Bus Stop Cafe, located at 597 Hudson Street, for a coffee and bagel sandwich to-go — rather than sitting down for a meal.
My cheap NYC day did happen to be a warm Saturday in the spring, so plenty of people were seated both inside and outside enjoying delectable-looking brunches. 
But the restaurant also offered a to-go menu with cheap breakfast options (including the staple bacon, egg, and cheese on a roll) and a $2 coffee, which I opted for instead.
Cost: $7.25
Explore the Meatpacking District
If you continue to stroll down Hudson Street towards the High Line, you'll eventually make your way to the Meatpacking District. With cobblestone streets and plenty of outdoor seating, this is a great place to hang out and enjoy your to-go breakfast while taking in the lively area.
If you're in a shopping (or window shopping) mood, meatpacking also won't disappoint. You can find high-end stores like Hermès as well as trendy spots like Theory and AllSaints.
Cost: Free (unless you give in to the shopping temptation)
Walk the High Line
The High Line is a must-see for anyone visiting New York for the first time. I'd advise saving it for a clear, sunny day during your vacation so you can enjoy the views of the city and the Hudson River.
The High Line was built on an old freight rail line and has been transformed into a free public park where visitors can enjoy excellent views, nature, and art (and do some sunbathing if they so choose).
It's just under 1.5 miles long and an easy walk. It's open until 10 p.m. in the spring and fall, stays open a little later in the summer (11 p.m.), and closes a bit earlier in the winter (7 p.m.)
Cost: Free
The Standard's Roller Rink
I didn't try this one out myself but did notice that The Standard Hotel is now offering a free seasonal roller rink right beside the entrance to the High Line's Gansevoort Street and Washington Street entrance.
It's free to skate but rentals start at $10.
Cost: ~$10
Enjoy Union Square Park and its farmer's market
On a sunny day, Union Square Park is a great place to hang out, chat with friends, enjoy a cup of coffee, or watch unsuspecting tourists get hustled in a game of sidewalk chess.
On Saturdays (as well as Mondays, Wednesdays, and Fridays) the park is host to a Greenmarket with tons of fresh products for purchase — from baked goods to delicious ciders to fresh cut roses.
To conserve cash (and because it was a nice day), I walked from the High Line to Union Square Park down 14th Street (the walk is roughly a mile and takes around 20 minutes).
Cost: Free
Visit the Flatiron District
After you're done with the park, a quick walk down Broadway (heading uptown) will take you to the Flatiron District — another great area to explore a variety of shopping options, great dining, a giant AMC theater, and, of course, the famed Flatiron Building.
It's also a great place to grab a drink outside (more on that later)
Cost: Free for the views
Pop into the Harry Potter store (to shop or snack)
The Flatiron District is home to some hot tourist destinations like the Harry Potter New York store as well as The LEGO Store - Flatiron District.
The Harry Potter store is massive and a must-see for fans of the series. While wizard memorabilia can be pricey, the store also has a snack window you can access from the street where they sell butterbeer (in fancy souvenir tankards), coffee, tea, and snacks.
I obviously had to buy a tankard of butterbeer to enjoy while I explored the rest of the area.
Cost: $12
Lunch at Eataly
If you continue strolling down Broadway (which eventually converges into Fifth Avenue), Eataly is a great place to grab lunch. This massive Italian market has many locations throughout the country. 
Eataly offers pasta, pizzas, Italian sandwiches, a wine bar, a dessert counter, and much more. It has so much to offer that it can actually be a bit overwhelming.
I opted for the Mortadella sandwich on focaccia bread, which came out to $12.90. While there are many tempting beverage options (including a large selection of wine), I grabbed a free glass of water instead.
Cost: $12.90
Enjoy Madison Square Park
Right across the street from Eataly, you'll find Madison Square Park. The market has seating inside, but it was crowded so I decided to eat my lunch outside instead. The park has plenty of public tables and benches to hang out on and grab a quick bite or chat with friends.
It's also home to a huge dog park if you're looking for some furry entertainment while you eat.
Cost: Free
Enjoy a pop-up alcoholic beverage
After spending some time in Madison Square Park, I headed back down Broadway (towards the Flatiron Building) because I had noticed a pop-up bar/cafe that was selling wine, beer, coffee, smoothies, and more in a section of the street that was closed off to traffic.
I decided to get a table and buy a mimosa to sip on while enjoying a perfect view of the Empire State Building (my personal favorite skyscraper in NYC).
Cost: ~$14
Grab dinner at Trailer Park Lounge
After spending so much time outdoors (and walking), a friend suggested grabbing dinner at Trailer Park Lounge, a kitschy (in the best way) spot about a half a mile from Madison Square Park (at 271 W 23rd Street).
It's a funky little spot with traditional American dining and cheap drinks — I got a cheeseburger with tots and canned champagne.
It also lives up to its name with the decor. You can find 1950s-style diner booths decorated with Christmas lights and framed photos of Elvis next to a poster of Dog the Bounty Hunter.
Cost: ~$37 (with tip)
Other ways to save: Check out museums during free hours
New York is known for many things, including a thriving arts scene. However, the city's top museums can be pricey (and don't even get me started on the price of food or souvenirs once you're inside).
To conserve cash, consider hitting up the top museums and attractions during their free hours:
The American Museum of Natural History offers pay-what-you-want admission for New York, New Jersey, and Connecticut residents.
The Guggenheim offers pay-what-you-want admission on Saturdays from 6 to 8 p.m.
The Whitney Museum of American Art offers pay-what-you-want admission from 7 to 10 p.m. every Friday.
The New York Botanical Garden is free from 10 to 11 a.m. every Wednesday for all and for the whole day on Wednesdays for NYC residents.
Other ways to save: Take the subway
If you're taking cabs or Ubers around the city, your bills will pile up really fast. The great thing about NYC is that you can walk a quarter mile in any direction and be in a completely different neighborhood with its own charm and vibe.
If walking is not an option, always take the subway when possible. Fare is $2.75 a trip for most people (some passengers, like seniors, get discounts) and you can pay with Apple Pay, Google Pay, Samsung Pay, and contact cards thanks to the new OMNY system.
Total money spent for a day in NYC
Without factoring in transportation costs to get into the city, that brings my grand total for a day in Manhattan to just over $83. This doesn't include the cost to skate if you decide to rent some equipment.
Obviously, I was able to save a lot due to walking instead of taking the subway or a cab and doing a lot of window shopping, but there are many other ways you can conserve cash during a trip to NYC.
Bottom line
These are just a few of the many things you can do in NYC for free (or very little cash).
First-time visitors should also make time to visit famed landmarks like Central Park, Chelsea Market, Grand Central Station, the New York Public Library, and so much more.
Before you come, look into what travel reward credit cards you may be able to use to book your trip and save even more.
Easy-to-Earn Unlimited Rewards
Earn 25,000 online bonus points after you make at least $1,000 in purchases in the first 90 days of account opening - that can be a $250 statement credit toward travel purchases
Earn 1.5 points per $1 spent on all purchases
Longer intro APR on qualifying purchases and balance transfers
No foreign transaction fees
Earn unlimited 1.5 points per $1 spent on all purchases, with no annual fee and no foreign transaction fees and your points don't expire.
25,000 online bonus points after you make at least $1,000 in purchases in the first 90 days of account opening - that can be a $250 statement credit toward travel purchases.
Use your card to book your trip how and where you want - you're not limited to specific websites with blackout dates or restrictions.
Redeem points for a statement credit to pay for travel or dining purchases, such as flights, hotel stays, car and vacation rentals, baggage fees, and also at restaurants including takeout.
0% Introductory APR for 18 billing cycles for purchases, and for any balance transfers made in the first 60 days. After the intro APR offer ends, 17.99% - 27.99% Variable APR will apply. A 3% fee applies to all balance transfers.
If you're a Preferred Rewards member, you can earn 25%-75% more points on every purchase. That means instead of earning an unlimited 1.5 points for every $1, you could earn 1.87-2.62 points for every $1 you spend on purchases.
Contactless Cards - The security of a chip card, with the convenience of a tap.
This online only offer may not be available if you leave this page or if you visit a Bank of America financial center. You can take advantage of this offer when you apply now.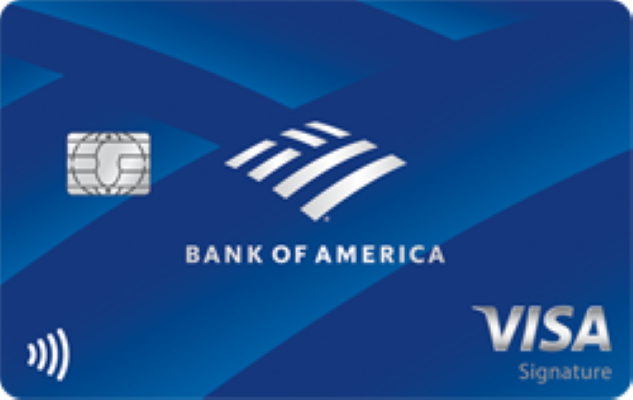 Apply Now
on Bank of America's secure website
Read Card Review
Intro Offer
Earn 25,000 online bonus points after you make at least $1,000 in purchases in the first 90 days of account opening - that can be a $250 statement credit toward travel purchases