Restaurants are a great source of local pride and identity for a community, and everyone has their favorites.
Each state has one shining star, though, that is recognized to be the most famous in the state or that encapsulates the area's culture, history, and community all in one.
Keep reading to learn about the most iconic eatery in every state — including yours. Then step up your travel game and start trying them.
Earn a $250 travel bonus with this incredible card
There's a credit card that's making waves with its amazing bonus and benefits. The Bank of America® Travel Rewards credit card has no annual fee and you can earn 25,000 points after spending $1,000 in purchases in the first 90 days of account opening.
You can earn additional points just by using this card for your everyday purchases — unlimited 1.5 points per $1 spent on all purchases. The 25,000 points can be redeemed for a $250 statement credit toward travel or dining purchases.
If you want to travel and dine out more, the Travel Rewards card can help you get where you want to go.
The best part? There's no annual fee.
Alabama: Highlands Bar and Grill
Alabama's most iconic restaurant is Highlands Bar & Grill in Birmingham. The restaurant specializes in French and Southern fusion cuisine and is currently closed but will reopen soon.
The head chef, Frank Stitt, was born in Alabama but completed his culinary training in France. He was inducted into Esquire's Restaurant Hall of Fame in 2011.
Pro tip: When you visit any of these restaurants, don't miss out on earning travel rewards by booking your trip with a high-quality travel credit card.
Alaska: Snow City Cafe
For some delicious diner eats, head to Alaska's most iconic restaurant, Snow City Cafe. Located in Anchorage, this cafe emphasizes all things fresh and local.
The restaurant only serves breakfast and lunch, and its menu has a strong emphasis on egg dishes.
There's plenty more where that came from, though, including sandwiches, soups, and even cocktails.
Arizona: El Charro Café
Head down south to Arizona for the state's most iconic restaurant, El Charro Café. There are four locations — in downtown Tucson, Oro Valley, Ventana, and the Tucson International Airport.
What makes it so iconic, though, is its history and lineage. El Charro Café is the first Mexican restaurant in America and is still owned and operated by the same founding family.
If you're over 50, take advantage of massive travel discounts and trip-planning resources
Over 50 and love traveling? Join AARP today — because if you're not a member, you could be missing out on huge travel perks. When you start your membership today, you can get discounts on hotels and resorts, airfare, cruises, car rentals, and more.
How to become a member today:
Go here, select your free gift, and click "Join Today"
Create your account (important!) by answering a few simple questions
Start enjoying your discounts and perks!
An AARP membership not only unlocks discounts that could save you hundreds on your next trip, but you'll also have access to deals on vacation packages, guided tours, and exclusive content to help plan your next getaway.
Important: Start your membership by creating an account here and filling in all of the information (do not skip this step!). Doing so will allow you to take up to 25% off your AARP membership, making it just $12 per year with auto-renewal.
Arkansas: Doe's Eat Place
Doe's Eat Place originally popped up in Mississippi, but its location in Little Rock, Arkansas, is the state's most renowned eatery.
Doe's is known for its delicious and "no frills" Southern cuisine, specifically their steaks and tamales. The chefs offer classic Southern food in a rustic and comforting environment.
California: The French Laundry
In a state with such a diverse and broad culinary scene like California, it's hard to pinpoint one specific iconic restaurant.
However, one of the most exemplary can be found in Yountville in Napa County at The French Laundry.
As the name would suggest, the restaurant serves French cuisine. What makes it unique, though, is its menu, which changes daily.
Colorado: Casa Bonita
Casa Bonita in Lakewood, Colorado, is a restaurant located just next to the diving pool of the same name. It's hard to miss the Mexican restaurant, with its bright pink stucco exterior and bell tower.
If the restaurant seems familiar, you may have seen it before on an episode of South Park. The owners recently reopened the restaurant following a huge renovation.
Connecticut: Louis' Lunch
New Haven, Connecticut, is home to Louis's Lunch. Not only is this the state's most iconic restaurant, but if you're a burger-lover or food history buff, it's a must-visit.
The diner has been open since 1895, but in 1900, it became the origin-place of the hamburger. It still serves its burgers the way it originally did over a century ago.
Delaware: Le Cavalier
Formerly known as The Green Room, Delaware's most iconic restaurant is Le Cavalier in Wilmington.
This name is an homage to the origin of the restaurant and the hotel it's located in. Guests would often arrive on horseback.
Le Cav, as it's nicknamed, specializes in modern French cuisine, specifically with Provençe and North African influences.
Florida: Joe's Stone Crab
Florida is another state with a vast wealth of diverse and varying cuisine, but perhaps one of their most iconic eateries is Joe's Stone Crab, located in Miami Beach.
Joe's is older than the city of Miami Beach, and it is the first restaurant to serve stone crabs on the menu. This culinary revolution arose in 1921, eight years after opening its doors.
Don't let home repairs drain your bank account
Did you know if your air conditioner stops working, your homeowner's insurance won't cover it? Same with plumbing, electrical issues, appliances, and more. Not being able to make repairs could leave you in a bad situation — but a home warranty could protect you against surprise expenses.
Whether you're a brand-new homeowner or you've owned your home for years, a plan from Choice Home Warranty could pick up the slack where homeowner's insurance falls short.
If a covered system in your home breaks down, you can call their hotline 24/7 for assistance to get it repaired. They have a network of over 15,000 technicians that can assist you, making sure any issue can be taken care of swiftly — without breaking the bank.
Not sure if it's for you? Rest easy: they were named one of the "Best Home Warranty Companies" by US News 360 Reviews and were awarded Best Company's 2020 Consumer's Choice Award. For a limited time, you can get your first month free when you sign up for a Single Payment home warranty plan.
Georgia: The Varsity
The Varsity is Georgia's most emblematic restaurant, and also the World's Largest Drive-In.
There are a total of six locations — one in the city of Atlanta, two in the Atlanta Airport, and one each in Norcross, Kennesaw, and Dawsonville.
The menu features classic comfort drive-thru dishes, like chili dogs, burgers, and shakes. The Varsity also has food trucks that you might find around the state.
Hawaii: Marugame Udon
Marugame Udon is one of Hawaii's most popular and iconic restaurants. Both locations are located in Honolulu — one in Waikiki, and the other downtown. There are also locations in California and Texas.
It serves fresh udon noodle bowls with made-to-order noodles. Expect lines to be long when you go to visit this popular eatery, though.
Idaho: The Basque Market
Idaho's most iconic restaurant is The Basque Market in Boise. As the name would suggest, this restaurant serves Basque cuisine, focusing on pintxos, or family-style small-plate meals like tapas.
Idaho is home to the United State's second-largest Basque population, making it a wonderful representation of local cuisine and culture.
Illinois: Alinea
With Chicago as one of the biggest and most diverse culinary hubs in the country, narrowing down one iconic restaurant in Illinois is near impossible. However, Chicago's Alinea comes close.
This restaurant is just as much about the experience as it is about the food. With a 3-star Michillen rating, the restaurant offers a unique menu each night for one of three separate options, each experience ranging in price and menu focus.
Indiana: St. Elmo Steak House
St. Elmo's is an Indiana staple steakhouse, operating since 1902. Located in Indianapolis, this restaurant has a fine dining feel but with a down-to-earth, classic menu.
The restaurant became a staple early on when it served as a popular hangout for Indianapolis' wealthy and elite, and now serves high-end steaks, fish, chicken, and salads.
Iowa: Zombie Burger + Drink Lab
If you want a unique burger dining experience, head to Des Moines or Jordan Creek Mall in Iowa to visit Zombie Burger + Drink Lab.
It has a huge burger and shake menu, including some boozy shakes, all of which are horror-themed — like the classic Zombie Burger, or the 28 Days Later. There are also tons of allergen-friendly options.
Kansas: The Cozy Inn
There's no place like home, and there's no burger like a hometown burger. The Cozy Inn, a burger joint in Salina, Kansas, first opened as a 5-cent slider stand in 1922.
Their menu is still as simple and classic over 100 years later, serving just Cozy Burgers for $1.59, chips, coffee, and soda.
Kentucky: J. Graham's Cafe
Kentucky's most iconic restaurant is located inside its most iconic hotel, The Brown Hotel in Louisville. Inside this luxurious hotel, you'll find J. Graham's Cafe, which is home to the hot brown.
The hot brown is a Kentucky cuisine staple, consisting of an open-faced turkey sandwich on Texas toast and topped with tomatoes, parmesan, bacon, and Mornay sauce. It was invented in the hotel in 1926.
Louisiana: Commander's Palace
It comes as a surprise to very few that Louisiana's most iconic restaurant is located in New Orleans. Commander's Palace is located in the Garden District, where it has been serving delicious Creole food since 1893.
Enjoy delicious dishes like turtle soup au sherry, Louisiana-style shrimp curry, pork belly burnt ends, or Creole-style bread pudding souffle.
Maine: Fore Street
Fore Street in Portland, Maine, has been exemplary of the best cuisine the state has to offer since opening in 1996.
It's only open for dinner service and has a daily variable menu. This is because the restaurant puts a major emphasis on local, fresh produce — especially their seafood.
Maryland: Woodberry Kitchen
Maryland's Woodberry Kitchen is a community beacon. Located in Baltimore, this eatery's biggest passion is to merge community tradition with local, environmentally sound ingredients.
This is the perfect restaurant for people with adventurous and variable appetites, as the menu changes regularly depending on what is fresh and in-season.
Massachusetts: Union Oyster House
Union Oyster House in Boston, Massachusetts, is not just the state's most iconic restaurant, but perhaps one of the most emblematic in the whole country.
This eatery opened in 1826 and is the oldest restaurant in the United States that's still in service.
To no one's surprise, the menu almost exclusively features fresh and delicious East Coast seafood.
Michigan: Zingerman's Delicatessen
Michigan's most iconic restaurant also doubles as a grocery store. Zingerman's Delicatessen in Ann Arbor not only serves up fresh deli eats, but sells fish, cold cuts, coffee, teas, chocolates, and more.
Zingerman's has been open since 1982, serving a variety of delicious deli sandwiches. Some of their most popular menu items include their classic Reuben and their Brooklyn-style Reuben.
Minnesota: Matt's Bar
Matt's Bar is another bucket list burger joint not just for Minnesotans, but burger lovers and food history nerds. Located in Minneapolis, this restaurant is the home and originator of the Jucy Lucy burger.
They opened in 1954 and still make the signature cheese-filled burger the same way they first did so many years ago.
Mississippi: The Shed BBQ & Blues Joint
The Shed BBQ & Blues Joint in Ocean Springs, Mississippi, is a family-owned landmark. Colloquially known as The Shed, their menu features a variety of delicious Southern barbeque staples.
The Shed has live blues music on Friday and Saturday nights and sells bottled versions of all its secret-recipe barbeque sauces.
Missouri: Pappy's Smokehouse
Pappy's Smokehouse has two locations in Missouri — one in St. Louis, and another in St. Peters. Offering Memphis-style barbeque, its meats are all served fresh from the smoker, some cuts cooking for over 24 hours.
If you don't want to head in to enjoy any number of their delicious barbeque meats, you can buy bottled Pappy's sauces and enjoy the flavor at home.
Montana: Roadhouse Diner
Roadhouse Diner is one of the most iconic restaurants in Montana. Located in Great Falls, this diner is known for its world-famous burgers.
Aside from its multiple nationwide accolades, Roadhouse has been voted the best burger in the state each year, dating back to 2017.
Nebraska: The Drover
It's only fitting that Nebraska's most iconic restaurant is a steakhouse in Omaha. The Drover is a famous steakhouse known for its housemade whiskey marinade that all the steaks are soaked in.
The menu is very simple — you pick a cut of steak, pork, chicken, or their various seafood options, and it's served to you soaked in the marinade with a small selection of sides.
Nevada: The Peppermill Restaurant
Nevada is packed full of restaurants, especially Las Vegas, so picking the top most iconic eatery is a tall order.
The Peppermill Restaurant, though, has withstood the test of time and catapulted itself into iconography.
Founded in 1972, the restaurant still has a heavily '70s-inspired menu and feel. Its menu includes breakfast, lunch, dinner, dessert, and, of course, cocktails and wine.
New Hampshire: The Common Man
The Common Man is a New Hampshire staple restaurant, with six locations throughout the state. The first one opened in Ashland in 1971.
As the name would suggest, this eatery serves common, home-style dishes but with a Northeast flavor and a bit of finesse. The menu includes staples like pot roast and burgers, as well as escargot and poke.
New Jersey: The Original Pancake House
While it was founded in Oregon in 1953, The Original Pancake House is New Jersey's most iconic restaurant.
There are three locations in the state — one in Edgewater, one in Metuchen, and another in West Caldwell.
As the name would suggest, this restaurant's specialty is pancakes and other breakfast dishes. Its specialty pancake is apple-flavored.
New Mexico: The Shed
The Shed is a New Mexico staple sight and restaurant alike. Founded in Sante Fe in 1953, the eatery has been family-owned since its opening and is easily recognizable by its brightly colored front door.
The menu features plenty of New Mexican classics, including enchiladas, tacos, burritos, huevos rancheros, tamales, and more.
New York: Katz's Delicatessen
As the country's melting pot, New York has a ton of dining options to offer, each one competing for timelessness, trendiness, and relevancy. But one iconic deli has been going steady since 1888.
Katz's Delicatessen in the Lower East Side is inseparable from Manhattan as any other iconic landmark, specializing in Jewish cuisine and its world-famous pastrami, corned beef, and Reuben sandwiches.
North Carolina: Biltmore Estate Dining Room
To visit North Carolina's most iconic restaurant, you'll have to head to the Biltmore Hotel in Asheville.
The Dining Room, the hotel's restaurant, is a four-star affair, serving breakfast, afternoon tea, and dinner to guests and visitors alike.
The menu consists of elevated, fine dining takes on classic Southern dishes, including chicken roulade, a Southern biscuit bar, and deviled eggs.
North Dakota: Mezzaluna
North Dakota's most iconic restaurant is Mezzaluna, a fine dining experience in downtown Fargo.
Its menu features classic dishes for a restaurant of its caliber, including scallops, mahi mahi, steak, delicious vegetable sides, and specials for those with dietary restrictions. It also has an extensive artisan cocktail list.
Ohio: Skyline Chili
While controversial to many outside the state, Ohio's most iconic restaurant is Skyline Chili.
The most classic menu item is the 3-way, consisting of spaghetti noodles topped with chili, cheese, and optional onions and beans. Additionally, the chili recipe is notoriously rumored to have chocolate in it.
This is referred to as Cincinnati-style chili, but there are Skyline drive-thrus throughout the state. The chili-based fast food chain opened originally in 1949.
Oklahoma: Cattlemen's Steakhouse
Cattleman's Steakhouse is Oklahoma's most iconic restaurant, located in Stockyard City and opening in 1910, making it the oldest restaurant still in operation in the state.
The eatery originally served various cattle-drivers, as the name would suggest, including ranchers and cowboys. Naturally, their menu primarily features a variety of steak dishes.
Oregon: Bowpicker Fish & Chips
While there are plenty of trendy and popular restaurants in Oregon, it is a coastal state with tons of fresh seafood abounding.
Bowpicker Fish & Chips in Astoria is a small restaurant located inside a converted boat with walk-up window service.
Its most iconic dish is, of course, fish and chips. It uses Albacore tuna, and the fried fish is served with steak fries, tartar sauce, and vinegar.
Pennsylvania: Pat's King of Steaks
Pat's King of Steaks is Pennsylvania's most iconic eatery and holds a significant place in the history of American cuisine. Opening in 1930, this restaurant invented the Philly cheesesteak.
The restaurant is still family-owned and only operates out of its original South Philadelphia location. The menu involves a variety of cheesesteaks, pepper steaks, a fish cake, a hot dog, and fries.
Rhode Island: Al Forno
Al Forno is Rhode Island's most iconic restaurant and has been serving the people of Providence since 1980.
It has a classic Italian menu, but they're created with New England traditions and cuisine in mind, like their clams al forno dish.
South Carolina: Husk
Located in a Victorian mansion in downtown Charleston, Husk is South Carolina's most iconic restaurant. It serves Southern cuisine with a strong focus on local ingredients, letting the food inspire the menu.
As such, there is no one set menu, but rather an ever-changing and evolving series of dishes. Some recent items include a rabbit roulade with grits, lamb dumplings, and beef tongue with green tomatoes.
South Dakota: Western Art Gallery Restaurant
One of South Dakota's biggest tourist stops is Wall Drug Store in the town of Wall. Inside this drug store is the Western Art Gallery Restaurant, one of the most iconic restaurants for tourists and locals alike.
The drug store opened in 1931, and in that same decade, it added a soda fountain that's still there today. Make sure to check out the donuts, buffalo burgers, and 5-cent coffee.
Tennessee: Loveless Cafe
Tennessee's most emblematic restaurant can be found in Nashville. Founded in 1951, the Loveless Cafe started as a motel that served fried chicken.
The menu features traditional, homey, and comforting Southern classics, but be sure to get a side of the world-famous biscuits when visiting.
Texas: Franklin Barbecue
Franklin Barbecue is one of Texas's most well-known and iconic barbecue sites, located on the east side of Austin.
Aaron Franklin, the co-owner, has his own New York Times bestselling cookbook, a Masterclass video series, and a web series with PBS.
The menu features a variety of barbecue meats, including by-the-pound brisket, spare ribs, and pulled pork, plus sandwiches, pies, and cold beer and wine.
Utah: Red Iguana
Utah's most well-loved restaurant is Red Iguana in Salt Lake City, serving authentic Mexican food since 1985. Its menu is extensive and caters to a variety of dietary restrictions.
Dishes include a wide variety of mole, enchiladas, tostadas, and chimichangas, and the Red Iguana plate includes an enchilada, taco, beef flauta, chile relleno, and a beef tostada.
Vermont: The Farmhouse Tap & Grill
The Farmhouse Tap & Grill in Burlington, Vermont, is the state's most iconic eatery. The restaurant is a farm-to-table style gastropub and has an outdoor beer garden during warm seasons.
Its menu features a variety of burgers, salads, and entrees like fish and chips, mussels, eggplant, and pork shoulder.
Virginia: The Inn at Little Washington
Inside The Inn at Little Washington in Washington, Virginia, is an iconic restaurant with a French-inspired menu.
The food is prepared mostly with local ingredients and features two menu options: The Gastronaut or The Good Earth, the latter being their vegetarian selection.
The menus are limited, creating a curated dining experience.
Washington: Canlis
Canlis is a landmark staple in Seattle and Washington as a whole. The restaurant opened in 1950 and offers a simple fine dining experience.
The menu has a flat fee of $150, offering three courses with just three selections each. Dishes include venison, halibut, delicate ice cream, and a series of vegetarian options.
West Virginia: Coleman's Fish Market
Enjoy some delicious, country-style fish at Coleman's Fish Market in Wheeling, West Virginia. The restaurant opened in 1914, its feature dish being hand-fileted fish sandwiches.
Aside from fish sandwiches, Coleman's Fish Market also serves clam chowder, lobster bisque, alligator stew, gumbo, crab cakes, oysters, shrimp baskets, and more.
Wisconsin: The Old Fashioned
Get your dairy on at The Old Fashioned, Wisconsin's most iconic restaurant.
This Madison eatery showcases as much cheese as the state can offer, with menu items including beer cheese soup, poutine, mac and cheese, fondue, and of course, its famous cheese curds.
Wyoming: Snake River Grill
Last but not least is Snake River Grill in Jackson, Wyoming. Founded in 1993, this New American restaurant offers rustic-style fine dining.
Dishes include caviar service, onion rings, tartare pizza, barramundi, duck breast, wagyu ribeye, and flank steak. You can choose from over 300 wines and cocktails.
Bottom line
Whether it's upscale fine dining or a small diner, each state has a restaurant that reflects its inhabitants' culture, values, and history, translating it through food and feeding its community.
Whether you're enjoying fresh seafood on the coasts, an interpretation of Southern cuisine, or some unique eatery in the landlocked states, your state's most iconic restaurant is a direct reflection of its history until that point.
Plus, if you pay for your food with a credit card that helps you earn rewards, like cash back, then you could find yourself as happy as your stomach.
Easy-to-Earn Unlimited Rewards
Earn 25,000 online bonus points after you make at least $1,000 in purchases in the first 90 days of account opening - that can be a $250 statement credit toward travel purchases
Earn 1.5 points per $1 spent on all purchases
Longer intro APR on qualifying purchases and balance transfers
No foreign transaction fees
Earn unlimited 1.5 points per $1 spent on all purchases, with no annual fee and no foreign transaction fees and your points don't expire.
25,000 online bonus points after you make at least $1,000 in purchases in the first 90 days of account opening - that can be a $250 statement credit toward travel purchases.
Use your card to book your trip how and where you want - you're not limited to specific websites with blackout dates or restrictions.
Redeem points for a statement credit to pay for travel or dining purchases, such as flights, hotel stays, car and vacation rentals, baggage fees, and also at restaurants including takeout.
0% Introductory APR for 15 billing cycles for purchases, and for any balance transfers made in the first 60 days. After the intro APR offer ends, 18.24% - 28.24% Variable APR will apply. A 3% fee applies to all balance transfers.
If you're a Preferred Rewards member, you can earn 25%-75% more points on every purchase. That means instead of earning an unlimited 1.5 points for every $1, you could earn 1.87-2.62 points for every $1 you spend on purchases.
Contactless Cards - The security of a chip card, with the convenience of a tap.
This online only offer may not be available if you leave this page or if you visit a Bank of America financial center. You can take advantage of this offer when you apply now.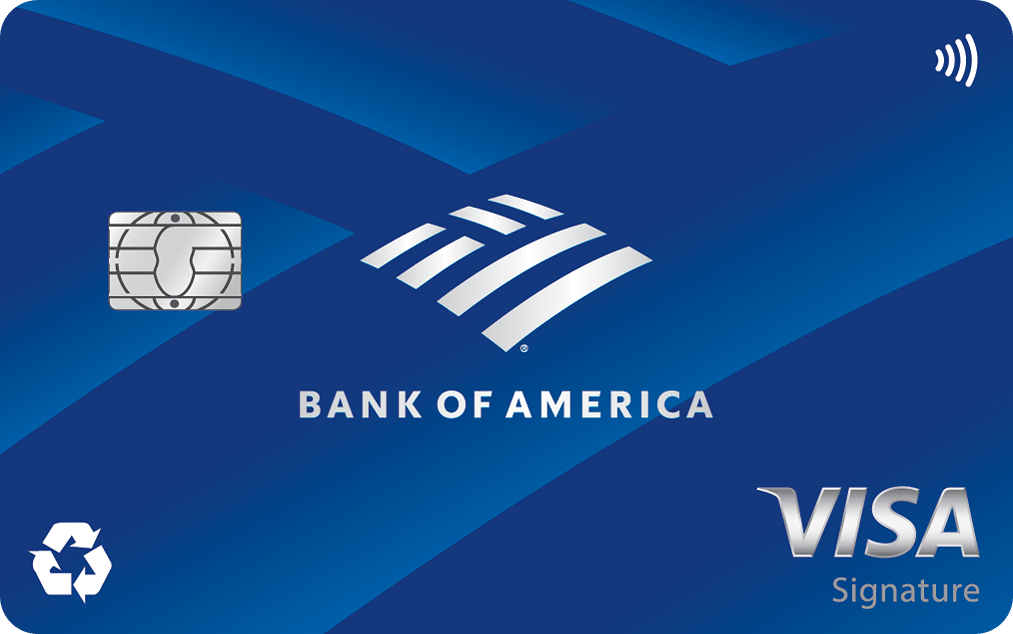 Apply Now
on Bank of America's secure website
Read Card Review
Intro Offer
Earn 25,000 online bonus points after you make at least $1,000 in purchases in the first 90 days of account opening - that can be a $250 statement credit toward travel purchases