The 2021-2022 NBA season tips off October 19, and the 2021-2022 season will mark a return to a traditional 82-game schedule after the COVID-19 pandemic cut short the last two seasons. That means fans will have the opportunity to watch and attend a full complement of games for the first time since the 2018-2019 season.
As league operations return to normal, we investigated how NBA fans use their wallets to support their favorite teams and players. To better grasp how NBA fans spend money on things like tickets, in-arena food and drink, and team and player merchandise, we surveyed fans of all 30 teams, over 850 people in total.
Using those responses, we were able to see which fan bases spend the most and least money in support of their favorite teams and players as they compete on the hardwood. Read on to see the results.
Key findings
Lakers fans spend the most on team merchandise ($297), while Timberwolves fans spend the least ($74).

One in five fans would pay $50 or more above the average ticket price to see Steph Curry play in person. That compares to 16% who said the same for LeBron James and 14% who would pay $50+ extra to see Giannis Antetokounmpo.

Unless their team is playing, 17% of NBA fans avoid watching games on TV when James Harden is playing, and 15% tune out when LeBron James is on.

Clippers fans spend the most on alcohol ($54) when attending a game, while Pelicans fans spend the least — just $6 on alcoholic concessions.
Fans of these NBA teams spend the most on team merchandise
When looking at which NBA fan bases spend the most money on team merchandise and gear, fans of winning teams are more likely to spend money buying apparel. Only three teams in the top 10 had losing records last season, and only two failed to qualify for some form of postseason action.
The top two fan bases for spending on team gear — the Los Angeles Lakers and Milwaukee Bucks — represent the last two teams to win the NBA championship. Purchases of merchandise celebrating those titles probably contributed to their high finishes. Additionally, three other teams in the top 10 — the Warriors, Celtics, and Mavericks — have all won championships in the last 15 years.
The NBA is driven by star players more than almost any other major American sports league. Individual players often earn adoration or scorn from fans of other teams regardless of overall team loyalties. For that reason, we also asked fans to tell us how much they spend every year on merchandise and gear of players on teams other than the one they primarily root for.
Three fan bases indicated they spend over $100 a year on player apparel from teams other than their own: the Warriors, Bucks, and Nuggets. Interestingly, these are all very good teams that feature the kinds of superstars that fans of other teams tend to support in Steph Curry, Giannis Antetokounmpo, and reigning league MVP Nikola Jokic.
Fans of these NBA teams spend the least on team merchandise
On the other end of the spectrum, we found which NBA fans spend the least on team merchandise and gear. Every fanbase on this list spends less on their favorite team's apparel than fans of the Warriors, Bucks, and Nuggets do on merchandise of players on other teams.
Additionally, fans of six of these teams spend less than $100 annually buying gear of their favorite team, with Minnesota TImberwolves fans spending the least. Minnesota fans are the only ones to spend less than $75 a year and the only ones that spend less than half the league-wide average when it comes to merchandise.
Two of the three fan bases that spend the least money on team merch, the Timberwolves and Grizzlies, root for teams that have never made it to the NBA Finals. They are joined in the top three by Indiana Pacers fans, who support a team that made the only Finals appearance in franchise history over 20 years ago.
NBA stars who are the biggest draw for fans of other teams
For years, star NBA players have had an outsized influence on ticket sales, especially when on the road. Unless they play for your local team, most fans only have a handful of chances each season to see stars like Michael Jordan or LeBron James play in person. With that in mind, we asked fans to tell us how much over the average ticket price they would pay to see each of the 10 most popular NBA players based on the best-selling player jerseys of last season.
Using our survey results, we charted out what percentage of NBA fans would be willing to pay at least $50 more than usual to see each of those players. Steph Curry led the way, with one out of every five NBA fans indicating a willingness to pay a premium to watch him work. LeBron James is the only other player to earn the same honor from at least 15% of fans, though Giannis Antetokounmpo came close at 14.71%.
Outside of the few times each season these top players visit each NBA city, their star power means they frequently play in primetime, nationally televised games. We asked the fans in our survey to tell us which stars make them most likely to watch a game their favorite team is not competing in — and which players they try to avoid.
Once again, Curry led the way, with over 20% of fans saying they will watch anytime he is on TV, followed by Damian Lillard and Kevin Durant.
Interestingly, two of Durant's teammates, James Harden and Kyrie Irving, are the two players fans try to avoid watching the most. While that would seem to present a conundrum for neutral fans deciding whether to tune in or not, injuries meant the trio only played a handful of games together last season. This trend may continue, given the injury histories of all three players.
NBA teams whose fans spend the most on arena concessions and alcohol
Whether watching a visiting star or just cheering on your favorite team against a division rival, no trip to an NBA arena is complete without some snacks. Our survey asked fans how much they spend on food and drinks for themselves and anyone else they attend games with. On average, NBA fans can expect to spend just under $70 per game.
One fan base spends well above that amount, though. Los Angeles Clippers fans indicated they spend over $100 more than the league average when they take in a game at Staples Center. That number is over $70 more than fans of the Lakers spend at games, despite both teams playing in the same arena.
It is also noteworthy that Clippers fans spend so much since they are one of only three teams in the top 10 that have not won an NBA championship in the last 25 years. The Nuggets and Knicks are the other two. Every other team has given their fans a title in the last quarter-century, which probably makes fans more willing to open their wallets in support of their team.
When breaking down food and drink spending even further, spending on alcoholic beverages accounts for over one-third of the money Clippers fans spend on concessions — their fans spend nearly $55 a game on alcohol. That number is over double the league-wide average, a threshold no other fan base in the NBA reached.
NBA teams whose fans spend the least on arena concessions and alcohol
On the other hand, New Orleans Pelicans fans are the most frugal when they watch a game in person. Pelicans fans spend more than $40 less than the league average on food and drinks.
It is interesting to note that no team in the bottom 10 in food and beverage spending has won an NBA championship since the Philadelphia 76ers in 1983. Four of the teams — the Pelicans, Timberwolves, Grizzlies, and Hornets — have never made a single Finals appearance.
The same three fan bases that spend the least on concessions in general also spend the least on alcohol, and in the same order. Pelicans fans spend less than one-third the league average on alcohol, while Atlanta Hawks fans spend less than half the league average.
Ways to save while supporting your favorite NBA team
No matter who you root for this NBA season, here are some ways to save money while supporting your team:
Save on team gear while shopping online. Outside of the team store, there is nowhere better than the internet to find team clothing and apparel. Fans can save money shopping online if they know where to look, so be sure to shop around for the best deals on team apparel.
Get rewarded for online purchases. Not all credit cards are created equal when it comes to online shopping. The best credit cards for online shopping can help you earn the most points when buying things like team gear and game tickets.
Earn tickets and special experiences. Some credit card reward programs can earn cardholders access to events such as tickets to see their favorite team. If that's something that interests the fan in you, be sure to check out how to earn unforgettable experiences with a Chase Sapphire Preferred or Reserve card.
Methodology
FinanceBuzz surveyed 891 NBA fans, including a minimum of 20 fans of every single team in the league, between September and October of 2021. Respondents were asked to outline their spending and fandom habits during a typical NBA season, such as those prior to the COVID-19 pandemic.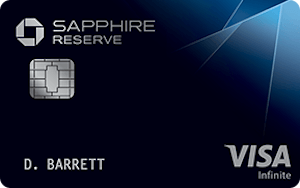 5.0
FinanceBuzz writers and editors score cards based on a number of objective features as well as our expert editorial assessment. Our partners do not influence how we rate products.
Current Offer
Earn 60,000 bonus points after you spend $4,000 on purchases in the first 3 months from account opening
Rewards Rate
5X points on flights and 10X points on hotels and car rentals when you purchase travel through Chase Ultimate Rewards® immediately after the first $300 is spent on travel purchases annually; 3X points on other travel and dining & 1X points per dollar on all other purchases