Nearside bankruptcy
Nearside stopped offering its services in November 2022, three months after getting acquired by Plastiq, a lending and payments startup. Both companies filed for bankruptcy in May 2023.
For reliable business formation services, we recommend ZenBusiness for its affordability, user-friendly platform, excellent customer support, and comprehensive services. Learn more in our ZenBusiness review.
Nearside supports business owners by providing limited liability company (LLC) formation and banking services. What the company offers can help you form a business, get it registered, figure out taxes, collect payments, and manage expenses.
Nearside can help you create an LLC with help from its ongoing operations team for a reasonable recurring fee. Normally, Nearside also offers free business checking accounts, including a debit card with an impressive 2.2% unlimited cash back. However, Nearside paused accepting applications for new accounts in August 2022. You can join a waitlist in the meantime.
Let's take a deeper look into how Nearside may help you start and advance your business and how it compares with other alternatives.
What is Nearside?
Nearside was founded in 2019 by Thomson Nguyen, who is the current CEO. Based in San Francisco, California, the company's mission is to provide accessible financial products to everyday small business owners, entrepreneurs, freelancers, contractors, e-commerce store owners, and more.
The company states that it has helped more than 20,000 people start businesses through its limited liability company (LLC) formation service, which it calls Nearside Sprout. Sprout helps you navigate the legal maze of forming and running an LLC business.
The company also operates business checking accounts to help you manage your business's finances. The Nearside banking account allows you to manage your money using the desktop banking platform or the Nearside app. The mobile app is available on Android and iOS.
New banking customers can't sign up for business checking accounts as of August 2022, as Nearside is currently updating its banking platform. Instead, you can join a waitlist to be notified once this banking product is available.
Nearside has online and phone support for its customers. You can reach customer support at 888-516-2369 Monday through Friday from 6 a.m. PT to 5 p.m. PT when you need one-on-one help.
What does Nearside offer?
Nearside offers paid LLC formation services and free business checking accounts. The company used to offer small business loans and a business website-building service, but as of August 2022, it no longer includes these products on its list of services.
Sprout LLC formation service
Many small business owners operate under a business structure known as a sole proprietorship that helps separate their personal and business entities.
However, you may need to add partners or hire employees as your business grows. A limited liability company (LLC) makes this possible. You may also choose to switch to an LLC to remove your personal liability from your business operations.
Nearside makes it pretty easy to set up an LLC. If you're filing in Florida or California, Nearside Sprout LLC costs $29 per month or $200 per year. The Nearside Sprout subscription you pay includes the fees these two states charge to create the LLC.
For all other states, Nearside uses an annual pricing model that charges $39 per year. The first year includes a one-time state filing fee of up to $250.
With Nearside Sprout LLC service, you also get:
The paperwork needed to start an LLC
Legal documents filed on your behalf
Unlimited name availability checks
Continued support with annual compliance reports
Free trial subscriptions and discounts at select business-related services
Access to a registered agent service to handle legal communications for $99 a year
Employer identification number (EIN) for federal taxes for a $39 one-time fee
When setting up your LLC, you work with a Sprout LLC specialist who walks you through the business creation process. This includes getting all the paperwork you need, filing legal documents for you, and guiding you through the compliance process.
Nearside business checking account
Nearside is not accepting new business bank account applications as of August 2022 until it completes an update to its banking platform.
Nearside business checking accounts let you separate your business banking from your personal accounts with minimal hassle. Because Nearside doesn't charge monthly fees or overdraft fees, and doesn't require a monthly minimum balance, this is a good checking account option if you're just starting your business.
Nearside bank accounts can integrate with several services:
Accounting services: Intuit Quickbooks, Xero, and Expensify
E-commerce services: Amazon, Etsy, and Shopify
Invoicing platforms: Alto
Payment services: PayPal, Stripe, Square, and Venmo
Payroll platforms: Gusto
Service platforms: Lyft and Airbnb
Wages, payments, and transactions posted to your business bank account can automatically sync with your invoicing and accounting system. This allows you to avoid manually entering each transaction.
Nearside business checking account holders also qualify for discounts and special offers on business services from companies such as Gusto, Quickbooks, and Indeed.
The Nearside business checking account comes with a free Mastercard debit card that earns an unlimited 2.2% cashback rewards on purchases of goods and services throughout 2022. The card gives you access to no-fee ATM withdrawals within a global network of 55,000 ATM locations.
Who can benefit from Nearside?
Nearside is designed for small business owners whose primary goal is to set up a new LLC business. If you're learning how to make money through a new business, Nearside can help you get the ball rolling by filing LLC forms.
However, Nearside can't help if you want to set up other types of businesses, such as a corporation or a partnership. Nearside doesn't support other business entities. Other perks offered by Nearside may be somewhat limited compared with other business setup and management platforms.
Aside from LLC creation, Nearside also offers free business checking accounts that require no credit check. However, as of August 2022, the platform is not accepting new applications until it completes an update to its banking system. You can only join a waitlist.
The platform previously offered additional business-related services, such as small business loans and a website building service. However, these services are no longer available, and it's unclear whether they'll return in the future.
How to sign up for Nearside Sprout
You can sign up for the Nearside Sprout LLC formation service online in just a few minutes. Simply follow these instructions:
Enter your basic contact details and the state where you'll form your LLC.
Enter the name of your company and provide information about the type of business.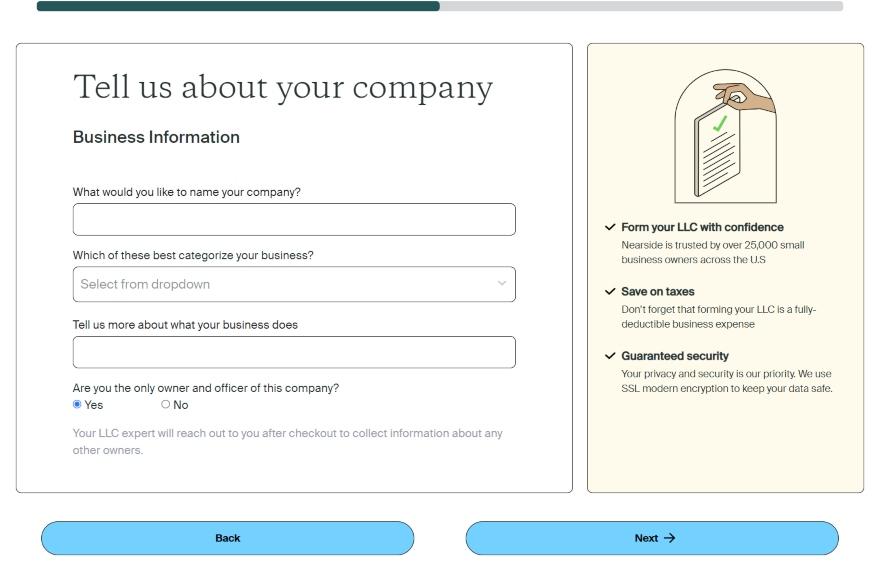 Provide your personal and business addresses, as well as your Social Security number.
Review your order and pay. Nearside accepts debit and credit cards as well as Google Pay.
FAQs about Nearside
Is Nearside a bank?
No, Nearside isn't a bank. It's a fintech company that provides banking technology for small businesses, in addition to LLC formation services. As of August 2022, the company has paused accepting new business checking account applications until it completes an update to its banking services. People interested in Nearside bank accounts can join a waitlist to be notified once applications are open again.
Can you overdraft with Nearside?
Yes, Nearside offers a $0 fee overdraft service for its business checking account holders. The account also has no maintenance fees and no minimum balance requirements. However, customers who would like to open a new account must wait until Nearside begins accepting applications again.
How much can you borrow from Nearside?
Nearside previously offered small business loans up to $10,000. However, the company no longer offers this service. Nearside loans had no origination fee, but you needed to have a Nearside business bank account with several months of banking history to qualify.
Learn more about business debt consolidation or explore the best personal loans you can apply for.
Other services to consider
If Nearside doesn't feel like the right fit or doesn't offer the services you need, ZenBusiness and LegalZoom are two other companies you can consider to set up your business. Both companies offer extra products, like resources to help grow your business, get the right licenses, and create contracts.
ZenBusiness enables you to form several business types, including LLCs, corporations, and more. It offers several plan upgrades that include annual reporting, compliance guidance, business website building, and more. ZenBusiness shares free resources to educate you on how to start a business, including guides for performing market research, competitive analysis, and the creation of a business plan.
Learn more in our ZenBusiness review.
LegalZoom offers a robust suite of small business products. It can help you form an LLC, a corporation, or a non-profit, among other business types. The company provides annual reporting, contract templates, tax services, and more for additional fees.
Learn more in our comparison of ZenBusiness versus LegalZoom.