Booking a round trip ticket often seems like the most logical choice to save a little bit of money, but is it? It might surprise you to learn about this lesser known method for finding some of the best deals out there on airfare. 
The method: open jaw flights.
Common sense would tell us that buying everything at once results in a cheaper price overall, but open jaw flights or round robin itineraries could be a much better deal. 
Here's a rundown of everything you should know and how to book one for your next trip, and how you can maximize your savings with the right credit cards.
What is an open jaw flight?
Open jaw tickets may sound complicated but they are actually pretty easy to understand.
In a typical round-trip itinerary, you depart from city A and fly to destination B, and then when you're ready to come home, you fly back from city B to city A.
So, for example, flying from Atlanta to Houston for a trip, and then Houston back to Atlanta when the trip is over.
Simple.
Open jaw flights, on the other hand, are any itinerary where either your destination or departure location changes.
For instance, if you fly from city A to city B, but your return trip takes you from city C back to city A.
Going back to the example trip used above, an open jaw itinerary might look like this: Fly from Atlanta to Houston, and then New Orleans back to Atlanta when the trip is over.
Why is it called an "open jaw flight?"
"Open jaw" is kind of a strange term, isn't it? For anyone who is curious about the origin of why it's called an open jaw flight, here's the answer.
When you map out your itinerary on a basic open jaw flight path, the two flights create a triangle that looks similar to a literal open mouth.
Here's a gif to help you visualize:
It doesn't have a deep, philosophical origin story, which may be disappointing, I know, but open jaw flights and round robin itineraries are both incredibly helpful travel strategies that can really help you stretch your travels – and dollars – much farther than the average plane ticket. 

3 types of open jaw flights
There are three main types of open jaw tickets you can book. Let's go over them using the example of someone from the U.S. visiting the United Kingdom.
Destination Open Jaw
The destination you arrive at is not the one you return from. For example, flying from Washington D.C. to London but returning to Washington D.C. from Manchester.
Origin Open Jaw
Returning to a different city than the one you left from. It would be an origin open jaw flight if you flew from Washington D.C. to London and then returned from London to Atlanta.
Double Open Jaw
A double open jaw flight is a destination open jaw combined with an origin open jaw. So your return flight would be unrecognizable from your arrival flight. For example, flying to London from Washington D.C. but returning from Manchester to Atlanta.
What about round robin flights?
Open jaw flights are similar to round robin flights (itineraries that hop from city to city), but they don't require you to find your own transportation between cities – it's just one continuous itinerary.
Round robin trips (or multi-city bookings, as they are sometimes called), can be a great way to take advantage of a long stopover in multiple locations.
They may be useful for planning things such as visits to multiple families over the holidays or booking complicated segmented journeys to a single area, like Europe.
You may even be able to plan a grandiose around-the-world trip for $1,156!
Why would anyone want to travel like this?
At a glance, it may seem like an open jaw flight or round robin travel plan are silly things to do.
After all, why make things more complicated than they need to be? With open jaw flights you are on the hook for transporting yourself from one airport to another. Why bother with the extra hassle?
There are several reasons why someone might choose an open jaw flight.
The first, and most obvious, is that it allows you to see more cities on your trip. If you've got more than one destination you want to visit, a destination open jaw flight can let you spend more time seeing all you want to see since you don't have to worry about returning to your original destination before flying home.
Similarly, an origin open jaw flight lets you include another domestic city on your itinerary before you return home. This can be great for people who have multiple family members they want to visit but can only afford one trip.
Open jaw flights are often cheaper, too, especially if your destination is an expensive one. Why pay extra to fly to a pricey location when you can land a few miles away for significantly cheaper? For example, this is a strategy that could help you find cheap flights to Europe. 
The same goes for booking multi-city flights. If you're an adventurous traveler with a serious case of FOMO, booking a round robin flight allows you the chance to cram in several extra stops along the way so you can experience the destination in person, without booking a separate trip or plane ticket for each place.
How to book an open jaw flight
Most people book their flights through aggregator websites that scour the internet for the best deals. And most of those sites give you two options: round trip or one way. So how does a person get themselves an open jaw flight without going to a travel agent?
You've got two basic options
, depending on how much of the legwork you want to do yourself.
Option #1: Use a Special Search Engine
If you choose the automated route, you will be limited to sites like Matrix Airfare, which are optimized for finding open jaw flights. These sites can put together itineraries for you in a manner much like a regular booking site finding a round trip plan for you. Simply plug in your desired destinations and let the algorithms find your trip for you. Try swapping cities in and out to find the optimal price and flight times.
Option #2: Manually Search
If you're a bit more dedicated, you can go the traditional route of creating your own itinerary using the "multi-city" option on most flight search sites. What you will be doing here is basically booking a bunch of one-way flights and putting them together on your own. There's considerable room for error here, so be careful.
How to book a round robin flight
Planning a multi-city itinerary is similar to searching for an open jaw route, but you will have more options when it comes to searching for different routes you can take. Sites like Skyscanner and Kayak can be great tools for finding cheap multi-city flights.
Multi-city flights don't necessarily need to be round-trip either. Some travelers also try booking past their destination, exiting during the layover, to take advantage of lower airfare deals.
When you're ready to book, be sure to comb over your planned itinerary a few times before finalizing your ticket. These tickets tend to be more complex, so doing a double – maybe triple – check is a good idea.
What's the difference between an open jaw flight and a multi-city flight?
Open jaw flights are two separate flights where one ticket flies you in, and the other is used to fly you out from another destination. 
Multi-city flight tickets, on the other hand, fly you in and out of the same location to your next destination. It's just another name for round robin flights and could be more beneficial if you're trying to book a long layover for sightseeing or whatnot. 
Both can save you money on airfare, so the biggest factor in deciding which to choose comes down to what you're wanting to get out of your trip. 
FAQs
Are open jaw flights more expensive?
Not necessarily. Because planning your travel using an open jaw itinerary gives you much more flexibility, you may be able to find one-way flights that are less expensive than a roundtrip might be. You could opt to fly in at an off-peak time or choose a different airport, both of which can result in cheaper fares. Either way, it's a good idea to compare the best travel credit cards so that you can maximize your rewards and perks.
Is it cheaper to book multi-city flights or one-way?
It can be cheaper to go the multi-city route instead of buying multiple one-way tickets, but this is usually only the case if you're flying longer distances from destination to destination. If you're staying within a general region, booking one-way flights might be the better bargain, as you're not restricted to using airlines that are partnered, which is the case with multi-city bookings. You can shop for the best prices without regard to who the carrier is.
How do I book an open jaw flight on Delta?
If you are not using Delta SkyMiles to pay for your flights, then use the Delta website or app to research flights for each leg of your journey. Book directly through the website or app. You can also use third-party sites, such as Kayak and Expedia, to research the most economic options for your trip.
If you are using SkyMiles to book an open jaw flight, expect to trade miles for each single flight on your journey. Throughout Delta's booking site, you'll only find prices in miles for one-way fares, not roundtrip.
Can you buy an open plane ticket?
Open-ended airline tickets are a decades-old relic that are unfortunately a thing of the past. These were tickets that allowed the holder return to home on an undefined date in the future after having flown to some destination.
Today, you'll be hard-pressed to find an airline that offers such tickets. Flexible fares, one-way tickets, and student travel packages are more modern workarounds to being able to fly someplace and keep your options open for your return date.
Can you buy flexible plane tickets?
Some airlines offer flexible fare tickets, which allow you to reschedule your return flight date. These tickets are usually more expensive than the cheapest fares, but can be worth the extra expense if having the ability to change your date of return for little or no fees is important to you.
Easy-to-Earn Unlimited Rewards
Earn 25,000 online bonus points after you make at least $1,000 in purchases in the first 90 days of account opening - that can be a $250 statement credit toward travel purchases
Earn 1.5 points per $1 spent on all purchases
Longer intro APR on qualifying purchases and balance transfers
No foreign transaction fees
Earn unlimited 1.5 points per $1 spent on all purchases, with no annual fee and no foreign transaction fees and your points don't expire as long as your account remains open.
25,000 online bonus points after you make at least $1,000 in purchases in the first 90 days of account opening - that can be a $250 statement credit toward travel purchases.
Use your card to book your trip how and where you want - you're not limited to specific websites with blackout dates or restrictions.
Redeem points for a statement credit to pay for travel or dining purchases, such as flights, hotel stays, car and vacation rentals, baggage fees, and also at restaurants including takeout.
0% Introductory APR for 15 billing cycles for purchases, and for any balance transfers made in the first 60 days. After the intro APR offer ends, 18.24% - 28.24% Variable APR will apply. A 3% fee applies to all balance transfers.
If you're a Bank of America Preferred Rewards® member, you can earn 25%-75% more points on every purchase. That means instead of earning an unlimited 1.5 points for every $1, you could earn 1.87-2.62 points for every $1 you spend on purchases.
Contactless Cards - The security of a chip card, with the convenience of a tap.
This online only offer may not be available if you leave this page or if you visit a Bank of America financial center. You can take advantage of this offer when you apply now.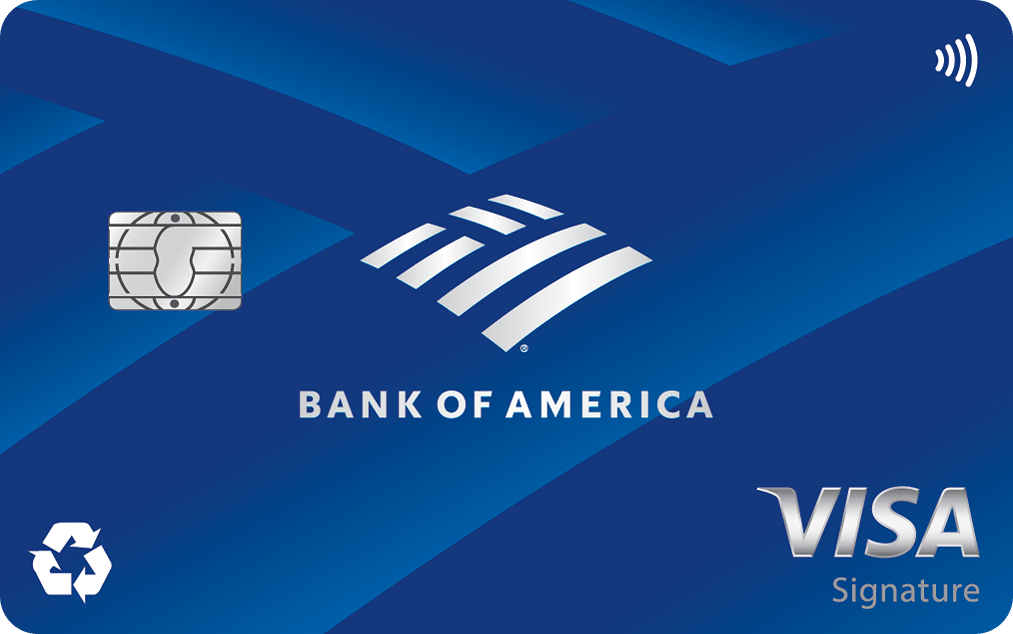 4.1
FinanceBuzz writers and editors score cards based on a number of objective features as well as our expert editorial assessment. Our partners do not influence how we rate products.
Apply Now
on Bank of America's secure website
Read Card Review
Intro Offer
Earn 25,000 online bonus points after you make at least $1,000 in purchases in the first 90 days of account opening - that can be a $250 statement credit toward travel purchases