Kayak is a much-loved search engine that helps users find the best deals on flights, hotel rooms, and more. The company processes over two billion searches a year and has helped millions of travelers around the world find travel deals.
Instead of acting as a traditional third-party booking site, Kayak searches hundreds of other travel websites to help you compare available prices for hotels, flights, rental cars, and vacation packages. You can view and select the best prices, then Kayak sends you to another booking website to finalize your itinerary and pay with your choice of credit cards.
It can sound a bit overwhelming — that's why we created this guide to help with your Kayak booking efforts.
How to use Kayak for flights
Kayak is a travel search engine that searches hundreds of other websites to find many flights for you to choose from.
To look for flights, head to Kayak's home page. Enter your departing city and destination, whether it's a one-way or round-trip flight, and the dates you want to depart (you can also search flexible dates to find the cheapest days to fly). Once you do so, Kayak will populate the results and show you available flights.
Typically, the flights are sorted according to the "Best" category, which usually means they're the most direct flights to your destination for the lowest airfare. Otherwise, you can adjust the results by the cheapest, most expensive, quickest, earliest takeoff or landing, and latest takeoff or landing. You'll be able to see these selections near the top of the screen, right above the flight results.
Customize your results
Before clicking on a flight you want, there are a few nifty features to be aware of — one of which is the Baggage Fee Assistant on the left-hand side of the screen. This tool helps you calculate any baggage fees in addition to the flight costs you see. Since airlines have different baggage policies (basic economy, we're looking at you!), it's pretty neat to get an accurate estimate of the total amount you'll pay for a flight.
Also in the left-hand menu, you can tailor the criteria for your flights based on what you want. Adjust factors such as the maximum price you want to pay, the times of the day you'd like to fly, specific airlines, and more to find the ideal flight at a fair price.
Near the top of the screen is a section called "Our Advice," where Kayak gives you its estimates of how prices for flights could change within the next week. It will let you know if the prices you see are good — and if buying tickets now is wise — or if Kayak thinks you should hold off and wait for prices to drop.
Granted, this is only the company's estimates and may not always be accurate. If you do decide to wait before buying tickets, you can track prices to monitor things. After providing your email address, Kayak will send you price alerts based on your itinerary.
Hacker Fares
A Hacker Fare is one way Kayak can help you save on round-trip flights. When Kayak's search engines finds what it thinks is a good deal on two one-way flights (typically from two different airlines), it lumps them together. You'll have different reservations on both airlines, but these deals could save you money.
Recommended flights
On Kayak's homepage, you'll be able to see a list of recommendations — basically, flights to what it considers popular destinations. If you're flexible about your travel dates and destination, you can look around the map to see pricing and dates for these flights, which can save you some big bucks.
Completing your Kayak booking
Once you find the flight you want, click the "view deal" button beside the itinerary of your choice. You'll be directed to the website where you'll do your booking — the site will either be the airline itself or an online travel agency like Travelocity. If you're booking a Hacker Fare, a pop-up will show you how to book your flights on the different airlines before proceeding.
Remember that Kayak isn't a booking service; it's a search engine. So if you later encounter problems or need to change your flight, you'll need to contact the place you booked directly — except on the rare occasion that the booking was done through Kayak.
How to use Kayak for hotels
Searching for hotels is a similar process to how you search for flights. On the homepage, head to the hotels section, then select the city, date, number of rooms, and guests who will stay with you.
The search results page is pretty much the same as the one for flights. You can choose from different options to filter your search, including amenities, stars, neighborhood, ambience, freebies, price, review score, property type, and location. There's also the option to track prices after entering your email address.
Additionally, you can look at the search results on a map — hover over the dot to see the hotel name, price, and rating. If you want to book with the hotel, click on the dot on the map or on "view deal" beside each hotel listing.
The price you see with each listing may not be the cheapest — underneath the listing, you can see prices from the hotel website or online travel agencies which may be less expensive. Remember, these prices don't include taxes.
Hacker Stays
Hacker Stays are a way to save money on hotel bookings. Kayak will steer you to different websites — either directly with the hotel or through other booking websites — to cobble together a cheaper itinerary at one hotel.
Say your hotel of choice is $100 a night on Tuesday when booked through Priceline, but the price jumps to $150 on Wednesday. Orbitz has the same hotel priced at $125 for Wednesday. Kayak's Hacker Stay would require you to book the stay with Priceline on Tuesday and Orbitz on Wednesday, saving you $25.
Note that you'll have two different reservations at the same hotel if you use this method. That means you may be required to switch rooms if the hotel can't accommodate you in one room for both reservations.
Pros and cons of Kayak
Pros
Find cheap flights, hotels, and vacation packages: Kayak can help you find almost any travel deal on flights, hotels, cruises, and vacation packages. Since it's a search engine, it can track down the cheapest prices and the best deals all in one go, saving you time.
Ability to track prices: If you don't want to book right away, Kayak can track prices for a period of time.  It will send you alerts without you needing to constantly check in on rates.
Suite of tools: Kayak's app offers more simplicity because you can import your entire travel itinerary into it. You can organize everything in one place and view your itinerary even when you're offline.
User-friendly website: Kayak's website is simple to use and well marked. It also offers plenty of options to filter and customize your search results.
Cons
Limited customer service: Kayak is upfront about the fact that it's not a booking service (though it does say there is the occasional time when you can book through Kayak directly), so there's not much you can do by contacting Kayak about your booking. Though not a downfall, this means you need to track who you really booked your trip with.
Can't book directly on website: Although Kayak's website is pretty easy to navigate, it can get a bit overwhelming when you're redirected to another site. It can be even more confusing if you're booking a Hacker Flight or Hacker Stay and need to make reservations on multiple websites.
Travel credit cards we like to use with Kayak
While Kayak can help you find cheap flights and rooms, you can use some of the best travel credit cards to maximize your booking.
For example, the Chase Sapphire Preferred® Card earns 2X points on other travel purchases. Because eligible travel purchases include bookings from travel agencies, airlines, hotels, and car rental agencies, you earn bonus rewards when finding a booking through Kayak and paying for it with your Chase Sapphire Preferred.
Or you could use Kayak to locate a cheap booking and then make the booking through the Chase travel portal. It could be worth it to redeem Chase Ultimate Rewards points through Chase because they're worth 25% more when redeemed for travel on the Chase Sapphire Preferred.
Explore more benefits at our Chase Sapphire Preferred Card review.
Similarly, the Chase Sapphire Reserve® also earns bonus rewards on travel bookings you find with Kayak, plus, it also offers a $300 travel credit. You can earn 3X points on other travel and dining. Or if you want to find cheap bookings on Kayak and then book them through Chase, your points are worth 50% more toward travel redemptions on the Chase Sapphire Reserve.
In addition, the Sapphire Reserve comes with premium travel perks that can enhance your Kayak experience. This includes complimentary airport lounge access from Priority Pass. So if you find and book a flight using Kayak that has a long layover, you can relax in a Priority Pass lounge instead of waiting for hours at your gate. Free food, drinks, and Wi-Fi is a quick way to have a better travel experience!
Explore more benefits at our Chase Sapphire Reserve Card review.

FAQs
Is it safe to buy airline tickets on Kayak?
When you book airline tickets on Kayak, you're sent to the airline's website to complete your booking. This makes it safe to buy airline tickets on Kayak because you're actually booking directly with the airline. So if you want to book a flight with United Airlines on Kayak, clicking on the deal will send you to the United website where you can input your credit card information and complete the booking there. Similarly, cancellations and flight status will be handled through the airline with which you booked as well.
Why is Kayak so cheap?
Kayak is a search engine that finds you the best deals on travel from across the web. Kayak doesn't add any fees onto these deals, so you get to see the best available deals from what Kayak is able to find. This includes deals straight from airlines, hotels, and car rentals, as well as other travel websites.
Which is better: Expedia or Kayak?
Expedia and Kayak have similar features, including being able to search for flights, hotel stays, and car rentals. But Kayak functions like a search engine whereas Expedia is more like a travel agency. You can book travel through Expedia, whereas Kayak will send you directly to the website of an airline, hotel, or another travel site to complete your booking.
If you prefer to see available travel options and then complete the booking directly with an airline, hotel, or car rental agency, Kayak is likely the better option for you. If you want to see available travel options and then book and earn rewards with the company giving you these options, Expedia is likely the better option.
Since both of these focus primarily on flights and hotels, for rental cars you might want to try Autoslash. Autoslash collects your itinerary information and asks you a few questions such as what memberships you have (AAA, AARP, Costco, etc.), then searches across rental car company websites for the best coupons and discounts. You can book through Autoslash or via the rental car agency site. Like Kayak, Autoslash will also track rental rates for you.
Is Kayak part of Booking.com?
Kayak is a part of Booking Holdings Inc., which also includes other travel websites like Booking.com, Priceline.com, and Agoda.com. This means Kayak isn't a part of Booking.com, but both sites are brands owned by the same head company.
Bottom line
Kayak.com may have its limitations, but as a travel search engine, it's easy to use, provides tools to assist you with your travel plans, and helps you find the best prices whether your next getaway is to New York or Las Vegas. Since you can compare prices from online travel agencies, airlines, and hotels, you'll be able to save valuable time by viewing all the top deals in one place.
Easy-to-Earn Unlimited Rewards
Earn 25,000 online bonus points after you make at least $1,000 in purchases in the first 90 days of account opening - that can be a $250 statement credit toward travel purchases
Earn 1.5 points per $1 spent on all purchases
Longer intro APR on qualifying purchases and balance transfers
No foreign transaction fees
Earn unlimited 1.5 points per $1 spent on all purchases, with no annual fee and no foreign transaction fees and your points don't expire.
25,000 online bonus points after you make at least $1,000 in purchases in the first 90 days of account opening - that can be a $250 statement credit toward travel purchases.
Use your card to book your trip how and where you want - you're not limited to specific websites with blackout dates or restrictions.
Redeem points for a statement credit to pay for travel or dining purchases, such as flights, hotel stays, car and vacation rentals, baggage fees, and also at restaurants including takeout.
0% Introductory APR for 15 billing cycles for purchases, and for any balance transfers made in the first 60 days. After the intro APR offer ends, 18.24% - 28.24% Variable APR will apply. A 3% fee applies to all balance transfers.
If you're a Preferred Rewards member, you can earn 25%-75% more points on every purchase. That means instead of earning an unlimited 1.5 points for every $1, you could earn 1.87-2.62 points for every $1 you spend on purchases.
Contactless Cards - The security of a chip card, with the convenience of a tap.
This online only offer may not be available if you leave this page or if you visit a Bank of America financial center. You can take advantage of this offer when you apply now.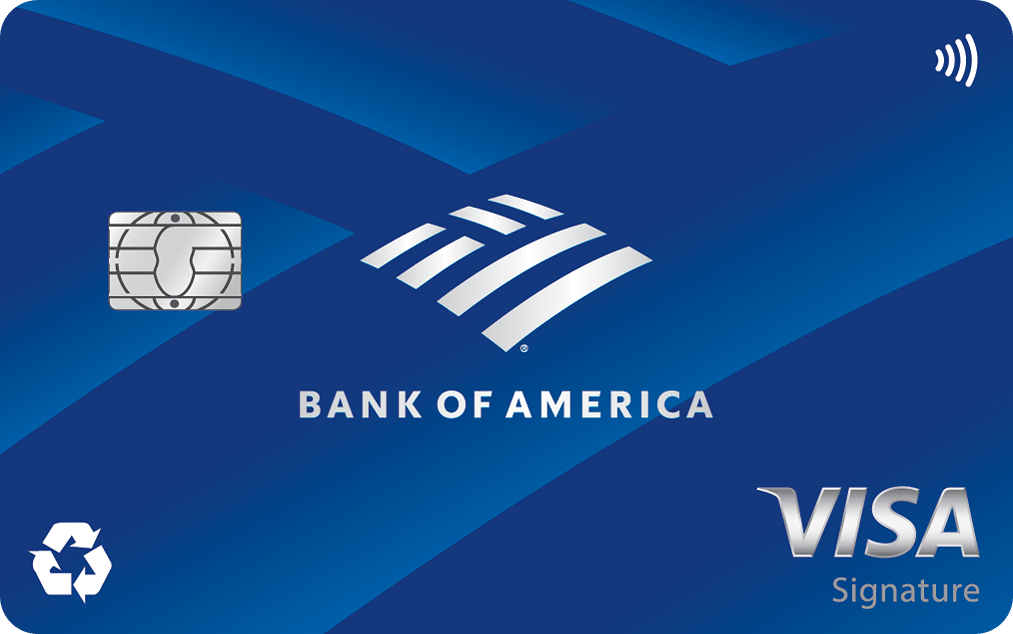 4.1
FinanceBuzz writers and editors score cards based on a number of objective features as well as our expert editorial assessment. Our partners do not influence how we rate products.
Apply Now
on Bank of America's secure website
Read Card Review
Intro Offer
Earn 25,000 online bonus points after you make at least $1,000 in purchases in the first 90 days of account opening - that can be a $250 statement credit toward travel purchases