Traveling can be expensive, but some thrifty travelers have mastered the art of inexpensive vacationing.
They scour the web for travel discounts, use top credit cards to earn travel rewards, and plan trips for the off-season. Others have a much harder time keeping travel expenses in check. 
Read through this list of eight warning signs that indicate you're more likely to blow through your travel budget than the average American.
You spent more than $2,830 on vacation this summer
According to Allianz Travel, the average American household planned to spend around $2,830 a year on summer vacations this year.
That number represents a 39% jump compared to the average amount of money American households spent on summer vacations in 2019, before the pandemic.
It could be time to re-evaluate if you spent $3,000 or more on summer vacation this year. While spending more than the average amount on travel isn't inherently problematic, it's worth asking yourself if there's room in your budget for that much travel.
You pay more for a round-trip domestic flight
Flight costs vary from month to month or week to week. But looking at data from the federal Department of Transportation can tell you whether you're spending more for round-trip flights than others in your hometown.
For instance, the average fare for a round-trip flight originating at Los Angeles International Airport was $389.46 at the start of 2023.
At some airports, that number was dramatically lower. Travelers departing Trenton-Mercer Airport in New Jersey spent an average of $149.69 last January.
If you pay more than your city's average for domestic flights, it's time to start reconsidering flight plans so you can save money.
Your rental car costs more than $135 a day
Like round-trip flights, the cost of rental cars differs from airport to airport. The average cost to rent a car at Los Angeles International Airport ranged from $104 to $132 a day in March and April of this year, according to Rentalcars.com.
Cars rented from Hartsfield-Jackson Atlanta International Airport during that same period averaged between $93 and $114 a day.
If you typically pay more than about $135 for your car rental, you might want to spend extra time shopping to ensure you're getting a good deal on your car rental.
Your hotel room costs $150 a night or more
Average hotel prices can be even harder to pin down than the cost of car rentals or plane tickets. However, data from Statista shows that travelers paid an average of $148.83 per night for a hotel room in 2022.
If your hotel stays cost more than that, look into credit cards that let you earn travel rewards or travel during the off-season to bring your hotel expenses more in line with those of the average American traveler.
You spend all your vacation days out of town
If your company has a PTO policy, don't feel guilty about taking all your allotted vacation days — you deserve that time off. Taking time for yourself can boost your productivity when you return to work.
But if you use all your vacation days for travel outside your state, you might want to rethink your time-off strategy. A staycation or cheap camping trip can help you rejuvenate after a busy work schedule without obliterating your budget.
You still check a bag when you fly
With most airlines, the days of checking one bag for free when you fly are long gone. While a checked bag might be necessary for long-term vacations to far-off destinations, you'll save money if you can fit your essentials into a carry-on bag.
Plus, on crowded flights, some airlines ask volunteers to check their carry-ons for no additional fee. Why bother paying for something you might be offered for free?
You waste money on low-quality kitsch
It is nice to buy souvenirs so you have tangible reminders of your trips. However, before you go to the trouble of purchasing a souvenir that might not fit in your carry-on, ask yourself if you're really investing in an item you'll cherish.
You may be snapping up a low-quality product explicitly made to entice tourists like yourself.
Of course, you don't need to feel bad about indulging in a trinket or two. Just make sure you're spending money on something you really love.
You eat out for every meal while on vacation
Whether you're on vacation or relaxing in your own home, the cost of going out for dinner is usually higher than if you made the meal yourself.
While you don't want to spend your entire vacation cooking, consider buying a few groceries that can tide you over until dinner. You'll save money — and probably eat a little healthier too.
Bottom line
If you're spending more than the average American on travel this year, the solution isn't necessarily to give up on vacationing. Instead, look through your travel budget and figure out what needs to change.
The next time you start planning a trip, make sure you aren't spending more than the national average on hotels, flights, and rental cars. 
Shopping around for the best bargains can help you keep more money in your wallet the next time you travel.
Easy-to-Earn Unlimited Rewards
Earn 25,000 online bonus points after you make at least $1,000 in purchases in the first 90 days of account opening - that can be a $250 statement credit toward travel purchases
Earn 1.5 points per $1 spent on all purchases
Longer intro APR on qualifying purchases and balance transfers
No foreign transaction fees
Earn unlimited 1.5 points per $1 spent on all purchases, with no annual fee and no foreign transaction fees and your points don't expire.
25,000 online bonus points after you make at least $1,000 in purchases in the first 90 days of account opening - that can be a $250 statement credit toward travel purchases.
Use your card to book your trip how and where you want - you're not limited to specific websites with blackout dates or restrictions.
Redeem points for a statement credit to pay for travel or dining purchases, such as flights, hotel stays, car and vacation rentals, baggage fees, and also at restaurants including takeout.
0% Introductory APR for 15 billing cycles for purchases, and for any balance transfers made in the first 60 days. After the intro APR offer ends, 18.24% - 28.24% Variable APR will apply. A 3% fee applies to all balance transfers.
If you're a Preferred Rewards member, you can earn 25%-75% more points on every purchase. That means instead of earning an unlimited 1.5 points for every $1, you could earn 1.87-2.62 points for every $1 you spend on purchases.
Contactless Cards - The security of a chip card, with the convenience of a tap.
This online only offer may not be available if you leave this page or if you visit a Bank of America financial center. You can take advantage of this offer when you apply now.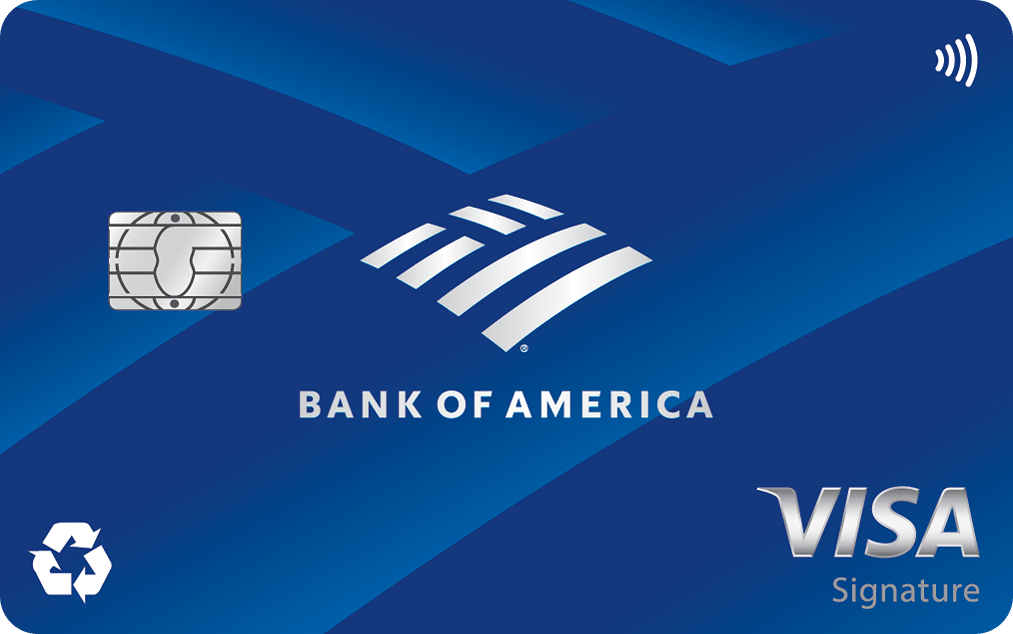 Apply Now
on Bank of America's secure website
Read Card Review
Intro Offer
Earn 25,000 online bonus points after you make at least $1,000 in purchases in the first 90 days of account opening - that can be a $250 statement credit toward travel purchases